Wahl 9899-100 Review for Bearded Men: When you need a trimmer or clipper for your hair or beard, your first thought out of a hundred normally goes to the quality. However, some people don't care about the quality of the product they are planning or about to purchase, and this attitude will surely give them some setbacks when it comes to selecting good products of any kind.
In this review, we are about to talk about a very powerful trimmer known specifically as Wahl 9899-100. It is one power trimmer trending in the market due to the super diligence functionalities, its ability to shave your beard perfectly.
Apart from this glimpse of an ice feature I quickly showed you, there are other amazing ones I will reveal later in this very article. For now, let us focus on the knowledge you need to possess before selecting the trimmer of your dream.
What are those Factors you Must Look before Purchasing a Trimmer
Look out for the Brand
Yeah! You heard me loud, one thing you must first look at while planning to purchase a trimmer is the brand. For instance, Wahl is a very popular brand and has been enjoying the grace of its good reputation, so if a person goes for a brand like this is not bad at all.
The Quality of Brand Matters
You are already purchasing a trimmer and then discovered that it is of low quality, definitely, you will not be happy to use such a product. This is why it is very important to check the quality of a brand or product before the purchase.
A trimmer being cordless or cord is not the criteria for quality; the quality relies on the good functionality of the product and the customers' reviews about it. Reputation is very important in all we do.
Wet or Dry Usage
I love it when a trimmer or clipper can be used both outdoor and indoor, or in another language—both inside the room and during a shower. This modern-day, a person should not only buy good quality trimmers but to also ensure it can function both dry and wet.
Sharp Blades made of Stainless Steel
Trimmers whose blades are made of stainless steel are far away from causing irritation to your body. Therefore, if you truly love your skin, don't forget to select a trimmer that possesses this quality I just mentioned.
Portable for Traveling
Your trimmer should not be too big that you will be shy to bring it out while traveling. It should be portable with or without cord. I recommend you buy trimmers with detachable cords; this will make it convenient for you to carry them along while you are on a trip.
The Charging Length Should Be Consider
No one has that bullshit time to waste anymore, not in this era in which patience is buried alive. A trimmer should not too long to fully charge. Search for those powerful trimmers that can give you that desired feature you expected.
The Life Span of the Detached Beard Trimmer
A detached trimmer at least should last for an hour when fully charged. You don't want to purchase a trimmer with a battery problem, this is enough a suicide mission due to the frustration that comes with it. For this reason, you must check your package very well before purchasing it.
A Trimmer Should Contain a Paper Guide
Every product is expected to have a manual guide on how to use and maintain it properly so that it will last long. If you are willing to benefit well from the purchase of a trimmer, ensure it comes with a guide.
The Price of the Trimmer
Most of the time, I don't encourage anyone to buy cheap things, if you have your cash; why not go for expensive things that will last with you? There are lots of powerful trimmers out there, such as this very one under review.
Get expensive trimmers in the store for a better and safer shaving, trimming and cutting.
Let's Talk on the Usefulness of Trimming your Hair
You want to say, huh? Why should I bother trimming my beard or hair with this expensive product? However, it really worth it; trimming is not only for removing your hair where they don't belong, but it equally promotes the health of your hair growth if not done in excess.
There are some benefits of trimming the hair which I will tell you right away, and I am sure you will confirm them when you begin to trim your hair.
Although, some blog scholars don't believe that trimming of the hair makes it grows better while others said it shouldn't be in excess. Today, we shall know if truly trimming the hair makes it grow.
Here are the benefits of Trimming the here:
1. It controls the hair and thereby preventing it from damage.
2. When you have your hair trimmed to small size once in a while, it keeps it fresh and free from bad odor.
3. It prevents your hair from that annoying frizzy look therefore, it is better you trim your beard or hair at the proper time.
4. Trimming of your beard or hair at the appropriate time, so people believe boosts your hair growth. I don't actually know how truthful it is for I have never read scientific proof about this claim.
5. If your hair is afro-textual, trimming it will prevent it from the single-stranded knot. The dead hair is cut off for new and fresher ones to grow in replacement.
6. Trimming your hair or beard regulates the action of detangling on your hair.
7. Say goodbye to hair breakage, as far as you trim your hair well, it will get rid of the breakage.
8. Trimming of your hair can keep it evenly growing and neat but it shouldn't be too often.
9. It helps get rid of split ends from your hair and thereby give it that professional look you deserve.
Now that we have observed some of the benefits of trimming our hair, I think it is now the right time to review this powerful clipper called Wahl 9899-100. You don't want to miss out on this powerful tool.
Brief History of Wahl
The company has been known for its good reputation since 1919 when it first built an electromagnetic hair clipper, so if you saw or heard this company producing something amazing as Wahl 9899-100, it shouldn't amaze you.
In 1965, Wahl introduced the first vacuum clipper, that allowed a person's hair to be cut without the use of cape. Tell me, this company is expected to produce the best of products in this millennium era. So, let's discuss the latest beard trimmer in the market.
Wahl 9899-100
Wahl 9899-100: is one good trimmer you will find a bit difficult to resist due to its classic features, it is very important you observe these features by yourself.
Features that come with Wahl 9899-100
1. It is characterized by an extreme precision blade that is designed for skin close shaving, trimming, and edging.
2. It comes with guide combs that are designated for 13 cutting lengths, this is perfect for your desire, and there is no doubt about this.
3. Wahl 9899-100 amazes me for it comes with 4 different detachable heads to fit your choice while you trim, shave or cut your hair.
4. It contains a detail shaver for all kinds of hairs.
5. It possesses detail trimmer, ear and nose trimmer are not left out of the show.
6. Wahl 9899-100 is a dual functional trimmer since it can be used both wet and dry, that is, it can be used outside and inside the shower, and can be washed and clean under rushing water.
7. It gives you an incredible 2 ½ hours runtime when fully charged for one hour.
8. It is a product that follows the trend of lithium technology and therefore perfect for you.
9. If you need a 3 minutes quick charge for 5 minutes usage, this trimmer is the best for that purpose.
10. It equally contains the L.E.D indicator that will show you the statistics of your battery usage.
11. It supports the worldwide voltage system, which means; the unit automatically senses and adjusts to the input voltage.
12. It is sold at $59.99.
How to Maintain your Hair Trimmer
Trimmers are not God; they get spoilt if not well maintained. So, there is a need for us to figure out how to keep our beard clippers clean. How are we supposed to take good care of our trimmers so that they last long?
Here are some of the tips you can easily adopt when it comes to maintaining Wahl 9899-100 or otherwise known as Wahl Aqua Blade: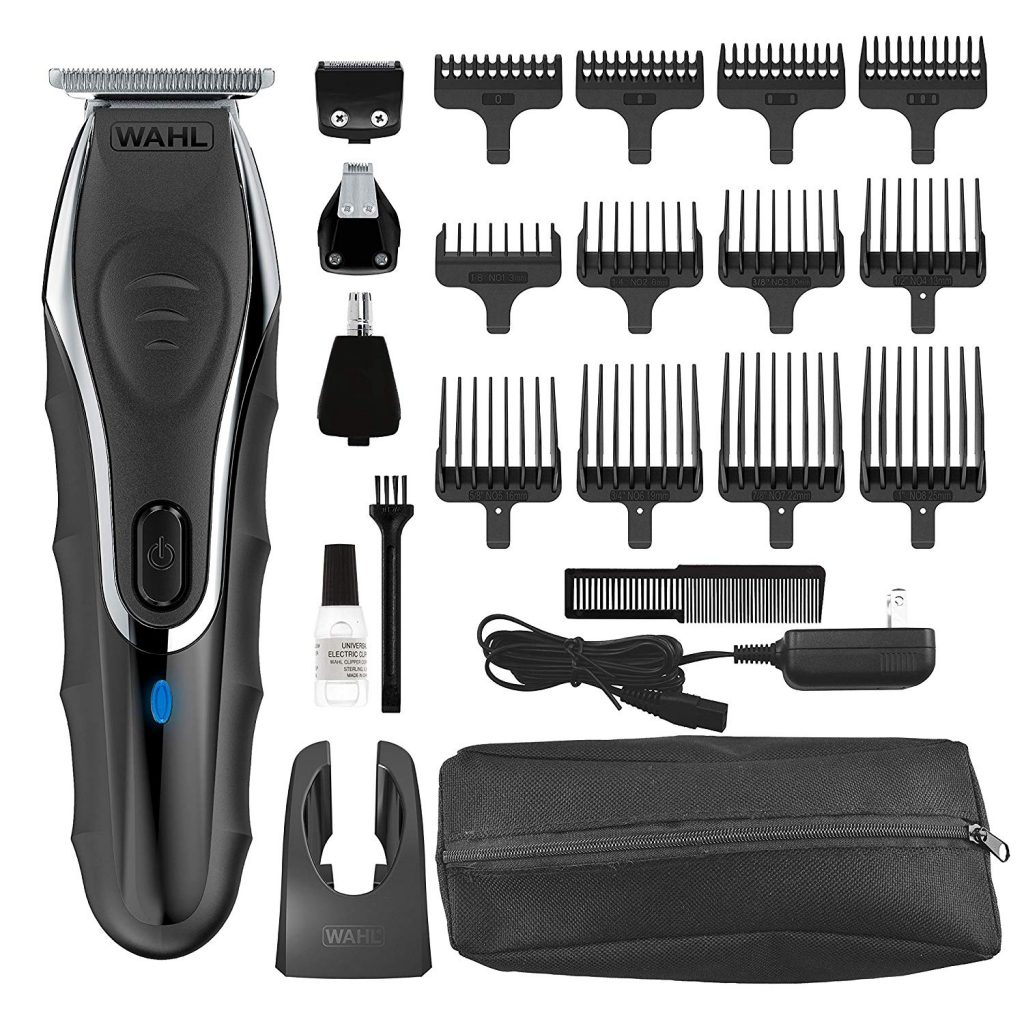 1. Spray your Wahl aqua blade regularly: There are lots of trimmer spray cleaners out there that you can get on amazon, purchase one that is good and then spray your trimmer to remove some germs and dirt that good is a threat to your skin and the trimmer itself.
2. Use Lubricants to keep your Trimmer Longer: Lubricate your trimmer with lubricants such as Andis, it is necessary to keep it well conditioned for work. Lubrication is a very good old time practice on machines and tools, so, in other to allow your trimmer to work well, you need to lubricate it from time to time to avoid unnecessary friction.
3. Keep your hair trimmer clean and neat to keep it in the right condition while using it.
4. Clean out the dust regularly and this action will go a long way to make your clipper lasts longer.
How to Apply Oil on your Wahl Beard Trimmer
Now that we have talked about maintaining our clippers, let's mention the right steps to take when applying lubricants to our trimmers.
I realized that many barbers or users apply oil to their hair trimmers too much that it overflows and then messes up the entire tool. There is an official method of applying oil to your hair trimmer according to a Wahl ambassador, in the YouTube video, all you need to do is keep the clipper running and then apply two to three drops of oil on the teeth and then one or two on the two sides, and then clean the excess oil with a clean towel. That's all.
How often should We Oil a Clipper or Hair Trimmer
You may want to know how often you should oil your clipper, for best results, apply one or two drops of Wahl Clipper Oil on the blades when the need arises, or precisely every once in a month for personal use and then once a day for a professional product.
Amazon Beard Trimmer Oils
Let us quickly look at two beard trimmer oils on amazon we can recommend for the safety of your clipper:
Wahl Hair Clipper Blade Oil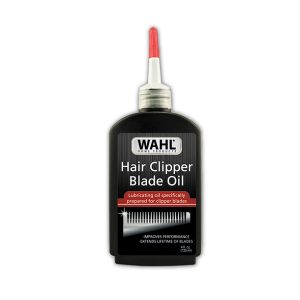 Here is a lubricant that is suitable for your Wahl clippers. If you actually want your hair trimmer to work fine at the right speed and condition, this is the best lubricant you can use.
The Features of the Wahl Hair Clipper Blade Oil
The features are quite fantastic, and for this reason, you need to purchase it straight away.
1. It prevents your hair trimmer from rust and therefore extends the life span of the clipper and blades.
2. It prevents the blades of the hair trimmer from becoming dull.
3. It helps to prolong the blade life, simply place 2 to 3 drops of the oil between the blades and watch it do the magic over time.
4. The lubrication of the clipper should be done after a few haircuts or trimming if used for commercial purposes. This will help reduce friction and heat and thereby allow your trimmer to lasts longer.
5. It is a very important lubricant because it is made for all Wahl electric hair Clippers, trimmers, and blades, and it is also good for foreign brands too.
6. It is good for the entire Wahl trimmers that have been used by professionals since 1919.
Wahl Blade Oil 4 Ounces

This is Wahl Blade oil that is recommended for you to apply on Wahl Trimmers, it is effective and the features are as follow:
1. It reduces friction and heat that are caused by unlubricated trimmers
2. It Prevents clippers' from becoming dull
3. It is a 4 fluid oz
4. It is a material Oil plastic
5. It is sold at $4.35