Are you looking for the best beard balm for black men? Well, you're in luck, because we have made the perfect selection for you. Getting a beard balm as a black man can be tricky sometimes. How so? I'll explain. When picking a product, certain determinant factors like hair texture have to be put into consideration.
But let's put that issue aside. We have put in quality time into research for awesome products that will deliver the best results. But you may ask yourself, are beard balms really necessary in the first place? Are there benefits of using a beard balm? Are there any tips to apply when buying a beard balm? Those are some of the questions we will be addressing. First, let's talk about what a beard balm is?
A beard balm can best be regarded as a styling and shaping agent which also doubles as a leave-in Conditioner that offers numerous health benefits to your beard.
A good quality beard balm should be able to keep your beard moisturized and at the same time provide a good hold for styling. It is always advisable to stick with products that consist of organic ingredients. With products made of chemicals, you run a risk of exposing your skin to irritants.
Tips to consider when looking for the best beard balm for black men
Sometimes words can't explain the disappointment felt when buying a product that ends up not being effective.
The vast options of beard Balms available in the market make it important for you to make the right choice.
Our aim is to ensure that you always get your money's worth. With that said, we advise that you take the following tips into account.
All-natural ingredients. As I mentioned earlier, you are guaranteed a better user experience with all-natural products.
Can the beard balm prevent dandruff? If not, it's a 'no-go area'. Why? Part of the essential characteristics of a quality beard balm is its ability to safeguard your beard from dandruff.
What kind of hold does the beard balm promise? Stay away from products that will leave your beard feeling heavy and greasy. Balms that contain beeswax always give a good hold.
Look out for products that contain natural ingredients like Shea butter. Natural butter ingredients help ensure lasting moisturizing and easy application.
Best Beard Balm For Black Men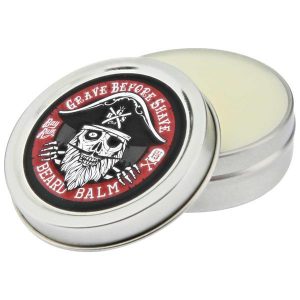 This brand is known for it's reputation of providing quality across all products under its name. And its beard balm is definitely not left out. Enabling easy application with its soft and smooth feel and giving your beard a nice scent. To learn more about this product, click here to view and get this product now on Amazon
Pros
it is loved for its amazing scent by many users
All-natural ingredients
Cons
The application may get harder over time because of the nature of the lid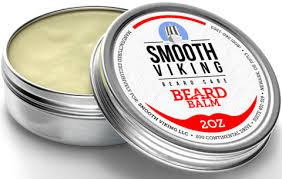 This ancient and respected brand, hold dear the duty of keeping your beard looking healthy and well Groomed. With a perfect blend of nature's best ingredients, your facial hair is treated with all the necessary nutrients needed to enhance hair growth.
This brand is definitely the perfect companion for the classic man that you are. Want to learn more about this product? Click here to view and get this beard balm now on Amazon
Pros
Formulated to give a fuller and healthier beard
Pure natural ingredients
Cons
It has a harder feel but still doesn't provide better hold
Looking for an all-day long-lasting hold? This is your brand. This beard balm will help keep your beard properly conditioned and attractively smooth. What's more, it helps to enrich and strengthen your hair follicles to enable faster growth. Keeping your beard well moisturized and safeguarding you from skin irritants is what makes this brand special. Click here to get this product now on Amazon.
Pros
All-Natural ingredients
Money-back guarantee
Cons
Used out of proportion, it can give a greasy feel
This was the first beard balm I used, and I really did not know what to expect. What I received was a product that makes my beard shiny and soft. The product in the container is firmer then expected so don't make the mistake of applying too much as I did. Now, I swirl my finger tips on the surface of the product and rub into my beard. I follow this up with a good combing, which disperses the product evenly, and lasts all day. The product smells like a bunch of natural ingredients, but does not remain longer then a few minutes. The results are awesome, and I will purchase this product again. A little goes a long way and the product seems to last a long time. I like it and would highlyrecommend.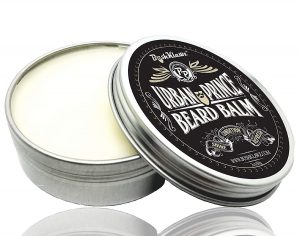 Getting that glorious and full mane just got easier. And beardruff? Forget about it! This product will boost your beard growth to its maximum potential. Suffering from the dry beard? Well, here's your chance to change that.
Keeping your beard and the skin underneath well moistured and soft is what this product promises. Are you impressed with this product? Click here to get it now on Amazon.
Pros
Gives your beard a healthy look with an amazing shine
Cons
The scent isn't very appealing to some users
I have been using this product for about a month know, and have no idea how I maintained a beard before it. Within a couple of days, it eliminated all the itching associated with a long beard, as well as preventing the dreaded beard dandruff. I find the smell pleasant personally, but even if you are not the biggest fan of it, after a week of use your becomes used to it to the point you only really notice it while applying. Even though this is a seemingly small container, a little goes a long way. I have a pretty sizable beard, and only use a fingertips worth (about the size of a cherry).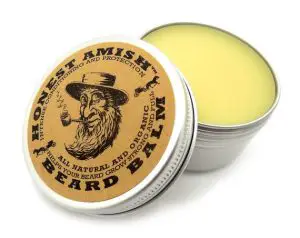 This brand has a solid foundation based on years of delivering quality to its customers. This product has had its fair share of popularity on Amazon, with over 5000 reviews from users across several backgrounds. Its amazing formula gives an adequate hold and soft feel to your beard.
Pros
Money-back guarantee
All-natural ingredients
Cons
its scent may not be appealing to you
Benefits Of Using A Beard Balm – best beard balm for black men
Why should I use a beard balm? Are there actual benefits of using a beard balm? Why go that extra mile? Tell you the truth, beard balms aren't fancy products made of unnecessary ingredients. Properly applied, a balm can play a big role in giving your beard that desired sleek look.
Aside from their own unique ingredients, most beard balms are known to contain 4 essential compositions. We will be basing our benefits on these core ingredients. Butter, Beeswax, Carrier Oil and Essential Oil.
Butter: no one likes the feeling of a dry beard. Shea or Cocoa is often used to ensure moisture is locked in all day. This, in turn, gives you a softer and healthier looking beard all day long.
Beeswax: Beeswax in beard balm helps give your beard a stronger hold. It's a no-brainer that this amazing hold makes styling even easier.
Essential oils provide you with an attractive scent that leaves you feeling fresh for the major part of your day.
Carrier oils like Jojoba or Argan Oil which are commonly used by most manufacturers, help keep your beard soft and healthy. Carrier oils also give your beard and attractive and classic shine.
Jack Black Post Shave Cooling Gel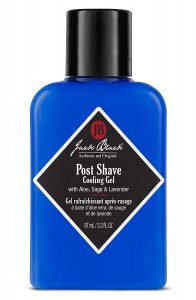 Using razor on your beard, without doubt, causes burn and discomfort to you irritates and damages your skin cells and then finally leads to ingrown hairs. If you are willing to calm your skin after shaving, this gel or beard balm is the best alternative for you. It is the best quality you don't want to miss out at all. We are recommending it to you because it is going to give you the best result as expected.
Jack Black Post Shave Cooling Gel, is one of the best formulas you will ever purchase in the Amazon store. It helps to make your beard and its scalp look smooth. It is not made of fragrance, alcohol, aftershave gel that soothes razor burn and irritation due to shaving is the best for you.
Behold, this formula contains natural ingredients that are very popular for its anti-inflammatory benefits and can calm and moisturize your skin. If your skin is already irritating and causes discomfort and redness due to sunburn, this is the best product that soothes them.
The natural ingredients are there to work together to reduce razor burn or provide the relief you of razor burn and calm your skin. Many people know about the benefit of Aloe Vera, this product contains Aloe Vera to calm, soothe, and soften the skin. Sage, lavender, and rosemary are well-known aromatic botanicals that contain antioxidants and vitamins, which help to heal your skin. Chamomile reduces redness and irritation, and balm mint, an antioxidant that counteracts the damage caused by free radicals, helps protect the skin from damage.
Nivea Men Sensitive Post Shave Balm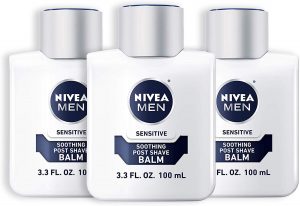 If you need a high-quality product for your beard, this product is the right one for you. It gives you the powerful confidence you really deserve. We have gone an extra mile to bring this to you, kindly check it out on Amazon and you will be amazed by its functions.
Here are the features of the product: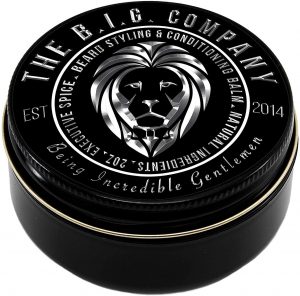 • This moisturizing aftershave balm soothes skin from shaving irritations and improves skin's condition over time.
• It makes your skin look healthy and smooth. It makes your skin smooth and irritation-free.
• It is formulated with no drying alcohol and light fragrances that will marvel you.
• It is enriched with Vitamin E and natural, soothing Chamomile and Witch Hazel extracts that is suitable for all beard.
• Skin compatibility dermatologically tested by men with sensitive skin; if your skin is sensitive, this product is safe for you.
Beard Balm Leave-in Conditioner: The B.I.G Company
We don't just recommend beard balm; it is for sure that every product praised on our website is one of the best and the trending ones. Here are the features of the powerful beard product:
• It is made of Argan oil and Jojoba oil that are the best for your beard hair.
• It is active at making your beard hairs softer, less wiry and easier to manage.
• If you desire to make your beard grow better and fuller, beard balm has natural oils and beeswax to help grow your beard fuller, longer and healthier.
• The beard balm is designed in such a way it can help keep beard hair in place while making it soft and flexible and styled for your desired shape.
---
Frequently Asked Questions and Answers
Should I Use Beard Balm every day?
Applying little beard balm to your beard will help stop your beard from being prickly if it is short, and keep it moisturized. Applying balm every day to your beard is your call to make, as the daily application has no negative effects on the skin and beard.
Should You Use Beard Oil and Balm Togethers?
Yes! Beard balm can be applied together with oil, they both serve different purposes.
How Often Should I Use Beard Balm In A Day?
A balm can be applied up to three times a day. All-natural beard balm contains shea butter and beeswax that have no negative effects on the skin or hair.
Can Beard Balm Go Bad?
We informed you of the best balm for black men, by following a derived method that has to be carried out to choose the best balms based on the nature of their hair. The hair of a black man is normally curly, therefore, the reason for selecting the above beard balms.
How Do Black Men Keep Their Beard Healthy?
Regular Wash: it is necessary for you to wash your beard with water at least twice daily to prevent dirt and detritus from trapping into it. Washing of your beard will also help to prevent fungal and bacteria and as a result, protect your skin from blackhead and whitehead.
Shampoo your beard: just like the normal hair on our head, you should apply shampoo on your beard but it shouldn't be too regular. This will help to cleanse the beard and as a result, gives it a proper reason to grow fuller and thicker.
Apply Beard oil: beard oil is another important solution to keep our beard glowing and healthy. The beard skin may have some clog spore, the application of diluted Eucalyptus oil will help to open the pores and allow your beard to stay healthy. Oil such as jojoba, argan, coconut, olive, etc., are all good essential oils that help to moisturize the beard and as a result, maintain healthy growth.
Brush your Beard: it is strongly advised that you should brush your beard to keep it naturally moisturized, remove dandruff, dirt, etc.
Should Black Men use Conditioner?
Yes, it is ideal for black men to use conditioners. It is necessary to condition your beard whether you use conditioner or not. The reason why conditioner is important to black hair is that it locks in much-needed moisture enriches the follicles with nutrients and also replace the damaged hair.
Is Argan Oil Good for Black Beard?
If you carefully observe, you will realize that we mentioned Argan oil along with the recommended beard balms; it is because it can serve that purpose. Argan is good for black beards because it hydrates the curly hair of black men from a natural perspective, and therefore, making the hair softer and reduces the toughness. Argan oil is known for its ability to penetrate into the hair and then enhances the elasticity of the hair, which will result in preventing breakage. Argan oil should be used to massage black hair to keep it in control.
---
Conclusion on Beard Balm for Black Men
Helping you achieve and maintain that amazing look is at the top of our agenda. We have provided an awesome road map for you. So now, ask your self, Do I want an amazing looking beard? Do I want to be on top of my game? If yes, what are you waiting for? Make a choice that suits you from one of the best beard balms for black men listed in this article. You can't get it wrong with these highly recommended products.
You should also check out: