Best Edgers for Barbers
To keep your customers coming as barbers, it involves the use of great tools too. I know you must have checked some great haircuts online such as social media and then decide to want to cut the same hairstyle, especially those worn by celebrities.  You want to go to your local barbers to get the haircut done for you. However, these awesome haircuts have to do with some tools.
I am going to mention those tools today, and then explain how important they are. How to get them and the various prices?
Andis Professional T-Outliner

This is one outstanding edger for shaving for real men. With this awesome edger, I guarantee the best cuts for you. It comes with a series of features I am sure you will like such as these listed below:
It is perfect for

all-around outlining, dry-shaving and fading. So if you go for it, you will not regret.

If you need a professional result for all-round outlining, dry shaving, and fading, this is the edger that can do that for you.
It is well equipped with close-cutting-steel, it has T-blade that is adjustable to zero gaps.
It is comfortable to handle due to the contoured housing fits it possesses.
It is a heavy-duty machine rather 8-foot cord with hanger loop.
It can be shipped to Nigeria and sold for $59.44. Get yours now before it gets off the store.
Get it HERE.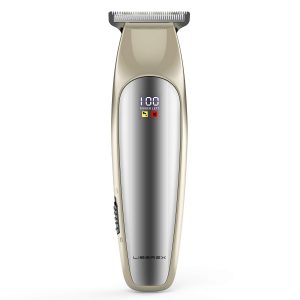 For sure, every barber should go for this edger, it is cool, portable, movable or stylishly put, mobile. If you need good haircuts, you need good tools that can do such magic. This is the reason why I will be introduced a fantastic hair tool for you. Go and purchase it immediately. It will be of good impact on you.
This edger is an electric endowed product. It helps in trimming fade hairs, it has set liners, close cutter, it is a rechargeable wireless T-blade grooming machine kit for both men and kids or family in general. It comes along with 3 guide combs.
It comes with the other following features below.
Closet Cut: It can help you trim your hairs around the face, ears, and neckline with the t-shaped blade it possesses. Besides that, the self-sharpening blades and fine cutting teeth make it easy for you to practice an extremely close cutting, removing pilling and snagging.
Multiple Cutting Lengths: There are 3 combs this powerful machine comes with, the lengths are 2mm by 0.08 inches, 3mm by 0.16 inches and 4mm by 0.0039 inches respectively. Although it is possible to use this tool without the comb, it depends on your choice.
Sometimes, it may be that you need a lengthy hair, therefore, these combs can take control.
Rechargeable Battery: This very edger is rechargeable, and there is nothing that makes me happy about a tool of any kind, especially when it is rechargeable. It means, you can always use it at extra times. Especially in an area where the problem of light is a major one.
Feel free to enjoy the bliss of this machine, that has the power to provide 90 minutes of cordless Lithium-ion power after an hour of charging. This is amazing. In fact, you should be able to cut the hair of ten customers a day without electricity, depending on how fast you are.
It has an LED that is easily displayed for you to read the power left status and also notify you to add oil timely.
Easy Operation: when a tool is easy to operate, what else do you need? As you see this clipper, it offers a powerful low sound motor, especially the compact and lightweight design that gives it the honor to be the family choice. It is easy to move, goes smoothly over the head, trimming or cutting your hair. This gives you the ultimate haircut experience.
Guarantee Offer for you: If you are scared of purchasing a product, the reason could be that there is no payback guarantee. As for this product, there is a guarantee for it.
Therefore, I think your confidence should be well built about it now. If for any reason, your product develops a funny fault within 60 days after purchase, kindly inform the manufacturers for an exchange or refund.
This item can be shipped to Nigeria, and it is sold $22.
Get it HERE.
Andis VersaTrim Cordless 14-Piece Beard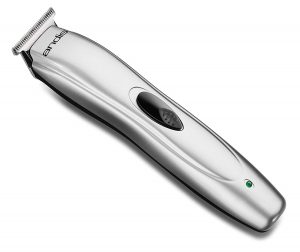 This is another fantastic edger, specially made for the beard. You will love it as it is going to give you the very result you need. Here are some of the features I am sure you will enjoy.
Features of the Product:
 I bet you will enjoy the features and may be triggered to want to buy as many as possible.
It is both cord and cordless rechargeable beard trimmer. If you need an attractive and awesome looking beard and mustaches, this product is sincerely meant for you.
It came with six attachment combs for ultimate trimming of your beard.
If you need a unique stubble look or longer beard styles.
It is a mobile, sleek, ergonomic design with soft-grip housing.
It is a machine with a dual voltage charger, which means it is universal. However, you are advised to the oil before usage.
The blade is made of polymer.
It can be shipped to Nigeria and sold for $19.99.
Get it HERE.
Andis Outliner and Trimmer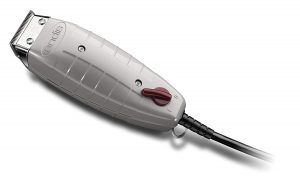 Another edger that will play a very significant role in the hairstyles of your customers is this wonderful edger.
It has a square blade feature that will surely be okay for your kind of hair. Apart from this, it has a magnetic motor trimmer that makes it move smoothly over your hair giving it an awesome look. If you need a professional cut for all-round outlining, believe me, this is the best standard for you. It is good at dry shaving and fading.
Are you interested in close-cutting, this is the right tool for you.  It contains a carbon steel blade, with a powerful high-speed motor that runs cool and silent. It is made of contoured housing fit for a better grip for your hand. It can be shipped to Nigeria and the price in amazon store is $59.99.
Get it HERE.
Wahl Clipper Amazon Products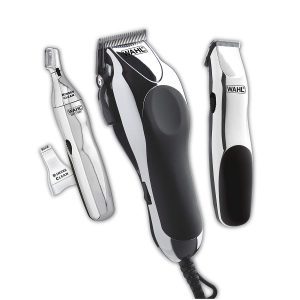 A very rare clipper with a powerful outcome for professional barbers. It can also be used at home depending on your choice. This kit comes with a hair clipper, detail trimmer, and a personal clipper.  It is a heavy-duty machine, the motor is awesome and runs over the hair smoothly. If you are scared of snag cutting, no problem because machine, in particular, gives you a perfect cut without a snag. It also includes a premium self-sharpening blade that can penetrate through the thickest hair.
Apart from all these above, there is a complete set of clipper guards attached to it which can glide through the hair for a good comfort, and best of cuts for you and your customers.
The detail trimmer as I mentioned above, is known for a high score for finishing the job by cleaning up your neckline, touch-up sideburns, and then trimming around the ears. As for the personal trimmer, it includes two heads that are detachable, and it is very perfect for fine detailing and trimming the ear and nose hair.
Get it HERE.
The Cosyonall Rechargeable Cordless Beard Trimmer Kit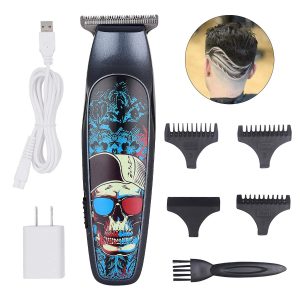 This clipper or edger is specially made to trim the beards. This is a must-have tool for a barber, either at home or for heavy-duty at work.  It is a rechargeable edger and gives high-quality haircuts at home as well as professional usage. It comes with three additional combs that make it quicker and faster to find your desired comb size for a specific reason.
It comes with some advantages that I am sure you will love which are:
It contains an indicator
It has a powerful meaning motor
It is smooth and easy haircuts, wet and dry
It is good at cutting all types of hair Weather wet or dry
It has a powerful lithium-ion battery
It has a compact and cordless for easy use
It comes with USB quick charging cordless convenience
Soft-touch grip for easy use
It contains sharpening blades for long-lasting performance
It comes with some packages that include the following :
1*T-Blade Hair Clipper
1*Charging Adaptor
1*Charging Line
1*Cleaning Brush
3*Combs Replacement
Other Features
It has high speed and the durable motor cuts cleaner and runs over your hair quietly. It trims close your entire hair as you want. It is your choice. It trims close your neckline, beard, mustache, perfect for detail work in haircut, outline and fades short your hairstyles.
Compact and Powerful, do you need an appealing aesthetic in addition to top-notch precision and function. The T-outliner is perfect for your hair as it gives you all-round outlining and fading and the T-Blade feature is an ideal way for trimming necks, beards, mustaches, and edging around ears. I love one thing about this product which is the extreme lightweight and fits in your palm for great control.
It has high-quality accessories that you will not like to miss out at all. This means the trimmer comes with the necessary accessories required for use.  There is a beard trimmer with blade guard, charger, charging line, cleaning brush, three combs replacement, and user manual, perfect hair trimmer kit made for men.
It has an ultra-powerful compact trimmer, which gives an appealing aesthetic in addition to top-notch precision, and function. The T-Outliner is good for your beard or facial hair.
This wonderful product contains professional trimmers, hair trimmers, beard trimmers,  hair cutting kit, hair cut, men's grooming kit, barber clippers, professional groomers, self-cut for men, body groomers, barber clippers, haircut machine, hair cutter, shavers, razors, personal trimmers, body groomers, etc.
It can be shipped to Nigeria and sold for $29.99.
Get it HERE.
Wahl Color Pro Cordless Rechargeable Hair Trimmer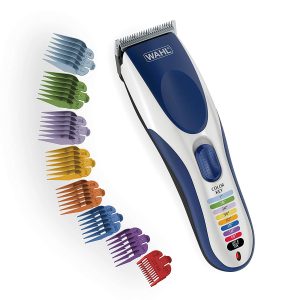 This is another cordless clipper manufactured by one of the best companies that make their products available in the Amazon store. It comes with lots of features I am very sure you will so much like.
Let me briefly describe the product for you to see. It features color-coded combs that make it smart when it comes to speed rate in finding the kind of comb size you desired at a time.
There is one awesome thing I like about this product which I am sure you will like too. That's the convenient color code guide attached to the clipper. Its function is to help identify the size of the comb to use in seconds. You know, there is no time to waste in this era of ours. Not even in any era.
This clipper is a kind of powerful tool, and it possesses a long-lasting battery which is also rechargeable. You can run it over your hair for one hour none stop. Take note of one fantastic feature it has also, the clipper can be used with or without the cord. Wow, what a fantasy, so relax even when there is no light to power it at a specific time of the day.
There are other things that are included in it such as the self-sharpening feature, stainless steel blade which will give you an astonishing performance.
The stainless-Steal blade is the type that is removable, therefore, this will ease the cleansing of your amiable clipper.
The product comes with other materials such as the clipper blade guard, a complete set of color-coded attachment guards, accessories for haircutting, and instruction written in color because the manufacturers understood that our mind enjoys colorful things. The instructions will give you step by step guide for an easy usage of the product. This product is not only used as professionals but at home too.
Lastly, it contains a soft storage case which improves the convenience. The voltage of 110-240V is universal both home and international. It can be shipped to Nigeria and sold in the Amazon store at $27.30.
You can get it HERE.
I am very sure that there are lots of best edgers out there for professional barbers, which can either be used for your hair or beard to give you the best look you actually desire. However, these ones mentioned in this article are one of the most outstanding ones you can get around the world.