Looking for the Best Beard Balm for African Americans? Take a dive in, will you?
Think of what a moisturizer does to your skin. How it penetrates deep down the skin to give it that glossy and refreshing look. How it nourishes and keeps it from drying out especially during the harmattan. The same applies to your beard. It needs a moisturizer like your skin or even better.
Grooming a beautiful beard takes more than just a pair of comb and brushes. You need to invest in Beard oil, beard wash and lastly beard balm. A combination of this trio will give your beard the perfect appearance it craves for.
Beard oil seems to be the most popular of the three, there is a host of them scattered around the market, you can just walk to a store and grab one. As much as our beard need oil to keep it moisturized, it still needs something special to prevent it from drying up and looking all kinky. You need something heavy like a lotion, but with even greater benefit. Such as keeping eczema and dandruff meters away.
But this time am not talking about the same lotion you use for your body, am talking about special moisturizer meant solely for your Beard – the Beard Balm.
A Beard Balm is a hair grooming product made from a mixture of different ingredient most of which includes: essential oils, Shea butter, and fragrance to keep the beard hair soft and conditioned. A beard balm shouldn't be confused for beard oil. Apart from differences in their texture, they offer different benefits to the beard.
While Beard oil nourishes and moisturizes the beard, Beard balm does more than that. A beard balm offers the benefit beard oil offers because it also contains essential oil.
In the real sense, a beard balm can do all that a beard oil can do but beard oil can't offer as much as beard balm. Making the balm more supreme to the oil.
Would you go for the beard balm or the beard oil?
Before you answer that, let's take a look at what the beard balm offers:
Beard balm helps you do the following:
Moisturizes and nourish the Beard
Allows to tame every strand and keep the beard in shape.
Keep Dandruff and other skin diseases in check.
Take advantage of its texture to enable you to style your hair better.
With the texture of the African American beard, not all balm will do. It takes something special to care for such kind of beard.
Do you want a beard like Jidenna or Usher?
Then you certainly need one of this premium balms on this list.
Join me as we take a look at Ten Beard Balm suitable for the Africa American Beard.
Honest Amish Beard Balm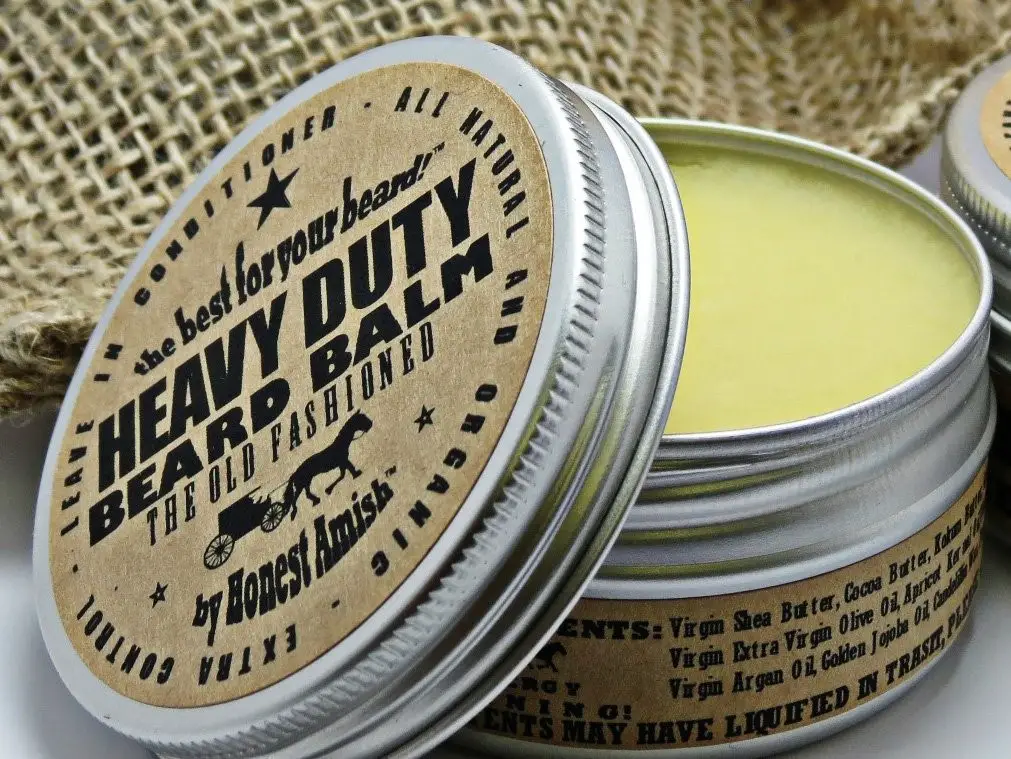 Honest Amish are well known when it comes to beard product. Apart from beard oil, they also produce high-quality beard balm. The company operates with the Amish culture at heart. The Amish men are known for keeping long the beard as a sign of obedience to biblical doctrine.
Honest Amish products are made from natural ingredients made to soften beard hair. The absence of preservative and other man-made chemicals makes it fit and free from side effect.
The Beard Balm is made from the following ingredients:
▪ Virgin Argan Oil
▪ Avocado
▪ Grape Seed
▪ Virgin Pumpkin Seed
▪ Jojoba Oil
▪ Hair Enhancing Essential Oil.
▪ Fruit and Nut Butter (Shea butter, Aloe Vera, Cocoa, Kokum, and Apricot Kernel Oil).
This balm combines to soften the beard, moisturizes and gives the beard a natural glow. With the nature of the Africa American beard, the essential oil in this balm combines to prevent your beard from dryness.
Its conditioning effect, helps you style your beard and also prevent itching which may occur as a result of heavy fragrance used on other products. Click: honest Amish balm to buy this product.
Seven Potions Beard Balm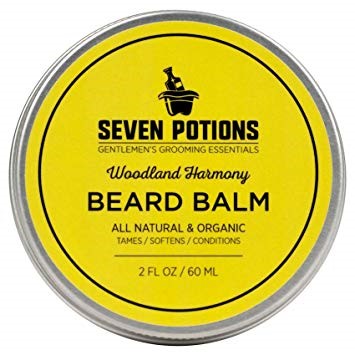 Seven potions beard balm is just the perfect softener for your Beard. If you've had a tough time growing a coarse beard like the Africa Americans, this is for you.
It is made from all-natural ingredients like jojoba oil, cedar woods, Sandalwood, Essential Oil, Argan, Shea Butter, and Cocoa Butter,
The combination of this oil gives it a baby-like scent when applied to the beard. The container looks like a Snuff-box, so it shouldn't be confused for one.
This balm is especially suitable for those with dry and flaky Beard, making it a better fit for an Africa American. Click this link to buy: Seven potions beard balm
Smooth Viking Beard Balm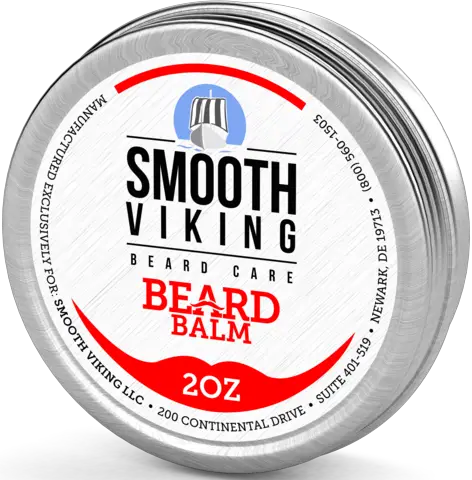 Smooth Viking Beard Balm can tame even the most rebellion strands and also used as leave-in conditioning treatment along with beard oil.
This beard contains a host of premium ingredients which are majorly natural oils like Avocado Oil, Almond Oil, Jojoba Oil, Pumpkin Seed Oil, Argan Oil, and Shea butter. These key ingredients combine well to give the balm an all-natural mild scent devoid of any additional fragrance.
This balm offers four in one solution: it styles, thickens, conditions and makes your beard grow faster. Click to buy: Smooth Viking Balm
Rocky Mountain Barber Beard Balm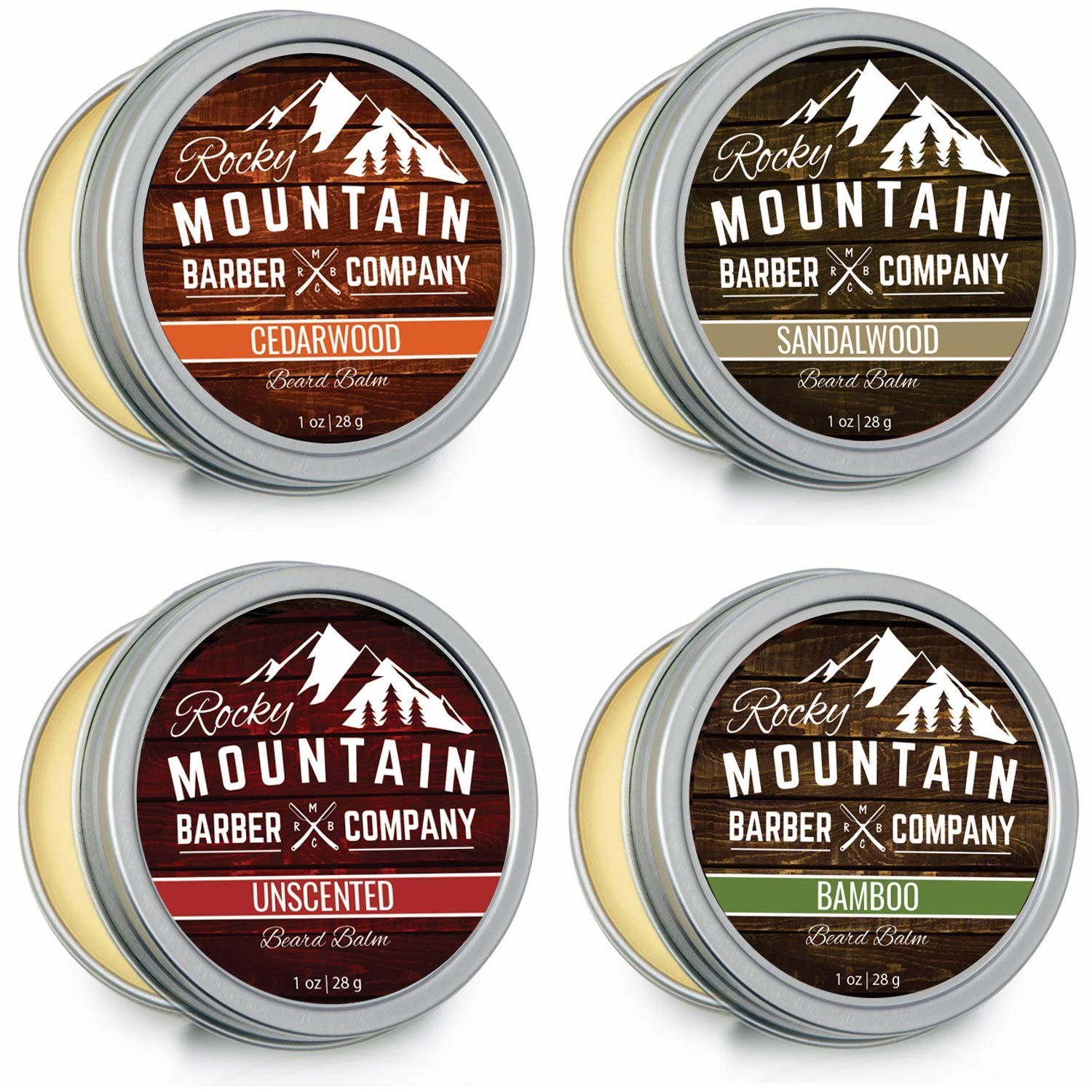 Rocky Mountain are big players in the area of beard product, just like Honest Amish. Their premium care products range from beard Oil, Beard balm Shaving Cream and Aftershave.
These products are made from natural products and inspired by plants like: Seafood and Cedar wood. The balm in particular is centered on Cedar wood, sandalwood and bamboo. There are four versions of this palm. Namely: bamboo, unscented, cedar wood and sandalwood. All balms contains the same constituent but a little difference in key ingredients. Each balm comes in its unique container and scent that set it aside.
The dominant ingredient in all four versions also vary. As an Africa American, the cedar wood balm fits the texture of your beard. It is actually the most popular of all four versions.
The balm is made from 5 Essential ingredients namely: Jojoba Oil, Cedar wood Essential oil, Bees wax and Shea butter. They blend together to form a powerful formula that moisturizes, hydrates, and act as a conditioner to keep the skin beneath your beard free from dirt. It moisturizing effect keeps your beard shining and prevents itchy or flaky beard which may surface as a result of break out.
It is priced at $12.9.Buy at: Rocky Mountain barber beard balm
Beard Bolt XL
Beard Bolt XL contains three Essential ingredients:
Shea Butter
This balm contains natural Shea butter mixed with essential ingredients. The Shea butter contains vitamins which works by penetrating underneath the skin to moisturize it and also alters the beard texture by making it soft. It also work as a stimulant to induce hair growth and prevents skin infections that may arise due to dryness.
Beeswax
Beeswax is an essential ingredient found in many skin care products especially moisturizers. Like the name implies, it acts like a thickener. It is responsible for the balm's texture. It is the main reason why some balm offer leave-in conditioning.
This is naturally thick, but when combined with oils used in balm, it comes out applicable. Beeswax is the holding agent in balms that gives you the freedom to style your beard.
Oils
There are a host of oil blended into this balm. Those worthy of mentioning are: Hemp seed oil, jojoba Oil and avocado Oil. Hemp seed oil is the most active oil here. It contains omega acids which stimulate hair growth. Other oils merely act as moisturizer and conditioners.
Voodoo Coconut Beard Balm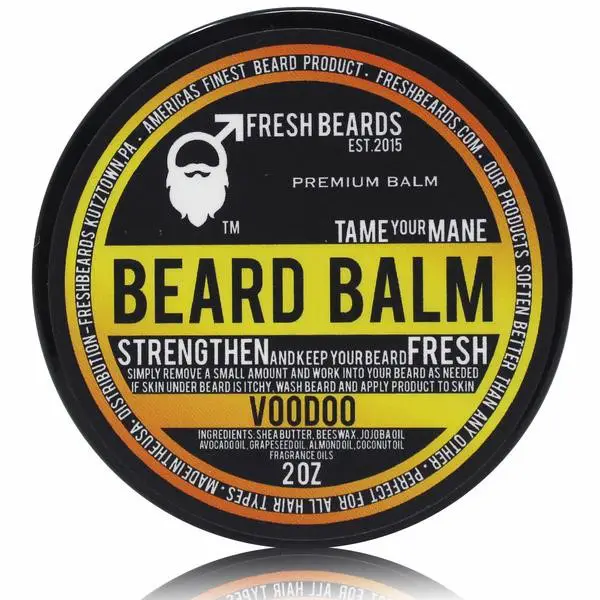 The benefits of coconut is wide spread. It uses are numerous. It is an active ingredient in many health and skin care products. Apart from being converted to coconut oil for cooking, and as a moisturizer, it is also used as Balm for your beard.
With already know benefits derived from this product, a balm made from it is surely going to be effective.
There are a host of coconut beard balm sold by various manufacturers, you can even make one for yourself if you have the right recipes.
One of the best coconut oil balm you can find is: Voodoo coconut Beard Balm. This product is manufactured by American Voodoo.co
Their balm is made from coconut and castor oil. Two active moisturizing products…
Apart from these two ingredients, there are other ingredients integrated into the balm, they include: Apricot Kernel Oil, Hempseed Oil, Sunflower Oil, and Argan Oil.
This product helps soften your beard and prevent the layer of the skin under the beard from wrinkling. It also act as a Leave-in conditioner that moisturizes and reduces the outbreak of dandruff.
The addition of Lemon grass, sweet orange and mint offers an easy to love the scent. Click: Voodoo Beard Balm to buy this product.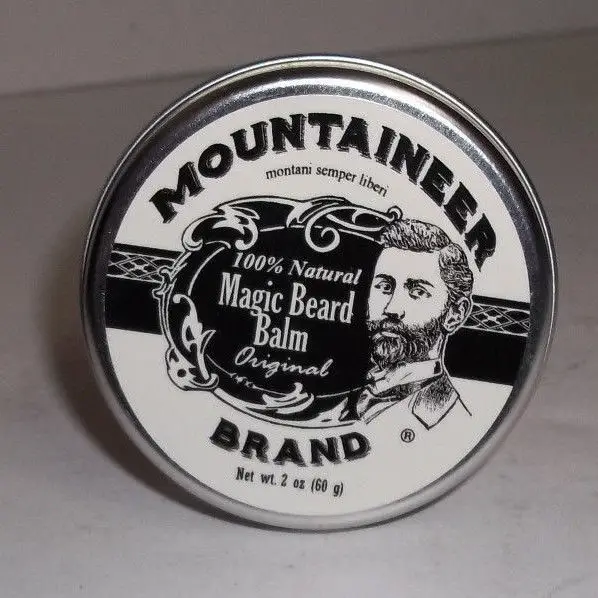 This balm comes in three different scent, all formulae performs the same function of moisturizing the skin. The balm is made from the following Ingredients: Grape, Beeswax, cocoa seed butter, and vitamin Oil, it goes the extra mile to condition your beard and repair damaged hairs.
This balm contains a lot of beeswax compared to oil. It explains why its texture is thick. But notwithstanding, it is pliable to the beard, its texture doesn't restrict its styling effect.
Click: Mountaineer Beard Balm to get this product
Wild Willie's Beard Balm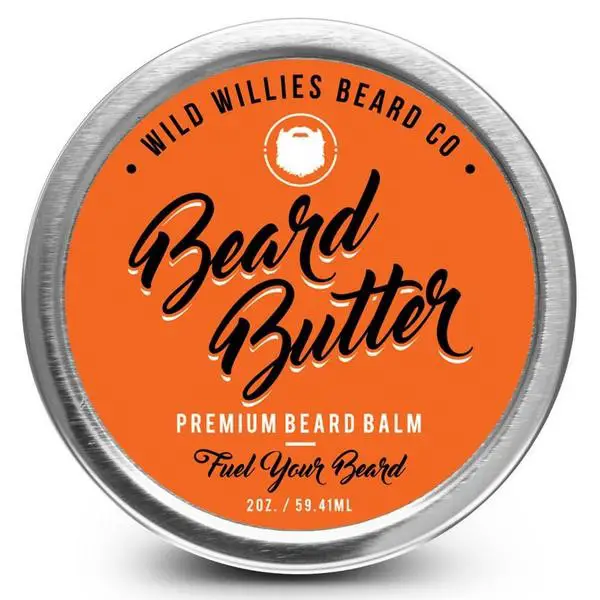 Wild willies used a new approach for their balm. Its texture isn't too sticky compared to normal balm. It's more like a butter, its scent makes it even more appealing to the eye. But don't be too tempted to have a taste.
Wild willies products have concentrated on helping men groom beard faster. These products are of high quality and highly effective.
The Wild willies Beard Balm includes the most widely used ingredients: Apricot Oil, jojoba Oil, Castor Oil, and Argan Oil. These are the ingredients you will find in virtually every skin care product.
But what sets it apart from other skin care product are two special ingredients namely: Emu oil and Almond Oils. Almond oil isn't so strange given that is used in most beard products but Emu oil isn't something you will find in beard balms.
Check out the Wild Willies Beard Balm on Amazon.
For that, I made in-depth Research and this is what I was able to come up with…
Emu is a flightless bird that looks like an ostrich. The bird is originally from Australia but is found in other countries. Meat derived from the bird provides many medicinal benefits. Along with its oil.
Emu oil is a yellowish liquid made of fat, which is extracted from the deposits below the bird's skin… The oil has been used to relieve persons suffering from minor pain and aches. It also helps heal wound faster and protect the skin from rashes and breaking out.
The benefit of this oil is numerous but when integrated into Beard balm, it helps to moisturize the skin and also act as a sunscreen to prevent sunburn. The skin's affinity for this oil helps allows it to absorb quickly, thereby preventing cracking or drying out. Wild Willie beard balm.
Grave before Shave Bay Rum Beard Balm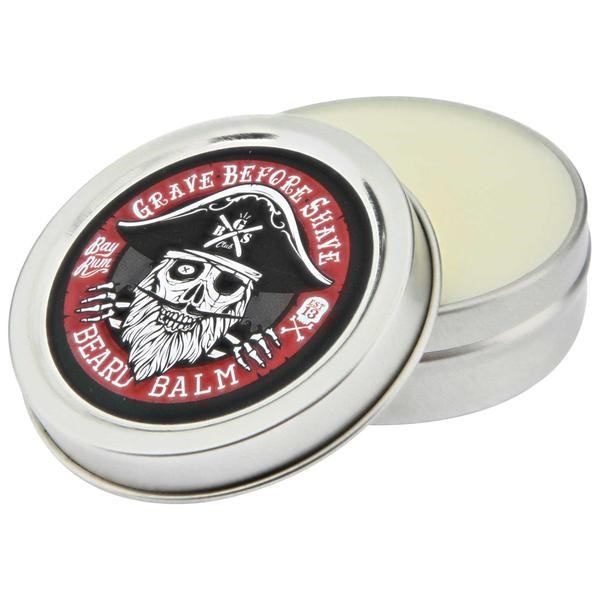 The balm contains the usual suspects found in every beard balm: Shea butter, beeswax, coconut oil, Apricot Oil, and jojoba oil.
Apart from the Rum, this product is available in another scent version- the medicinal original.
As already known, Shea butter adds more volume to your beard while oils help create a glossy shining look. Click: Grave before shave to buy.
Scotch Porter All Natural Men's Beard Balm

Scotch Porter is a name on the lips of every beard grooming guy.s their beard grooming product serve as a renaissance to those serious about growing a beard.  The brand has a variety of beard care products. Such as Beard Smoothing Oil, Beard Growth oil, Beard conditioner, beard wash and Lastly Beard balm…
This balm suits the texture of an African American Beard. Click: Scotch porter beard balm and make your order.
Now that you have seen the best Beard Balm for African Americans, will you start buying now?