Billy Jealousy is a line of cosmeceutical developed products created to care for the skin, hair, and body of men. Cosmeceuticals are scientifically designed formulas that are expertly blended and created with the highest quality raw ingredients.
Billy Jealousy has worked since 2004 to create gentlemen's grooming products that are natural and efficiently formulated and crafted in the USA. Billy Jealousy promises from its inception to keep men looking, "playful but polished."
Billy Jealousy History
Billy Jealousy's line of high performing cosmeceutical products was founded in 2004 by Pat Parsi and Danielle Rouso.
This line of Cosmeceutical skin care products has been scientifically designed to help men especially with making the skin more attractive by changing its structure and function, a process which will allow the skin heal, regenerate and cleanse every form of blemish.
Billy Jealousy bases its formulas not just on marketing practices but on scientific research and it uses only the finest raw materials in all of its products. The advanced formulas have been blended to exacting levels in a bid to deliver optimum performance in looking after a man's skin. Each of these formulations/product contains five to twenty different key ingredients which are combined to create a chemical reaction that has a direct benefit in enhancing the appearance of men and protecting their hide and works to perfect and protect your appearance.
Billy Jealousy bases his formulas on scientific research, ensuring effective products. Instead of fluffy packaging with lacking ingredients, Billy Jealousy boasts masculine and aesthetically pleasing bottles and tubes, and proven formulas that help you maintain your effortlessly edgy look. With accolades from Men's Health and Esquire magazines, Billy Jealousy's products are sold and used throughout the world, from Singapore to Auckland, New York to Los Angeles, London to Johannesburg.
For each product sold, Billy Jealousy donates a portion of the proceeds to charities that support arts, environment and human needs. Isn't that really cool?
Their product ranges from the beard conditioner to beard shampoo, oil, conditioners, and the likes.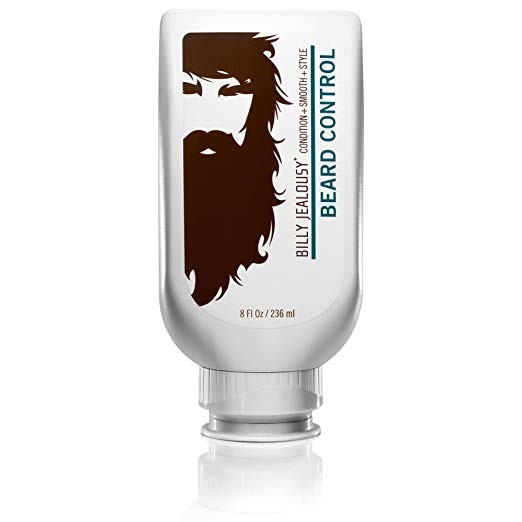 This conditioner delivers what it promises, a nicely shaped and well-groomed hair that will stay in shape for hours, the product also retails for a competitive price. The bottle is made of quality materials which makes it easy for the billy jealous beard control solution that is inside of it to be removed with ease.
This beard control product by billy jealous is one that adds a new touch to your beards and as common among men, the beards tend to look great in the morning and messy in the evening, the billy jealousy beard control product will give your beard a retentive shiny look for hours. Thing is, the beard control gel loses it's effect once you wash it off your beard and you must always be mindful of that.
The direction of use of Billy Jealousy Beard Control Product
1. Put a small amount of conditioner into your palms and rub your hands together.
2. Apply into beard and brush/comb through to evenly distribute the product.
3. Wash off after few minutes
4. Use a round comb and a blow-dryer to get the beard in shape.
After applying the Conditioner, the result is nice. The hair gets a good hold and stays in shape even after a couple of hours.
The major products in Billy Jealousy Beards Control
Aloe Leaf Juice: This Softens and hydrates the beard and skin
PVP: Present as a styling agent to help hold the hair in place
Jojoba Seed Oil: Stimulates, conditions and makes the beard shine
Panthenol: Provitamin conditioner
The other ingredients used include alcohol, water, sorbitol, witch hazel water, glyceryl stearate SE, Fragrance, Malic Acid, Aloe Barbadensis Leaf Juice, Chamomilla Recutita (Matricaria) Flower Extract, PVP, Simmondsia Chinensis (Jojoba) Seed Oil, Dimethicone, Calendula Officinalis (Marigold) Flower Extract, Cyclohexasiloxane, Cyclopentasiloxane, Polysorbate 60, , Cetrimonium Chloride, Panthenol, Cetyl Alcohol, Glycerin, Humulus Lupulus (Hops) Extract, PEG/PPG-14/4 Dimethicone, Salicylic Acid, Phenoxyethanol, Caprylyl Glycol.
The Billy Jealousy beard control at the manufacturer's website cost USD 20,00 / 236 ml while at amazon.com, it costs USD 20,00 / 236 ml.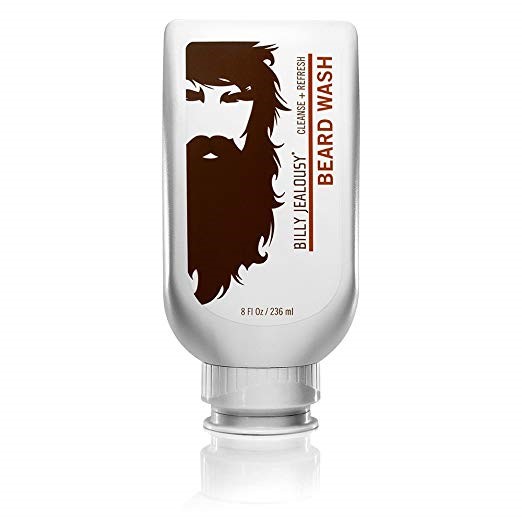 Billy Jealousy's beard wash cleans, softens and detangles the gnarliest of beards guaranteeing a forever vibrantly diverse grooming picture for modern men, Billy Jealousy's beard products have certainly hit all the right chords over the years. This product also comes in a larger size. A standard size tube will last about four months.
The formula itself is enriched with high grade ingredients. There's a couple of moisturising components in there that look good, as well as some powerful cleansers that serve a crucial purpose in maintaining a totally clean facial forest. Upon application, the formula foams up really nicely and it smells really fresh too. During washing, it's easy to feel how much smoother your facial hair becomes and after it's rinsed off, beards will look hydrated, smooth and uniform. Leaving your beard feeling soft and looking sharp.
A good dose of Billy Jealousy Beard Wash really supercharges the way one looks and feels increasing self-esteem.
It's important to remember that beard hair isn't like the hair on the head, so a regular shampoo won't do. Instead, get something a little more targeted thus the need of Billy Jealousy's shampoo. With a mild woody scent, using this product three or four times a week will more than do the trick, if your facial hair is medium it increases to long and If it's shorter, then a couple of times a week is more than adequate to get it to the desired length. For even better results, this product is combined with a good beard balm. Billy Jealousy's Beard Control is the obvious bet.
Billy Jealousy beard wash on the other hand is an aloe-based solution that works as a cleanser for your whiskers. Billy Jealousy's beard wash was featured in 2014 Esquires's grooming award for being a beard wash in its very own league. The beard wash is a perfect blend of hair nourishing ingredients and it serves as one that helps clean and smoothen the most rugged of the rugged-looking beards out there, doing a satisfactory job that leaves no frizz. The presence of aloe leaf juice present in the blend softens and hydrates the beard as well as the skin while the soy protein in the beard wash helps to give the hair a glowy look. Honey extracts in the ingredients make for a perfect solution for nourishing and protecting the skin while the green tea extracts on their very own strengthens and conditions the cuticles.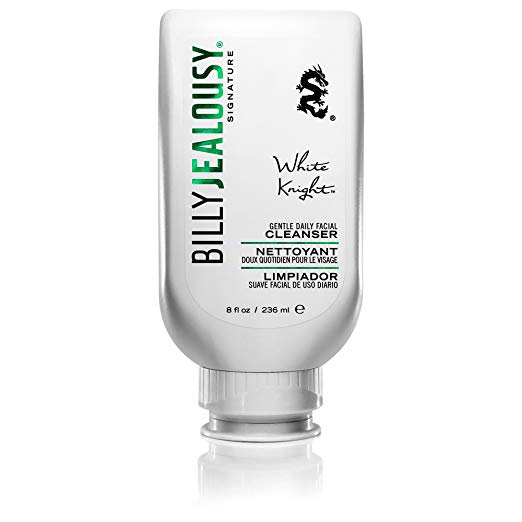 Billy jealousy facial cleanser is one that has won an award for doing a very good job as testimonies by users around the globe abounds every day and the facial cleanser has been confirmed to remove dirt, oil and other impurities while keeping the skin hydrated. The natural enzymes present in the cleanser makes it perfect for all skin types as it gently exfoliate dead skin cells with no harsh reaction from the skin. The Men's Health by Instinct magazine hails the cleanser as the best one out there for males of all backgrounds.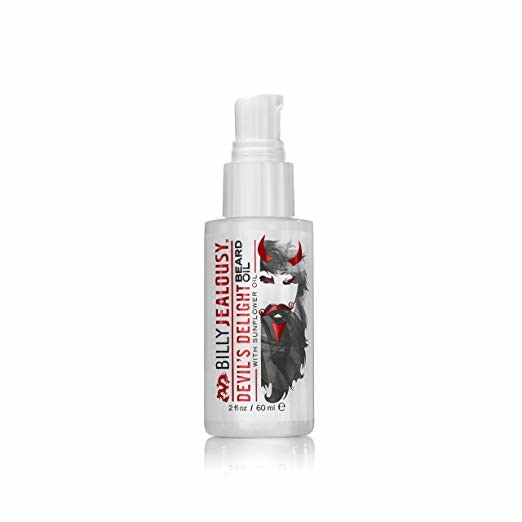 The Billy Jealousy beard oil is one that is packed with feature-rich and effective ingredients like sweet almonds, avocado oils and sunflower that aids with giving your beards a soft touch while keeping its strength. The beard oil does its job in moisturizing and strengthening your beard hair and making the itch a thing of the past while boosting your hair growth with the soybean oil that is present in the oil's blended ingredients. A dab on the beard is all that is needed to feel how powerful the oil is in all its glory as it adds a coveted shine alongside a touch of black pepper fragrance.
The billy jealousy beard oil, according to users' testimonies is one that is warm, sweet and rich.
General Reviews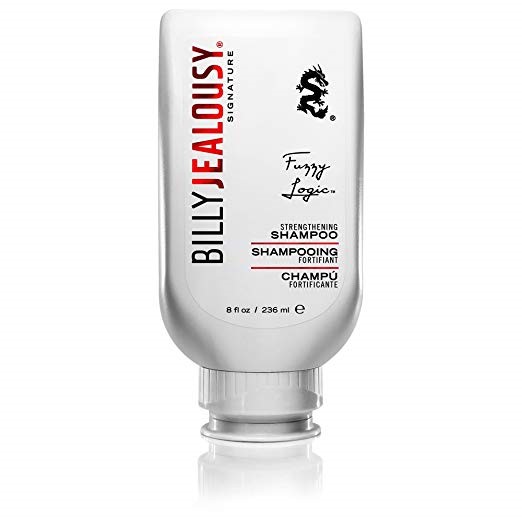 This is the perfect way to go for men who are not into smearing clays and waxes all over their hair. The texture is just about right and the scent is light yet masculine enough that it won't ever block the shine of your cologne. With this hair moulding cream, you are bond to get tempted to apply more than a dab, do everything it takes for you to stop that decision as anything more than a dab is a total waste of cream.
The billy jealousy hair moulding cream is one that is geared towards taking down overgrown and stubborn hair as pliable as it might look, it never get in the way of your style and it is just right for creating a flexible look for your hair.
Review on Billy Jealousy Shampoo and Conditioner
"My first impressions: A nice size bottle and a robust design that in no way looks feminine. I don't feel all too masculine clutching for my girlfriend's favourite Moroccan Oil Shampoo during shower time and I was so grateful for such a bulky looking men's shampoo that has clearly been designed for tough men who might have a softer side from time to time."
"After running it though my hair, I instantly noticed its great menthol smell, smelling very similar to those mint sweets you used to have as a kid. The minty texturizing didn't stop there either, as a tingly refreshment soon captivated my scalp. Giving my failing locks an instant hit of softness and energy, it was pretty quick that I began to see that Billy Jealousy was clearly the one for me."
"I liked the fragrance the first time I used this shampoo. Along with the subtle peppermint, I noticed a hint of vanilla or caramel. The shampoo is slightly thin which in a way makes it easy to distribute and lather. I'm really happy with this product."
"This along with Billy Jealousy Cashmere Coat is my favourite shampoo/conditioner combo. This shampoo really helps with my thinning hair and my hair always feels super cleaning after using the product. If you are looking for a new shampoo to try, I would highly suggest it. If you want to add Cashmere Coat, which might not be a bad idea either."
One of the excellent strengthening shampoos out there on the market is the Billy Jealousy Fuzzy Logic Strengthening Shampoo as it makes your hair look and feel thicker than it actually is thereby inflating your ego and sense of pride which is why this is another bang for bucks from the Jealousy products line-up.
General Review
"Over the past few months of daily use, the overall condition of my hair has improved remarkably, as well as the health and softness of my scalp. Billy Jealousy claim that this product has DHT blocking and hair strengthening properties and I would have to agree, as my hair follicles see much stronger. Since using Billy Jealousy, it's become apparent to me that I've clearly been missing a good men's shampoo and I'm very proud to say that I've found one for life, with no other alternative I've tried here and there coming anywhere near close.."Posted in Reviews By Alex Dalley – Male Grooming Expert
"This stuff just works plain and simple. Hair feels thicker and smells great. I do like to try new products but find it difficult to buy anything but this. Just try it."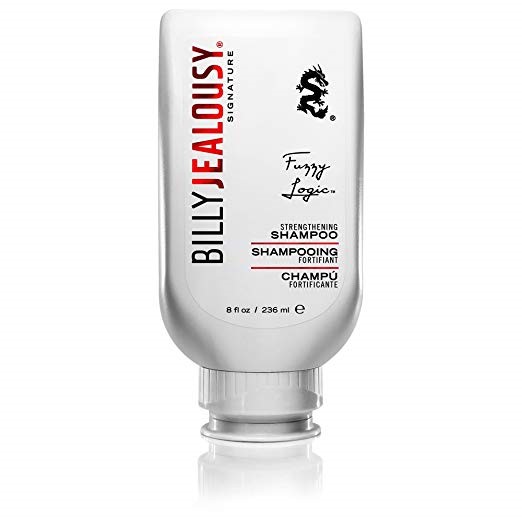 Billy Jealousy Fuzzy Logic hair shampoo for men guarantees a desirable hair texture. For best results, it should be used with Billy Jealous Cashmere Coat Shampoo. It works great for thinning hair, strengthens hair and adds volume to hair containing menthyl lactate, peppermint oil, cocamide MEA and panthenol.
Billy Jealousy Fuzzy Logic is a shampoo with a level of thickness and consistency with it. There is a strong pepper-mint like scent that comes about as a result of the essential oils present in the shampoo, these oils also help with the prevention of hair loss at the roots. It has won multiple awards for its advanced and vitamin-fortified formulae such as the Instinct's Best Shampoo Award and Real Beauty's Gold Star Award. This thick hair strengthening shampoo also adds volume and brings new life to boring, aged hair and it stabilizes the scalp by blocking DHT and dissolving sebum which causes hair loss. Contents: 8 fl oz (236ml)
Deep cleansing shampoo helps to get rid of the hair of impurities that lead to hair thinning and hair loss which also comes with free travel size. The Billy Jealousy Fuzz Logic Strengthening Shampoo is undoubtedly the go to brand for those looking to not just cleanse their hair but also prevent loss of hair or reduce the loss to the barest minimum.
With the fuzzy logic, you can eat your cake and have it as it is possible for you to keep your hair while maintaining that fly look. The presence of DHT formula in the peppermint shampoo acts as a blocking agent that helps with the reversal of hair loss at the roots. Fuzzy logic is one that's has been trusted by many to get the job done when it comes to appearing and styling your hair just the way you want.
The uniqueness of the Billy Jealousy Shampoo
The presence of Menthyl lactate and peppermint oil helps block DHT formation on hair producing cells which is one of the leading causes of hair loss.
Cocamide MEA, a coconut-derived cleanser and moisturizer leaves hair shiny and soft.
Panthenol is a conditioner made up of pro-vitamin rich ingredients that help to strengthen and soften the hair brands.
Billy Jealousy Fuzzy Logic Strengthening Shampoo can be gotten off the shelves of hair care stores and online marketplaces as well.
A perfect run to the solution for guys who have started losing hair in their prime, the shampoo's perfect blend of ingredients cleanses and ensures you have a thicker hair root in no time at all.
"Every once in a while…I come across a pomade that I never thought I'd try, but now, I end up trying…and it always seems to end up surprising me.
So, let's talk about Billy Jealousy Pomade.
The pomade is one that has been avoided by lots of first-timers who bought based on recommendation or just picked it off a shelf 'cause they have some money to spare, most even forget it in their drawer 'cause the logo is that of a dragon, so, the content must also be a fairy tale. Consistent users already testified to the fact that regardless of the design of the label, the pomade works its magic on everyone.
Scent
The smell is nothing out of the ordinary, as a matter of fact, it smells just like the everyday shampoo used on you after a cut at the salon. The scent is more floral-centric with a touch of lotion cologne to it, it's not a perfect smell for everybody but it's something the majority would like.
Billy Jealousy Pomade texture
Texture & Application
The texture of the pomade is in some way similar to that of Steadfast with the difference being that the billy jealousy product can be likened to a soft goop that is easy to just scoop out of its container and apply to hair as desired. This one characteristic every other hair care product company should adopt and emulate as most of the products out there don't even do what the producers claim they do.
Slickness
The slickness is near perfect regardless of the fact that it is water-based, it is as slick as slick can be nonetheless. Users can testify to the fact that the slickness is a nice touch and it is just right when it comes to tightness. The presence of the pomp also helps keep it together quite well.
Shine
There is no shine to it, which in my honest opinion ain't a bummer as it is expected of water-based pomade.
Strength
It has amazing strength…not in terms of the hold but the quality of the control.
The strength is enough to leave you wowed and confused at the same time, most users tend to go back to the label to confirm if it's really a water-based pomade as it provides a refined control that is found wanting in other water-based pomades.
Billy Jealousy Pomade pomp
Billy Jealousy Pomade shine
Billy Jealousy Pomade part
Endurance
The sag on the pomp can hardly be noticed, even after an entire day of use, this is just about right to keep anyone amazed and stuck to the product.
Restylability
This category is where it outshines majority of the water-based pomades out there on the market. You might want to add a couple drops of water as preferred but the effect without the additional water can never be underplayed.
Hardness
The hardness does not in any way cut across as crusty, so basically, it gets hard but never crusty.
Billy Jealousy Pomade final pomp
Billy Jealousy Pomade final shine
Billy Jealousy Pomade final part
The pomade is one that can be vouched for come rain come shine, the only part that would need a little improvement according to reviews on the products page is the scent, it could have been a little nicer.
Review on the Billy Jealousy Hair Oil
The scent of the beard oil is one that's easily accustomed to as it is one that is enjoyable for peeps who love the smell of it earth when it just rained.
The balm really helps keep the hair in place and looking well kept. I love a well-groomed beard. The beard wash has also helped him with the ache under his beard as it is not overly drying." Kody.K
The Billy Jealous brand consisting health and body needs for men is a stylish way to look and feel good acquiring the result you most require in your journey to a better-looking beard and hair. The carefully and fabulously combined components give a refreshing, strong, nice looking, and shiny beard by the use of the conditioners, shampoos, hair wax, and others.