How to choose a beard trimmer – There are a lot of buddies out there, who are confused about how to choose a beard trimmer but don't worry you just open the perfect content that will guide you on how to choose a perfect beard trimmer. If you are a fan of the beard gang or you have a beard, then you likely know how valuable it can be to have the right arsenal of trimmers for a beard, which must always be available at hand in your bathroom.
When surfing the net or moving around that store to pick a beard trimmer, you must have this in your mind, "will this beard trimmer give me the good performance to produce an optimal look" if a beard trimmer can't give you this optimal look you seek, then that a big NO for the beard trimmer. The main importance of any beard trimmer you come across is to tame the beast that is growing unpredictably on your face.
Without a beard trimmer for your beard, I bet you won't like your look within few months, when you have the right beard trimmer you can accomplish any look you wish for, ranging from being a sophisticated gentleman to burly lumberjack or anything in between. Any man who loves his beard, one of his necessity is a quick clean up routine of his beards in the mornings, or to endeavour a new and ambitious beard style.
According to most research books and platforms, beards have historically been a symbol of masculinity, a study by the Australian researcher Barnaby Dixson published in Behavioural Ecology says that both men and women associate a higher social status to bearded men.
We have gone into stores and surfed over 200 pages on a different search engine to come up with this terrific result on how to choose a beard trimmer.
Below are all the questions you need to ask yourself about the models you are considering.  You need to abide by each criterion here and make sure to narrow down your selection of the best trimmer for men with ease, in other to know how to choose a beard trimmer.
How to choose a beard trimmer – What is the Beard trimmer made from?
 Any trimmer out there should be made of high-quality materials, such as stainless steel, and have a good construction. This will help you to know if it is a reliable model and if it will last for the long haul.
How to choose a beard trimmer – What type of trimmer do you want?
There are majorly two types of the trimmer, Cordless or Corded trimmer, you should consider how long it takes to charge and also does it have a quick charge function in case you travel a lot, or just want an electric beard trimmer model with high manoeuvrability, then a cordless model might be the way to go for you. In some situations where your bigger priorities are infinite battery and higher horsepower, you need to go for a corded trimmer.
How to choose a beard trimmer – When do you tend to trim your beard?
Some buddies love to trim their beard before shower, so you can be they can do the clean up at once if you are part of this gang then one designed for dry trimming will serve you much better but if you tend to trim your beard after a shower, then you'd want one intended for wet trimming.
If you aren't in the two options, then you must fall into the categories of the men who do their grooming whenever they look in the mirror and realize they need to trim their beard. The suitable type of trimmer for this men are trimmers that can switch between modes.
How to choose a beard trimmer – How long do I like my facial hair?
All the beard trimmers have been set with different length settings for you to choose between, the ball is now in your court to choose how you like to style or give a perfect shape to your beard, no matter the style and shape you want,  your top priority is to make sure your beard trimmers are conducive to those need.
There 3 types of beards which are the short, medium and long.
Short beards: These are beards that range from 0.5mm -4mm, they are very short stubble.
Medium beards: Anywhere from 5mm to 12mm usually constitutes a medium beard.
Longbeards: When your beard ranges from   13mm to 25mm then you fall under long beards. Only a couple of trimmers go above 20 mm, but you do have choices!
How to choose a beard trimmer – Are you after the extra features?
We all want that trimmer with many extra features, most of the trimmers come with extra attachments and features, also you need to know if it comes with a vacuum function or ear hair detailer and pop-up nose?
For all newbies, a professional trimmer comes with different features which makes it look like an intimidating or daunting task, but rest assured, it's not as difficult as one might think.
Make sure you review the manual that came when your model to learn how to turn it on and off, operate the settings, and any other useful information when it comes to using one. Don't just buy the trimmer and drop it till when you need it, make sure you familiarize yourself with the different parts of the trimmer, before the day of your grooming.
If you are not after the features of the trimmers but think it might help in the feature or might be important to you later, then you can go for a model that either comes with such attachments and features or is compatible with them.
The simple men beard trimmer
If you are not after anything fancy, you just need to trim your beard then move out, then don't let beard trimmer accessories/attachments be a deciding factor!
Battery Power
Make sure you make a research on the battery power before purchasing the trimmer, how long do you need to charge the battery and how long does it last after charging? Also, does the battery run into problems in the future?
Quality of the blades
 You don't need to argue on this before, you know this the most important part of how to choose a beard trimmer. All the aspects you need to look out in the quality of the blade include, Do the blades need oil to work well? When it passes on the jaw and cheek line how clean is it? When the blades cut the strays hair how well is it?
Ergonomic Shape
If you asked what design of beard trimmer do you want? Your answer will relate to this " I design to be comfortable and easy to hold, without slipping while we are in the shower for the waterproof ones". Anytime you were comparing the best trimmer to the worse you should consider the usability of the product. You should make sure you get a shape you will be conformable with either corded or cordless.
Usability
Another important factor you need to consider is usability, this factor has many impacts on having perfect trimming. For example, you can use this;
How well does it work on hard to reach places like under the nose and around the jaw?
All the features stated in the manual, are they working well?
When you want to change the attachment, how easy it is and do any issues arise?
Is it washable?
When you get a good satisfactory answer to the questions then you can go for it.
Price
You should have a budget in mind for the trimmer you plan to buy, the price it an obvious one. We all want a good quality trimmer with less price, also you can't afford to pay too much for something that isn't potent and worth the price. That why you need to make a budget and do the research on the trimmer you can get with your budget and will serve you right before you go into that store or purchase online
Your beard length
What type of look do you maintain? A short to medium beard or stubble look? Or do you have a full beard that ranges from 10mm and beyond? Check the length settings that the products come with before you buy any trimmer.  When your plan to have that classic look with a fuller beard with fade going down your face,  then you need to buy the powerful trimmer with 3 guard settings, you see in the magazine, internet or any other places.
The purpose of buying the beard trimmer
Why are you buying the trimmer? You should keep this in your mind, are you buying it for your beard only? Or do you need it for head shaving and whole body use? Check the below image for the type of beard trimmer that will fit in for any of your choices.
The purpose of the trimmer: Is it for your beard only? Or do you need it for head shaving and whole body use?
The features it comes with: Does it come with a vacuum function?
Still can't decide the beard trimmer you want? Look here↓↓
After reading this content about how to choose a beard trimmer, are you still confused about the beard trimmer you want?  We have come up with the top 5 beard trimmers for you to choose from.
Disclaimer
After in-depth research on over 100 hundred beard trimmer, five trimmers that made this list, strictly adhere to all the questions stated in this post.
The trimmers that made this list are chosen based on their level of trimming and giving a perfect result. There are lots of duds that could not make this list for a cornucopia of reasons.
★ Wahl lithium ion beard trimmer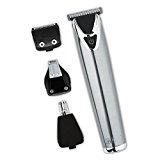 If you need a beard trimmer with the best touch-ups, then you need to get Wahl Lithium-Ion. This trimmer is made of stainless steel and comes with four attachments and 12 clip-on guides, which is great when you need a quick cleanup, no matter the length of your facial hair, within an hour of charging, the trimmer will be fully charged and it will last for a month if it is only used for touch-ups.
Have you seen the Wahl lithium ion beard trimmer yet? You can get it on Amazon by checking out this link here.
★ Remington Beardsman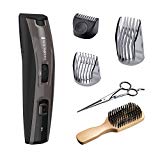 For men with Letterman-esque beard, you need a serious clipper. A real Beardsman comes with an extra-large grooming comb to keep your bristles long, just better-behaved. It has 120-minute runtime work especially well tackling thick, coarse hair and reinforced blades.
You can get it up on Amazon here.
★ Philips Norelco 7200 beard trimmer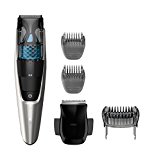 This trimmer is the best for clean freaks, it has a knack for getting everywhere. Due to a vacuum built right into the head that catches most of the short hair as you go.
With the battery indicator, you'll never risk losing power mid-shave. You can get it on Amazon here.
★ Braun multi-grooming kit beard trimmer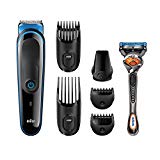 If you need a trimmer that will give you the best result in all aspects, then go for Braun Multi-Grooming Kit. It has 13 precision-length settings for true customization. The work of this trimmer is the same as a one-stop grooming shop, with all the different attachments for clipping your mane, trimming body hair, tackling ear and nose hair, and detailing your scruff.
Thinking of buying? Check it out on Amazon.
★ Panasonic precision beard trimmer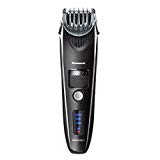 The Panasonic precision is the best trimmer out there for multitasking,  it is a waterproof device that lets you shower and shave in tandem.  You can use this trimmer for moustaches and sideburns (do those in front of a mirror), and its wide-set teeth and high-speed motor make quick work of dense body hair.
You can buy Panasonic on Amazon by clicking this link.
Bevel Beard Trimmer, Limited Black Edition, Cordless, Rechargeable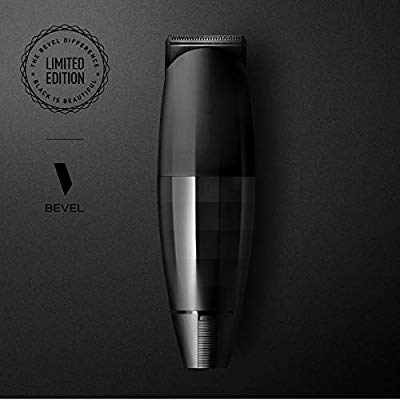 Product description
The limited-edition black trimmer is a combination of innovations in design, power and cutting performance.
The Bevel trimmer will definitely be chosen by both barbershop and home trimming needs because of its top quality and design.
To get the best user experience from this hair trimmer, take the blade off of your trimmer and adjust the gap between the cutting blade and guide blade a few times until you find the suitable length that gives you a shave you love without causing irritation to your skin.
Key features
Quick adjustments
Consistent power
Easy cleaning
Perfect balance
Cool to touch
Superior control: soft-touch grip and custom faceted body allow superior control and 360 non-slip handling
Pros
The quick adjustments ensure that no screwdrivers are needed while adjusting the trimmer for use
The power is consistent with or without a cord
The Bevel trimmer maintains the same precision
The blades of the Bevel trimmer repel dirt, oil, and build up to help prevent bumps and irritation of the skin.
The trimmer runs cooler than other trimmers so it is easy to hold the trimmer comfortably and securely
The soft-touch grip and custom faceted body all superior control and 360 non-slip handling
Con
The product is expensive and there are no comb attachments available
Manscaped best electric manscaping Groin hair trimmer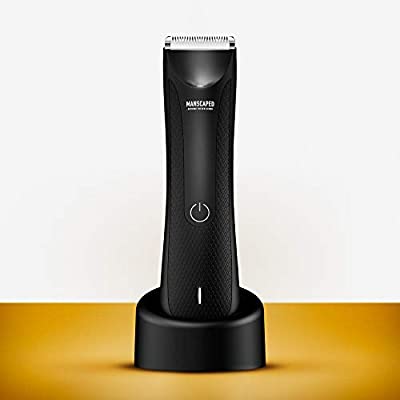 Product description
The manscaped best electric hair trimmer is designed for trimming beards as well as groin hair.
It is waterproof which makes it able to work in and out of the shower for convenience and can as well be rinsed under running water which assures the user of easy cleaning.
Key features
Skin-safe technology
It is waterproof
Cordless hair trimmer
It is rechargeable
Softly curved shape
Soft-touch power grip
Pros
The soft-touch power grip is put in place to avoid slipping and ensures easy maneuvering while wet or dry
The advanced 600mAH lithium-ion battery delivers up to 90 minutes of routine run-time per charge. Features USB universal charger and charging dock
The cordless feature makes it easy and flexible to use no matter the direction
The waterproof feature enables the trimmer to work both in and out of the shower for convenience.
It can be rinsed under running water and this improves the ease of cleaning
It comes with the adjustable guide comb for different hair lengths
The Lawn Mower 3.0 is rust-proof and has ceramic snap-in blades for hygiene and sharpness
Cons
You have to be careful while using around the groin to avoid a nick down there
How to use
Make sure to fully charge your trimmer before initial use
The initial charge will take about 90 minutes
While charging the unit will blink
When it is ready to use the light will be solid
You are ready to use your trimmer for 90 minutes
Frequently Asked Question on the Manscaped Mower 3.0
Is the Charging Base USB C?
The Lawn Mower 3.0 charging base is not USB C. The proprietary charging cable connects the dock to the included USB wall charger cube
Can You Use this Trimmer to Shave Facial Hair as Well?
The manscaped lawn Mower 3.0 is a full-service body groomer, while the advanced skin safe technology is designed for a smooth and effective below the belt grooming experience, you can absolutely use it above the belt as well.
Can the Trimmer be Plugged Without Using the Bulky Charging Dock When Travelling
Yes, it can absolutely be plugged without using the dock
How wide is the blade as compared to the 2.0 version?
All manscaped blades feature an advanced Skin Safe technology and fit both the lawn Mower 2.0 and 3.0
Is there a return on this product?
Yes, there is a return policy that allows you to return the product if you feel you didn't get value for your money
Audoc Professional Cordless Hair Clippers Rechargeable Beard Trimmer

Product description
The AUDOC professional hair clipper/trimmer with all-metal housing is designed to perform corded or cordless functions.
The hair trimmer is very well designed with a beautiful look, an inviting touch with highly satisfying user experience.
The hair trimmer also comes with a slim compact design, this hair cutting clipper could be the best compact clipper for me/kids/baby to use at home.
Key features
Rechargeable haircutting kit
2000mAh of lithium-ion battery
Support corded and cordless use
Up to 240 mins running time
3hrs of battery charging time
World wide voltage for universal use
Soft-touch grip
LED indicator
Pros
The AUDOC hair clipper/trimmer is rechargeable
The lithium-ion battery with 2000mAh capacity lasts longer
The lithium-ion battery enables the hair trimmer to have a running time of up to 240 mins
The blades of this hair trimmer are designed in such a way that they have long-lasting sharpness and this gives you the exact precision you need to achieve your desired style
The hair trimmer is an ultra-quiet device with less noise during use
The narrow design of the full-metal precision trimmer makes it easy to precisely edge and finish small details
Con
The battery seems to die easily
Wahl Stainless Lithium-ion 2.0+ Slate Beard Trimmer for Men-Electric Shaver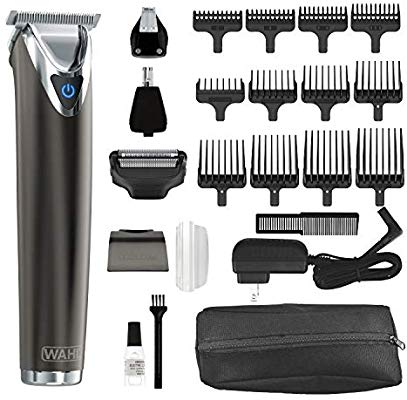 The new deluxe multi-purpose tool defies the laws grooming by delivering advanced lithium-ion performance in a high-tech design fulfilling the unmet need for one tool with the power to shave, cut, trim and detail.
The lithium-ion 2.0 version is marked by an uninterrupted run time and an impressive power.
Key features
Quick 60-second charging time for 3 minutes of run time
12 attachment guards included
The power is doubled compared to earlier versions
1-hour full charge time for up to 6 hours of run time
Dual voltage
Worldwide adapter 110V,220V
Smart LED indicator
Pros
Lithium-ion + lasts longer than other rechargeable trimmers with up to 6 hours of run time from just 1-hour charge
The smart LED indicator is designed to inform you when your trimmer is charging and when it is done charging
The lithium-ion battery present allows the trimmer to provide 5 minutes of run time with just a 60-second charge
The 12 individual guide combs and the stainless-steel lithium-ion 2.0+ enables the user to have a wide variety of cutting lengths to choose from
Con
It is quite expensive
Frequently Asked Questions on How to Choose a Beard Trimmer
Does Trimming Beard Make the Beard Thicker?
Trimming the beard removes your hair. Although, there are many claims that when you trim your hair, it grows thicker and fuller; however, there is no scientific proof for these claims. For this reason, we cannot confidently tell you that the trimming of the beard makes it grow fuller or thicker. We can only tell you some other tips that can help grow your beard.
Take care of your skin: a clean skin promotes the growth of your hair. This is a strategic thing you can do for the growth of your beard by washing it regularly to exfoliate the skin and then remove dead skin cells that cause ingrown hairs and then open up your pores.
You can equally start exercising your body to boost your heartbeat which will, in turn, cause a regular circulation of the blood all over your body. This will help in the dissemination of other antibodies to fight any hair growth hindrance. It is believed that excess fat can hinder the growth of fuller hair.
Reduce your stress to avoid stunted hair growth. Stress is also believed to reduce the activeness of the growth of hair. Reducing stress helps to reduce the cortisol in your body and as a result, your hair grows well.
Should I Trim Beard Growing it?
You can trim your beard growing with but that should be done occasionally. Trimming your beard regularly may destroy some of the hair follicles and then renders you bald. You should be careful how you trim your beard. Experts recommend that you should trim your hair 10 -12 weeks. Looking at the interval, it is ideal to do so.
Which Beard Trimmer is best?
Well, there are lots of good beard trimmers in the market, we shall recommend some of the ones we accept are the best, and you can, however, decide which to go for.
Wahl Clipper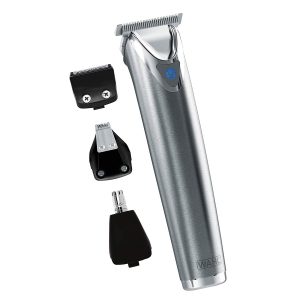 It is a highly respected clipper and it has won a lot of good reputations especially by the new users. Mostly, Wahl products are waterproof, cord and cordless. You can get this on Amazon.
Brio Beardscape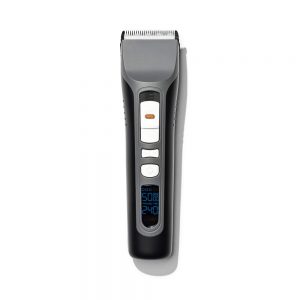 is also known to be one of the best trimmers on Amazon. It also has a good reputation and might be a good choice for you. It is built with durable ceramic blades, multiple settings for chosen trimmer speed, and robust action excellent for longer beards. Check on the Amazon store.
Philips Norelco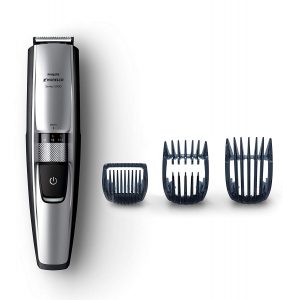 This also has good customer recommendations. It has features such as self-sharpening blades, innovative actions. It is excellent for men with sensitive facial skin and 17 built-in precision lengths.
How often should I trim my Beard?
10-12 weeks interval is recommended by experts for people to trim their beards for a positive result. This is exactly what we are recommending for you too. Just as we earlier on advised, trimming the beard too often may destroy your hair follicles and this often results in a patchy beard.
Conclusion on how to choose a beard trimmer

Having gone through this list, you can now set out to any of the stores or online market, to purchase any of the trimmers you wish, make sure you abide by all the questions listed in this post in other to get the perfect trimmer for your beard.
Finally, we'll wrap up this post on how to choose a beard trimmer, we always welcome your feedback whether it's about the products listed here, any of the questions listed above or anything related to men's grooming and beards. We'd love to hear from you.
Our beard is one of the features that speak more about us being men. This feature has made it easier for men who keep beard search for different solutions that can help them grow it appropriately. We seek knowledge about what we don't know that we don't make mistakes that will affect our life.