Men's jewelry boxes are commonly called men's valet boxes. They are commonly designed to hold things that a typical male will need to store, such as spare cash, business cards, electronic devices, sunglasses and keys.
Most men have a number of neck chains and watches lying around, not to mention all the cuff links, tie pins, ear studs and a whole heap of other items. Storing these in a functional and compact organizer will make getting dressed in the morning easier and hassle-free, while also keeping all your items protected and easy to find. A man like you can always give these chains pricey and priceless pieces with a good jewelry box. Keeping them in a safe place can keep them away from dust and damage. This only means that your jewelry's lustre and brilliance will always be at its best.
Since jewelry boxes separate each important jewelry piece from each other, it prevents them from getting any unwanted scratches, dents, and damage.
Although men tend to overlook the need for a storage solution for their valuables, jewelry boxes are an essential tool when it comes to organizing your valuables. Men's jewelry boxes come with fabric-lined interiors to keep your items free from dust and the possibility of scratches and scuffs, as well as away from moisture and humidity.
Apart from this functional aspect, men's jewelry boxes are also aesthetically pleasing and a welcome addition to any room. They serve as a perfect room decoration. They can feature a masculine statement in any man's room. Whether you are looking for a box that can protect your collection of chains and wristwatches or an organizer that can arrange your jewelry, we can definitely help you find the best men's jewelry box
At MyBeardGang blog, we write about anything on men's beard that we love and we think you'll like too. So here are some perfect men's jewelry box for chains that you'd definitely fall in love with.
Have you read our post on best wedding beard styles? 
Men's jewelry boxes for chains and other men's jewelries
1. Glenor Co Luxury Jewelry Organizer
With ample storage options, the box provides a number of compartments for various items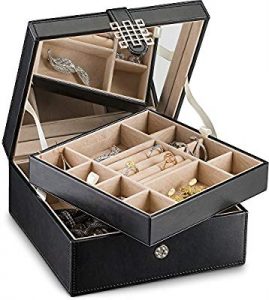 About product
The Glenor Luxury is extremely well-crafted using high-quality materials. The exterior is covered with textured material, embellished with metal accents. This beautiful and compact jewelry organizer exudes modern stylishness and masculinity!
You no longer have to keep your things lying about everywhere – there is a spot for all that loose change, beard clips, sunglasses, keys, spare cash, cuff links, ear studs, tie pins, beard bracelets and necklaces here!
The interior is lined with soft fabric to keep your items protected. The metal snap closure is easy to open and close, and there is the added bonus of a mirror built into the lid. Compact and convenient, the Glenor Luxury is a beautiful addition to any room and makes dressing up a breeze.   The box consists of two layers, each with numerous compartments.
Components :
Easy metal closure
Several storage compartments
Built-in mirror
Smooth and sleek finish
Textured external design
Sturdy construction
BUY ON AMAZON
$29.95
2. Songmics UJWB012 Watch and Jewelry Box
Songmics provides a sturdy and durable designed box that is also stylish, sleek and compact.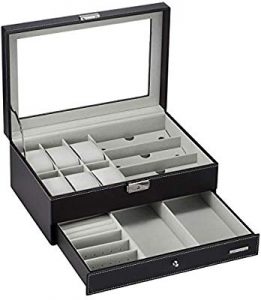 About product
The lid is fixed with real glass for easy viewing of your watches. The lower half of the box contains a jewelry tray that has ample space for all your accessories, including ear studs, necklaces, bracelets, cufflinks and rings
The entire box is lined with high quality soft grey velvet, protecting your jewelry from dust and scratches. Songmics combines quality and a great price with this 12-compartment watch and jewelry box. The box has been well-designed and created using high quality materials.
The 12-watch compartment contains soft pillows to hold your watches in individual sections. The exterior is lined with black faux leather. The watch compartment is lockable and comes with a key, although this is somewhat flimsy and does not provide much security.
Components :
Glass top
Velvet lined interior
Good quality craftsmanship
Lock and key provided
Ample storage
BUY ON AMAZON
$26.99
3. Max 6 Compartment Valet Tray
Compact and functional!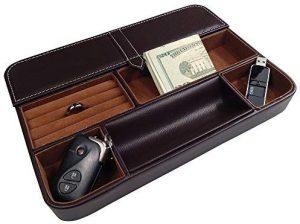 About product
There is a compartment for small items such as rings, ear studs and cuff links, while the larger, more spacious sections are perfect for bracelets, necklaces, watches and other items. Max Valet Tray is ideal to keep things neat and tidy and fits easily onto the top of your dresser
The valet tray is lined with soft brown felt, with a sturdy frame made of wood. The exterior has a textured dark brown leatherette finish. Max provides a solution to keeping it all together in a stylish and organized way. The tray consists of 6 compartments, each perfect for a different function.
However, some of your valuable items will be exposed to dust and moisture damage as the compartments don't all have lids.
Components :
Masculine design
Compact and functional
Not lockable
Some compartments uncovered
$26.99
4. Carson Men's Dresser Top Valet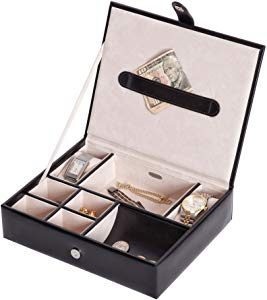 The overall appearance is masculine and modern and fits easily into the décor of any room.
About product
The box contains two removable cushions for watches, a storage strap built into the lid that holds cash and cards and a little compartment that holds keys and coins.
It takes up little space and is perfect for keeping all your items safe in one place. It is ideal if you are looking for something a little bit on the small side.
The exterior of the box is well-made with a faux leather finish while the interior is fabric-lined. The tabbed magnetic snap allows you to quickly and easily access or close the box with just one hand. This compact little jewelry box is ideal to keep a small collection of items in one place. It is well-designed, and can be used for cash, photos, business cards, as well as watches and accessories.
Components :
Magnetic snap closure
Small size
Sleek faux leather finish
Not lockable
$32.00
5. Sodynee PU Leather Chain and Jewelry Organizer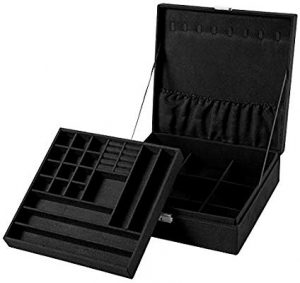 As the lid comes with a clear top, you can easily and quickly see your watches without having to open the box.
About product
The box comes with a lock and key for safe storage but know that this only provides minimal security. The lock also only applies to the top tier and not to the lower jewelry tray.
Sodynee combines stylishness and practicality in this compact jewelry and watch organizer. The top section contains a 12-watch compartment, which is bound to hold most watch collections. The interior of the box is lined with soft velvet that has is tarnish-resistant while the outer sides of the box are covered in PU leather. Overall, the box is of quality construction and comes at a very good price.
The 12 pillows used for holding the watches are removable, making for easy storage and retrieval of your watches. The second section consists of an easily sliding tray, which has sufficient space to hold a collection of bracelets, earrings, cufflinks and necklaces.
Components :
Lock and key
12 watch compartments
Plastic viewing top
Affordable price
Ample storage
BUY ON AMAZON
$22.99
Tips on how to store your beard product here. Must read for bearded men. 
6. Glenor Co 12 Slot Box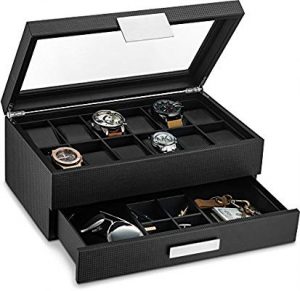 What's more, for a personal touch, this metal plate is ideal to have yours or your loved one's name engraved on.
About product
Glenor Co is known for their high-quality original designs, with this 12 Slot Box being one of their patented designs.
The box can hold larger watches, as each slot is quite spacious. The removable pillows are made of soft PU leather, while the interior is completely lined with the same material, keeping your watches safe from scratches and dust.
A wristwatch and chain lover's dream, Glenor provides a high-quality well-crafted storage solution to stylishly display your watches, while keeping them protected.
The lid comes with a large glass display for easy viewing of all 12 watch slots making it a beautiful display box, while the sophisticated metal buckle makes for easy one-handed access and closure.
In summary, the Glenor boasts quality and excellent craftsmanship. The finish is smooth and neat and the box looks stylish, classy and modern.
Please note that Glenor does not offer engraving services.
Components :
High-quality design and craftsmanship
12 spacious watch slots
PU leather pillows
Real glass window
Stainless steel metal closure
No locking mechanism
$59.65
7. Yescom Glass-Top Wooden chain and Jewelry Organizer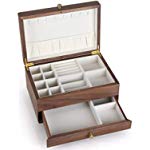 well-made and of high-quality workmanship that is sure to make even the most fastidious watch & chain lover happy.
About the product
With spacious slots for 20 watches and chains, this is sufficient to hold most chains collections. The top compartment comprises of 10 slots while the sliding tray holds the other 10. Each slot has a soft plush pillow to hold your watch, while the entire interior is lined with soft fabric.
The box is made of tasteful wood and comes in a couple of different colours to suit your preferences. Another benefit of wood, apart from its sophisticated and expensive look, is that it absorbs moisture and keeps the interior of the box dry.
The lid provides a beautiful display of the top compartment, with its scratch-resistant glass window. There is also a locking mechanism that offers some level of security.
Components
Large spacious slots
Neat locking mechanism
Glass window
Made of wood
Plush-lined interior
Quality hinges
$54.95
Does Onion juice work for beard growth? Click to find the shocking truth!
8. Stock Your Home Luxury Men's Valet Box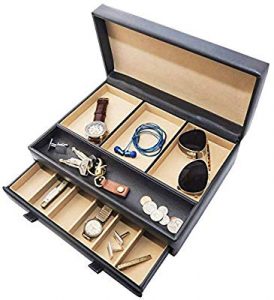 While it offers sufficient space for men's chains and beard jewelries, it will not hold large watches.
About product
The exterior of Stock Your Home is made of plush faux leather while the interior is felt-lined. Also, the drawer may tend to stick at times due to the faux leather lining.
There is also a compartment, which isn't covered by a lid, that is perfect for loose change, keys and other knick-knacks.
The upper section has three large sections, ideal for bracelets, necklaces, watches and small items, while the second tier, in the form of a sliding tray, consists of 6 long compartments.
Stock Your Home offers a 10-compartment dual-layer jewelry organizer that is ideal for a small collection.
Components:
Spacious dual-layer construction
Good quality workmanship
No locking mechanism
Does not hold large items
$27.99
 9. Case Elegance Solid Wood Jewelry Organizer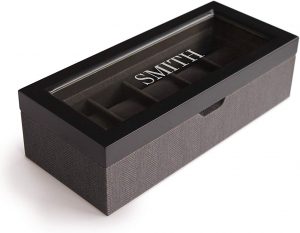 This is one of the men's jewelry boxes with a box that comes with an easy magnetic enclosure that is not visible from the exterior but holds the lid tightly in place.
About product
For a small jewelry collection, Case Elegance offers this beautiful 6 slot watch and chain organizer made of solid wood. Each slot comes with a soft plush pillow to hold your watch and ultra-soft fabric-lined interior for protecting your chains from getting tangled. What's more, the large glass window allows for easy viewing of all your jewelry, without needing to open it.
As each slot is large and spacious, you can fit almost all watches, including large faced watches.
Components:
Magnetic enclosure
Felt-bottom
Large watch slots
High quality construction
Real glass and wood used
Fabric-lined interior
$39.99
10. Mele & Co Men's Wooden Valet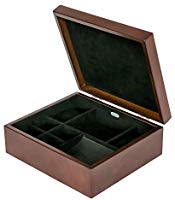 This is one part of the men's jewelry boxes that the well-thought-out design offers several features that are ideal to keep all your items in one place
About product
The second layer consists of a single drawer. While this hasn't been compartmentalized, it's perfect to hold any neck chains or bracelets.
The box is of sturdy construction with a burlwood finish and matte silver hinges and drawer knobs. It sits neatly on any flat surface. The upper section of the box has a ring and watch holder that comes with a lid for extra protection. The downside is that it can only hold one large watch, so if you are looking for a box to store your watches, it isn't this one.
However, there is space for several rings, chains and small items in the top section. There are two open compartments, perfect for storing a small electronic device, keys, spare cash and cards.
There is even a slot that holds larger devices such as a tablet or kindle, just behind the lid.
Components:
Multi-function storage compartments
High-quality materials
Well-designed
No locking mechanism
The sliding tray can be flimsy
Single watch slot
$59.99
Seen our list of men's jewelry boxes that you should have for your beard jewelry? Let us know your thoughts.