Luxury combs seem like they are not a biggie but their functions no doubt surpass its size. That small piece can do real magic to your Beard. It takes nothing than just minutes to transform those shaggy looking strands to something attractive.
Gone are days when men see proper grooming as a lady's business, the emergence of the beard gang has totally changed that. Whether you're heading to work or going for a stroll, you need to look good. If you're going for a date, you need to even look better. There are a lot of beard products that give you that look you want. Oils and balms are just a few. Most people argue that these are the most important, but the question is:
Before Applying Beard oils and Balms, are you just going to leave your Beard all kinked up? I bet even the most effective of all oils will not be able to penetrate if your hair isn't stretched.
Before Applying Oils, you need to run your luxury combs through your beard to loosen all strands, style and stretch at the same time. Oils add finishing touches. But only after your comb has done the largest chunk of work.
Regardless of your type of hair, Here are 7 Luxury Combs to keep your Beard in good shape. With many complaints about fake luxury combs online, we also provide you with links to buy the original version of every product without falling prey to fraudsters.
Secondly, to buy a product, you need to hear other opinion right? especially if is coming from those who have used it before. This post will also be giving you insights about what others are saying about every product.
Luxury Combs for Beard
Baxter of California Luxury Comb

Baxter of California Comb is a hand-made comb made from Cellulose Acetate sheets, a natural material derived from cotton and tree pull Cellulose. This comb was forged from 12- well-detailed steps of manufacturing.
Ranging from cutting to polishing. This comb is 7.75 inches, making it really comfortable to run through your hair or beard. Its well-rounded teeth make it comfortable for taming your beard, hair, and eyebrow.
The beard comes with two-different sized teeth: the right-hand teeth are bigger and more spaced than the left-hand side. The teeth on the left are smaller and more jam-packed. This gives a two in one formula. Because of the space on the right-hand side of the comb, the teeth are more suited for the hair on your scalp. It delivers the highest quality of scalp and hair comfort.
The smaller teeth on the right, are better suited for small hairs, if run across bulky hair, the texture may prove too weak to withstand tough hair. This is more reason why it suits your beard and eyebrow. This helps strengthen tangled hair especially one with undergrowth.
This 2-in-1 all-purpose comb is sold for $20.
You may think that's too much for a single comb before you decide, have a look at what one buyer named 'David' said about this product:
'I always thought a comb is just a comb. Nothing special. Something to untangle and loosen your hair and make it look neat. How wrong was I. After using this comb, I will never go back to cheaper plastic ones. This is the Rolls Royce of Combs.No pulling, no jamming , no Breaking teeth. It just glides through my hair and it feels good as well. A great product and money well spent'.
There are many similar products like this in the market but the original version of this comb has the 'Baxter of California' imprinted on it.
What are you waiting for, click Here To Buy
Striking Viking Luxury Beard Comb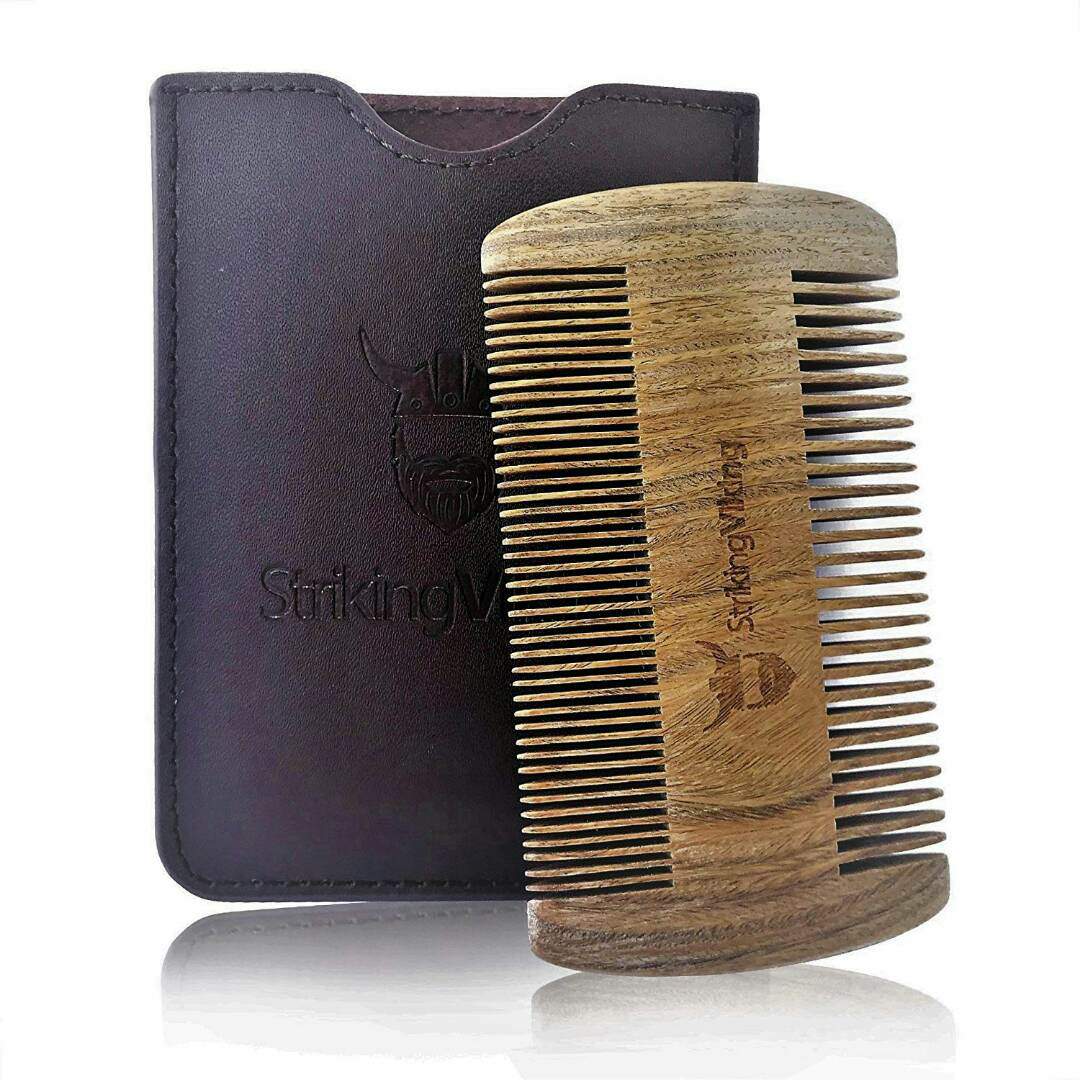 It is often said that a man without a beard is like a lion without a mane. A bearded man with no comb is like a lion untamed. To trim your beard well, you need a luxury comb. Most men invest in cheap plastic combs but what they don't know is that these combs can come back to hurt them.
Cheap Combs can tear your beard apart. And if is plastic, it even gets worse. Plastic combs are known to cause static electricity which can deter your beard health, but not when you have Striking Viking beard comb.
The Viking beard comb is an anti-static comb made from Natural sandalwood to give your beard the treatment it deserves. This comb is specially designed to come to the rescue of the unkempt beard by influencing hair follicle.
The comb is dual-sided. It has coarse teeth on one side, and fine teeth on the other to create dual-action.  The material is made from makes it unbreakable. Something your plastic comb is notorious for. For just $11.45, you get this pocket-sized Viking beard comb that helps you tame your beard and evenly distribute oil from the skin to your follicle to enhance growth rate.  The size makes it portable to sit in your pocket or wallet.
With this comb, you're not spending another dime on luxury combs because it will give you the satisfaction you want and also last long without breaking.
There are many brands that aim to eliminate this product but make no mistake, there is only one comb from Viking and it has the logo of a man with a beard and horn-like helmet (Viking) on it wallet.
Click Here To Buy
Go-Comb Stainless Steel Wallet Luxury Comb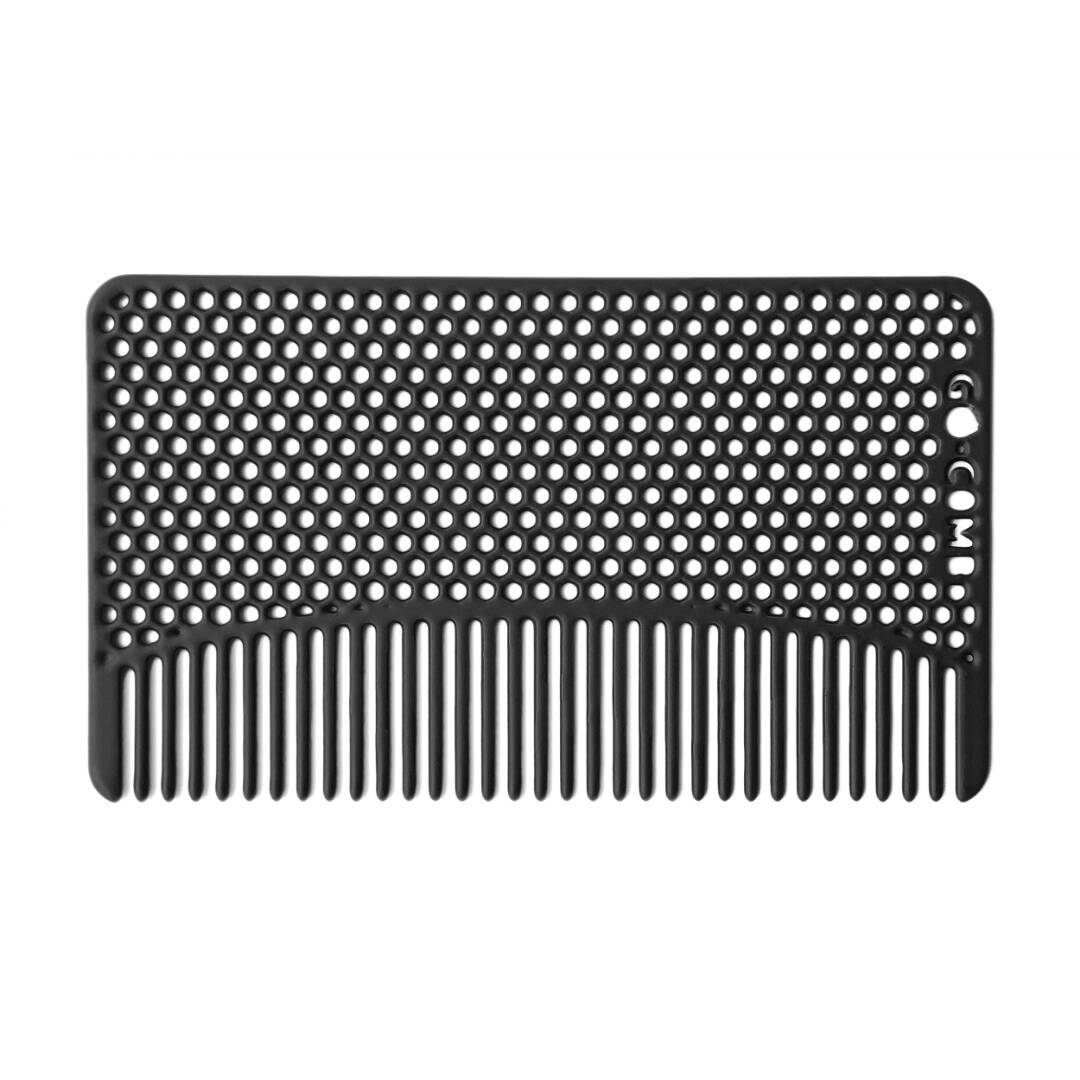 Do you think regular Combs is boring, why do every design comes in the same shape? Sometimes only the logo can differentiate one from another. Comb designs have come with little sparks and then came: Go comb stainless steel wallet comb.
The Go comb collections are quite different from other combs. The Go-comb is a thin, lightweight and unbreakable comb made from materials like steel, brass, and titanium. The Go-comb is a luxury comb that comes with a credit card-like design that fits into your wallet. The materials they are made from gives comfort to the scalp and its non-corrosive nature makes it durable and long-lasting.
Just as its name implies, it is crafted for men on the Go. If you're going on a trip, just tuck this into your wallet and confidently pull it out when you need to use it without feeling awkward. The handle gives you control to run the comb over your hair with ease. The comb is all-purpose and suited for a different texture of hair and for both men and women.
For just $19.99, you get something that works on your beard, mustache and the hair on your scalp.
Here is what a buyer from Amazon has to say:
" I don't carry a purse anymore, I carry a phone wallet only. The Go-comb is the size of a credit card and fits perfectly in my phone wallet. The black mirror is perfect for checking my makeup. My hubby liked it so much that I ordered him one, so he can stop borrowing mine. Lol".
Click Here to buy
Ti-Edc Hand-Made Titanium Luxury Comb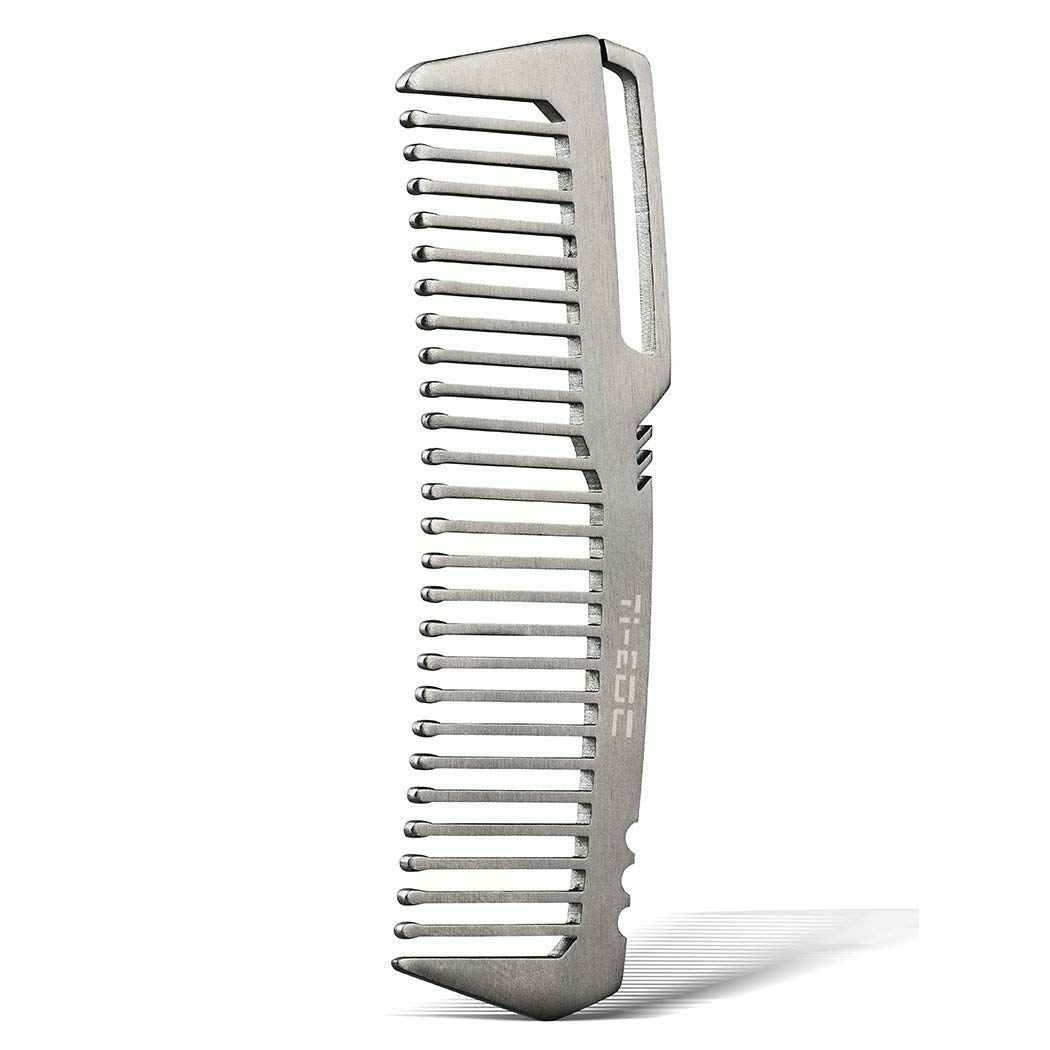 Many will argue that metallic luxury combs are rough to the scalp. While others suggest it pulls the hair from the root when force is applied while combing. This is true, but in the modern era, most brands have defied this law to create a somewhat metallic comb.
One of such example is Ti-EDC hand made titanium comb. Steel is one metal mostly adopted for making luxury combs. So is natural to ask why this brand chooses titanium instead of steel.
The answer is this:
Apart from being strong, lightweight and thin. Titanium is durable and cannot be affected by harsh weather conditions that may result to corrosion. The strength of the material always this comb to run through your beard without bending or breaking like your plastic comb. No strand is too tough for this comb to handle. It untangles every hidden piece that may make your beard look unkempt. You don't need to worry about getting injured when running this comb through your hair because it edges are curved to feel comfortable with your scalp and the skin underneath your beard.
A buyer from Amazon described the comb with few but powerful words: " one sexy ass comb".
Priced at $23.99, it is worth more than just a luxury comb.
Click Here To Buy
Kent 8 inch Men's Luxury Comb

Getting a product with a rating of 4.5 from over 2000+ reviews is rare. Not to talk more of a comb. KENT 8IT is one of the few products to achieve this feat. If you feel like taking a leap from plastic to high-quality luxury comb, don't pass this one by. The tag of Luxury is quite deceptive because this comb is one of the cheapest you will ever get.
The Kent 8IT is better described in these three words: comfort, portable and effective. It is crafted from Cellulose Acetate instead of molded luxury combs that snag. The texture of the material allows the comb to slide through without causing a scratch to your skin.
Its chisel-shaped design makes it comfortable when held and the dominant handle gives you control to run it through your beard without hitches.
This comb is better suited for your beard or mustache. It isn't strong enough to properly stretch your hair. You may find it getting stuck without untangling any strand or undergrowth.
Click Here To Buy
Big Red Hand-Crafted No 99w Luxury Beard Comb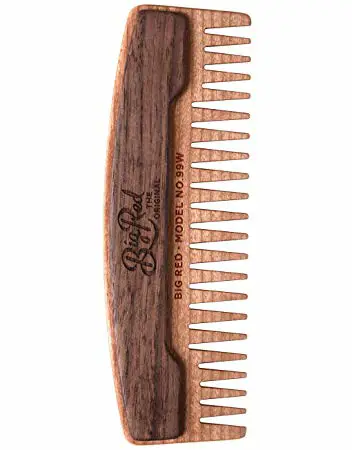 The Big red No 99w is specially crafted for a long beard. If you have the Rick-Ross type of beard, don't go near small luxury combs. It won't be effective on your beard. You need something stronger and better.
You need something big to tackle big problems. The Big Red No 99w fits that bill. This comb was crafted out of the need to create something strong but flexible to resist the strong pulling force of long thick beards. The comb consists of two parts namely: the core and handle( walnut).
The core is made of 5- ply laminated material and attached in a way to the walnut to give flexibility. They are both attached in a way that isn't really detachable by merely running through your beard. The Good part is that the attached point isn't obvious for one to easily separate.
The texture of the laminated material makes it resistant to bending or even breaking all of a sudden.
The only negative about this product is that is quite expensive. $40 for a single comb is overwhelming. Going by reviews much hasn't been said about it. It represents a really luxurious item to acquire. There are a host of quality cheap combs you can buy in place of this. It isn't really a 'Yes' for me. But if you feel the balance will be Great for your long beard.
Click Here To Buy
Chicago New Model 1 Carbon Fibre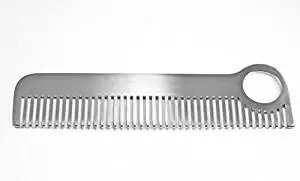 The new model 1 carbon fiber from Chicago comb is both sleek and comfortable under the skin.  It is 5.5 inches long with medium-sized teeth specially designed to give your beard the look it deserves.
Unlike previous designs from this company,  this comb is crafted from Carbon fiber and not stainless steel. The carbon fiber Used here is of the highest quality.  Comparing it with duralumin is quite overwhelming but considering the strength,  smoothness, and lightness it offers isn't far off.
Carbon is seen as a tough substance,  materials like a diamond which are derivative of carbon are the hardest substance known. This explains the strength of the comb.
The design comes with a loop at the end to give you complete control when combing your beard.  The anti-static effect this comb has gives it an edge over plastic.
The teeth make it perfect for all kinds of beard ranging from medium to full. The size makes it portable to carry along all day.  Whether you're going on a trip or going to work.  You can always tuck this small-sized comb in your pocket.
The comb is available on Amazon and sold for $14.99. Click Here to Buy
ZEUS Stainless Steel Beard Comb Thunderbolt – T21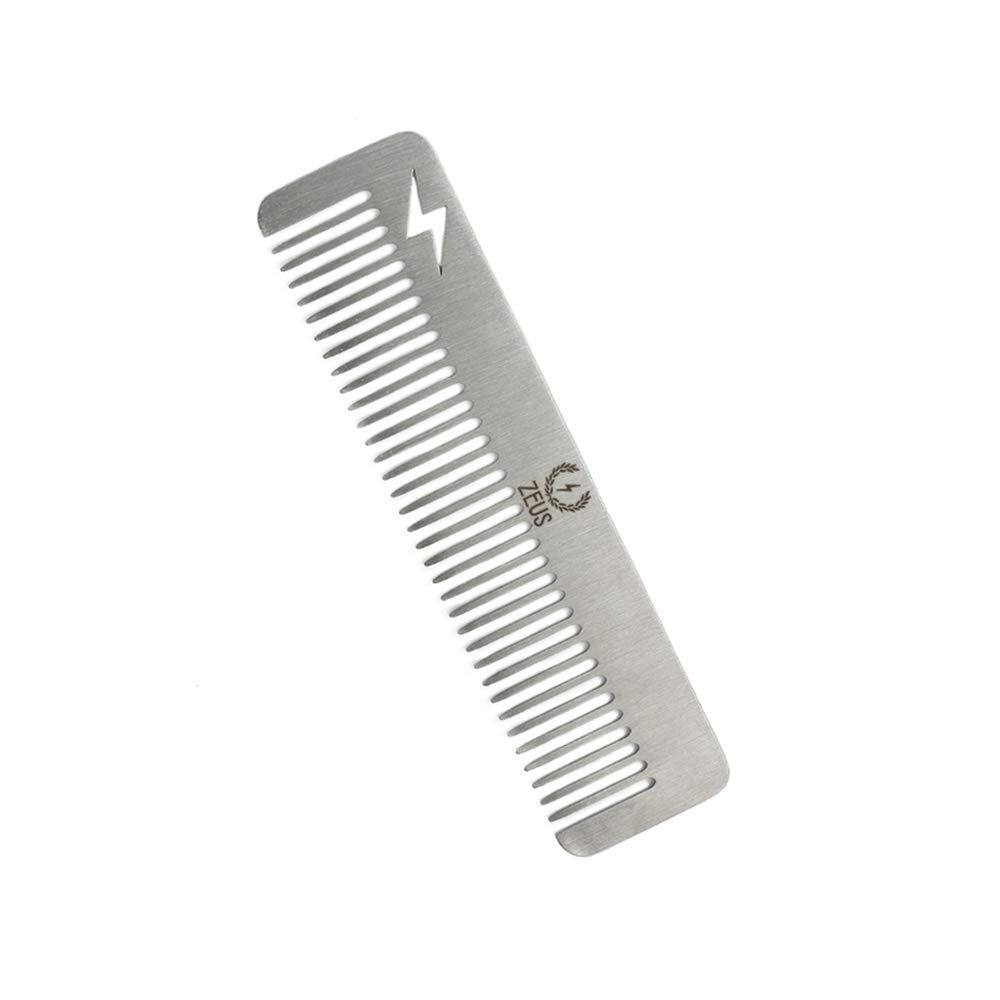 Zeus premium luxury hair duty hair styling beard and hair comb are among the luxury combs you will want to have in your closet if you are a lover of luxury combs.
This is because it is a unique, robust and perfect hair styling tool with an elegant design that makes it stand out among the regular combs you have in the market.
 This luxury comb is perfect for creating natural hair contours if you desire a natural-looking hairstyle without the need of running your hands through it and of course it makes sense that this has got to be among the best features of this amazing luxury comb.
For all, we know this luxury comb is about the best you could get when looking for a perfect luxury comb to take your hair combing and styling to the next level of perfection.
And of course, not only are the above the features of the Zeus hair styling metal luxury comb, there are some other features that make the comb stand out among rivals in the market. I shall be taking great care in listing these features for you to go through and make your choice;
Anti-metal static luxury comb

It is sleek

It is dual-sided

Fine comb tooth design

Lifetime durability

It is easy to wash and quick-drying when compared to other plastic combs

Works for all hair types

High-quality stainless steel

The wide-tooth design promotes a unique natural hair contour

It can be used by both male and female

It is a multi-purpose hair and beard comb

It is made of high-quality stainless steel
All the features listed above are what makes the Jovanni hair styling metal luxury hair outstanding and your go-to luxury comb for perfect styling and combing experience. If you are looking to achieve perfect hair styling and combing, then you need to have this comb right there in your closet.
The good news is that this comb can guarantee you value for the money spent and it is available on amazon.
Xuanli 2 Pcs Natural Sandalwood luxury comb
The Xuanli natural sandalwood comb is notorious for its characteristic aromatic smell that users normally perceive when they use the comb
The best thing is the aroma comes from the wood and be sure that there are no added ingredients that produce the aroma and this particularly makes the comb a luxury on its own.
The comb is made from green sandalwood and this gives it the appropriate texture and durability it needs to perform the combing function.
The Xuanli natural sandalwood luxury comb helps you to provide the perfect combing and styling for your hair. They are great for both long and short beards and will perform the exact functions for which you chose them to be in your closet.
There are no visible saw cut marks on this comb hence they are very smooth to touch and creates no winter static in your hair.
If you are looking for a luxury comb wide enough to cater to your hair needs both long and short hair, then the Xuanli luxury hair comb should be on your budget.
Dual Action Stainless Steel EDC Credit Card Size Comb Wallet Comb Pocket Comb Anti-Static Hair Comb Beard Mustache Comb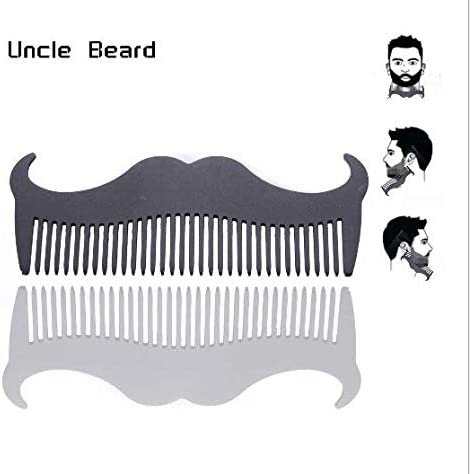 The beard moustache and hair stainless steel luxury comb has been safely crafted from high-quality stainless steel and is guaranteed to last you for a lifetime.
The comb is obviously unisex and can be used for styling hair and beard as well as helping you get that perfect hair look for any occasion.
The comb is double-sided with a fine-tooth comb that is extremely perfect for parts, fine hair and detailed styling.
The wide tooth part is perfect for both beard and hairstyling and will not catch your hair or snag. The comb is well made in an attractive design accompanied by an endearing comb which enhances its functionality as a stylish and luxurious addition to your grooming routine.
The features of the product that make it outstanding as well as perfect for your hair grooming routine is listed below;
Comb forged from high-quality stainless steel

Black protection box

The dimension of the comb is: 11cm by 4cm

The dual-sided high-quality stainless-steel hair comb will not break, warp or mould like wooden combs

The comb comes with a wide and fine tooth for dual-use

The smooth comb teeth will not snag or rip beard or hair and the proper spacing will ensure a contoured look.

The comb size is portable so you can easily slip it in your pocket

It is good for styling and contouring both wet/dry hair and will not warp or mould when wet.
The features listed above make this comb a must-have for everyone who wants the best for both their hair and beard as it will always give you the best and perfect styling you want for your hair.
Stainless Steel Beard Comb Folding for Men, Taykoo Beard and Mustache Styling Comb Folding Pocket Mental Comb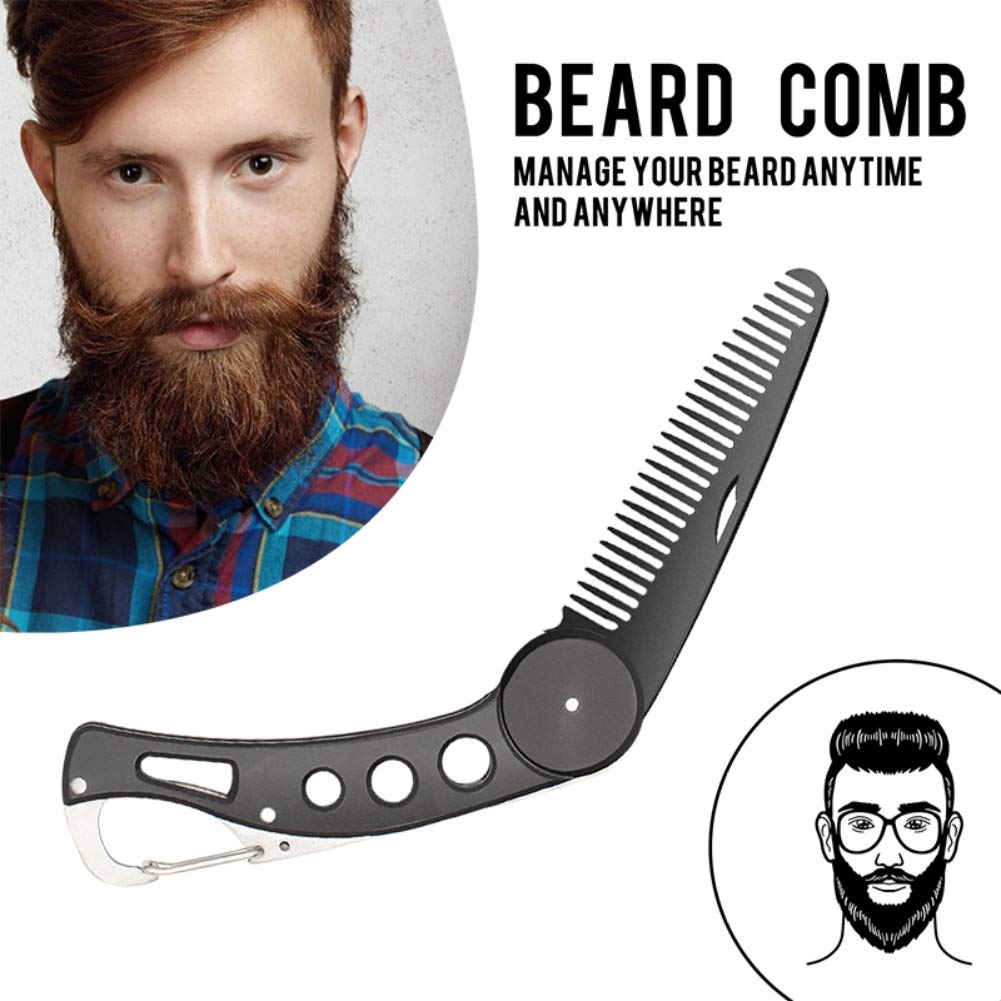 This dual-action luxury comb has proven over the years to be equal to the task in the maintenance and care of both the beard and your hair.
The comb fits in any wallet due to its size and this enables it to be available anytime you need it. It is built to last and is unbreakable because it is made with high-quality stainless-steel material and this makes it last longer than any material.
This comb will not definitely leave your beard looking frizzy and unkempt but will leave you with a clean and manly looking beard you care for. The fine-toothed comb is gentle to touch and gentler for your hair and beard.
So, if you are looking for a comb that will leave your hair looking smooth and perfect then definitely this dual-action stainless steel luxury comb is one you should have in your closet.
What do you have to say about the luxury combs above? Drop your comments below.