What are the best Philips Trimmers for Beards?
For you to be on this page, then you must have gotten a couple of ideas, or even if it's little about what a beard trimmer is. However, perhaps you do not know, or for the sake of additional knowledge, before we get fully into the main subject matter for this article – 10 Philips Trimmers For Beard, let me quickly brief you about what a beard trimmer is, and some importance it functions for. So let's get started!
In simple terms, a beard trimmer is an important tool which cleans up your beards for you, thus making it appear respectable and intentional. It is also used as a tool used for getting a closer trim in cases when you do not want a clean shave.
You get that right?…fine! So let's proceed.
You see, whether you love keeping a full beard, or you happen to be a fan of just light stubbles, or maybe shaving everything off altogether, a beard trimmer is still an indispensable too you can't afford to be left out in your beard grooming kit. If you've ever owned one, you will agree with me that it's a kind of equipment that it pays to have always around you, as one might never know when one will come in handy.
From the very initials to adjustable blades, and even to more sophisticated designs, we've got various brands that have various products to offer in order to satisfy the needs of beard groomers.
For this reason, I've carefully put together in this article, Philips trimmers for a beard. So I guess you're now ready for me.
The Best Philips Trimmers for Beards
Please, I would want you to know, that this list isn't according to any form of ranking (not even alphabetical). They are products of personal and group researches, online studies, and also reviews and experiences.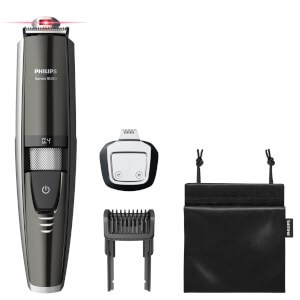 The Philips Series 9000 beard trimmer is a beard trimmer that features a unique laser-guided system, which enables it to create perfect lined stubble and beards all the time.
This beard trimmer, because of the laser-guided system, is also used to detect any stray hair that still requires trimming. This, in turn, ensures an even cleaner shave and/or a tidy beard after use.
This trimmer has 17 lock-in length settings which help in trimming beards from 0.4mm up to about 7mm long. It gives its users a flexible choice in selecting their desired beard length from the Phillips' zoom wheel, which eventually results in a quick and easy trim.
This dual-sided reversible beard trimmer would give you a close cut, while also adding definition to the edges of your beards – even up to the nose and mouth areas.  Its blades are self-sharpening, which makes them remain very sharp, also with its blade tips and combs, which help to prevent irritation.
Click Here To Purchase The Philips Series 9000 Beard Trimmer
 This Philips beard trimmer also comes with a detail comb which adds a refined finishing to one's beard, with also the ability to reach areas on the face with smaller surface areas. There's also a cleaning brush which sweeps away any loose hair after using the trimmer.
Finally, on this beard trimmer, another enticing feature about this product is its relatively long-lasting battery life, with also the ability to work even while plugged into the mains. This product also comes with a 2-year manufacturer's guarantee.
CLICK HERE TO PURCHASE THIS PRODUCT FROM AMAZON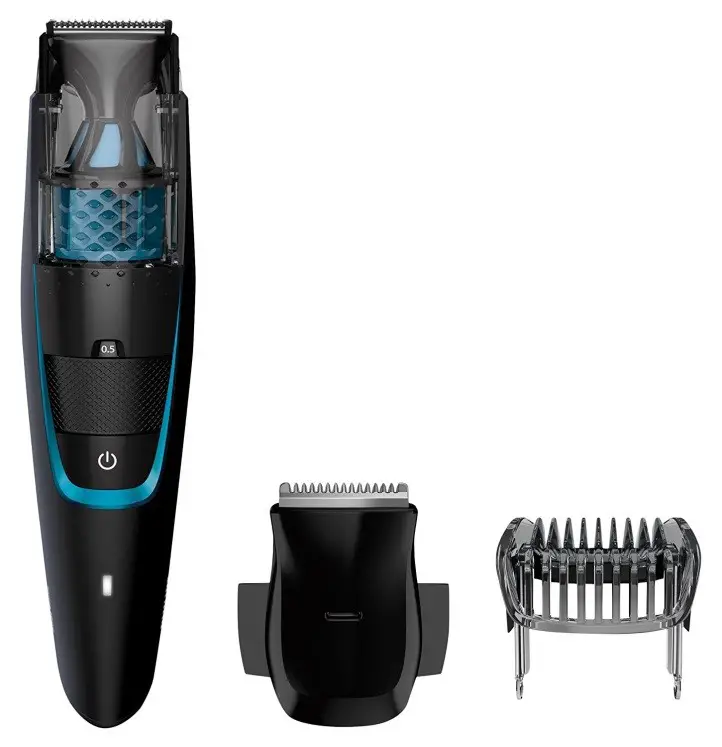 This product is another brilliant initiative by Philips. From personal experiences and reviews, it can be noted that this product leaves your beard trimmed, styled and finished after use without leaving behind any mess.
Should you want to get an effortless accurate trim very quickly, then Philips series 7000 beard and stubble trimmer with an integrated vacuum system is the answer!
The powerful integrated vacuum system included in this product catches all the cut hair as you cut through, which in turn gives you a trim without a mess, and as well leaves your bathroom clean.
This product as well trims your stubble effortlessly in one quick stroke. Made like a lift and trim system, which is principled to raise hairs into the optimal position, in a way that the double-sharpened blades cut the hairs, thereby giving it an easy and even finish.
You can also select your choice of trim length of this product, by just simply turning the zoom wheel on the handle until the desired length is displayed. This wheel is calibrated from 0.5mm to 10mm with a 0.5mm precision.
In addition, this product offers 60 minutes of battery life. Gets fully charged within an hour, and also offers you the chance to get it used up in an hour as well. This product can also deliver while plugged in. That is, this trimmer can run both when cordless and when plugged in.
CLICK HERE TO PURCHASE THIS PRODUCT ON AMAZON
When it comes to simplicity and price consideration, then the Philips OneBlade is the option!
A combo of a shaver and trimmer, this product is one with an easily detachable and replaceable head and also with 3 stubble combs. OneBlade which takes the shape of a slightly bigger manual razor can actually cut through any hair, even up to the most stubborn stubble.
CLICK HERE TO PURCHASE THE PHILIPS ONEBLADE TRIMMER
With 4 trimming lengths – 0mm, 1mm, 3mm, 5mm, this product offers you the opportunity to pick any length of your desire, which can as well tackle your facial hairs without much stress. After the length, is the 3 detachable combs added to this product. They are basically used to tidy up the rest of the face.
This product gets fully charged in 8 hours, and with a battery that lasts 45 minutes when being used. They are durable up to a period of four months if used properly.
CLICK HERE TO PURCHASE THIS PRODUCT ON AMAZON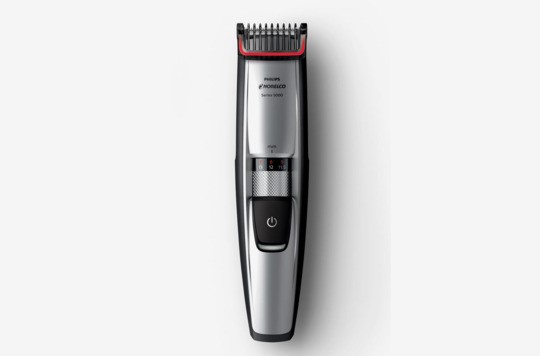 This beard hair trimmer is a hair trimmer that helps you achieve exactly the 3-day stubble. Either your beard did long, short, curly, or any which way it might appear to be, thus giving you your desired style.
Its blades are designed in such a way that it effectively cuts each hair accurately. It thereby prevents irritation and any itch effect after use. The blades are made of stainless steel and are double sharpened, which ensures that it cuts more hairs within a shorter period of time.
Made In an innovative lift and trim technology, this aids the effective lifting of hairs for a more efficient cut. It also comes with a rounded comb technology, which is designed to deliver a relatively skin-friendly and even trim.
While using this product, it is quite possible to select your preferred length by simply turning the zoom wheel until the length you want is displayed. The length ranges from 0.4mm to 0.7mm, with 0.2mm precision.
This product lasts for a whole 70 minutes, after a period of one-hour full charge. This product comes with a 5-years guaranty.
CLICK HERE TO PURCHASE THIS PRODUCT ON AMAZON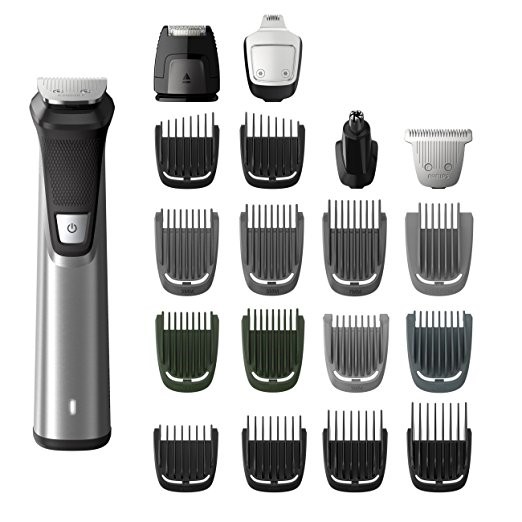 Philips Norelco Multi Groomer MG7750/49-23 is a totally washable beard trimmer with all of its attachments quite washable, as simple as rinsing them under a faucet.
This product is made with maximum precision with the Dual Cut Technology. This technology includes a 2x additional blade. These steel blades are usually brushing slightly against one another.  This hereby helps in keeping the blades always sharpened.
In addition, Philips Norelco multi groomer mg7750/49-23  has unique cutting guards that are included in it in order to prevent bending, cracking and any other constraint on the blades which might not make it work effectively. This product also has multiple lengths to be picked from for convenient and near accurate trimming.
And finally, this product comes with a long-lasting battery! This battery can run up to 5 hours per charge. In addition, this product can also function while charging.
CLICK HERE NOW TO PURCHASE THIS PRODUCT ON AMAZON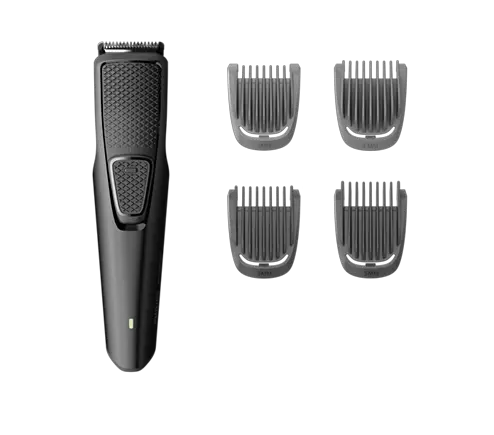 Seek perfection in a beard trimmer? Then Norelco Beard Trimmer Series 1000 is an option!
This product is a trimmer with self-sharpening steel blades which in turn increases its durability.  The trimmer's steel blades are usually self-sharpened by lightly rubbing them against each other while trimming.
In addition is a USB cable that comes with it, whose main function is to ensure convenient charging. This trimmer charges for about 8 hours and is used completely while cordless for 60 minutes.
GET THIS PRODUCT ON AMAZON HERE
 A 4 impact-resistant comb for beards and stubbles is as well added to this product. These combs are in 1mm (3/64″); 2mm (5/64″); 3mm (1/8″); 5mm (3/16″).
The blades of this trimmer are made with rounded tips that ensure smooth contact with its users' skin, which in turn prevents scratching and irritation.
CLICK HERE TO PURCHASE THIS PRODUCT ON AMAZON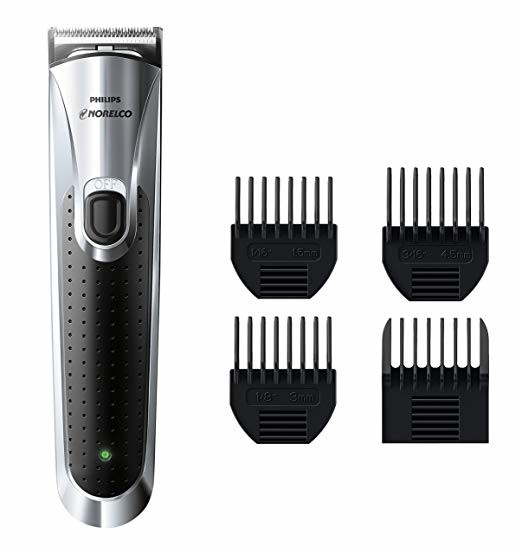 This Philips Norelco Beard trimmer Series 1200 is a trimmer with 9 length settings alongside 3 fixed bard combs at lengths of 1.5mm, 3mm, and 4.5mm, as well as with one adjustable beard comb with length ranging from 3mm to 7mm. This feature is done basically to ensure an easy trim.
This trimmer also comes with self-sharpening steel blades which are present to aid effective cutting of each hair, whilst also preventing the irritation of the skin.
This trimmer is charged for a period of 8 hours in order to enjoy 45 minutes of cordless use. This product is quite easy to clean – it can be cleaned by simply detaching the head of the trimmer and rinse it under the tap for easy cleaning. It is, however, advisable to dry the trimmer well before coupling the appliance back.
This product comes with a 2-year warranty!
CLICK HERE TO PURCHASE THIS PRODUCT ON AMAZON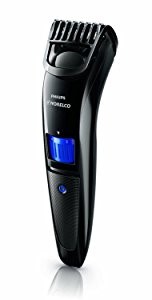 The Philips Norelco Beard Trimmer 3100 is a type of trimmer that gives you the perfect beard and stubble you desire, with a minimal amount of stress. This trimmer's20 built-in adjustable length settings with an exclusive locking feature, is used in delivering an accurate and customizable trimming experience, even without the use of multiple separate attachments.
This trimmer is structured in such a way that it can trim within 0.5mm of precision. The blades which are coated with titanium, and also self-sharpening, are ultra-durable, with a rounded skin-friendly tip that is used to prevent the irritation of the skin.
In addition, this trimmer delivers a nonstop 50 minutes of cordless power after an hour of quick charge. This product is made in an ergonomic design, which is very easy to hold and is also carved for trimming any kind of beard, stubble or mustache.
This product also comes with a beard comb with 10 built-in length settings and a cleaning brush.
This trimmer is relatively very easy to clean.
CLICK HERE TO PURCHASE THIS PRODUCT ON AMAZON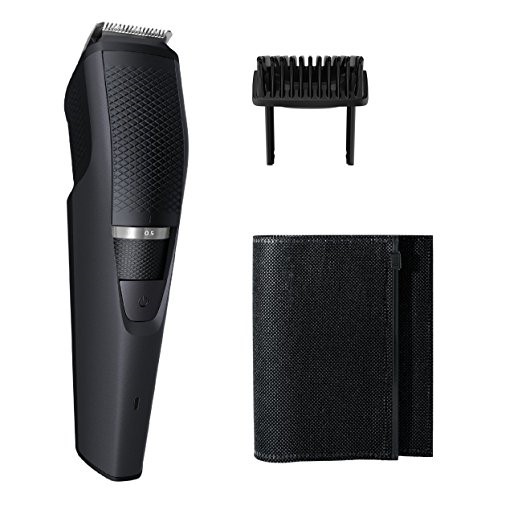 The Beard Trimmer 3000 is used for a very fast, accurate and even trim.
This trimmer comes with 10 adjustable length settings, which can be used or adjusted by simply twisting the zoom wheel to lock-in length settings at every 1mm increment.
Its blades are also with rounded tips which are made basically to ensure the trimmer's smooth contact with the skin, which in turn prevents scratching, itching, and irritation.
The lift and trim system employed in this trimmer helps the comb in lifting and capturing more flat-lying hairs on the skin, which gives more precision and accuracy of trimming.
The trimmer's battery is made of Lithium. That is, the battery has an even longer-lasting capability, and also comes with light indicators that indicate when the battery is low, empty, full or charging.
CLICK HERE TO PURCHASE THIS PRODUCT FROM AMAZON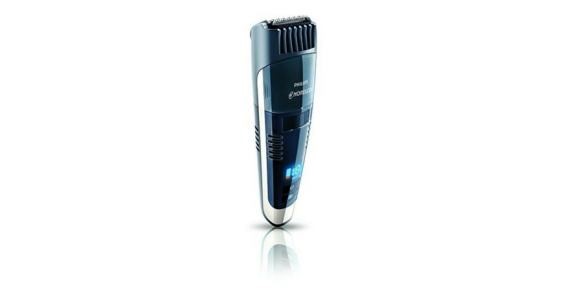 The Norelco 7300 is the best hair trimmer by Philips. It comes with a light grey and white design, accompanied by a cute dark blue casing. This trimmer allows you to achieve even more than just one length of a cut. This trimmer comes with 18 different length settings!
Norelco 7300 has a turbo power boost. This is used to supply enough power in order to enhance faster shaving. The turbo as well increases the internal fan's speed, which in turn keeps the electric motor cool during operation. These blades stay very sharp, with long-lasting effectiveness.
Quite easy to clean, and also leaves a clean bathroom after the event of trimming.
CLICK HERE TO PURCHASE THIS PRODUCT ON AMAZON
Philips trimmer for beards 11 –

Philips Norelco All- in- one Cordless wet/dry multi-groom Turbo-powered Beard Mustache & Head Trimmer Grooming Kit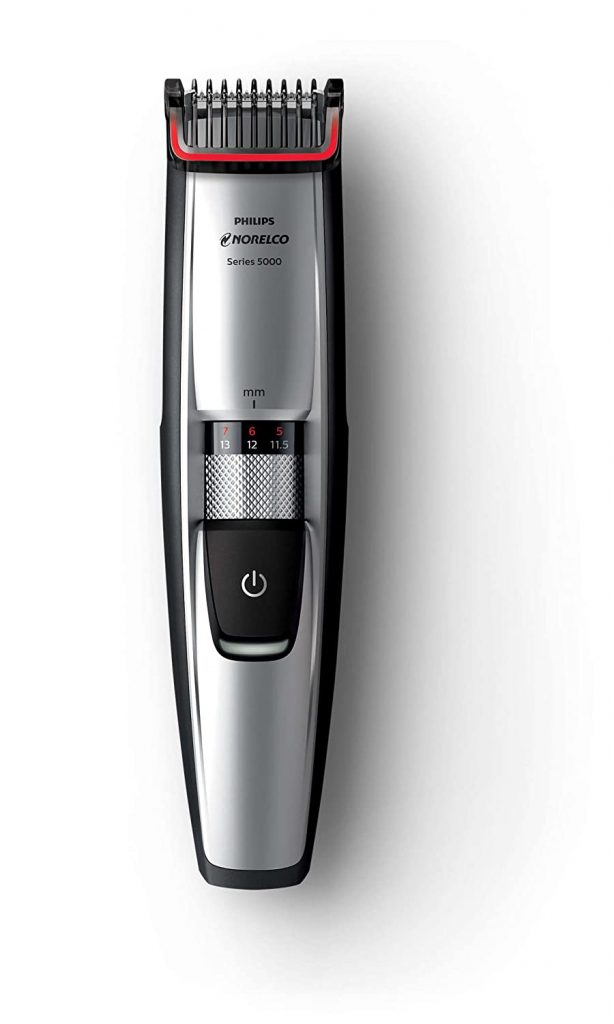 This Philips Norelco Beard and Head trimmer are designed to give every user an effortless even trim to achieve exactly the 3-day stubble, short beard or long beard look exactly as you want it.
The new integrated hair lift combs lift and guides hairs into the self-sharpening steel blades for an efficient one-pass trim. When you are done styling your beard, you can use the short and long hair clipper combs in the package to touch up your hairstyle.
The features of this Philips Norelco series that makes it a must-have for all beard trimmer users are listed below;
The beard trimmer has a full-size trimmer with precise steel blades that creates clean, straight lines and evenly trim through the thickest hair without causing irritation to the skin
It comes with 17 precision length settings which are made possible by the zoom wheel technology that provides length settings from 0.5 to 20mm
The blades are self-sharpening and are designed to easily cut each hair perfectly, preventing skin irritation.
The beard trimmer can be fully immersed in water and it cleans in seconds. The cleaning can be done by simply running the blade under warm running water. When the hair stubble is stubborn, you can use the hairbrush included to remove even the thickest hair residue stuck in the trimmer.
The blades are skin-friendly and cause no irritation because the blades have rounded tips
The cordless operation of the trimmer makes it possible for you to use the trimmer anywhere, anytime at home, the gym and on the go.
The corded operation lets us plug the trimmer while using it mostly when more time is needed to trim longer beards and hair
The design is ergonomic therefore it is easier to hold and use
The lithium-ion power enables you to charge the trimmer for 1 hour and get 70 minutes of cordless use
The excellent and useful features of the Philips Norelco all-in-one beard trimmer makes the best choice for buyers desiring an excellent beard trimming service and enjoys getting value for their money.
If you are among this type of buyers who will want to get maximum value for their money the this is you go to hair trimmer because it will definitely give you all you will be needing in a trimmer.
CLICK TO BUY THE PHILIP NORELCO MULTIGROOM BEARD TRIMMER
Philips Trimmer For Beards 12 –

Philips 25-Piece All In One Face & Body, Unisex, Rechargeable Multigroom Trimmer Kit with Premium Case (MG7770/49 Series 9000)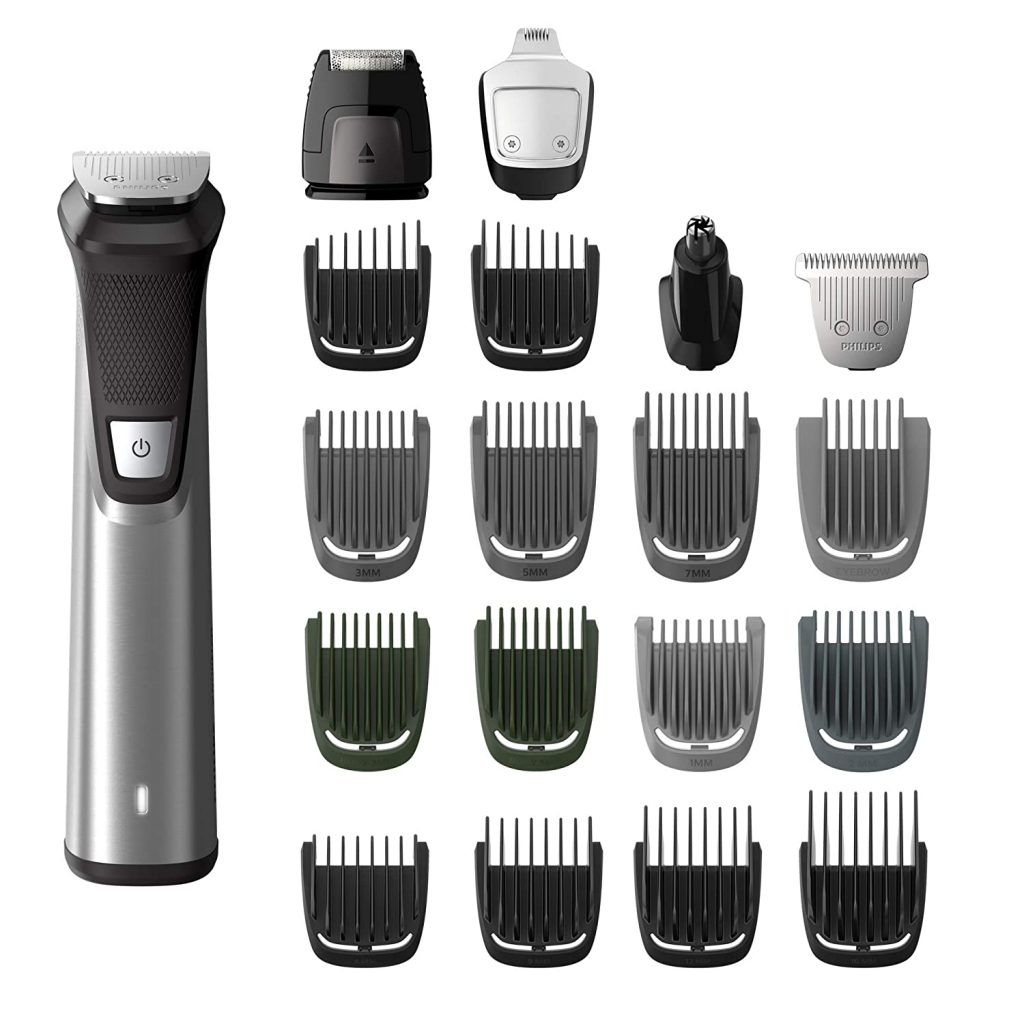 The Philips Norelco MG7770/49 multi-groomer is among the best trimmer in the Norelco series and of course, it allows your perfect personal style because it is very precise and versatile in trimming your beards.
It comes with an advanced blade that ensures that it delivers the most precise and advanced trims and cuts and as well comes with a steel frame and rubber grips that deliver superior control and the lithium-ion battery yields 6 hours of runtime with a 5 mins quick charge.
The above are just a few features of this particular beard trimmer that makes it easy to use and the perfect choice for trimming your beards.
We shall be listing below other features that make the trimmer more advanced in functions and worthy to be listed among our best Philips trimmers in 2020, still keep your eyes on the tab;
This is an all-in-one trimmer for face, head and body hair styling and comes with 29 pieces in a premium toiletry bag for all your trimming needs
It grooms, style and trims the hair on your face, head and body using the included attachments: body shaver, detail trimmer, rotary nose and ear trimmer, standard metal trimmer and extra-wide hair clipper.
It comes with a convenient and premium storage case that helps to store all attachments for easy access
The lithium-ion battery is powerful and rechargeable and it delivers up to 6 hours of run time from a single charge
The lithium battery automatically adjusts to 110-240 voltage to ensure easy charging while traveling
The trimmer is fully washable because it is made with stainless steel and can be rinsed under running water
The only con known about this particular Philips Norelco series is that the blades are not self-sharpening.
Asides that every other thing about the trimmer points to the fact that it is easy to use and very efficient in giving you the desired trim and styling you need.
So, if you are looking to get a clipper that will give you maximum efficiency and value for your money then this trimmer is your best bet.
CLICK TO BUY PHILIPS NORELCO MG7791 ON AMAZON
Philips Norelco Beard Trimmer 13 –

Philips Norelco Beard Trimmer Series 3500 QT4018/49, Cordless Mustache And Beard Groomer

The beard trimmer possesses all the right qualities that will make you want to own one right away and we shall be discussing all the features of the beard trimmer that makes it a good choice for someone like you. Keep your eyes on this space.
Below is the list of the features that make this beard trimmer an outstanding pick for your beard trimming needs;
The self-sharpening blades are designed to effectively cut each hair perfectly preventing skin irritation
There are built-in 20 precision length settings and the zoom wheel technology provides the length settings from 0.5 to 20mm.
The blades are skin-friendly because the blade tips are rounded which helps to prevent irritation of the skin
The advanced lithium battery provides maximum power for high-performance cutting. Charge your beard trimmer for 1 hour to get 120 minutes of cordless use
The trimmer can be used without cord which makes it flexible and delivers maximum efficiency
The beard trimmer is easy to clean because it can be rinsed under running water
The design is ergonomic hence it is easy to hold
The voltage is automatic: 100- 240 volts
The blade is made out of titanium
The battery type is a lithium-ion rechargeable battery
The features of the trimmer listed above are enough to make every beard trimmer user want to grab but wait before you garb it please take your time to go through the features and make sure it tallies with your needs then go ahead and place your order.
CLICK TO BUY THE PHILIPS NORELCO BEARD TRIMMER SERIES ON AMAZON
Generally, purchasing hair trimmers is totally dependent on your need, desire, and how often you intend to use it. Anyway, amongst these Philip beard trimmers outlined above, I'm pretty sure you'd have found one of your choices.
---
Frequently Asked Questions and Answers on Philips Trimmers for Beards
Can I Use My Philips Beard Trimmer On Wet Hair?
No, the beard trimmer is meant to be dried during trimming. Making use of a beard trimmer on wet hair can damage the beard trimmer, especially if the trimmer is not water-proofed.
Where Can I Buy Philips USB Adapter HQ80?
The Philips HQ80 USB adapter can be bought from the service centers, and can also be gotten from online e-commerce store such as Amazon.
What Can I Use My Philip Beard Trimmer For?
Philip beard trimmer can be used for beards trimming alone. Do not use it for any other purpose. Why?
The cutting element of any Philip beard trimmers is always smaller than that of the head hair clipper. The comb is smaller, therefore, they should not be used to allow you to easily reach under the nose. Beard hairs are known to be stiffer than the scalp. If you use a beard trimmer to trim any other hair asides from the beards, you may experience reduced skin damage or performance.
Can I Rinse My Philips Groomer Under The Tap?
No, rinsing your Philip's groomer under the tap can get it damaged. Instead of doing this, check out the instruction manual to know the recommended approach to get it cleaned.
What Do Numbers on My Philips Groomer Comb Mean?
The numbers on my Philips groomer comb indicate the length setting on the device. And it can also be referred to as the remaining hair length in inches or mm, or the number that corresponds to a length setting.
How Do I Clean My Philip Beard Trimmer?
Use the brush provided to clean the cutting element.
Use a damp cloth to clean the exterior and comb attachment. Make sure the cloth is not too damp.
Note: Make sure to check out the instruction manual, as different models have different methods of cleaning.
Keep bearding Fam.