This article is specifically for African American Men who are consigned with the business of growing beards; this article is for Africa American men who aren't just growing a beard for the sake of growing but are engrossed with the fact that this process is an art that must be mastered to heart.
This article is for men hungry for a solution to dry beards. Specifically streamlined to suit the curiosity of a black man as regards the best beard oil to use. This article is a careful compilation cum explanation of African American Beard Oil suitable for every black man.
So, without further ado, let's begin!
Why Do I Need An African American Beard Oil As A Black Man?
Generally, irrespective of your race, the beard oil is very important to the face. This is owing to the fact that the skin on your facial area does not produce just enough amount of oils to keep your beard moisturized. This thereby results in problems which include flaking, and itchiness.
Hence, we can thus label beard oils as skin moisturizers and conditioners which aids the optimal development of one's facial hair.
Now as an African American, you should by now have known the high degree need of beard oil your facial hair begs off. More importantly because of the nature of your hair – curly, thick, rough, etc.
Economizing time, I wouldn't go in-depth describing the kind of hair you possess as an African American. It would merely be a case of over flogging the issues. Hence, you can click HERE to read extensively on characteristics of your facial hair as a black man.
Best African American Beard Oil On Amazon
So right now is the moment you've been waiting for. We'd be going in-depth on the best types of beard oil suitable for use as an African American.
Please note, that this listing isn't according to any ranking, but a result of multiple types of research alongside personal experiences. However, many an African American beard oil listed here has proven in the past to be credible for, and worthy of use.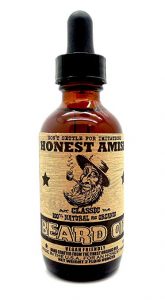 Right from inception, the honest Amish brand was known for the production of beard balm, making use of all-natural products. Until some few years ago when they embarked on producing their own "better than oil" beard oil.
Weird, you're thinking too right?
Well, I felt the same too at first until my first encounter with this beard product…I was totally swayed off my feet with such amount of dexterity out towards the production of beard oil.
Firstly, the Honest Amish Beard Oil is a kind of beard oil which has loads of essential cum natural ingredients stacked into it. As an African American, your beard as explained earlier needs to be lavishly moisturized. With this beard oil, which contains avocado oil, jojoba oil, argan oil, etc. Your beard would never lack moisture again.
To get more insights on the Honest Amish Beard Oil, and it's viability as an African American Beard Oil, I have a detailed note on that HERE.
CLICK HERE TO GET THIS PRODUCT ON AMAZON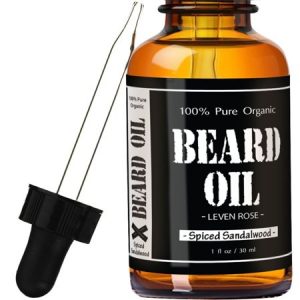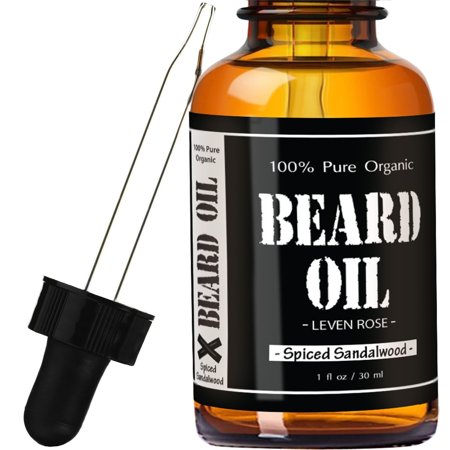 The Leven Rose Organic Beard Oil can be referred to as the best oil for black men available in beard stores at present.
This is no sweet talk – you can confirm with different reviews yourself.
This beard oil an approximate synonym of natural, having had 100% pure natural ingredients. These ingredients are simply the Jojoba oil & Moroccan Oil. Just two. Quite awesome!
Finally, the Leven Rose Organic Beard Oil aids the smell of the beard. Either you need to smell like orange or a pine tree, this beard oil is answerable to all of this. Seeking a beard oil that's capable of keeping your beard smooth, and moisturized, then you need not to seek further, as Leven Rose Organic Beard Oil is the answer!
CLICK HERE TO GET THIS PRODUCT ON AMAZON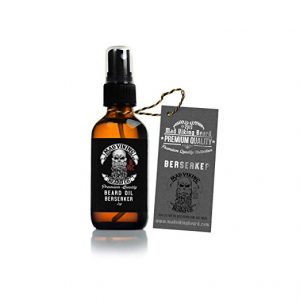 Mad Viking Beard Oil is a beard oil concerned with the nourishment and hydration of its user's beard, and the underlying skin.
Made of eight essential oils namely; sweet almond oil, refined hemp seed oil, virgin argan oil, organic grapeseed oil, avocado oil, golden organic jojoba oil, and apricot kernel oil, this beard care product aids beard growth, whilst also helping in getting rid of any form of discomfort, such as irritation, present in the beard or the underlying skin.
Asides all of these, the Mad Viking Beard Oil also gives your beard a great and inviting smell. All thanks to the presence of cherry, and a few vanilla fragrances in its mix.
CLICK HERE TO GET THIS PRODUCT ON AMAZON
Before The End – African American Beard Oil
So we're done with our top-3 list! However, as an African American, grooming your beard doesn't just mean applying beard oil, or leaving your naturally wild and curly beard to keep growing. You need even more varieties of beard care products to attain the level of beard style that you desire.
In this article, I've explained all beard grooming products you need to have in your beard grooming kit as an African American.
Frequently Asked Questions on African American Beard Oil
How do I keep my beard smelling good?
Keeping our beard smelling good has to do with regular washing of the hair with clean water, good shampooing and then proper grooming.  This kind of practice keeps our beard clean and fragrant. We also recommend that you get some products in the amazon store such as Beard Wash by a mountaineer. It can go a long way to give you one of the most amazing results ever. Try it and see for yourself.
Other ways to keep our beard smelling nice, is to wash it deep and then hydrate it regularly. This method is very effective in making your beard stay refreshed and fuller.
What's better beard balm or oil?
GRAVE BEFORE SHAVE is one of the best beard balms out there, you will be glad to purchase it. The product is fantastic at taming your beard and then giving you full control over it. It subjects your beard to flexibility and therefore, allowing you to easily shape it into different kinds of styles. You can get it at the Amazon store.
Later and Wood is an awesome beard treatment oil. These products for beard treatment all come with great results. This is the reason why we normally recommend them to you. Talking about the great power of moisturizing, Later and Wood does not come last. It is the best product for you. it tames your beard and gives it that powerful and stunning look that gives you full confidence among your friends. You will surely feel secure and satisfied.
If you are hoping for a humble, soft and easily styled beard, this oil is the key to such success. It will give you the very result you aspire to get. Try it, check the customers' reviews and see for yourself. You can buy it on Amazon.
How often should a black man wash his beards?
There is no difference in the way a black man should take care of his beard as a white man should do. The common trait among all beards is that they stink whether a white or black man when not properly groomed. A black man should wash his beard regularly due to the curly nature of the beard. Washing your beard regularly with shampoo and water allows it to grow fuller and healthier, therefore, it is a good idea to do so all the time.
Here are some few tips on how to wash your beard to keep it fuller and healthier:
Cleanse the bearded area with water and then massage a small amount of Beard Shampoo into the beard.
Massage Beard Conditioner into the bearded area and leave to absorb into the hair for a minute
Once out of the shower, comb the beard through with a beard brush or sturdy comb to remove any knots.
Beard massage brush
Here are some beard massage brushes we can recommend for you because we believe they have the best of qualities. Consumers have been giving good reputations about it. Here are some of the brushes mentioned.
Professor Fuzzworthy Beard Shampoo Brush
This has helped a lot of users get rid of their rigid and dry skin. Beard brushes, normally help in the straightening and stretching of crooked beard. They help to remove tangles and knots and this is exactly the work of this very product. You can get it as many as you desire, share with your family and friends. You can buy it here.
Bossman Beard Brush
This is a promising beard brush, it has that special ability to give your beard the best look you aspire for. Yes, we are confident to recommend it to you. Get it on Amazon.
The End – African American Beard Oil
Here would I be bringing this article to a close. But still, I'd love to get feedback from you; which African American Beard Oil caught your attention? And what exactly made you fall in love with it?
Or did we miss any beard oil you've experienced as an African American, and would love to share your experiences? The comment section is yours, suit yourself – I'd be glad to respond to your comments.
Grooming your beard requires attention, lavish your beard with it!