Holla! Grab a coffee, fiddle with your beard, not satisfyingly appearing right? Well, let's begin straight-up and talk about the Honest Amish beard oil.
Quickly, in this article, you'd be reading extensively, the honest Amish Beard Oil Review. Interesting right? Fine! So let's begin at a rather fast pace.
Honest Amish Beard Oil is a product of the Honest Amish brand. This is a brand which started off as a very small group of individuals who sell their products specifically at farmer's markets, local festivals, and flea markets. Over time, they grew into an online brand, although still kept and being guided by their main beliefs and practices.
Honest Amish is located in a small Pennsylvania town, and have over the years proven to customers that their products are usually 100% natural and organic. This though is one of the main reason they get loads of customers yearly.
Well, enough of the history about Honest Amish, our main deal here ifs the Honest Amish Beard Oil Review. And so, let's set down to business.
Here, we'd first be seeing into this product in generality, before thus proceeding into the ingredients making it up, as well as its uses, et al.
What's This Product? – Honest Amish Beard Oil Review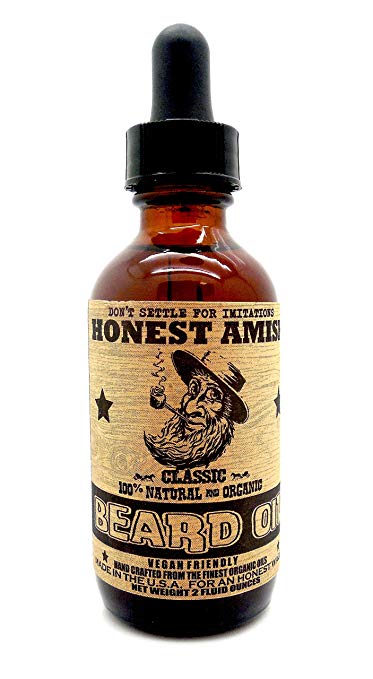 Please nest Amish Beard Oil is a lightweight non-greasy beard oil with an inviting mild woodsy scent, made of 100% natural ingredients, excusing animal products.
This beard oil is created in such a way, that it gets absorbed very fast from the skin, thus causing spontaneity in functionality.
Having been produced solely by hand, with careful sourcing of all ingredients targeted at beating specific and strict standards, honest Amish Beard Oil is one to reckon with, and also suitable for recommendations.
Honest Amish refers to this product as the "better than an oil". Don't argue yet, cause by the time you get to the end of this review, you'd be agreeing with them.
CLICK HERE TO GET THIS BEARD OIL ON AMAZON
Ingredients Of Honest Amish Beard Oil
Having affirmed earlier in this article that honest Amish Beard Oil is made from natural ingredients, let's thus describe a few of these ingredients.
Basically, the main ingredients present in this beard oil is the Argan Oil, and Jojoba Oil.
What are these?
Argan Oil is an ingredient here which helps in supplying an abundance of moisture and to the beard, thereby ceasing it from drying. Argan is filled with an abundance of Vitamin E, which helps in repairing any firm of damage caused to either the hair and/or the skin cells.
Also, Jojoba Oil to a certain extent serves the same purpose. Also contains Vitamin E, thus also helping in taming the beard, as well as also alienating dandruff from the beard. Asides all these, however, jojoba oil also helps in unclogging excess oil from hair follicles. This, in turn, leaves such skin moisturized.
Apart from these oils – Argan & Jojoba Oil, Honest Amish Beard Oil also contains quite a few numbers of oils too. These oils include;
Sweet Almond Oil
Apricot Kernel Oil
Pumpkin Seed Oil
Kukui Oil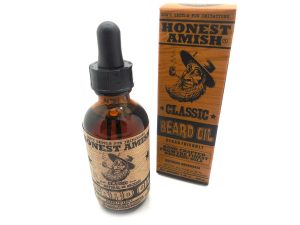 Sweet Almond Oil
Sweet Almond oil is one with a very high amount of biotin and magnesium. And I'm sure you know, that these two nutrients are paramount nutrients needed for hair growth. Hence, you can see clearly, the importance of this ingredient in the Honest Amish Beard Oil.
Asides this, this oil can as well help control or prevent inflammation and dandruff. The scent of this oil is heavenly!
Apricot Kernel Oil
This oil is also closely related to the Sweet Almond Oil – Having lots of properties in common.
Although, asides these similar properties, Apricot Kernel Oil also helps in smoothening of the facial hair, smoothening any part of the skin that is irritated, and also helps tremendously in softening your beard and your skin.
Pumpkin Seed Oil
Okay, let's say this is the most important oil present in this product which causes beard to grow faster.
How do I mean?
The Pumpkin Seed Oil has been proven via cautious researches to be a catalyst for hair growth. Hence, for readers who have a thinner beard or perhaps beard facing the problem of patchiness, the kind of beard oil they should purchase should be one having this ingredient – thus, the vindication of Honest Amish Beard Oil as being the perfect bead oil for you!
This ingredient would cause your beard to grow fuller and even thicker.
Kukui Oil
As funny as the name of this ingredient sound, it's very important. And maybe this is more reason you'll rarely find this oil in many beard products.
Kukui Oil is one which serves as a natural skin and beard moisturizer.
Asides it's a moisturizing effect, Kukui Oil also serves as a lasting solution to beard problems like eczema, dandruff, hair loss, and psoriasis.
So, basically, these are the main ingredients that make up the Honest Amish Beard Oil. Very wonderful they are. Or, aren't they?
CLICK HERE TO GET THIS BEARD OIL ON AMAZON
How To Use Product – Honest Amish Beard Oil Review
Even for a very good product, without easy usability, it's usefulness might not get appreciated as supposed to. Why?
This is because every user tends to get frustrated quite easily when finding issues using a product easily.
This is one issue the Honest Amish Beard Oil has conquered with its size of the bottle. This makes its application to the palm very easy, and also doesn't leave a greasy feeling to the palm after its usage. Except if you aren't using the right amount.
Generally, the honest Amish Beard Oil should be used moderately. In cases of a very full beard, you can apply graciously, however, if your beard is relatively shorter, then 2 to 3 drops should be enough. If not, the scent might overwhelm you, and proceed to get offensive.
When styling, for a perfect result, it's is usually advised to make use of this beard oil alongside a beard balm. This thus gives you a fantastic end result.
Conclusion
So, in a very brief means, this is all about the Honest Amish Beard Oil Review.
Hence, what part of this product reviews here caught your attention the most? Would you love to buy this beard oil upon reading its review here?
I'll really love to hear from you. Let me thus have your responses via the comment section.
Keep bearding!