Welcome to the most detailed answer to that big question that's been pandering your mind for a while now – Do Beard Growth Vitamins work?
At 23, as a freelance blogger and full-time civil engineer, I was living my supposed best life then. Owned a duplex, two cars, had a loving girlfriend – although she nags a lot, in a nutshell, I was living my best life. But still, I felt incompleteness withing me. Over and over again I get to ask myself why my chin and the facial part of my body in general, take the synonym of a desert.
You see, I wasn't that concerned at 23 and 24 years of age tho until I clocked 25 and the plot of my beard story still isn't changing. Although even with my lover's nagging nature, she doesn't complain about my inability to grow beards, still I was personally worrisome about it.
On my quest for a solution, I got introduced to loads of pills, natural herbs, they were all shits! They basically carted away with my money without giving me a desirable end product.
The storyline remained the same until a few weeks to my 26th birthday. On a Tuesday evening, I was on a particular blog (can't recollect their brand tho), when I stumbled upon an article highlighting the various importance of beard oils, beard balms, beard shampoo, and the beard growth vitamins present in them.
Right from that moment, my miracle started! – all I needed was to be educated. And what exactly is what I'm making you get too, this moment.
The simple truth is, for a blossoming beard, your body requires certain vitamins and minerals.
So your big question – Do Beard Growth Vitamins Work? The simplest answer is; YES IT DOES!
Like I said earlier, your body needs certain vitamins. Hence, the deficiency of one or more of these vitamins would/could lead to a poor health condition, stunted growth, et al.
However, there are different vitamins, for different functions. Hence, after answering your "Do Beard Growth Vitamins Work?" question, it's not just enough to know they work, but also knowing these beard growth vitamins, and a few beard growth supplements which stack up these various vitamins in them, works more wonder and is of more advantage.
So without much ado, let's get into the beard growth vitamins.
Known Beard Growth Vitamins – Do Beard Growth Vitamins Work?
Basically, this is the most crucial section of this article. Thus, I expect you to at this point take on the cursory type of reading.
For your beard to grow to your desired specifications, below are the various types of vitamins that must be present in the beard supplements to buy.
Vitamin A is one vitamin that is essential for the production of hair oils. These oils help in keeping human hair from being dry or hard.
Thus, a deficiency in the amount of Vitamin A present in the body would render hair follicles useless, thereby causing hair loss.
However, it's also possible to have an overdose of this vitamin, which is quite harmful to the body. So, you should know how to keep things in aggregation.
Asides the supplements to be outlined later, foods that increase the level of vitamin A in the body include; Iceberg Lettuce, Cod Liver Oil, Carrots, etc.
Vitamin B7 also known as Biotin is a water-soluble vitamin that causes the production of keratin.
Keratin is a fibrous protein that forms the main skeleton of the hair. This confirms that the deficiency of this vitamin causes the thinning of the hair.
The presence of Vitamin D and Iron in the body system has proven to prevent hair loss. However, prevention is basically what these vitamins do. Don't mistake them to help grow facial hair – they don't!
To prevent deficiency of vitamin D and iron, you should eat food like cheese, egg, cereals, fatty fish, etc
In short, Vitamin E helps in maintaining a healthy circulation of blood. This thumb, in turn, helps in keeping the hair follicles healthy.
To boost the vitamin E content in your body, foods like corn, peanuts, peas, should be eaten often
This would be the last vitamin to be discussed in this article. The Pantothenic acid is a vitamin that has been believed to make hair follicles stronger and more healthy.
Beard Growth Supplements – Do Beard Growth Vitamins Work?
Quickly in this section, I'd take you through a few beard growth supplements which have these afore listed vitamins stacked in them.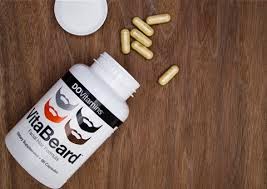 VitaBeard is a beard growth supplement which has been formulated in such a way that it bears the cross of supporting the fast and strong growth of facial hairs. This is made possible vide the presence of crucial vitamins and nutrients in this product.
Asides faster and stronger growth, Vitabeard as well helps in reducing itchiness in the beard, and also in regulating the production of oil in the skin immediately under the beard.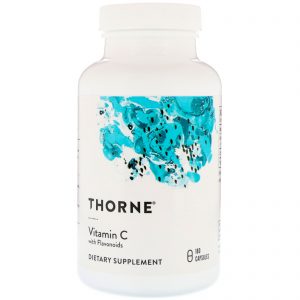 Thorne Research is a complete two-capsule-per-day formula that is designed to aid easy usability, and most importantly for optimal absorption.
This product is stacked with maximum vitamins and nutrients which supports the growth of beard.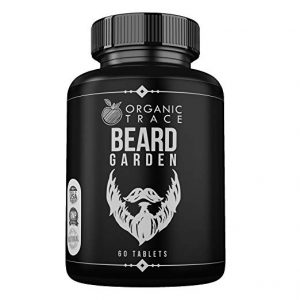 Organic Trace is a naturally curated ultimate beard supplement which helps in making beard and mustaches grow fuller and thicker.
This product is packed with quite a number of essential vitamins which is aimed at promoting a healthy beard and mustache. These vitamins include Vitamin A, Biotin, Vitamin E, etc.
There are lots of vitamins that are good for the essential growth of the beard. We will have to talk much about the various oil vitamins we have apart from the ones we have already listed above. Just as you know, beard vitamins give nutrients to the hair and allow it to grow fuller and thicker. We shall inform you right away.
Super Potency Biotin 5000 MCG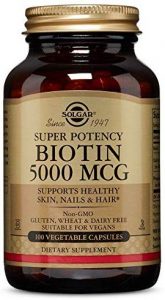 Biotin is a water-soluble B vitamin that supports protein, carbohydrate and fat metabolism. Biotin is known for its support in energy metabolism, in the body as well. Biotin promotes and supports healthy skin, nails and hair. It is also a Vitamin B that is necessary for certain enzymes to work properly within your body. Biotin helps to boost your body system energy by converting food into energy and it is also required for fat, carbohydrate and protein metabolism. It is suitable for vegans because all capsules are non-GMO and certified gluten-free. They are also free of wheat, dairy, soy, yeast, sugar, sodium, artificial flavours, sweeteners, preservatives, and colours.
Buy now on Amazon.
Dukes Beard Growth Max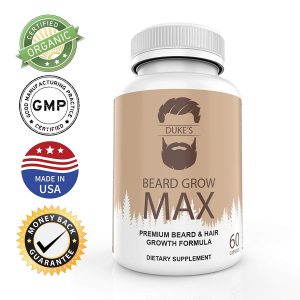 This is a fantastic beard growth product with the required vitamins needed to grow a fuller, thicker and healthier beard. It is a supplement as should be expected and helps to achieve your desired beard. It is 100 percent VEGAN and rare to find another formula that can beat it. It helps to grow your beard faster and thicker. It is a monster when it comes to growing healthy facial hair, therefore, you should go for it.
This beard vitamin is manufactured to aid all kinds of hair types no matter your race, this beard product sees human as one race. If you need a beard with these best qualities; thick, soft, straight, fine, wavy, coarse or curly, from peach fuzz to lumberjack, Duke's beard is the best for you. Don't miss out at all.
Buy now on Amazon.
Beard Gummies for Beard Growth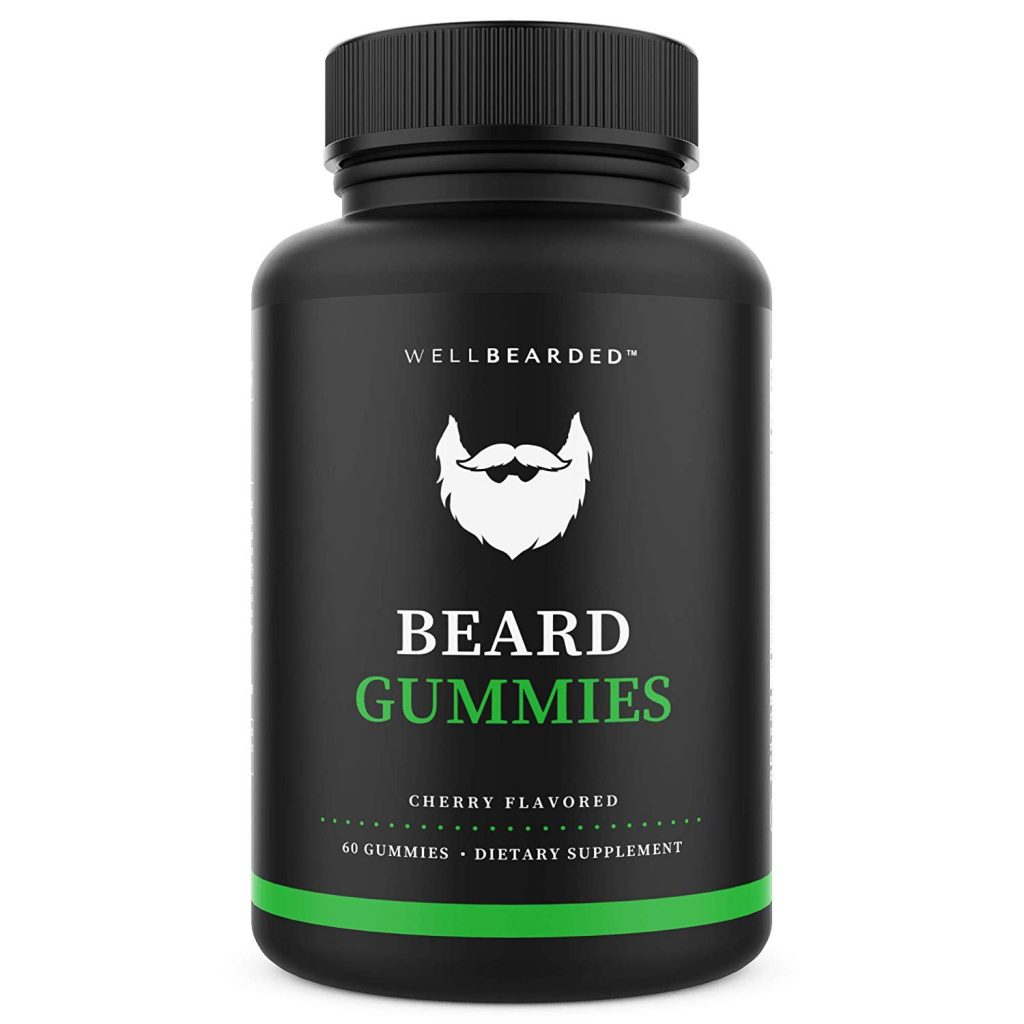 This is another awesome beard Vitamin, it is known for its good reputations from users. We assure you will be happy after the usages. It has a promising end. However, we have to tell you that a particular product may not work well for you but it does for others.
The product is preferred because it is of premium and tested ingredients in it. The quality needed for the product is well stationed in it, and an amazing money-back guarantee. The product requires that you should have full confidence in it because the ingredients it is made off are of the highest functions. Let us look at the features together:
If you need a fuller, thicker, stronger and healthier bears, this is the best product you need. If you want to grow your moustache, don't even go too far, the product is made for men who daydream to achieve that amazing, sweet to look, nice and thick beard.  If you also need a longer, stronger and healthier beard, 'Beard Gummies' is the best for you.
Are you the types with a patchy beard? The formula of this product is just a perfect nutritional delicacy that can help solve that problem for you. Probably, you have hair loss; the product has proven itself to be the foundation of a new and healthy beard.
Buy now on Amazon.
---
Frequently Asked Questions and Answers
What Are The Ingredients Used in The Production of Thorne?
It is made up of the following ingredients:
Vitamin  A
Ascorbic Acid
D-Alpha Tocopheryl Acid Succinate
Vitamin K2
Vitamin K1
Thiamin HCl
Pyridoxal 5′-Phosphate
Folate
Calcium Pantothenate
And others.
Does B12 Help Beard Growth?
Vitamin C and E are known to encourage sebum production, which is a natural oil that is needed for the lubrication and moisturization of the hair. And that makes the beard thick and lush. Vitamin B12, Vitamin B6, and Biotin promote beard growth and B12 reduce stress which can cause hair loss. B12 helps beard growth.
Does Collagen Increase Facial Hair?
Collagen may promote healthy hair growth in different ways. For some, the amino acid in collagen can be used to build hair proteins and strengthen the skin which contains the hair roots. It can also prevent the hair follicle from getting damage and graying.
Do Beard Growth Vitamins Work?
Beard growth vitamins are beard growth supplements that have been formulated in such a way that it bears the cross of supporting the fast and strong growth of facial hairs. Doubting the authenticity of beard growth vitamins can only be done by men growing a beard or wanna be that is interested. From the reviews dropped by verified buyers on Amazon, it works for some and it does not work for some. The positive reviews are more than the negative ones, and that is a green light, meaning those products can be bought that need them. Below are few of such reviews:
It worked really well as I would expect. It takes a while to really take effect like any vitamin. The benifits were not only limited to my beard, but I also noticed that my hair was softer and healthier as well! A great product overall. Be warned, the smell is very strong.
---
Conclusion – Do Beard Growth Vitamins Work?
…and it's a wrap!
Answering your question; "Do Beard Growth Vitamins Work?" has been quite enjoyable, and I hope you did feel the same too.
However, should you have any other questions, please let's meet in the comment section. I'm eager to have you!
Or, you can also see these few resources for answers to questions relating to them;
Keep bearding!