Remington PG6025 Review: Do you regard shaving a sacred act? Well, we do. The whole essence of Shaving is to have that clean-cut look and sublime feeling. But, the expectation for that awesome feeling begs the question, how can it be achieved? How do we get rid of that feeling of discomfort? Truth is, you need the right tool. The right tool, (which we will show you) in the right hands (yours) can only breed satisfaction. And what is this tool? It's the Remington PG6025.
In this Remington Pg 6025 review, we will enlighten you why this brand is said to fulfil the expectations of every bearded man. Don't get yourself entangled in the hoax that all shaving experiences are similar. With it's self-sharpening, surgical steel blades achieving the style that you desire becomes easier.
What Are The Benefits Of Using This Product Awesome? – Remington PG6025 review
Full-Size Trimmer: The trimmer does an awesome job in giving you a clean cut even without attaching one of its comb accessories. This makes it even faster and more efficient. You thought you have had the best beard care experience? Well, not quite yet. This product offers a whole new level of quality provision. Grooming your beard is about to get even easier and more exciting.
Cordless & Lithium Powered: Have you had the experience of a cordless trimmer? If you haven't, you don't know what you are missing. What makes it different? Simple, flexibility and freedom. The Remington PG6025 is powered by a Lithium battery that is designed to last for 65mins. This means that you the freedom to go artistic on your beard for an hour plus before recharging. A full charge takes 20-30mins. Awesome right?
Self-Sharpening Blades: This product is fitted with self-sharpening steel blades. This ensures that its blades stay sharp and perform as intended. Trimming your beard with precision and ensuring a comfortable trimming is essential. And that's what this product guarantees.
Resourceful and washable accessories: The Remington PG6025 comes fully packed with 8 attachments. These attachments, in their own way, give different user experiences. They include a full-size trimmer, 3 beard and stubble combs, nose, ear and detail trimmer, foil Shaver and 8 combs of different lengths.
Sleek design and awesome grip: This product has an awesome framework. It's designed with all the curves in the right places, which makes holding it in place even easier. With the ease of a comfortable grip, comes the end result of a well-groomed beard.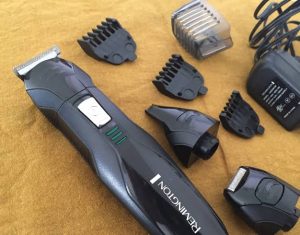 This trimmer is something you won't regret adding to your travel kit. With the Remington PG6025 staying fresh and comfortable as a traveller is made even easier. This Remington PG6025 review wouldn't be complete without mentioning how easy it is to carry the Remington PG6025 around. This trimmer comes with a pouch that can also contain its accessories.
Pros And Cons – Remington Pg 6025 review
Every product has its good and bad side. As you did expect, while a product may be great, it will have flaws. A product cannot appeal to every customer in the market. Some customers buy a product for one major feature while others care about every single feature suiting their taste. We will be examining the attributes that make the Remington PG6025 the best choice for some and a "no-no" for others.
I really like how versatile this kit provides and I'm also impressed with the performance. Not bad for money compared to other top brands
Pros – Remington PG6025 review
Its self-sharpening blades help to keep the trimmer durable and effective. This gives the Remington Pg 6025 an edge and reputation for quality.
The Remington PG6025 All-in-One Lithium Powered Grooming Kit comes with an attractive and handy pouch that holds the trimmer and all its accessories.
The well-balanced weight and sleek design make it easier to grip and shave with precision. This gives a better feeling of control.
The 8 attachments that come with the Remington PG6025 can be easily attached to it. The difference comb lengths are resourceful for diverse purposes and hair lengths. Cleaning them isn't also a worry as they can be easily washed.
And let's not forget that this trimmer is cordless and its lithium battery gives you a 65 minutes use.
Cons – Remington PG6025 review
Over time, due to extensive use or battery replacement, the battery life of the Remington Pg 6025 ends up being somewhat short. This will undermine its usage capacity.
In some cases, the ear and nose trimmer may turn out to be too big for some ears and noses. This is definitely something they need to improve on in their next series.
The blades, although they get sharpened as you use them, will get worn out in a space of 1-2 years.
This seemed like such a great trimmer, but the battery completely died after 2 uses. I charged it fully before use, I did not leave it plugged in for days, I did not run the battery down to empty, it just stopped working.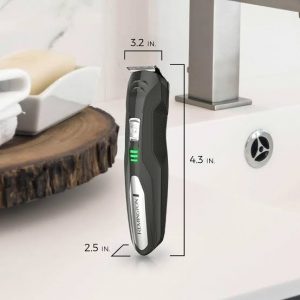 ---
Our Final Verdict – Remington PG6025 review
If you are in need of a rechargeable beard trimmer, and you don't necessarily want a waterproof one, then this product will serve your needs adequately. Getting one of these lightweight and affordable trimmer is one of the best decisions you can make.
The Remington PG2065 is designed to give a clean-cut shave to its users. And, a lot of users can attest to its quality. Overall, the Remington PG6025 all-in-one lithium powered grooming kit is one tool every bearded man will be delighted to have.
True quality can't be hidden, the quality of this product has proven to be undeniable. It's no wonder the level of popularity this product has gained.
Cleaning, Care and Maintainance of Remington Pg6025
NOTE: Always clean groomer head regularly to ensure maximum performance
and proper operating life.
CLEANING ATTACHMENTS WITH WATER
Remove Groomer Head by turning in a counter-clockwise direction.
Rinse ONLY the Groomer Head under warm running water. Do NOT use hot
water as this might cause damage.
CLEANING WITH BRUSH
Thoroughly brush and blow out hair clippings from Groomer Head.
Rinsing Groomer head underwater (above) requires lubricating the cutting
blades 1x monthly. Using only light-grade oils (e.g. sewing machine oil), simply
spread 1-2 drops lightly over cutters with the fingertip. Wipe away all excess.
 Use only light-grade oils as these will not evaporate nor slow down the speed of
cutting blades.
Do not use hair oil, grease, or any oil mixed with kerosene nor solvent as these
too will evaporate.
RUNTIME/PERFORMANCE
Failure to clean attachments of excess hair/dirt can result in reduced
performance and runtime.
---
Frequently Asked Questions and Answers
Is Remington PG6025 Effective?
Yes, it is effective and works perfectly. It comes with all the features promised by the manufacturers. So if you are thinking of getting yourself a beard trimmer, you should have it on your list. Below are few of the reviews dropped by verified buyers on Amazon:
 This is not a heavy-duty razor, so if you're looking for an all-metal unit look elsewhere. It feels very light in your hand. With that said, this thing is great! I charged it for about 15 min out of the box and have shaved around my beard several times with no loss of power. I love the shape of the head when shaving with the clipper – different than the traditional style but this is more effective for shaping a beard line. I haven't used all the attachment but the razor, and clipper work great! Overall, this thing is awesome. As long as it lasts a year or so it will be more than worth the value. Honestly, I can't believe ppl spend 75+ dollars on these things when there is just no reason to.
I got this little guy today and it is very versatile! Great item to put in a travel case! I believe I used it consistently for 30 minutes or so(it comes with a charge) and there was no warning of the battery. Very sharp blades and they are self-sharpening! The only things I didn't like were I had a couple of hair pulls when using the foil shaver but I did get a nice close shave and I thought the hair trimming attachment that comes with and you can set at 8 different locations was a little flimsy. I do want to mention I had to break out the instructions to find how to remove and change the attachments. You have to turn it 1/4 turn in one direction to put it on and 1/4 in the other direction to take it off. Overall this is a very handy item for home or travel!
Is the Remington pg6025 waterproof?
No, Remington pg6025 is not waterproof, so you must shave dry, but you can wash each of the attachments in water once you remove them from the body.
How Long Does It Take To Charge Remington Pg6025?
How long it will take to get fully charged was not provided by the manufacturer, how it can be used for 70 minutes off the grid.
Can I Use It As Hair Clipper?
Yes, you can use it as a hair clipper as it comes with different types of attachment that can be used to get rid of hairs from different parts of the body.
Can It Trim and line Up The Mustache?
Yes, you can use this to line up your beard or moustache.
Does Remington PG6025 Come With Battery and Charger?
It comes with a rechargeable battery that can last for 70 minutes with consistent power supply and it also comes with a charge that allows you to power up your trimmer whenever you need it.
What Makes Remington Pg6025 Different?
Nothing is really premium about Remington p6025 but it comes with features and specifications that you will not want to miss. With the full kit, you can take over total control of what your beard hairs look like without seeking the help of a professional. It comes with 14 styles and length settings three attachment leads. With this full kit from Amazon, you can look sharp at home and on the go.
It also comes with a rechargeable lithium battery that can provide up to 70 minutes of cordless runtime. You can achieve the time you want coupling with the self-sharpening features and surgical blade that stays sharp and precise forever.
Aside from the features listed above, it comes with a charging light indicator that serves as a reminder to get the trimmer charged when needed.
How Long Will It Take For Remington Pg6025 To Get Spoil?
No statistical equation can tell you this is the number of months it will take for this model to get spoilt. How long depends on what you do with it and how you take care of it. You can't expect your trimmer that you don't maintain to last for long compared to Mr.B that ensure he clean his own after every use and follow the instructions provided by the manufacturer. So, if you want Remington pg6025 to last for long, follow the instructions provided by the manufacturer and ensure you clean it the right way.
---
Conclusion – Remington PG6025 review
The Remington PG6025 is one product that has caught the eyes of many. Not just because of its price but the quality that comes with it. Its manufacturers describe it as their most powerful trimmer yet.
So what are you waiting for? Your best move right now is to get yourself one of this awesome trimmer. Does this product impress you? Do yourself a favor and click here to get the Remington PG6025 on Amazon now.
The Remington PG6025 hasn't fallen short of expectations. Treating yourself to the best quality is very essential and we understand this. Has this Remington PG6025 Review been of any use to you? Do you have any experience using this product? Let me know in the comment box below.
You can also check out the following articles :