Hi there! Are you looking for a perfect beard trimmer, in other to improve the styling quality of your beard? You'll almost definitely want to give your beard that deserving look, whilst also cutting down the unnecessary cost of acquiring. Hence, I congratulate you as the solution to all your worries are embedded right inside this article! – The Remington PG6171 Beard Trimmer. In this Remington PG6171 Beard Trimmer Review, I'd be taking you extensively on a journey to knowing every nitty-gritty about the product Remington PG6171 Beard Trimmer.
In this review, you'd get to meet this product personally. Alongside getting familiar with the various features it has. Before I finally put a close to this review, I'd also state loads of importance this beard trimmer serves, and also its few deficiencies.
So without wasting time any longer, let's get down to business.
What is the Remington PG6171 Beard Trimmer About?
Remington PG6171 beard trimmer is a trimmer not just suitable for the beard, but also for the entire body. Popularly regarded as 'the boss kit', this beard trimmer is inarguably one of the best trimmers you can get in the market. Should you be desiring a good look, then this trimmer is one to be considered.
A great catch of this trimmer is a buyer's opportunity to access exclusive features meant for luxury trimmers at a very reasonably cheap price. Packaged with 11 combs alongside 15 different settings, this beard trimmer ensures you have a clean and neat shape, even when you possess one of the thickest beards in existence.
Having introduced you briefly to this great beard care tool, let me take you round its features.
Features of Remington PG6171 Beard Trimmer
Outlined briefly below in this section of the Remington pg6171 beard trimmer review, are the features this beard trimmer possesses.
Stainless steel blades
The first feature to be discussed here is the blades of this trimmer.
Firstly, ease of use, cum stress-free products is one of the principal factors to consider when purchasing a product. Having known this principle, Remington brand, while manufacturing this beard trimmer has specifically made its blade not only sharp but also able to stay sharp over a long period of time. This doesn't only make it easier to use but also ensures the stress of continues sharpening as well as the scare of rusting is eliminated.
In addition, the blades having made of stainless steel, they last quite longer relatively to blades made of other materials.
Adjustable Comb
The Remington pg6171 beard trimmer comes with a clip-on adjustable comb, which provides its users with the chance of changing and choosing between one of the ten available lengths present quickly. These various lengths ranging from 2 to 20 millimetres.
The abundance of these comb lengths allows every user the opportunity of trimmer his beard to any kind of grade he wants to, without any restrictions.
Strong battery
Remington PG6171 makes use of the lithium battery which has been marked particularly to possess strength and lasts quite longer than others. With this battery, you should be expectant of about 3-hours use-time when this trimmer is in operation, which is far higher than most trimmers. All these at a relatively cheaper price
Quick charge
In addition to the strong battery life of this trimmer, it comes with a quick-charge setting! That is, the ability to charge very fast.
How fast?
Well, this trimmer would actually save up the required energy for a full trim with just five minutes of charging. This particular feature helps in saving useful time, and also increases its ease of use. So, should you be in a hurry to make use of your trimmer, then this feature saves your head!
Wonderful Design
The design of this trimmer helps its users perform an effortless trimming. This is made possible by the inclusion of the extended neck feature in this trimmer. This thus makes it very easy to operate.
This beard trimmer is also designed in such a way that it helps you switch to a turbo function in cases where your beard is coarse or wants to appear too thick.
In a nutshell, the Remington PG6171 Beard Trimmer is a well-balanced trimmer that's very easy to operate and also maintain.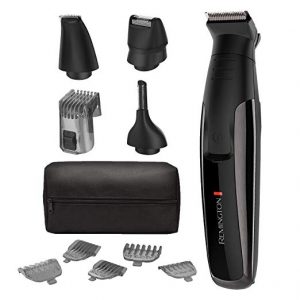 Advantages – Remington PG6171 Beard Trimmer Review
Outlined below are the various advantages you'd get to enjoy when making use of this beard trimmer.
Abundance Of Attachments
This beard trimmer comes with loads of attachments, which doesn't only aids ease of use, but also helps you to save cost. These attachments include; a full-size trimmer, six guide combs, a detail trimmer, a mini foil shaver, a nose-and-ear hair trimmer, and finally a zip-storage bag.
Excellent price
Like I mentioned earlier in this article, the price for this beard trimmer is quite cheap and affordable. Relatively to all these features, the money to be paid is quite small but still gives you your desired beard style. Compared to other trimmers within this same price range, it is sure one of the few that can give the needed results and features.
Cleaning is easy
This beard trimmer is 100% washable. Its cleaning is quite easy and can be cleaned at all parts with just water. Being waterproof you can easily take it to the bathroom and get it clean, it is not like others that you are limited to washing the trimmer alone. The Crafter is waterproof, so you can trim up in the shower if that's your style.
Waterproof
The Remington PG6171 Beard Trimmer is a waterproof trimmer. This thus makes it possible to make use of this trimmer even under a shower.
Worldwide voltage
With a universal voltage of 100-240V 50/60Hz power supply for charging, this trimmer could be used anywhere in the world without restraints. All that you need to have is a plug adapter. And then, you're good to go!
Disadvantages – Remington PG6171 Beard Trimmer Review
Basically, there are only 2 main deficiencies of this beard trimmer. They are;
Below average foil shaver performance
Not too good for shaving moustaches.
Wish the min-foil was at least a dual blade. You really need to go over each area multiple times to get it to trim even the slightest stubble.
This trimmer, however, feels very solid. All blades are sharp and no hair-pulling at all. I had to charge it for around 2 hours, but it's totally fine. The only concern is that super tiny foil extension – almost no effect. Otherwise, it's a perfect trimmer and the waterproofing is just awesome!
---
Frequently Asked Questions And Answers
Is Remington PG6171 Effective?
Yes, it is one of the most effective Remington beard trimmer models you can ever get for yourself. Although, the features and specifications are not premium in any way, them performing the exact way the manufacturer promised is enough. o if you are looking for a Remington product that can be used for beard trimming, you should have this on your list. Below are a few of the comments provided by a few of the previous buyers on Amazon.
I use this to trim my beard and mustache. Compared to a Norelco trimmer I bought a year or so ago, this one is far better. The Norelco had a vacuum built-in but that made it too big and bulky at the head to trim under the nose, clean up the mustache, etc and it just didn't do a good job of getting stray hairs or reducing bulk. To be fair, it was a bit different setup that did not have various trimmer heads like this Remington.

This trimmer is great. Two speeds. The main trimmer attachment works great for shaping and does a great job of reducing bulk using one of the attachable black combs. I like the separate black ones better than the clear adjustable one. Much easier to see what I'm doing with the smaller pop-on black ones. The small detail trimmer is great for stray hairs under the nose and for trimming mustache along your upper lip and beard below your lower lip. 

I have been using Whal trimmers for 30 years or so. And every 3-4 years when I buy a new one. With each new Wahl purchase the quality would decline. And they would break sooner and sooner. This Remington feels very solid and I can tell the build quality is better right away. I 

highly

 

recommend

.
Can Remington Pg6171 Be Used For Pubic Hair Trimming?
Remington can be referred to as a multifunctional trimmer and it can be used for the trimming of the pubic hair region. But you must ensure the skin pulled smooth. However, you can nick yourself depending on ho close you cut it. You can check out Can you beard trimmer for female pubic hair trimming.
Can Remington PG6171 Be Used For Hair Cutting?
No, Remington pg6171 can't be used for head hair cutting, but it can be used for beards, the styling of full beards, or stubbles and goatees. If you are looking for a multi-purpose trimmer there are a lot of them on Amazon.
Does It Come With Nose or Ear Attachment?
Remington PG6171 is a trimmer that comes with an attachment for everything. So, if you want to get rid of the hairs in your nose or ear, you can go ahead to buy.
Can It Be Used When Charging?
No, it can't be used at the time it is being charged. It is for cordless use only. You have to charge it first then, then disconnect before it can be used.
Can It Be Used For Shaving of The Back?
It comes with a great razor that makes it easy to be used on the back.
How To Get It To Work?
Once fully charged, disconnect it and turn it on. ..it has 2 speeds, press once or twice…if nothing happens, I am guessing it may be defective. And you can get it fixed by contacting the customer care to get it returned.
Does It Have To Be Oiled Frequently?
You don't have to oil frequently to keep the performance level, but you must be able to clean the dust off and don't take near water as it is not water-resistant nor water-proof.
How Long Will It Take Remington 6171 To Get Spoilt?
Lolz, do you expect me to tell you that? How long it will take Remington 6171 to get spoiled depends on how you are going to use it and the level of maintenance. You can buy this month and get it damaged within two months. That is not as a result of the trimmer not being good, there are people using the trimmer for over 5 years already and the performance level is yet to depreciate.
Can It Be Used For The Groin Area?
Yes, you can use it for the groin area but you must be careful, so you won't get yourself cut.
Does It Worth The Price It  Is Being Sold At?
Yes, it worth the price it is being sold at. It comes with a lithium-ion battery that is powerful enough to last it for 180 minutes ion a full charge, with the abundance of attachments you can get rid of hairs from almost all part of the body, it is water-proofed, the comb can be adjusted, the extended neck makes it easy to navigate every area of the face and neck and so on.
---
Conclusion
Hence, we have come to the end of the Remington PG6171 Beard Trimmer Review. For a little recap; we discussed the various features of this beard product, the multiple advantages it offers, and just two deficiencies this noticeable of this beard product.
Should you love this beard trimmer, why not head on to buy it immediately? You can thus get this product on Amazon by clicking HERE.
It's nice having you here, but before you go, you might as well find one of this article below interesting to you. You can as well check them out.