Best Beard Growth Cream in Nigeria: As a Nigerian residing within the shores of the country, you need not throw in the towel of grooming a well-blossoming beard. fine, it is understandable that we all encounter issues when ordering beard care products from outside the country. Issues ranging from shipping costs, delay in delivery, misplace of goods, etc. However, do you know that there are a few beard care products you can order from and would be delivered to you in no time, within the country? Do you know that there are credible beard care products produced and distributed in Nigeria?
Well, now you know! In this context, I would be discussing with you, the best beard growth cream in Nigeria.
But firstly, why do you need a beard growth cream?
The beard cream is one of the best beard care products your beard needs. Especially as a black man that you are.
As a black man, it is no news that your kind of beard is quite different; you possess a rather short, hard, dry, full of stubbles and ingrowth kind of beard. hence, the need for a beard cream. the beard cream plays a major role in softening your beard, moisturizing, and also causing it to grow quite thicker.
So, you see why you need a beard cream, right? You really need to get one, you know.
Getting one? What then should you look out for in Beard Creams?
Looking for a beard growth cream in Nigeria is quite easy, like not too hard, you know. But getting a good and perfect beard cream in this Nigeria is synonymous to feeding a caged lion. Harder than the word "hard" itself.
This is owing to loads of unethical products out there in the Nigerian markets.
However, there is zero need for you to fear, find below a few criteria to note when getting a beard growth cream in Nigeria, and even beyond. Worry even less, as all of the beard creams to be discussed here in this article passes all of these criteria. So, you can just go ahead and order anyone you like out of them.
Find these criteria just below;
The Ingredients: the first thing to check out for in a beard cream is the kinds of ingredients it is made up of. Firstly, are they natural and organic? Natural ingredients are important factors, especially for sensitive skins. The best beard growth creams are usually compounded of two distinct ingredients; the carrier oils and essential oils. You can checkout other ingredients of the beard cream here.
Cost: how much are they offering the product? Is it worth it? All these questions should be answered in the positive before choosing a particular beard cream, or even, beard care product generally. Being economical is human, and it is quite imperative to act humanly when getting pieces of stuff.
Size: is the size of the container worth the price they are offering? How long would it last? However, there are some beard creams that really don't subject to this factor. Irrespective of how small they might appear; their potency is topnotch. So, to this, on needs to be quite careful and rational.
I think these are all. Look well, you would see that the ingredients a beard cream is composed of are what really matters. Once again, to see important ingredients a beard cream must have, CLICK HERE.
So, without much ado, let us set into the main deal:
Best Beard Growth Cream in Nigeria
Please note that this list isn't ranked in any form; be it alphabetical, or otherwise. Also, it is imperative to state that the beard growth creams discussed below were sourced from intense online and offline researches, as well as a few personal experiences.
1. MyBeardGang Beard Cream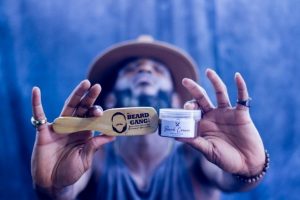 This is our own product! And I would be as sincere as anything with this.
Truth be told, after several tests and studies carried out on beard growth creams in Nigeria, the MBG Beard Cream is touted to have beaten all odds to be the best – second to none!
The MBG Beard Cream would help you grow your beard to full growth (even as a black man) within 1 and 8 weeks. Made with 110% natural ingredients, this beard growth cream in Nigeria (and even beyond) helps in causing softening and conditioning effects to the beards of its users, whilst also stopping any form of tangling of the beard.
Seeking a darker beard? then this beard cream should be your best option!
As a plus, the MyBeardGang Beard Cream ensures a great resistant of your beard to flakiness and possible bald spots in the beard.
Wondering why we just talking about this beard cream? well, the best is always saved for the last! Lol.
To get this beard care product delivered right to your footstep, CLICK HERE NOW.
2. Andrea Beard Growth Cream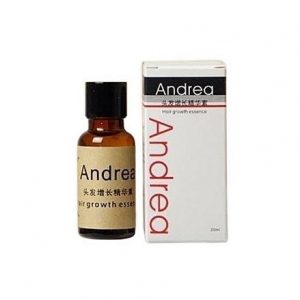 The Andrea Beard Growth Cream is the first to be discussed herein. It functions by increasing the rate at which blood circulates in your chin area, thereby resisting baldness, as well as the greying of the beard.
Made for both men and women (surprising, right?), this beard growth cream is one made from 100% natural cum organic ingredients; ginger, fleece-flower, ginseng, grape seed oil, etc. Its swift productivity is one to reckon with, alongside the great smell it gives to the beard upon its application.
As a man seeking beard growth creams in Nigeria, Andrea is one to go for. It helps in conditioning, softening, and boosting the growth of beards, and also darkens your beard to a desirable level.
This brand of hair serum is a beautiful addition to your hair care schedule and can be applied daily without any side effects. Have you experienced thinning of the beard, bald spots on your beard, then Andrea is the go-to beard growth cream you need! Its ability to revive the beard yet without causing it to break is topnotch!
However, this beard cream isn't recommended for pregnant women – what does she need it for in the first place? Lol. Well, we can't tell.
3. Follicle Beard Cream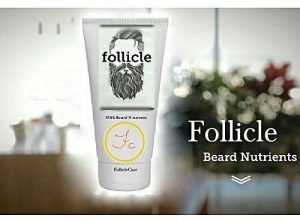 The Follicle Beard Cream basically asides being a beard cream, is a hair stimulant. It helps in doubling the growth of beards.
As a beard cream, Follicle is one which helps in the hydration and softening of the beard. Made from natural ingredients; oil extracts which helps in the fast growth of beards, including biotin and Sulphur 8, this beard growth cream is great for a black man's beard, as it has a high penetrating power, finding its path to the root of your beard – cleans, hydrates, and softens, whilst also preventing irritation or itchiness that can be caused by ingrown hairs.
The presence of Biotin causes it to also act as an anti-oxidant. This beard growth cream in Nigeria is all-in-one, get yours today!
4. El-glittas Hair Wonder Fast Action (Hair Cream and Beard Cream)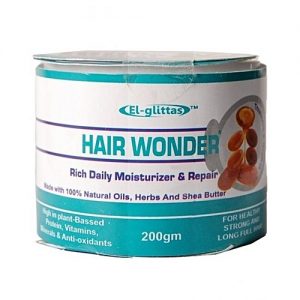 From its name, it can be insinuated that this product isn't for the masculine gender. As a hair and beard cream, El-glittas will help your beard grow abundantly.
It repairs formula constitutes great organic and natural ingredients. It also has high penetrating power with an ability to penetrate deep even to the beard roots.
El-glittas would keep your beard 100% natural whilst hydrating, nourishing, softening, treating, and giving it a great end appearance. It styles the beard as well, and also adds a little bit of taming effects.
Should you love natural effects, although with a tad slow operational form – say about 2 to 3 months, then El-glittas is the best option to go for!
It is quite affordable too.
CLICK HERE TO GET ONE ON JUMIA.
5. Lanthome Beard Balm Cream and Beard Oil Combo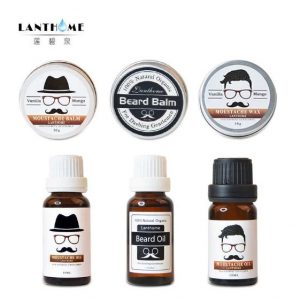 The Lanthome is primarily a beard balm. However, its characteristics pass to be called a Beard Growth Cream – this beard cream helps in moisturizing, hydrate, and softening the beard of its users. It also helps in cleaning hair follicles, thus encouraging even better growth of beard.
Describing the Lanthome Beard Balm Cream in one word, we can say "Affordability." With the kind of package this beard cream comes with, the price attached it more like a promo.
Are you bothered about how to make use of this beard care product?? Well, I am happy to tell you that its application is quite simple and easy to use; firstly, like every other product, wash your face clean, then dry properly, then apply the Lanthome Beard Balm – a proper and substantial amount on your beard, and ensure it gets distributed evenly. This process should be carried out once, both in the morning and at night too.
Another plus in this product, which makes it very great compared to its price, is the beard oil that it comes with! This beard care product comes with beard oil, and I'm sure, by now, you know the numerous advantages of the beard oil.
Other Beard Care Products You Should Get for Your Beard
So, that would be everything on the best beard growth cream in Nigeria. However, asides the beard cream, there are a few other beard care products you really need to inculcate for use in your beard grooming habit.
Some of these products, you might be familiar with them before, find them below;
The Beard Oil
Beard Balm
Beard Butter
Beard Brush
Beard Shampoo
Beard Comb, etc.
The Beard Oil is one of the major constituents of a good beard grooming kit. With beard oil, your beard would be immune to any kind of infection and also cause the beard to have a greater appearance. In a nutshell, it can be said, that the beard oil is that which makes the beard grow fruitful.
The beard balm is more like the beard cream, just that the beard balm does more of the styling, taming and shaping action, than hydration and all. The Beard Brush & Comb just like the normal brush & comb is used to untangle the beard and also to cause the better distribution of beard care products applied on the beard.  However, the Beard brush is very different from the normal hair; it is designed in such a way that it suits and works for the beard alone – more like it performs some sort of magic on the beard. You can check out the MBG Beard Brush too.
The Beard Shampoo is for washing, cleaning, and performing other related actions on the beard. As a Nigerian, it is imperative to note that you should not just make do with any kind of shampoo, as this can cause harm to your beard. also, you should know that there are huge differences between a regular shampoo and the beard shampoo.
Now, the good thing here is, all of these beard care products are also available to you as a Nigerian, without having to worry over shipping issues, as discussed at the beginning of this article!
Conclusion
It is a wrap!
For me, left for me, we've touched everything that needs to be. Most importantly, we have discussed the best beard growth cream in Nigeria.
Should you, however, have questions, further clarifications, or what-a-view, let's talk via the comment section of this post. I would be very happy to help you out on them!
But till then, bye!
You check some of our content here:
What Kills Hair Follicles?
How To Make Your Beard Grow In Bald Spots?
How Do You Deal With An Itchy Beard?
How To Prevent White Hair From Spreading