Great Beard Moisturizers for Black Men
It has been a major challenge to the black men that grow beard underneath their jaw to develop a series of patches that may be caused by bacteria or fungus. The reason for this persistent issue comes in various forms such as the natural curly and sticky nature of black men's hair, or dry skin. Anyway, this shouldn't be a problem as there is always a solution to every problem in life.
This will lead us to the reason why we will talk on Natural moisturizers that will deal with the problems of itching, Beard Dandruff, and many others. Black men need a moisturizer to soften their hard beard and then keep it safe and healthy.
Natural Moisturizers for Black Men Beards
Natural moisturizers will be a perfect solution for dry skin that may cause a lot of patches on black men, so having the right products will handle it well. This will actually make the hair grow uniformly.
I am able to find out about natural products that work effectively in softening the beards and also working well growing black men's hair properly.
The List of Natural Products for Moisturizing Beards
These are the Natural products that are suitable for moisturizing your beard:
Coconut Oil
Argan Oil
Jojoba Oil
Olive Oil
Sweet Almonds
Beard Oil
I am very sure that when it comes to nature, it always gives the best, I mean a perfect solution for a specific problem it is associated with. These oils, for this reason, cannot be taken for granted. We will talk on each oil one after the other to expose the secret behind them as a remedy to dry skin and thick beard.
Coconut Oil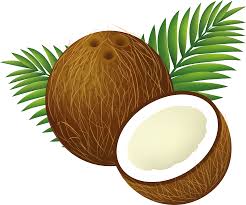 Coconut oil is known for its amazing functions when it comes to treating the hair in general both the head hair or the beard itself.  I will outline some of the functions of coconut oil on the beard and hair generally.
Here we go:
The application of coconut oil on your hair follicles stimulates the growth due to the presence of lauric acid it contains.
The facial hair is being moisturized when coconut oil is applied to it, and this equally makes the hair shines and softer.
Coconut oil performs better when it comes to making stubborn beard or hair succumb to softness.
It works like well in removing Dandruff from the beard.
The breakage of hair is handled by coconut oil and therefore, it settles the conflict between your skin and hair loss.
It has been said that coconut oil besides being a natural product, can be used regularly to soften the beard. If you notice very well, lots of manmade hair products such as beard oils, beard balm and many more contain coconut oil.
Coconut oil smells nice and it is not greasy when applied to your beard as long as you are moderate with the application.
There are some coconut beard products you can get on amazon.com such as spiced Sandalwood Beard Oil, or Coconut Oil for Hair and Skin.
Argan Oil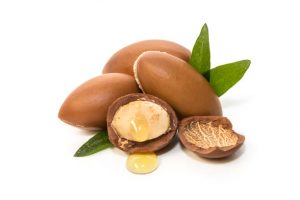 Argan Oil is known for its effectiveness when it comes to dealing with a sticky beard that has been become a terrorist underneath your jaw. This powerful natural product is fantastic and will go a very long way to soften and keep your hair moisturized.
Argan Oil is known to be essential in vitamin contents, for this reason, it is a natural product that the beard in general needs to stay healthy, both the black and white men's beard. It contains vitamin E, fatty acid and various compounds of phenolic.
The fat contents contain in Argan oil are from oleic and linoleic acid, and for this reason, it qualifies to be called a super oil for hair nutrient. Apply it to your beard, and the work will be fantastically executed.
The vitamin E contained in Argan oil is required for healthy skin, hair and eyes, besides that, it contains powerful antioxidant properties.
You may want to see other products made of Argan Oil: Majestic Pure Argan Oil, or Ranger Beard Oil.
Jojoba Oil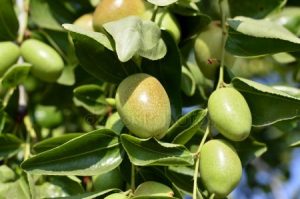 This is another fantastic oil I can recommend for you. It is one of the best natural products that works fine when it comes to hydrating the beard or the skin underneath it. Just like coconut oil, Jojoba's natural oil contains vitamin E, this will make it a perfect touch to your sticky beard.
Jojoba oil will rearrange your beard and subject it to softness. I will like to refer to Jojoba Oil as traditional beard oil and balm, this is because it contains a powerful natural oil that comes in golden color. The Jojoba oil is gotten from the Jojoba tree and then extracted as a Wax Esters.
It is commonly found in the Native of SouthWestern region of the United States of America and also found in NorthWestern Mexico.
The amazing ability of Jojoba oil is that it is a super oil when it comes to moisturizing the skin and the beard it holds. For this reason, it is a vital oil for the health and growth of beard and hair in general.
Jojoba oil is essential as a cleanser, conditioner, or a grooming master or the beard, it equally has natural healing power or properties you dare not take for granted.
Jojoba oil is an anti-inflammatory oil, it reduces skin or beard irritation, and is very tough for the destruction of fungal which as a result reduces acne, spots and blackheads.
The strength of Jojoba oil gives it power over bacteria because it has antibacterial properties. These same properties give it the dominion over fungi and other bacterias and as a result, helps with flaky skin, dandruff, and dry dry scalp issues. This is a very suitable oil for black men to apply to their skin and sure banker, it is going to give you the expected result no matter how sticky your beard is.
Jojoba oil is good at adding volume to your hair or makes the air appear thicker. It strengthens the hair by going deep down into the follicles and then hydrates it from inside of the shaft. It helps to grow the oil.
You can get Jojoba Oil Products in these stores: Jojoba Oil by Leven Rose or Brickel Oil for men Beard.
Olive Oil for Beard
Olive Oil is another powerful oil for a good looking and healthy beard. Every oil has a specific strength that gives it the power to make your tough sticky beard humble.
Olive oil has gained a lot of credibilities health-wise and spiritual wise and even in the nutrition aspect of life. This signifies how important this oil is to the human race. It helps is growth and nourishment of the hair. Beard is hair, and therefore, a lucky man.
Olive is rich in antioxidant properties and this feature alone helps in moisturizing and growing the beard. It is like other natural products mentioned above, an anti-inflammatory and antifungal oil because it contains properties capable of showing mercilessness to bacterias and fungi. You don't want to miss its ability to moisturize the skin and beard.
The application of little olive oil on beard daily is enough to remove flakes. You can get other products made of Olive oil such as Best Sandalwood Beard Oil, Bozz Man Beard Oil.
Almond Oil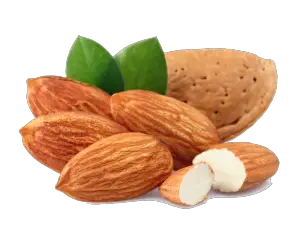 This oil is rich in vitamin E just as the previously mentioned Oils. Besides, having vitamin E, potassium, zinc, proteins, and monounsaturated fatty acids are contained in it. These properties give almond a pass mark to be effective in making hair grow, removing dandruff, and plays a good role in the reduction of inflammation.
The almond oil is good at nourishing and strengthening your beard or hair, and it is also an assurance when it comes to treating hair loss, or damaged hair. If you need the silkiness of your hair like badly, or you want your beard shines like a star, almond is the answer. Almond equally nourishes your scalp and moisturizes your skin and beard.
You can miss this wonderful quality out, as almond is one of the best oil I can recommend for you to use. Apart from being good for beard and hair, it is a cool agent of anti-aging the reason is that it can help you dislodge debris from deep skin pores and follicles. It is also suggested to possess the ability to remove future acne as a result of its Vitamin A content. If you have sensitive skin it is safe for you. You can mix fine sugar with sweet almond oil to produce natural facial scrub.
Other Products made of Almond oil can be found here: Prestige men beard, Honest Amish Classic beard oil.
Beard Oils
Now, let's talk on beard oil, I have been laying more emphasis on natural beard oils, but this time around, we need to talk on the various artificial beard products found in both online and offline markets such as the supermarkets and the rest.
Before I mention any other points concerning this topic, let me quickly answer this question base on a certain knowledge about it.
Is using Beard Oils Good or Bad
This is the very question. Can you apply beard oils to your beard? Definitely, yes is the answer. Beard oil is an amazing product that is produced to take good care of your beard and the skin beneath it. There are varieties of products out there that claim effectiveness in treating beard-related issues such as dry beard, dandruff, itching, and patches, especially in us black men.
However, there is a side effect if you overdo anything. For the safety of your beard, you can use organic oils.
How to Know If a Beard Oil is Good
We often know the quality of a product after the usage, no matter what advert that runs on it, it will still be under risk until an end-user comment on it. No wonder the cosmetics companies spend millions of Nairas on Survey to know the result of a product and what people are saying about it.
Let's talk on these beard oil and see how effective they can be when applied to our beards.
Mountaineer Beard Oil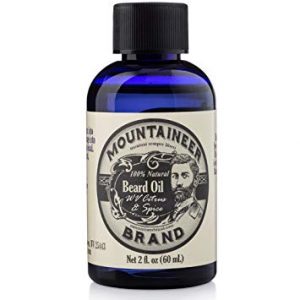 This is one of the best beard oil for men, you can get it in amazon store. It's effectiveness in growing and maintaining the good texture of the beard has made it one of the best in the market.
No matter what your complexion is, this wonderful beard oil is just the best for you, and you may not want to miss out on the powerful job it does.
Most of the beard oils come with three common simple ingredients and this very American made the oil contains. The fantastic ingredients include grapeseed almond oil and castor oil which act as the hair or beard conditioner.
It does not exclude conditioning the skin underneath the beard too.
If you are the type that is always careful about the kind of product you apply to your body, mountaineer beard oil is simply the best choice for you.
Don't give it a damn to rush and get it now. You can get it in the store as low as $9.90. This is very cheap but effective to use.
One good thing about it is that it can be shipped to Nigeria, therefore, you are set to enjoy this special product.
Apricot Kernel Carrier Oil

This is another specially made beard oil that has proven effective according to the manufacturer, it is good for all types of skin, very rich and nourishing. It contains Vitamin A, it is made of Jojoba oil, it is liquid wax and closes looks like the skin sebum.
This oil is rich in Vitamin E since it is made of Jojoba oil and then we can say it is pure and natural. Vitamin E contents promote hair growth.
Jojoba comes with varieties of colors and odors in the cosmetics so, it should be noted. For instance, this very Jojoba oil is made from the golden Jojoba oil.
If stored in a cool temperature may go cloudy, however, if warmth, will return to its liquid form, this indicates that it contains protein that is equally good for your beard.
This oil is a good moisturizer and therefore should be considered by all races to maintain their beards' health.
This oil is known for its manly scent it gives to your beard and hair. The reason being that it contains Apricot Kernel Oil, Jojoba Oil, and Pajamas Sandalwood Oil. It is sold at $8.95 and can also be shipped to Nigeria. Apart from all these features, it is designed to last. It is a perfect hair conditioner, so you may not want to ignore it. Try it out and see the effectiveness.
You should also check these Beard Moisturizers out. You will totally love them.
Beard Shampoo and Beard Conditioner Wash & Growth kit for Men Care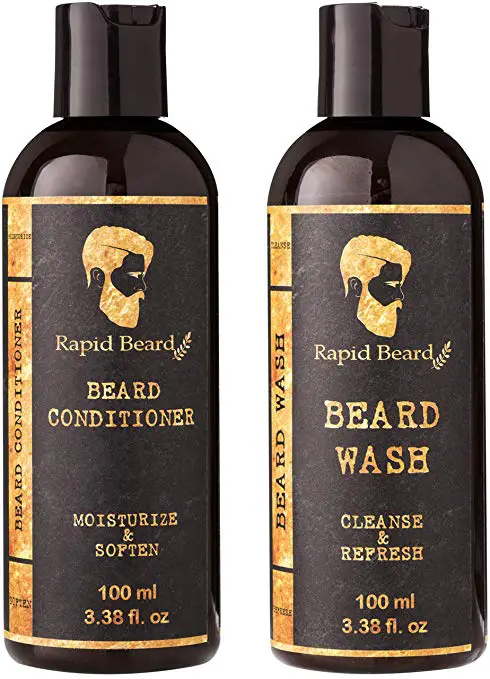 You can buy this on Amazon HERE.
Beard Moisturizer for Men by The Rugged Bros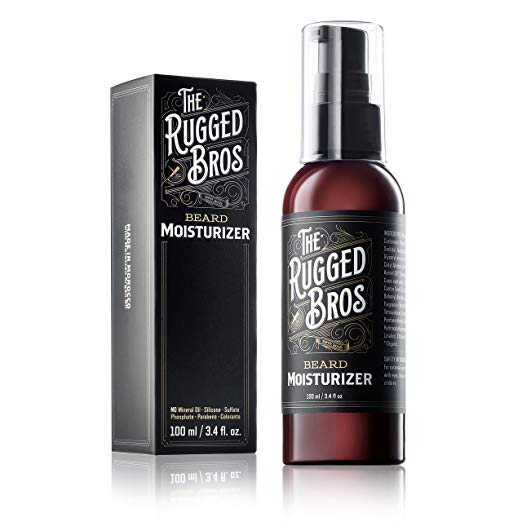 You can buy the Beard Moisturizer HERE.