Edgers for barbers in 2020: Are you in search of the Best Edgers For Barbers? If Yes! MyBeardGang will be taking you on a spontaneous rollercoaster of Trusted Edgers that fuel the success of your career as a barber.
Just like the testimony of a witness can make or break a case so is that of an Edger, it is safe to say using the best edger for barbers can either make or break a career.
Men who are not afraid of switching their sense of style visit their local barbers more often.
It is left for you as a Professional barber to go along with the flow.
And give them WHAT they want.
You can't deny the fact that your inability to give them what they want will certainly ruin a business.
Nobody wants that for their business, especially you and its the reason you are here.
What Are EDGERs
An Edger is actually a facial hair or hair trimmer, professional barbers use it to trim the edges of facial hair and the hair on the head.
Top Edgers For Barbers
Now you know about what an Edger is, let's take a look at some top-notch edgers good for barbers.
These Edgers will give your career as a professional barber, a massive boost:
1. Wahl Professional 5-Star Razor Edger #8051

Wahl professional beard edger 8051 is currently the best of the best beard edgers in the beard grooming industry and that's why its number one on this list.
Massively famous for producing facial hair and beard grooming kits, Wahl's Professional 5-Star Razor is no exception to perfection.
The seemingly electromagnetic razor apparently maintains a quiet sound unlike other razors, it is this function of silence while in use that makes it stand out.
One is of its remarkable advantage is the razors ability to maintain silence and aid an ongoing conversation with your customers smoothly.
PROS
– It doesn't make a noise, maintenance a peaceful and serene barbing experience for your customers.
– Maintains a very lightweight at only 0.6lbs, which is a very important fact.
Heavy Edgers causes a lot of mental damage in the sense that it discourages you from working extensively.
Wahl's remarkably lightweight definitely rolls out the actual opposite.
So it is safe to say you can give and trim haircuts all day without any feeling of soreness or persistent headache.
Loud Edgers can cause Havoc in the Head aswell.
– Easy To Clean and Flexible:
Wahl Wahl Professional 5-Star Razor Edger apparently comes with a kit that includes 3 T-blade guards.
An oil and cleaning brush to make cleaning easier, and a matching red guard for safety.
To be descriptive, the blade guards protect the edger so it can stay fresh on days when it's not in use.
CONS
– Wahl's Professional Razor Edger is longer than the average size for razors at 6.35.
Despite having such a length as a disadvantage, its lightweight swiftly makes up for it.
You can check out the price on Amazon here.
2. Andis Professional T-Outliner Beard/Hair Trimmer with T-Blade

Making it to the list now is The Andis Professional T-Outliner Beard/Hair Trimmer with T-Blade.
APT Beard Trimmer has the potentials of helping you cut hairs and give your customers a professional hair cut.
A remarkable piece of art on your customer's haircut can be achieved with Andis professional T-outliner coming to play.
The Andis Professional T-blade enables you to trim the hair on every edge (beard, ear, neck, or moustache) with ease.
Moreso, APT blade's flexibility is apparently versatile enough for a smart touch up or heavy-duty job.
It's remarkably Beautiful, Very sleek and palpable when you hold it.
APT comes with a carbon steel blade, which is quite adjustable to suit the faces of your various customers.
PROS
– It's Quiet when in use.
– One of the very prevailing choice amongst professional barbers and stylists universally
– Very versatile
– Powerful motor
CONS
– Lightweight housing may lead to overheating
Check out the price HERE.
3. OSTER Fast Feed Adjustable Pivot Motor Clipper 76023–510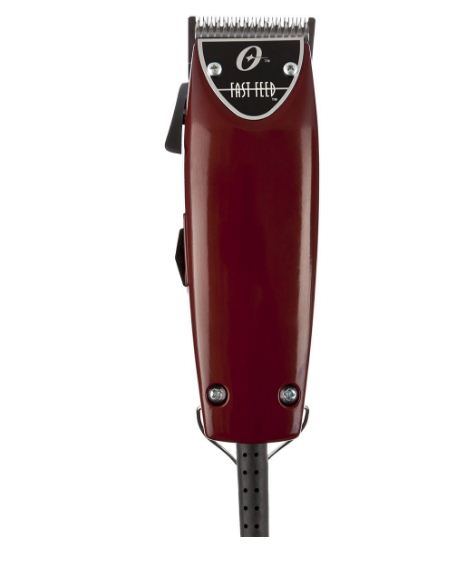 The Oster Fast Feed clipper is currently one of the best edgers for barbers.
A major key feature that makes it stand out is the fact it allows you to customize the exact edges your customer wants with its many attachments.
It interestingly comes with 4 different guide combs: blending, ¼", ⅜", and ½" lengths, along with comb are attachments, a blade guard, and washing accessories.
Oster discourages you from buying extra tools for this model because it comes with everything you need.
Oster's unique Rustle Quiet motor is even more compelling than a magnetic motor and interestingly, the Fast Feed clipper keeps the noise down.
The adjustable blade feature facilitates easy switching of setting which means you can switch or customized via settings easily.
Notwithstanding its many features, this edger is one of the most affordable so you can keep your profits high.
This 6 in and 1 lb edger is perfect for professionals, designed to last years with even daily use.
You can check out the price HERE.
4. Wahl Professional Senior Clipper #8500

Fourth on our list is the Wahl Professional Senior Clipper 8500.
It is remarkably devised for exclusively professional use.
The V9000 motor gets interestingly cool faster than similar edgers for barbers.
This professional edger can be handled for multiples tasks which include;  cutting, tapering, fading, and blending, thus eradicating the need for additional tools.
The only CONS for this edger is that, At 6.5 in length and 1.3 lbs, this tool is a bit heavier than its competitors.
However, the imminent efficiency and durability make the heft worthwhile.
The incorporated kit comprises of accessory combs and cleaning supplies, helping you keep the tool in pristine condition.
Hygiene is extremely important when handling a client's skin and the washing tools will be put to good use.
This edger will make you a favourite barber in the shop so customers will request you every time.
Check it out HERE.
5. OSTER Classic 76 Universal Motor Clipper 76076010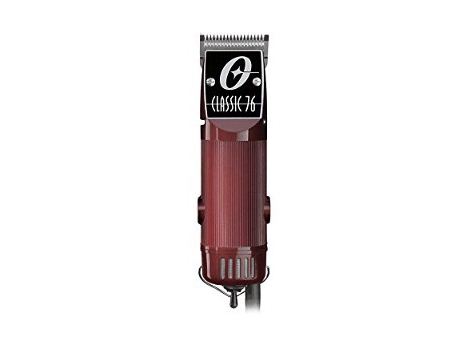 Look at what we have when it comes to Professional edgers for barber is the Oster Classic 76 Universal Motor Clipper.
Amazingly, the Oster Classic Universal Motor Clipper can be used on wet or dry hair of all varieties and textures.
The OCUNM clipper comes with a cord that is 9 feet long, making it convenient for any barbing saloon setup.
The textured sides are easy to grip for all-day use.
Though this edger is the biggest at 7.5 in and 2 lbs, its size ensures its long-lasting durability and powerful performance.
The confined edges ensure that a customer won't suffer from ingrown hairs after their cut.
Fact is that every barber knows proficient skill can matter even more than the tools used.
A kit with lubricating oil and clipper grease is included to keep the edger in the best condition.
Check it out HERE.
6. PRO-MATE T-PRECISIONER PROFESSIONAL TRIMMER

The Pro-Mate T-Precisioner is another interesting beard edger built with professional barbers and hairstylists in mind
Gracefully, it easily ranks among the best professional barber edgers around.
Pro-Mate comes with Zero gap blades (edgers).
What are zero-gap blades?
Zero gap relates to the close arrangement of the threads on a blade so that the gap between the threads is on the lower side.
In turn, the edges provide exceptionally close cutting and trimming that lessens the probability of missing hair in between gaps.
The Pro-Mate T-Precisioner blades consist of advanced plasma technology DLC (Diamond-Like Coating) blades.
DLC blades feature the unique properties of natural diamond – including exceptional hardness, low friction, and superior corrosion resistance.
Rest assured, the Precisioner DLC blades won't lose their sharpness in a few weeks or months and are designed to handle the heavy loads of professionals.
Another plus of DLC blades is that they tend to stay cool, even during the kind of extended use that's necessary for a barbershop or salon.
Pro Mate's T-Precisioner also features a strong motor that enables it to cut all types of hair without losing accuracy.
You'll also like T-Precisioner's design. It's sleek and fits comfortably into the hand, thanks in part to a precision grip that offers a greater degree of control than on most other trimmers.
The thick-duty power cord that comes with the Pro Mate T-Precision also is built to last, which, again, is vital for professionals who have to rely on their equipment day after day.
Check it out HERE.
7. Wahl 79300-1001 Hair Clipper Kit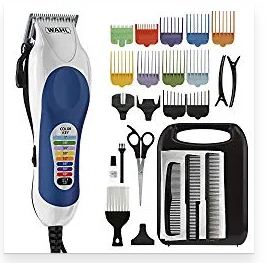 Another Nice beard edgers for barbers is the Wahl 79300 Hair clipper kit.
it is quiet and light, the Wahl Pro 79300-1001 edger set is what you need to take your professional hairstyling experience to the next level.
Best for its reliable durability for long-term use, Wahl 79300 is suitable for all types of hairs.
Interestingly, A limited warranty of 5 years covers Wahl 79300 which is quite long enough to spot any issues in the edger.
The high-carbon blades are permanently aligned; so, in essence, they do not need to be adjusted.
The model cuts thick hair smoothly.
Check it out here.
Final Say on Egders for Barbers
One of the above edgers will relegate your barbing experience to another level.
As an aspiring professional barber putting your customer's satisfaction first, one of those edgers should be able to help you do the magic.
Consider the efficiency and durability for buying any edger in future, kindly share your thoughts in the comment section.