Are you ready for the Cremo Beard Cream review? If yes, let's go! You can also check out our previous review on Cremo Beard Oil.
Cremo Beard Cream is one of the most patronized Beard products on the Cremo Company product line. Their resounding contribution to healthy beard growth and grooming is unique.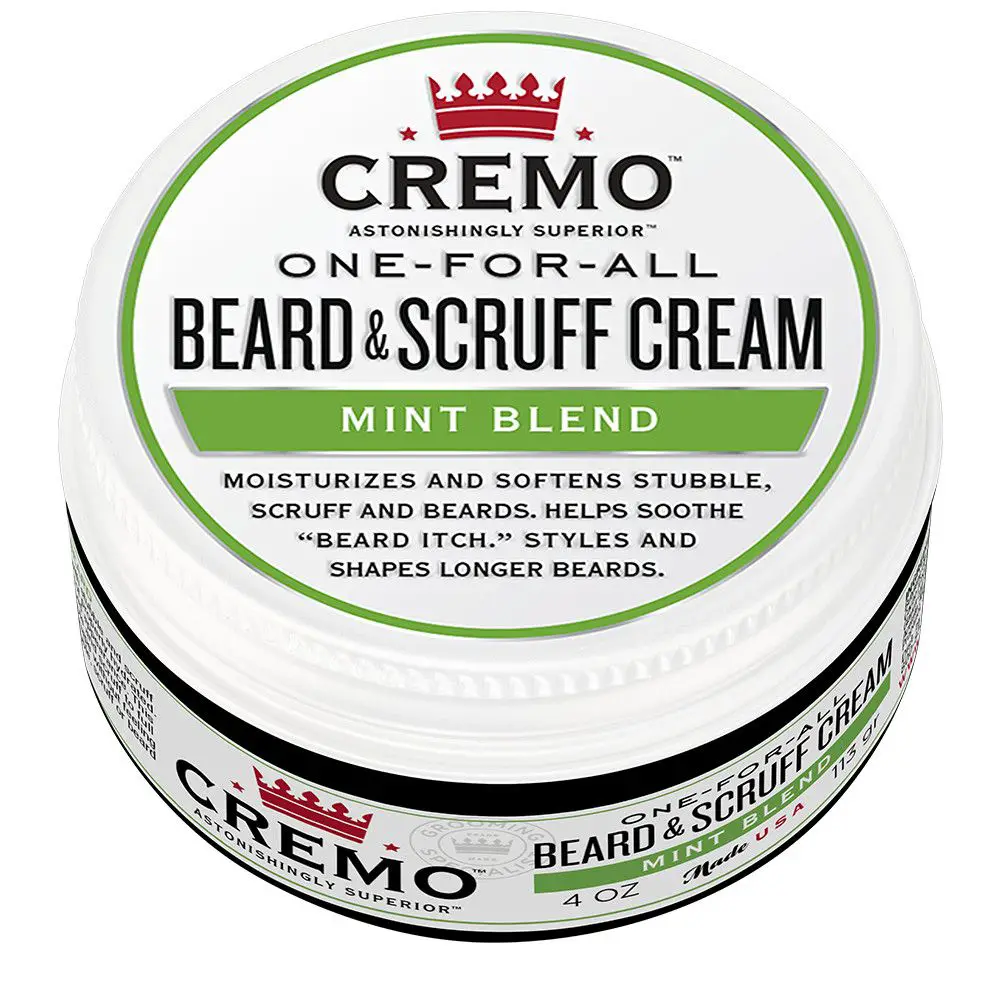 Just like their beard oil, Cremo facial hair cream helps to relieve skin irritation caused by Ultra Violet rays from sunlight too.
It amazingly helps to shape facial hair.
We have actually carried out brief reviews on some beard growth products on the Cremo Company products line, But today we will focus on their delectable beard cream.
Cremo Beard Cream is one of the best-selling beard creams in the sphere of beard grooming and styling.
It is also highly effective and natural.
The popular beard cream also is known as Cremo Beard and Scruff Cream (CBSC) is lightly scented. Its lightweight formula absorbs quickly and works well with beards of all lengths.
With the successful combination of organic ingredients such as Aloe Vera, Cocoa Butter, Coconut Oil, and Tea Tree Oil leaves you and your beard looking and feeling fresh.
Coconut Oil is essential for hair growth and that's why Cremo used more of it in the cream.
Recent reviews on different E-commerce websites, by customers, shows that 85% of them are very satisfied with Cremo products.
Cremo beard cream serves as a liberal product after Stanford Engineer Mike Boone founder of The Cremo Company ended up a victim of a face full of rough skin and uncomfortable nicks.
Having a rough skin around your beards can be traumatizing. it can be even worse, having a rough skin and a patchy scruffy beard, hence the production of Cremo Beard Cream. A beard grooming product that will change your story.
Let's move on to our review quickly!
Cremo Beard Cream: What do Beard Creams Do?
Men grooming and style Products such as beard cream will moisturize the skin and facial hairs from the follicle out while also softening the hair and preventing dry flaky skin known as "beardruff" (beard dandruff).
An added bonus is that these products also help to keep your beard hair soft, better fragrance and all around and manageable.
Difference Between Cremo Beard Cream & Beard Oil
Please don't in any way misunderstand the purpose of these products on the Cremo product line. It will be unfair if you buy Cremo beard oil because you think it serves the same purpose as the cream.
Cremo Beard Cream is an alternative to oil providing a matte finish vs a shine that will come from Beard Oil while its Beard Oils tend to moisturize better and last longer than creams, however, creams can have the same effect when applied as needed throughout the day.
Application: Smear lightly on a boar bristle brush or massage Cremo cream with your hands and then comb through with a wide-toothed comb first a few times before switching to the finer toothed side for a finishing comb through.
Best results are achieved when paired with Beard Balm to lock in moisture all day long and provide hold against straggly fly-away hairs.
Why Cremo Beard Cream?
According to the wife to a Cremo cream customer, "This is hands down my husband's favourite beard and scruff cream. It leaves his beard feeling so moisturized and healthy looking"
If a Lady can experience happiness over the recent turn out of her husband's beards, how much more you? your nagging partner can turn out friendly when you treat those beards
As a Beard Enthusiast it is important you know a more about a product and why you should make your pocket bleed, here is why you need Cremo Beard Cream.
It is Natural: Yes there a lot of natural/organic beard products out in the supermarkets, online stores, some mischievously take advantage of your ignorance and sell chemicalized products.
It consists mostly of organic essential Oils like Coconut Oils, Tea tree oils. these oils ensure quick and smooth growth of your hair.
It moisturizes the beard
it nourishes the beard and skin follicle
It has a very light fragrance, suitable for people who are very sensitive to smell.
It is suitable for all kind of beards
It reduces itching
It Hydrates the skin layer of the beards which is very very important.
Its designed to style and shape your beards
Pros:
It contains organic essential oils e.g coconut oils, Tea tree etc. these oils ensure the smooth growth and care for your facial hair.
it is 100% natural. no synthetic Ingredients
Cremo choose quality over quantity
Hydrates the lower layer of your facial hairs and hair follicles
It is designed to style and shape your beards
Cremo cream  is affordable
suitable for long and short beards, In fact, its suitable for all beard types
It is lightly scented for people who are very sensitive to smell.
Cremo beard cream moisturizes and softens facial hair of every length while providing nourishment and styling benefits for longer beards.
Relieves Itchy facial beards no matter the length of beard.
Best for stubble and scruff all the way to long and luxurious beards.
It can last for 2 months
CONS
Cremo beard company does not have a money back guarantee for this product.
How to Apply Cremo Beard Cream
Here are some steps on how to apply cremo beard cream
Massage on your palm a tangible amount of Cremo beard cream
Massage in between your palm and in between your finger until it becomes warm and permeable
Apply to your beards properly styling your beards to your own taste.
An expert tip is to use a Beard Comb to aid you in making sure your beard looks on point.
CONCLUSION
In your quest to look for quality beard product, consider adding the famous Cremo beard cream into your consideration list. You can also consider the decent size as it suits the price it is sold. Cremo beard cream will certainly console your years of seeking for a good beard product.
Do you want to buy the Cremo Beard Cream now? just CLICK HERE and the Cremo Beard Cream will be yours.