The Best Beard Oil In Lagos? As a kid, I suck my left thumb and it was an unconscious reflex act for me to stroke my late father's beards while I suck.
He was called Ojukwu by some, for he has a striking resemblance to our great Odumegwu Ojukwu, while others called him Osama, all this name were synonyms to being a beard God.
He was so passionate about grooming and keeping a healthy beard that he makes different kinds of ointments, ranging from hemp seeds and Ojukwu palm nut (a special kind of palm nut with medicinal tendencies).
Having watched him closely, I was in love with his beards not just his beard, I loved my dad and everything he liked or represented.
Losing him made me not just to love beards but to worship it, I adore it. To me is like keeping a legacy, in every bearded man, I see a part of him and I tend to stare and reminisce about him.
Loving beards to me is like holding on to a memory, I don't wish to let go, however, I still suck my thumb but this time there is no beards to stroke, so you see why I'm so concerned about my relationships.
In memory of my late dad, I Have decided to do something out of what he loved, represented and gave meticulous attention. I had to learn, relearn and unlearn all the natural oils he used then to keep his beards healthy.
FuzzZaddy is born out of this learning and desire to keep a memory. It was also borne out of the need to tell a tale of the natural oils used and their benefits to skin and hair growth.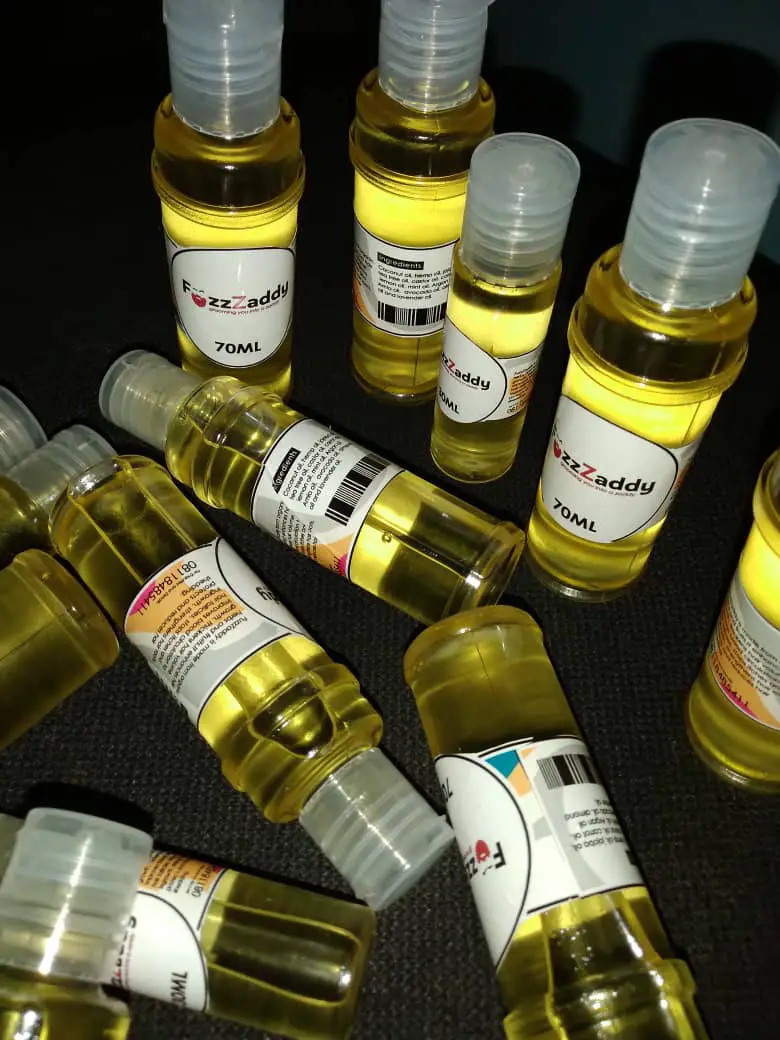 Coconut Oil
Coconut oil is the base oil, it stimulates hair growth getting deep into its follicles, promotes the scalp health, fighting against lice and dandruff, it adds luster, shine, and softness to the hair. It also prevents hair breakage and split ends.
Hemp Oil
Hemp Oil enhances the growth of hair on the scalp in a number of ways. Among these is through the Omega-3, Omega-6 and Omega-9 fatty acids, which are necessary in stimulating growth. Hair is made of keratin, up to 90% of which is a protein.
Castor Oil
Castor oil have an unusually high content of ricinoleic acid which improves blood circulation at the scalp, ensuring better nutrition for the hair follicles. This acid also helps balance the pH of the scalp. Castor oil is rich in antioxidants that support the keratin in hair, making it smoother, stronger, and less frizzy.
Jojoba Oil
Jojoba oil moisturizes your scalp deep down to the pores without evaporating. This causes a deep and lasting moisturizing effect and balances the pH level of the scalp. It also keeps your scalp healthy with its antibacterial properties and keeps the hair strong from the roots.
Tea Tree Oil
Tea tree oil helps to unclog hair follicles and nourish your roots.
Avocado Oil
Avocado oil is extremely rich in oleic acid and monounsaturated fats, making it one of few oils that can actually penetrate the hair shaft and moisturize your hair, rather than sitting on top and coating your hair. These fats also strengthen the hair shaft and help prevent breakage.
Carrot Oil
Carrot Oil help stimulate the growth of new cells, It's a natural source of vitamins A, E, and beta-carotene, and offers much-needed moisture to dry scalps.
Argan Oil
Argan oil is proven to make hair softer, silkier and shinier. It is the ideal hair conditioner, and it can even help to treat split ends and tame frizzy hair.
Amla Oil
Amla Oil promotes hair growth and helps treat dry, itchy scalp and dandruff. Besides fatty acids, amla fruit is high in vitamin C, flavonoids, polyphenols, and also contain water, protein, carbohydrates, vitamins, and minerals which are necessary for healthy hair growth.
PepperMint Oil
While peppermint oil may be known for some skin care benefits, it's also good for your hair and scalp. It may help with dryness, itching, or other scalp problems.
Mint oil can be described as antimicrobial:
Insecticidal and pesticidal
Analgesic and anesthetic
Vasodilating (and vasoconstricting)
Anti-inflammatory.
The menthol in peppermint oil is a vasodilator, and vasodilators improve blood flow.
Lemon oil has strong astringent properties, which makes it good for your skin and hair. Lemon oil can prevent a hair fall and dandruff. This oil can be highly beneficial for your mental health as it reduces stress, anxiety, and depression, and generally freshens up the mood. It is good for inducing sleep as well.
Having mentioned the best part of the natural oil infused in the making of FuzzZaddy, you should be convinced that I took it upon myself to relearn a lot of the benefits and how well it soothes skin and promote healthy hair.
Lastly, I'm passionate about anything but the beard, love my dad as much as I love beards, in every bearded man I see a part of him and this is one reason I decided to care for it.
What are you still waiting for? Let's begin the journey of helping your beard with the best beard oil in Lagos.
Get started by clicking this link to buy.