Can I Use Hair Oil on My Beard? How effective is using hair oil for beard growth? What are the side-effects of applying hair oil to beard?
If you are a bearded man or just starting, but you are wondering if hair oil can be used as an alternative to beard oil. With all you've read online, none of them seems to be precise. Here you will learn the difference between hair oil and beard oil, the side-effect of applying hair oil to your beard.
Can I Use Hair Oil on My Beard?
Yes, you can use hair oil on your beard once it is for nurturing. But to be honest with you, this is not practical advice as there are differences between facial skin and head skin. Hair oils are prepared keeping in mind tougher scalp. Doing this might make you end up with an oily face.
Once the application of hair oil to your beard won't be a consistent one, then you are good to go. Also, make sure the proportion you will be adding is not more than your beard thickness and density.
Before moving on to answering your question, let's look into other things you need to know:
What Is Hair Oil?
Hair oil is simply another oil out there that provides nourishing for hair and scalp just like what beard oil. Inside a typical hair oil, you will find essential oils such as coconut oil, castor oil, avocado oil, and they improve dryness while eliminating dandruff and decreasing protein loss.
Let's look into what beard oil is.
What Is Beard Oil?
Beard oil is an organic product that is used in the nourishment of the skin beneath the beard and the beard hairs. We have different beard oils produced by brands with different types of oils.
Differences Between Beard Oil and Hair Oil
There is not so much difference between beard oil and hair oil, physically there are not so many differences. Both look colourless to the eyes but content-wise hair oils contain essential oils such as avocado oil, castor oil, and coconut oil while for beard oil you will find essential oils and carrier oils.
As we have accepted that the functional properties of both oils are similar. Why?
Both are prepared to condition, nourish, and moisturize the hair roots and skin. But we should not forget that facial hair and scalp hair are different.
Scalp skin is known to be thicker than the facial skin.
The scalp is prone to becoming dirty than the facial skin and the face is prone to acne.
The scalp has more sebaceous gland which is why it tends to sweat more than the chin skin
Hair oils are not effective for the patchy beard but beard oil can do the job.
And with the above differences in the scalp and facial skin at heart, the facial skin needs an oil that is lighter in texture yet nourishing.
Recommended hair oil for beard growth
Attention: The internal data of table "59" is corrupted!
You can use hair oil on your beard, but you have to be sure that these oils contain nutrients and components that will equally facilitate facial hair growth rather than doing the opposite.
Not all hair oils are ideal for a beard. But how do you recognize them?
That is why I have helped you ease up the process. Below is the list of hair oil that will equally help facial hair to grow healthier and Shinier.
BEARDO Beard and Hair Growth Oil 50ml

About product 
For everyone out there looking for an oil that will help increase hair growth on the head and facial hair, this BEARDO Beard and Hair Growth Oil 50ml is the answer to your prayer.
The oil has been formulated to deliver outstanding results to your beards. It is a magic bullet for slow facial hair growth. It is made with organic ingredients which include Sesame, Rose and Hibiscus oils and Vitamin B6. These ingredients help in the stimulation of hair follicles and rejuvenation of dead ones.
What makes the product special? 
The major benefit of choosing BEARDO Beard and Hair Growth Oil 50ml should be the fact that it Promotes Hair & Beard Growth together. It is a two in one oil that should be included in your beard care routine as it has the ability to prevent the beard from frizzing and tangling.
It serves as a good beard conditioner and moisturizer to make the beard hydrated throughout the day. This is also a solution to your itchy beards.
Unlike other hair oil, BEARDO Beard and Hair Growth Oil 50ml is made with a refreshing scent that lasts long on beards.
Above all, it is made with natural ingredients that are safe for Beards. These ingredients include rose, hibiscus, vitamin b6 and others which form a potent combination to renew and re-energise facial hair production.
How to use BEARDO Beard and Hair Growth Oil 50ml
Just like any other beard oil, it is important to carry out an allergic test before using the oil. In other words, Apply a few drops of Beardo Hair Growth Oil onto your wrist. You should not use it once you notice any sign of sensitivity or redness. If otherwise, you are good to go!
Splash your palm with a few drops of Beardo Hair Growth Oil and apply liberally into your beard and skin.
Beard Growth Oil, Natural Organic Hair Growth Oil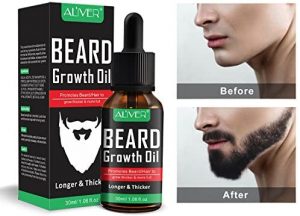 About product 
This hair oil is a versatile oil that will help in beard growth as well. While it is suitable for both men and women, the oil can be used in Beards, armpit hair, chest hair, pubic hair and the areas required for hair growth.
It is equally effective and will work better than even other basic beard oil. Want to know why we included it on our list?
What makes the product special? 
A special thing about this hair/beard oil is that it works as a beard conditioner and Beard softener. If you understand this, you will agree with me that this beard oil will be ideal to keep the beard moisturized.
Just the first use of this bottle will impress you. It offers brittle free and strong hairs. Say goodbye to your scratchy beards using this oil that facilitates healthy beard growth.
It is rich in natural nourishing ingredients that infiltrate into the hair follicle roots, repair & activate the dormant hair follicles, in-crease nutrient absorption and accelerate hair growth. Are you thinking about odour? Not with this one. The scent from the bottle is appealing.
How to use
It is needless to repeat that allergy test is important before using any skincare or beard care product.
The right way to use this oil is to smear it evenly from the root of the hair to the tip of the beard wherever it grows, once in the morning and at night. Make sure they absorb into the skin beneath the beards by massaging after application.
ELEGANCE GEL Hair & Beard Oil

About product 
Are you about to give up on your quest to bring back the glory of your facial hair look? Do not!
ELEGANCE GEL Hair & Beard Oil have been made to meet your facial hair needs. This hair and beard oil deliver the moisture you need. The conditioning formula works to soften and smooth hair while adding an amazingly fresh scent that your crush will find irresistible.
What makes the product special? 
The heavenly scent from the oil will last long on your beard and will attract your crush. In addition, it is the best hair and beard oil to keep the hair and skin hydrated.
ELEGANCE GEL Hair & Beard Oil is made with a top-quality formula that is aimed at restoring the glory of a dandruff-stricken facial hair.
Daily use of this oil will give you the best result. As the scent is nice and it will help in treating your tangled beards.
Ancient Greek Remedy Organic Blend of Olive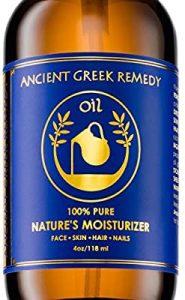 About product 
Made with 100% Cold Pressed Olive, Organic Sweet Almond, Grapeseed, Vitamin E & Lavender Essential Oil, the Ancient Greek Remedy Organic Blend of Olive oil for hair and beard comes with loads of benefits for not only hairs but facial hair.
It is also a moisturizer for the skin and facial hair. Ancient Greek Remedy Organic Blend of Olive oil is an ultimate source for antioxidants that makes the beard free from frizz and lice.
What makes this product special? 
It can be used on a daily basis since the scent is appealing. It is a versatile oil that is used to treat skin ailment such as eczema, stress marks, dry skin and so on.
It is an organic oil made with 100% natural ingredients and works well as a skincare oil. It smoothens the skin and gives it an even tone plus radiant look.
When applied on beards, it goes down into the hair follicles to perform its primary function which is to stimulate hair growth.
Another special thing about the Ancient Greek Remedy Organic Blend of Olive oil is that it can be applied to any type of hair and beard. From curly to wavy, straight and afro hair.
If you have been wondering a one-stop solution to your flaky scalp then the Ancient Greek Remedy Organic Blend of Olive oil got you covered.
Most people buy the Ancient Greek Remedy Organic Blend of Olive oil to achieve softer and shiner beards. Whereas, the benefits of using this oil Expands beyond this singular purpose.
---
Frequently Asked Questions and Answers on Hair Oil
Why You Should Not Use Hair Oil On Your Beard?
Hairs oils are produced keeping in mind that it is for the tougher scalp, by using what is meant for a tough surface on light skin you might end up with an oily face dripping with oils none stop.
Hair oils are produced with one scalp type in mind whereas for beard reverse is the case. You will find beard oil for dark skin, sensitive skin type, oily skin, dry skin, and acne-prone skin.
A fragrance that can last for a long period of time is used for producing hair oils, you would definitely not want to have something so strong to your face for the entire day.
The majority of the hair oils out there are not made with original ingredients some are being diluted beyond expectation.
What Are The Benefits of Beard Oil Over Hair Oil?
Beard oil helps reduce itching
Moisturizes the skin.
Helps Reduces beard dandruff
Protect the beard from dust and dirt accumulation
Increases blood circulation which in turn stimulates beard hair growth.
Keep the beard hairs all shiny and soft.
Prevents dryness of the beard and skin.
Beard oil can penetrate deep into the skin
It helps tackle inflammatory issues
It combats acne
Makes styling of beard easy
It promotes a good appearance
 It relieves itching
---
Final Words
You've read on "Can I Use Hair Oil on My Beard", the side-effects of using hair oil on the beard, what beard oil is and its benefits.
Hair oil can be applied to your beard but make sure it is not something you do every day and before you apply any hair oil to your beard check out the ingredients used in producing it.
Also, don't forget to carry out a patchy skin test to know whether your skin will react to any of the ingredients used in producing the hair oils. With all said above, applying hair oil should only be an option in cases where beard oil is not available.
Do you have anything to ask concerning this topic, kindly make use of the comment box to share your opinion on this topic.