"Wash our beard on a daily basis" That is what the majority have been saying but how effective is this and till when should this be done. The majority of bearded men out there are addicted to regular washing of beards. So should beard hair be wash regularly? That is a No.
What of a situation in which the bearded brother works in a dusty environment? Keep on reading!
The facial hair can be referred to as androgenic hair which is dependent on natural sebum oils. Washing it means that the beard can be stripped off the oil needed for proper functioning, and can result in dry skin that can lead to dandruff if not treated in the right way.
The beard hair not having enough sebum oils can also lead to split-ends. For these reasons, beard and grooming experts advised that the beard should only be washed 1-2 times a week and some should wash once in a week. Agreed that the beard should not be washed more than 2-3 times in a week. what should become of men grooming beards that work in a dusty environment?
That should not be a cause for alarm, below are tips on beard washing
1. Wash Your Beard
Washing of beard regularly is not advised but not really applicable to men that work in a dusty environment, wash your beard regularly but make sure you make use of the right beard shampoo made specifically made for beard, not the normal one. And if you are a bearded man with a low sebum level; make use of cover for your beard and make sure you don't take hot showers. Also, try as much to apply beard oil to your beard after each wash.
2. Comb Your Beard
After applying beard oil to your beard the next thing to do is make use of a comb. With the right comb, you can spread the oil to the whole part of the affected area. Beard combs are not for fashion alone, they are meant to make your beard growing and maintenance an easy one.
3. Avoid Dusty Environment 
So? That you have read tips on MyBeardGang does not mean you should always stay in that dusty environment. Even with the tips provided above, it will get to a stage that the tips provided won't be effective any more. If you earn your paycheck in a dusty environment the best thing you can do is rinse the beard with water instead of using beard shampoo. This way you keep your beard clean and attractive.
4. Make Use of Co-washing
So, what is the benefit of co-washing, for someone who works in a dusty environment? If you work in a dirty environment and sweat a lot during exercise, etc. Then you should leverage on co-washing since it will allow you to wash your beard with conditioner without having to worry about dryness or split-ends.
---
Guides on Co-washing Of Beards
Co-washing simply means that you will have to skip the use of shampoo and make use of a beard conditioner instead. Result of Co-washing of beard is not always close to the ones washed with shampoo but better than not washing at all. Candidates of co-washing are mostly people that their hairs tend to dry naturally. This approach won't strip off natural oils of pigment as detergents and bar soaps made with heavy chemicals does.
What are the things needed for Co-washing?
For someone who is a candidate for co-washing, you need the best beard conditioner and your time. Below are tips on choosing the best beard conditioner in 2020: If your hair is on the thicker side, then the conditioner you already have at home sitting on your shelf might be what you need, but for someone with thin hair. Just avoid those ones that contain silicone.
Also, if your hair is not so thick, you may do better with a product designed specifically for co-washing. Called cleansing. Cleansing conditioners are made with more cleanser compare to normal conditioners but in the form of natural ingredients(aloe vera), which remove grit more gently. The next thing to do after getting the best cleanser conditioner is to get the job done:
Step 1: Fully Saturate Your Hair With Water
No strands should be left out in this. Think of it like soaking a dirty pot in water. Soaking your complete strands of hair with water will make the debris loosened easily and easy to rinse out. Doing this also distribute the materials that will be applied evenly distributed.
Step 2: Squeeze Out A Considerable Amount Of Conditioner
Make sure you apply enough conditioners that can coat your beards hair from root to tip. Don't try to manage resources and don't waste as well. But this is not the time to cut the needed ration though.
Step 4: Massage The Conditioner Into Your Scalp
Massaging the applied conditioner into the scalp will help break down oils and other residue left over from styling products.  After doing this, allow the conditioner to be absorbed for 4-5 minutes. In a situation where your hair is totally damaged or dry, leave it in than the recommended time. The next thing to do is rinse and dry as usual.
---
Reviews of Recommended Products
After reading all you need to know about the washing of beard, you must be curious about the best beard wash and conditioner. That is why we have compiled a list of reliable and affordable products for men with little sebum and those that their hair tends to get dry naturally.  You are at the right place. We've carried out research on a series of beard wash and condition available on Amazon base on reviews dropped buyers on Amazon. Below we have:
1. Scotch Porter – Hydrate & Nourish Beard Conditioner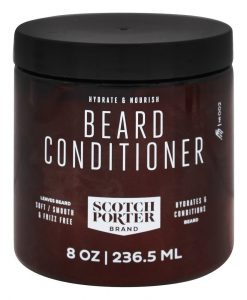 Scotch Porter handmade is functional better-for-you grooming products recommend for men.  So, scotch porter contains ingredients that are not harmful to the body. It contains no parabens, Silicones, Petroleum, Mineral oil, artificial colours, and safe for colour-treated beards. With this product, you will be able to prevent excessive beard shedding and serves as a promoter of a thick and fast-growing beard. When you buy and order for this product through our affiliate link you and your beard will love it.
Ingredients used are all-natural
It strengthens the hair fibres at the root.
Promotes healthy beard growths
This is worth it. Even with a long beard you still don't need much of this. It'll last you a while if you use it sparingly. It really does softens my beard after showering. Afterwards, I use the Scotch Porter Beard Balm for conditioning.
I received this beard conditioner to test with the option to review. No financial compensation is ever accepted. I reserve 4 and 5-star ratings for products I would either recommend to others or buy for myself. 
2. Bluebeards Original Beard Wash With Extra Conditioning

Bluebeards Original Beard Wash is a product blended with conditioning agents and aloe vera, it is produced to smooth even the wildest of beards. It is free of sulfate and gentle on the beard and skin.
Below are what verified buyers are saying about this product.
I use this product now as shampoo and beard wash. It works very well to help condition my beard and keep the skin flake-free. I've tried a number of other beard washes and while they make my beard feel nice they have done nothing for my skin. 
Left my beard looking 10X better! No more flaking dry skin under my facial hair. It smells good too! 
3. Macadamia Professional Ultra Rich Moisture Cleansing Conditioner
Macadamia Professional Ultra Rich Moisture Cleansing Conditioner is the perfect beard conditioner for co-washing. With a combination of argan oil, mongongo, and macadamia your hair will not only get a boost in moisture but also leave it shiny and hydrated.  
It will cleanse and conditions in one step. Detangles and de-frizzes curly, coiled hair.
Great product to extend my hair instead of constant shampooing to dry it out, it also smells great.
---
Frequently Asked Questions and Answers
Can I Use Regular Shampoo on My Beard?
Using regular shampoo for washing of beard should not be done, shampoo is made up of ingredients that can strip the beard hair and skin of the essential oils. It is advisable that you make use of shampoo specifically produce for beard washing.
Is Beard Wash The Same As Shampoo?
When it comes to functionality, there is a difference between beard wash and shampoo. The difference between beard wash and shampoo is that the ordinary shampoo on your shelf can get your hair stripped of all the essentials while beard wash won't cause any harm to your beard.
---
Conclusion
Washing of beard on a regular basis is not recommended for someone that his/her hairs tend to get dried naturally. And there are cases when the affected workers in a dusty environment, that does not mean your beard should be left that way. You can make use of Co-washing this way you won't be making use of beard shampoo but use beard wash instead. Also, we provide guides on how to co-wash a beard.
If you have anything to ask on How Often Should You Wash Your Beard, guides on co-washing of beard? Kindly make use of the comment box to share your opinion and if possible your experience.