I know you dislike those moments you have wasted on searching for the best exfoliators that are perfect for your skin type but later got disappointed when the product is not in any way close to what the manufacturers promised. To put an end to your problem I embarked on research and the result is what I will be showing you here: Factors to consider when buying exfoliators for your skin. You will also read reviews of the best exfoliators for black skin.
There are two things that will happen after you read this blog post to the end; you know what to check out for when you want to buy your own or you get one of the affordable exfoliators we will be reviewing.
 Before then let's look into:
What Is A Beard Exfoliator?
It is important that you ask yourself " What should I Look for in an exfoliating Products". Exfoliating products come in different delivery product and concentrations, and the methods of application also differ. We have so many exfoliating products to choose from but not many know how to choose the right one. Many questions are waiting to be answered "which exfoliator is right for my skin type",  Can this product really exfoliate?".
If you fall into the category of those who find it difficult to choose the right exfoliator for their skin type, in the next few seconds you won't be the person. You would have learned what to look out for and what you should not take for granted.
Exfoliating Products fall into three categories:
Their mode of action
Their concentration
The specific skin type they're formulated for
Here we are concerned about the best exfoliators for black skin. To choose an affordable exfoliator for black skin you must put certain things into consideration. There are several specific exfoliants to choose from. Below are the most popular ones:
Scrub particles: We have Jojoba wax beads, powered rice or finely ground seeds.
Glycolic acid
Lactic acid
Enzymes such as bromelain and papain that are extracted from papaya and pineapple
Now, which one is the best for someone with a black skin type? While it is rare to find the exfoliating product is labeled with "normal'. dry or sensitive. But the ingredients used in their production determine the skin type they are suitable for. An oil-soluble exfoliator is best for oily skin, and the ones produced with water-soluble ingredients are great for dry skin. Also, we have those that are specifically created for ance patient or for addressing ageing. All these make the selection of best beard exfoliator, not an ordinary task but science and art.
---
Reviews of Best Exfoliators For Black Skin
1. M3 Naturals Activated Charcoal Scrub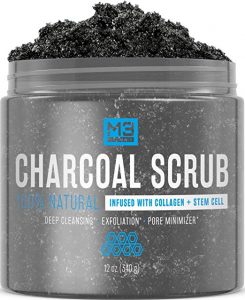 With M3 Natural Activated Charcoal Scrub you will be saying your last goodbye to wrinkles, dead skin and blemishes that your face has been wearing like a jacket. M3 Naturals Activated Charcoal, when used with dead sea salt, is a killer weapon that cleanses your face of impurities and makes you regain your skin smoothness back again. And this leaves it shinning and back at its original color.
The formula used is meant to make you feel young again even if you are already at old age.  Ingredients used are enemy to dirtiness, they get rid of all wrinkles and absorbs excess oil and fats from the skin, making it refreshed. If you really want to feel all effect of using M3 Natural Activated Charcoal Scrub buy one from the link.
No products come without no cons, it has a smelly odour and in some cases can cause skin irritation.
Recently I purchased M3 natural activated charcoal on February 21, 2019. I had several items on my order. Since receiving the product on February 22, 2019, I have used it for only five days skipping a day between uses. My biggest concern for preferring the product was for what dermatologists call hidradenitis suppurative which is present in several areas of my body. The results I have received after only five uses are amazing and I am so excited about the future continued results. I am including before and after shot of one thigh to share my five-day results. I hope this helps anyone who is suffering from this skin issue.
2. Teami Detox Face Scrub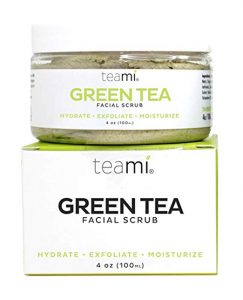 Teami Detox Face Scrub is the best exfoliator for someone who does not want to get rid of dead skin alone but wants a moisturizer. It is perfect for someone who cares for his/her skin and ready to go extra miles in keeping it under check. This formula is blended with organic matcha green tea, sugar and lemongrass. It is also blended with sugar. So?
Check out what people are saying about this product:
The scent, the texture…it is amazing how it goes from an exfoliating granular sensation to a creamy texture. It leaves the skin soft and amazingly clean.
I have used it twice… so far amazing. as a redhead, I have sensitive oily red acne-prone skin. this scrub already
feels like a dream… thank you!
3. Frank Body Scrub, Coconut Coffee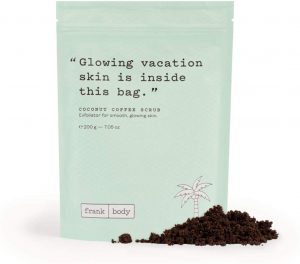 Are you looking for an exfoliator that can make your dead skin rise again? Frank Body Scrub is the one for you. The fact it was made with a blend of coffee and essential oils makes it a coll on, It is good for tackling if scars, dry skin, and stretch marks. It contains roasted coffee grinds that are good for fighting off dry skin. The coffee used also gives the skin the real exfoliation it needs. Also contains grapeseed oil which contains fatty acids and vitamins such as C, D, and E. All these help fade off scars and tighten the skin. With the presence of anti-bacterial and anti dryness properties, it is the one for those looking for a skincare product that can stop skin dryness, patchy skin. 99% of the ingredients used are natural.
The cons of this product are that it can not be used by someone with a sensitive skin
Love this stuff more than any other body scrub. Smells strangely great, since I don't like coffee. I have tons of granulated scrubs, but they do not work as well as this. I need to take them back to ULTA at this point because I will be using this faithfully.
4. Skin Food Black Sugar Perfect Scrub Foam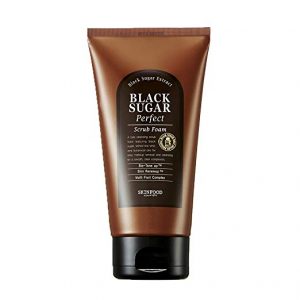 Skin Food Black Sugar Perfect Scrub Foam will not only make your skin glow but also serve as a detoxifier that returns your skin to that attractive skin it used to be. Using this product will leave your skin smooth by getting rid of flaky dead skin cells and impurities.
This has cured my acne! I started using this and haven't had a breakout in months so now my acne scars have a chance to calm down and my skin has never looked better. It also feels great. It's decent but still not too harsh and once it turns into a foam it's very soft. The first time I used it at night, I couldn't wait to wash my face the next morning!
Love this foam cleanser. Gentle and gets makeup off. It does not dry skin out. I only have to do a separate cleaning sometimes to get all eye makeup off.
5. Men's No-Nonsense Charcoal Cleanser (2oz): Unclog Pores of Oil, Dirt, and Pollution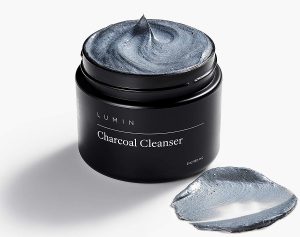 No matter your skin type and race Men's No-Nonsense Charcoal Cleanser is an effective skincare product formulated for the rougher-textured. oilier, thicker and acidic skin of men. It is designed for the efficacy of men's lifestyle and optimal efficiency. When you buy this product the following are what it will do to your skin: it will unclog pores and remove excess oils, your skin won't get irritated after shaving, it will remove dead skin preventing proper growth of your facial hairs, It is good for health as it made with natural ingredients, It does not take time just 30 seconds you are done, and it is for both gender, meaning it can be used on different skin.
6. L'occtitane Almond and Smoothing Delicious Paste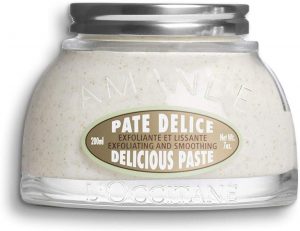 The L'occtitane Almond and Smoothing Delicious Paste contain sugar crystals and a euphoric blend of almonds which are effective for getting rid of skin cells that are no more functioning and softening rough skin. This body butter is produced to offer you an effective and gentle skin exfoliator that leaves your skin smooth and soft.
Truly a luxury product. It comes in heavy, high-quality glass jar. Very dense consistency.No oily separation.If held upside down, no drips.Great for feet, elbows, and knees.Not scratchy or greasy.Top-notch product. If used weekly, expect to last 5-6 months.
---
Conclusion on the Best Exfoliators for Black Skin
Taking care of the skin is not about buying anything, your skin needs to taking care of the right way. Just anyhow products should not be applied nor run on it, always make sure the product you are using is the right one. Getting an exfoliator for black skin is challenging and getting the one for black skin that is also sensitive is a hard one. Above, the list of best exfoliators was reviewed, the pros and cons were discussed and I made mention of what verified are talking about each of the reviewed about, some of the reviews are bad but that does not mean they are a total runoff.
The best exfoliator is one that works perfectly for your skin type, affordable and effective. There are cases where some set for buyers are prone to acne while the others are not. For the first set of buyers, the best exfoliators are those that won't cause them discomfort even with acne on their skin while for the second set it is the one that won't disturb them even with their skin sensitivity. The final decision on which one to choose is left to you but make sure you choose well.
Do you have anything to ask on Best Exfoliators For Black Skin, and factors to consider before buying Exfoliators For Black Skin? Kindly make use of the comment box to share your experience on any of the products you have used in the past.
You should also read the following:
List of Best Hair Removal Machines for 2020
Best Edgers For Barbers in 2020
Best Hair Removal Cream For 2020
Best Waterproof Beard Trimmers Review

List of Beard Gang Products That Works