The best thing you can do for your skin is getting the best facial products For African American skin. The best facial products meant for your skin type with toner and cleanser is the way to go.
We have thousands, if not millions of face moisturizers, oil and cream available online but getting the right one is like a mirage.
That is why we have compiled a list of facial products for black skin men, their pros, cons and what people are saying concerning this products.
Our reviews are unbiased. Know that we may earn a certain percentage when you buy the reviewed product through our affiliate links. This does not in any way add up to what you pay, revenues generated help us in keeping this site running while we provide you with accurate and precise information concerning beard grooming and maintenance.
Before then let's look into different facial products and factors to consider before buying one;
In a hurry? Here is a table showing the best facial care product recommended for African American skin below
Attention: The internal data of table "56" is corrupted!
What Are The Different Types of Facial Products
Talking of facial products we have different types and it is rare to find one or two types performing the same function. We have:
Cleanser
Exfoliator
Serum
Face Oil
Sunscreen
Moisturizer
Chemical Peel
Toner
Face Mask
Eye Cream
1. Cleanser
Cleaning of the face is one of the steps to take to get rid of bacteria, dirt, and pollutants off your skin.
Facial care products that fall into this category are of different types that are made to be used for different skin type and tone.
But people have made the mistake of using the same product in the morning and night and not also using the ideal cleanser perfect for their skin type.
The greatest mistake someone prone to breakout can make is using a cleanser made with salicylic acid.
In this scenario, it increased the level of oil production and will definitely make the breakout get worsen.
Before buying a face cleanser make sure you get one that is good for your skin type or seek the help of a professional.
2. Exfoliator
Exfoliators are known for the removal of dead skin cells off the surface of the skin. T
he majority of the best exfoliant available online are produced with rice enzymes, walnut shells and sugar granules that aid in reviving dull skin.
Are you prone to breakout or have oily skin? Try one made with charcoal and if your skin is sensitive to certain chemicals go for an exfoliating mask instead that needs you to scrub, which can be irritating.
3. Serum
Serums usually contain ingredients that help make radical changes to the skin. They can also contain peptides and retinol, they serve as anti-ageing ingredients and peptides serve as collagen stimulant.
They work in a way that they penetrate deep into the skin, and that makes them good for hydration of the skin. It is always best to apply them after cleanser, and they can as well be used underneath a moisturizer.
4. Face Oil
The application of face oil is a solution to a face with dry skin. Nutrients filled oils will help build a resilient layer for any skin type.
All you need to do is get the best Face oil for African Americans. Talking of face oil for men with black skin always go for the ones with "Argan Oil and Vitamin E".
For an acne-prone skin type, face oil made with tea tree oil should do the job.
5. Sunscreens
They are essential for the protection of skin from Ultraviolet Ray damage, no matter the country you reside in.
In all honesty, sunscreen should be used with moisturizers by anyone who stays in warmer climates.
The key to the successful use of sunscreen is to buy the best sunscreen for African Americans.
6. Moisturizer
You need this to keep your skin from looking old and dull. We have many kinds of moisturizer and the one you will be buying for your face should not contain harmful chemicals and cause or no irritation.
To make things easier look for moisturizers that contain hyaluronic acid or glycerin.
---
Best Facial Products For African American Skin
1. Bobbi Brown Hydrating Face Cream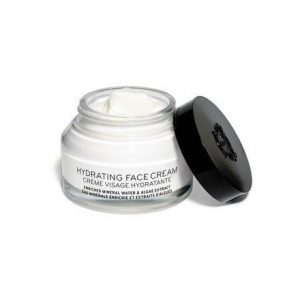 When you first open Bobbi Brown Hydrating Face Cream is the light and fragrant scent you will be greeted with.
The greatest favour you can do for your facial skin is to buy this product, apply and do it consistently.
Immediately after using your skin would never be the same and it penetrates deep into your skin as it leaves no residue.
Another thing that makes this product different from others is the noticeable feeling of soft and pliable skin.
I love this product!! It works like a dream and worth the money it cost!
2. Kiehls Ultra Facial Moisturizer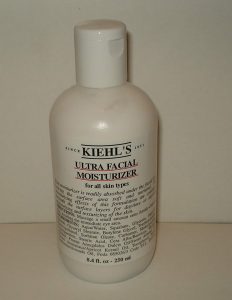 If you are looking for a face moisturizer good for sensitive skin this is the right facial moisturizer you should get.
Buying this product is the only way you can confirm all the benefits.
It is made with ingredients that majorly plant-derived sweet almond oil, avocado oil, and squalane, despite the liquid being soft and nourishing it has a really light consistency that makes it penetrates into the skin immediately after application.
---
Though the melanin performs wonder, it is not enough to protect your skin from cancer, sunburn, or other forms of facial skin damages.
At this point in the game of keeping the facial skin free of damage, getting an affordable and effective sunscreen is the best thing you can do for yourself.
It can sometimes be difficult to call the shot on which sunscreen product to use.
Many of the sunscreen product listed on Amazon contains ingredients that can result in a film on the skin, which can be severe to an African American man skin.
To make things easy for you we have below best sunscreen for African American skin.
3. Exuviance Sheer Daily Protector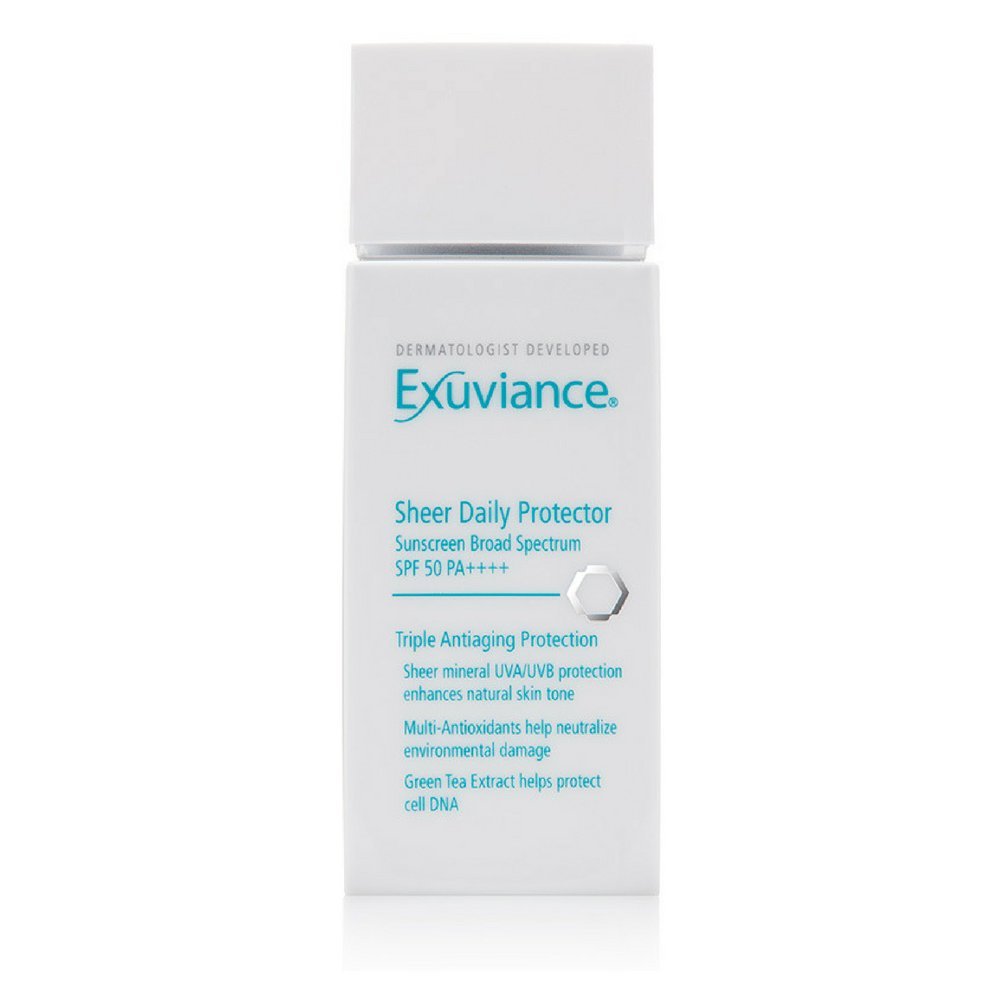 Exuviance Sheer Daily Protector is an anti-ageing fluid that provides the mineral needed against photodamage and Multi-Antioxidants to help create a neutral facial skin free of damage.
One of the benefits of buying this product is that it is healthy for the skin as it is made with green tea extract, contains multi-antioxidants that help in neutralizing possible facial skin damage.
So below are the ingredients:
Titanium Dioxide
Zinc Oxide
Alumina
Lactobionic Acid
Water
Isododecane
And others
Below are what verified buyers are saying concerning this product:
I love, love, love this product!! It blends beautifully with my makeup. It acts as if it's a skin primer as far as "blendability" so my liquid makeup just glides, and stays, on. Another plus is on busy days, it makes my skin look nicer than it is all on its own. A touch of light powder and a touch of blush makes me look good and in only about 2 minutes!
---
With so many different facial masks out there, it can be overwhelmed to choose the right one. How can the right face masks be chosen?
Below are the best face masks for African American Skin
4. Celavi Essence Facial Face Mask Paper Sheet Korea Skin Care Moisturizing 12 pack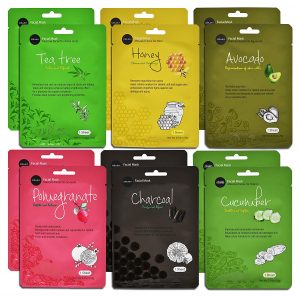 This is a face mask that originated from Korea. It serves as a natural skin brighter when used regularly it can help in getting rid of dark spots, circles, and pigmentation.
Also, this collagen base face mask makes the face look firmer and radiance which creates confidence for the user.
It is good for a sensitive skin
Gentle on dry and oily skin
It helps in the overall tone and firmness of the skin.
I really enjoy these masks. Good price. The serum does leave your face a bit sticky but I usually leave 20 minutes or so for it to dry. Affordable masks. They are similar to each other but I do notice some differences. The pomegranate is my favourite.
I've purchased these several times, and use them 1-2 times a week. I wish the face was cut out, because the sheet doesn't fit perfectly, but the quality is good for the price. I will purchase them again in the future.
5. Dr.Morita Authenic 3rd Generation Long Lasting Moisturizing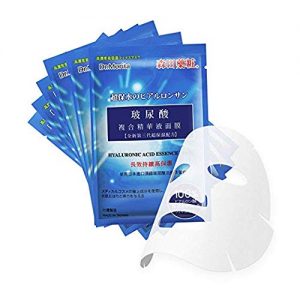 When you buy this product within 15 minutes you will have skin problems get rid of.
It makes use of technology and materials dated back to 84 years ago used in Asia. It is good for all skin types, compact and lightweight and convenient to use anywhere.
A friend from Taiwan introduced me to this product and I have been using it once a week. It leaves your face nice, smooth, and feeling fresh and younger-looking skin.
I see the result better by using a brown sugar honey scrub before putting on the mask. The juice from the mask seems more absorbed into your skin for me, and I use the excess juice on my neck.
It is a little sticky at first but once it's dry, it doesn't feel sticky anymore. I am buying it again and again after it runs out.
---
Frequently Asked Questions on Best Facial Products For African American Skin
How Often Should A Man Use A Face Mask?
It is normal to be confused about the number of times you should use a face mask, but in general, make sure you make use of face mask 1-3 times within a week.
What Is The Benefit of Face Mask?
With the right face mask for your skin type, you can hydrate your skin, remove excess oil and improve the appearance of pores. They're also an excellent approach to getting rid of impurities from the facial skin.
Can You Use Face Moisturizer on Beard?
If you are a bearded man and you use a moisturizer on your face, it is completely fine to apply rub moisturizer into your beard and skin underneath.
Other facial care product recommended for African American Skin
SheaMoisture African Black Soap Facial System Kit
About product 
If you are among the people struggling with the search for good skin and facial care product for your dark skin then you have just found something valuable.
SheaMoisture African Black Soap Facial System Kit is  Made from natural and certified organic ingredients. This particular face and skincare kit are gentle even on sensitive skin.
It is time to treat your skin with SheaMoisture African Black Soap Facial System Kit that is made of 100% natural solution that will help in treating acne outbreaks.
This soap is a  gentle cleanser which cleans impurities and toxins to refresh your skin.
If you want a skin and facial care product that will reduce dark spots and leave you with smooth, even-toned skin with every wash, then the SheaMoisture African Black Soap Facial System Kit is the best option.
Reasons to buy 
There are many benefits why you should choose the SheaMoisture African Black Soap Facial System Kit. It ensures smooth cleaning of the  Face & Body with the Body Bar.
This product Calms Irritated Skin, Clears Blemishes, and also Evens Out Skin Tone.
It is time to solve your facial and skin problem by using the mask that cleanses Skin Of Impurities & Addresses Problems Associated With Acne.
By gently scrubbing the African Black Soap Facial Wash, it Cleanses Skin, Absorbs Excess Oil, Controls Breakouts, Reduces Blemishes, Reveals Fresher, Younger Skin.
All you want is fully endowed in the SheaMoisture African Black Soap Facial System Kit.
It features a moisturizer that Hydrates and  Nourishes Skin. The product is aimed at balancing Skin Oils, Reducing Blemishes, and giving your skin nothing but  Shin-Free and Glowing Finish.
While it is a lightweight and compact product, it will also serve as a perfect gift to any special dark friend. The products are formulated with natural products from the house of SheaMoisture.
It is time to achieve a soft, supple, glowing skin with every use of this gentle moisturizer and facial care product. It is entirely safe to use on even sensitive skin without any risk or effects.
Pros
Reduces acne 

Soothes and calms skin

Safe, gentle and absolutely natural 

Hydrates and nourishes the skin

Controls breakout and detoxify skin

Draws out skin Impurities 
Washing off the daily dirt and grime couldn't have been better with the gentle cleansing action of African Black Soap. It is 100% natural and will clean, exfoliate the skin.
The end result of this facial care product in dark skin is always an even-toned and glowing skin.
SKINFOOD Black Sugar Mask Wash Off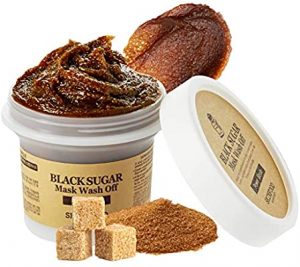 About product 
It is indeed food for the skin and face. This product is organically produced without the use of pesticides or other harmful chemicals.
While it is 100% natural and will work effectively to meet your facial care demands, it is highly rich in minerals, particularly phosphorus, calcium, iron, magnesium and potassium.
Additional vitamins present in this facial care product includes riboflavin, niacin and pantothenic acid.
The product works effectively by scrubbing away dead skin cells and removing dead skin cells.
In that way, the skin will brighten up. Included in this product are some moisturizing qualities that will keep the face and skin hydrated and prevent dryness.
If you are thinking of rejuvenating your dead skin, then this is an ideal product I'd recommend.
Reasons to buy 
SKINFOOD Black Sugar Mask Wash Off is unrefined, which means that it is greatly enriched with minerals, particularly phosphorus, calcium, iron, magnesium, and potassium.
The mask is capable of effectively removing blackheads. How these product works have had customers trust this product for over 10 years.
It is affordable and worth your money.
An exfoliating and hydrating mask wash off that features mineral-rich Brazilian black sugar granules. Black sugar is rich in vitamins and minerals and restores nutrients and moisture to the skin.
Pros
Mineral-rich Brazilian black sugar granules

Effectively eliminate blackheads 

Rich in vitamins and minerals 
I got a positive result using SKINFOOD Black Sugar Mask Wash Off. After washing,  I simply applied my desired amount onto my face and waited for about 10 to 15 minutes and then washed off with warm water.
It is a nice facial care product, but to reduce skin irritation you need to mix with water or toner. 
SheaMoisture African Black Soap Bath & Body Pack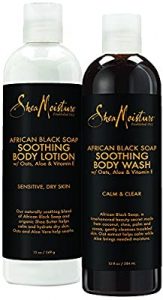 About product 
Fully equipped with the freshness and lushness of organic  Shea butter and African black soap, this package is set to meet all your facial care needs.
It contains a body lotion and body wash that can work together in keeping the skin at the best look at all times by Hydrating and protecting it all day long.
Enjoy the goodness of raw Shea butter and African black soap which is enriched  Vitamin E by getting this facial care product.
It's time to get your skin healed, soothed and softer.
Reasons to buy
You'll be making the right choice by choosing to buy SheaMoisture African Black Soap Bath & Body Pack to settle your facial care needs and problems.
Why? It is a  Perfect Blend Of Raw Shea Butter And African Black Soap. You can be sure to get a balanced, smooth and soft skin by using this lotion.
It contains Organic Oats that will do nothing but calm the skin and leave your skin well balanced by absorbing excess oil.
It is a verified and certified  Organic Raw Shea Butter trusted by many to Hydrate The Skin And Soften the skin at each use.
It is best to solve skin problems and prevent acne and other skin and facial disease.
If anyone has ever told you to find a natural skin healer to Protect Skin And Keep It Hydrated, then look no further than SheaMoisture African Black Soap Bath & Body Pack.
Pros
Soothes the skin

Alleviates skin problems 

The lotion balances the skin

Keeps the skin hydrated.
I love the SheaMoisture African Black Soap Bath & Body Pack. It simply Absorbs Excess Oil and leaves my  Skin Well Balanced. This is the best product to keep the skin and face soft and hydrated.
Use it to treat or prevent any skin related problems.
---
Conclusion on Best Facial Products For African American Skin
Here you've read on Best Facial Products For African American Skin, different types of facial care products and functions of each.
We also make reviews of each product suggested, their benefits and what their previous buyers are talking about them.
Do you have anything to ask on Best Facial Products For African American Skin? Kindly make sure you of the comment box to get back to us.
And you can as well share your experience with any of the facial care products you have used in the past.