What Beard accessories do I need for Beard growth?  There are loads of information on the internet but finding the accurate one is not easy. If you did not find it hard growing beards then you might find it hard relating with this in a way that those who struggle to grow strands of beards. And those who move from one web page to another looking for information, reading different beard oil reviews, purchasing them, plus how to take care of beards but still find it difficult growing beards.
Certain people grow beards without the use of beards cream or consumption of supplements to make up for lack of vitamins and we have those that need to do all that, but what makes them be on the same boat is that they need to maintain their beards; making it look attractive.
Maintaining and grooming of beards need beard accessories for growth like beard cream, beard oil, and many others. And we are going to provide you with a comprehensive list of beard accessories needed, we will look into what to buy and why you need to buy them.
What Are Beard Growth Accessories?
Accessories in a lay man language are things that can be added to something else in order to make it more useful or attractive.
Relating this in context to Beard's growth, Beard accessories are tools or items used in making the beard more attractive, from beard wash to oil, beard comb to brush and many others.
What Beard Accessories do I Need for Healthy Beard Growth
Scissors
Clippers
Comb
Oil
Beard Towel
Cream
Beards Shaper
Supplements
Beards Trimmer
---
Reviews on Beard Accessories Needed For Beard Growth
Best Beard Shaping Tool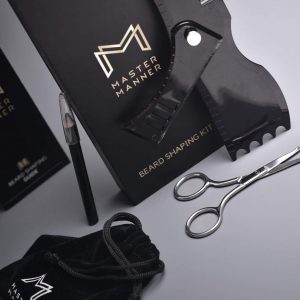 Not everyone has the time, money or patience to visit the barbershop down the street to have their beards shaped. Making use of beards tools can do this, but which shaping tools are good?
We all are not born with the talent to achieve perfect symmetry with freehand moves, guess that is why many of us flopped at drawing at elementary. Doing-it-Yourself at home without using beards shaping needs practice – There are chances that you might make mistake and you might have to start growing your beards from scrap. Buying good beard accessories as reviewed here will give you a perfect shape and save you from stress.
One of the numerous reasons for these tools is that they're not hard to use; you will still need to practice with them but not as using a beard trimmer. What you will be doing is to find the best shaping tools suitable for your face.
List of Top Rated Shaping Tools Reviews
1. Aberlite Beard Line Up Tool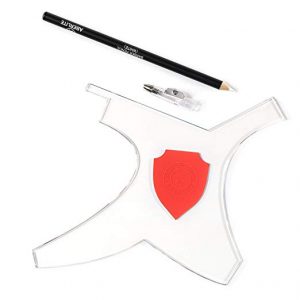 The first on the list is Aberlite Beard Line Up Tool – It will give you a tidy beard and clean beard you have always crave with little efforts. The sharp is different from others, it is the least of what you should think about and might find it hard using it, but watching detailed information on YouTube will make uses of each shape and curves clear.
This beard lines tool lets you choose what beard design you want, classic or modern cuts? You can get any of the two with the Aberlite Beard line up tool. You can choose from different beard styles like hair fade styles, make straight or curved cheek likes, a crisp or sharp neckline to choose from.
Made with transparent, plastic and rubber with high standard, making it durable and resistant to shock. Its transparency goes beyond being a good design but it is useful in placing the shaper at the right spot as you can easily see the line you are drawing.
To make the Aberlite Lineup tool more effective, you should get a white professional barber pencil. White professional barber pencils are used to draw the desired shape by tracing the lines using the liner tools so that you can be certain if that's the style you want, and if it is, you can go ahead to trim it. If you think it is not, simply clean it off and start all over.
Pros:
You have a lot of choices to choose from
Sturdy
Durable
Resistant to shock
There are video guidelines available on YouTube
It is transparent
Cons:
No comb attached
Reviews from users are that it is not flexible enough.
2. Beard Command Beard Shaping Tool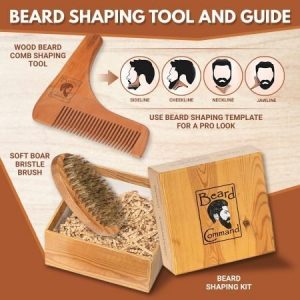 It does not only make our list because of its functionality but because of its look and how Natural it is. The Beard Command Shaping Tool comes with a boar bristle wood brush and two-in-one sharper. It will perform a great job of making your beard smooth, and it's your #1 if you are considering what can easily spread beard oil or beard conditioner throughout your beard.
Beard command Beard shaping tool was manufactured in a way that it can be used for all, except curly or really thick beards. So asides from its use it is eco-friendly and 100% biodegradable which is good if you are a supporter of a sustainable world and looking forward to less use of plastics in our everyday life.
Pros:
No static electricity
Sleek
Elegant design
Durable
Sturdy
Cons:
Not transparent
It can't run through thick beard
3. The  Beard Black Styling Tool for Perfect Beard Line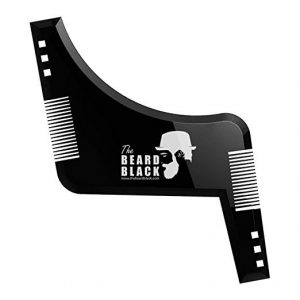 The third on the list of our Top-Rated Beard Shaper for Bearded Men. It is best when we look at it from the perspective that it is minimal design.
With the beard Black Beard Styling Tool for Perfect Beard Line, you can style your cheek line, goatee, sideburns, and jawline. Its simple design does not mean you won't practice before you can use it perfectly.
One of the features that differentiate it from others is the measurement pointers. Which allows the user to reference the beard line and compare it to the other.
The design is simple and light, which makes it travel-friendly. It can also be used to create lines with accurate precision.
One of the drawbacks of this product is that it is not convenient for those with a round and bigger face but that does not mean it is not possible. More efforts are needed compared to others.
Pros:
Sleek
Design is minimal
Functionality
Compact design
Cons:
Not suitable for longer and thicker beard
It is not transparent
4. EZGO Beard Styling Template
EZGO beard styling template has a great design, styling template with straight and curved edges; and 2 combs. The round edges shape provide a high level of comfort for users while shaving, and its weight makes it easy to take along while traveling.
It can be used for ;
Sideburns
Jawline
Goatee
Mustache
Neckline
Cheekline
Verified buyers on Amazon noted that its shape makes it uses limited and it needs to slide down to get a crisp edge.
---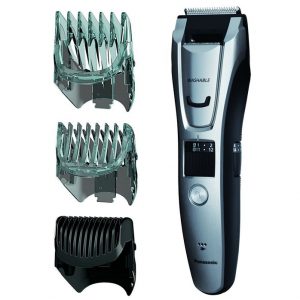 Making use of brush and comb as part of your beard accessories won't be effective once your beards reach a certain point, you can't leave your beard uncared for. Getting one of the best beard trimmers is the only positive thing you can do for your beards to make it look attractive like that of the brothers you have admired.
It may not be perfect as that of Hugh Jackman's but will help you avoid becoming another Tom Hanks in Castawars.
So . we'll take a look at Top-Rated Beard Trimmer for bearded men. But before then let us look into:
Different Between Stubble Trimmer and Beard Trimmer
The main difference between stubble and beard trimmer is that; Beard trimmer can be used to stubble while not all stubble trimmers can trim beards effectively. Check out Differences between a stubble and beard trimmer.
Let's cut the discussion short and go straight to the point.
List of Top-Rated Beard Trimmer for Bearded Men
1. Wahl 99818 Lithium-ion Plus Stainless Steel Beard Trimmer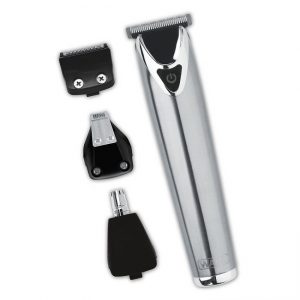 #1 on our list of beard trimmer as beard accessories for men with beards. Made with stainless, stell and cordless.  It is power by Lithium-ion battery and that makes it deliver X2 of what other trimmers can do. It is easy to hold, use especially for those with slippery hands.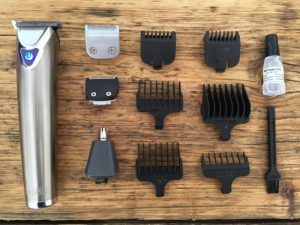 This kit is made up of 12 guides combs, meaning that you can select from 13 different lengths(from 0 to 8).  Read on Beards trimmer attachments guide to learn more about what each number on the guards means. One of the cons of the Wahl kit is that the combs are not stiff up to expectation which becomes obvious once you move to the larger guides.
Can be used for a maximum of four hours per charge (1-hour charging)
Rechargeable
12 Ounces weight
Make use of Dual voltage
Use Lithium-ion battery
1.2 x 1.4 x 6.2 dimension
This is the best electric shaver I have had. I purchased the Andis T-Outliner, and the fact that I have to have electricity to use it is a definite difference. I have been cutting my hair so some time now, and this is actually something that I would use exclusively.
This trimmer is very impressive. When you hold it in your hand, you immediately notice the high quality. It is just the right weight and the body is very sleek and sturdy. It comes with clipper guards so you are sure to trim your beard to the perfect length and fade if needed. I couldn't be more pleased with this product and would highly recommend it to anyone.
2. Philips Norelco Beard & Hair Trimmer Series 5100 – BT5210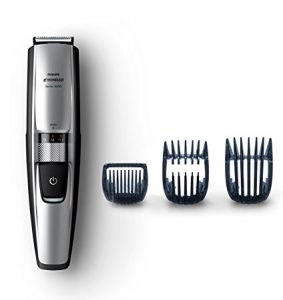 Another champ among beard trimmers you can find offline and online. It is good for those who prefer the convenience of limited attachments.
Just like #1:
And it can also be used at different lengths compare to #1, and that is due to the built-in zoom wheel which is used to adjust the lengths instead of making use of guide combs.
Made up of two hair and body combs for those who want a trimmer that can double as beards and body trimmer. Click here to place your order.
Another nice feature of Philips Norelco Beard & Hair Trimmer Series 5100 – BT5210 is that it's waterproof, easy-to-clean.
Note: That it is waterproof does not mean it can be used in the shower or bath. It is only applicable to while cleaning.
It can run for 1 hour 10 Minutes on a one-hour charge.
Unlike Wahl, it can be used without the guards.
The performance is top-notch and it does not struggle at any beard hairs.
Dual Voltage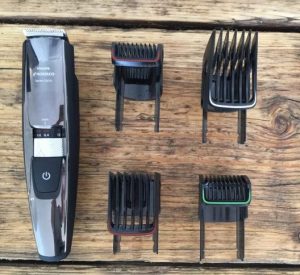 I basically buzz my head so I put it on the "3" setting and use it for my head and face. I haven't had one issue with it, it's excellent. You use the adjustable wheel to adjust the length of the trimmer blade which is cool. Overall I would HIGHLY recommend this electric razor.
3. Philips Norelco BT7215/49 Vacuum Beard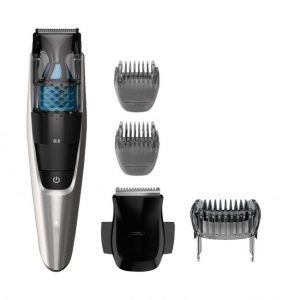 Another beard trimmer as part of our beard accessories that makes this list and does not need much maintenance like others. Why? It is the only trimmer in this list with an in-built vacuum. It is good for those who always find it difficult to clean their trimmer while done with shaving.
The vacuum ensures that the majority of the hairs end up in the integrated bin for emptying. With this trimmer at hand, you won't have to worry about spending minutes on cleaning.
. I've used it nearly every day and the product is still running strong on its initial charge. Battery life is incredible. Every else (including the plastic tabs referenced below) continues to function as well or better than I had hoped.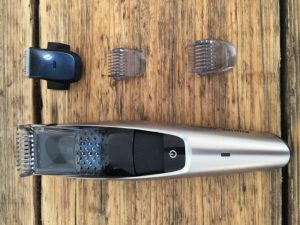 4. Remington MB4040/MB4045B Mustache Beard and Stubble Trimmer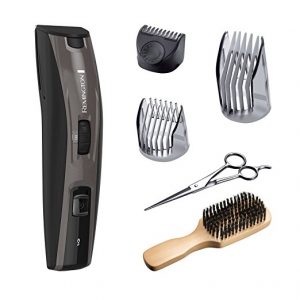 Are you looking for a good beard trimmer at a price that is not too costly? Then this is what you should go for by clicking on this link. It is good for long flowing beards but doesn't want something that breaks the pocket like that of Wahl.
The design is good and it is good enough to clear beards without an itch. It is made up of 18 different lengths settings, plus another three combs that make it function as a stubble comb.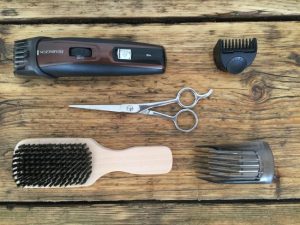 The battery can last for two hours which is enough to give you the perfect look you want. Another functionality is that it is made up of a zoom wheel that gives impressive control over beard and mustache length. Click here to buy or place your order.
2 years warranty
It can run while plugged in a socket
Uses Lithium-ion battery
The zoom wheel is adjustable
1 pound weight
6.4 x 3.6 x9.2 inches dimensions
5. Andis 4775 GTX T-Outliner Trimmer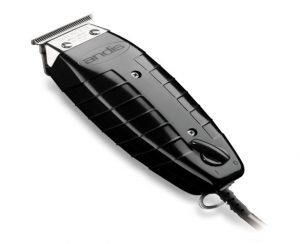 Have you ever thought of having your own beard trimmer that you can trim your beards at home? Then you should get Andis 4475 GTX T – Outliner Trimmer use by many barbers.  It is not expensive like the ones listed above, it is wired operated.
The trimmer is made of carbon steel
It leaves no dump on the shaved area
Weight is higher than others
The trimmer settings can't be adjusted, you need to switch the comb completely to get your preferred beard length.
It operates using an electric motor of the rotary motor commonly used in beard trimmers, which makes it less powerful but somehow durable.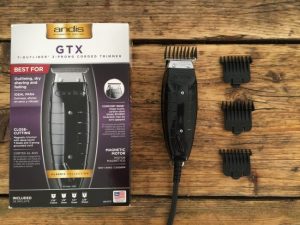 Before choosing any of the beards trimmers listed above, make sure to know what you need. How thick your beard is and many other features that you think are necessary. Check out Reviews on Best Beard Trimmer on Amazon.
---
Beard Cream, Beard Oil &  Beard Growth Supplements as Beard Accessories
Rumors have it that finding a length beard growth cream is like finding a pin in a sea but do you also have this same thought? If you belong to this same school of thought then you need to have a rethink, not finding the best beards growth cream and oil is because you are looking at the wrong place.
Here you will be provided with all you need on; Best Natural beards growth cream and factors to put into consideration before you buy a beard growth cream.
Note: This section is for those who are finding it difficult to grow beards and those who want to do more with their beards.
With what we discussed on Can every man grow beards?  we can say that we have two-three sets of people; Those who can grow beards without stress, those that find it difficult growing beards because of what they heard from others and those who will never grow beards because of their ignorance.
To keep things short, we will provide reviews of best beard products for bearded men who believe they can still grow beards even if it is a strand.
1.

Rogaine for facial Hair Growth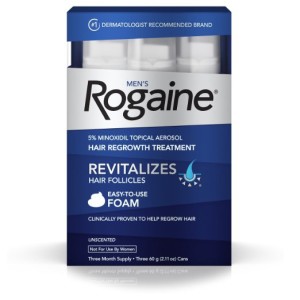 Rogaine for facial hair growth can be bought over the counter, to reduce the stress of moving from one store to another simply visit Amazon online store to place your order without stress. It is claimed to help in growing of bears and heard hair.
It is available on Amazon and you can get yours at a price that is not costly.
The product is really doing wonders, aside from the fact that you pay them. They are doing you a favor and you will definitely be happy that you bought it using our Affiliate link

Natural Beard Growing cream for beard and Mustaches is a product trending among men growing beards in Japan and Thailand. It helps in boosting and stimulating beard growth.
3. Beard Flux XL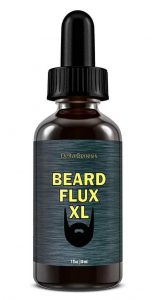 Beard Flux XL is made up of blends of oils and other important oil that contain Nutrients needed for stimulation of beard growth. With a rating of up 5 stars on Amazon, it is popular among many bearded men in Europe.
Beard Flux XL has helped many to grow beards to levels they never expected, it nourishes and softens the hair which prevents the growth of ingrown hairs.
4. Organic Castor oil for Hair Growth
Castor oil has been in use by many for decades. It does not only help moisturize and soften the skin and hair but also increases the circulation of blood to the hair follicles. Moving straight to the point, it performs almost the same functions as Minoxidil, which is known for the widening of the blood vessels for the proper flow of blood.
Increasing the flow of blood ensures that the hair follicles get the needed nutrients for beard growth.
5. Pura D' Or Organic Moroccan Argan Oil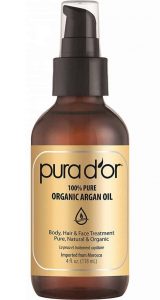 Pura D' Or Organic Moroccan Argan Oil according to the expert is one of the greatest beard oil as it can increase overall growth and thickness of a beard.
It contains oil with a high level of Vitamin E, fatty acid and other nourishing nutrients. Aside from being beneficial for healthy skin, it helps minimize acne problems.
It is less greasy compared to others.
It is made up of 100% organic product
Boost facial follicles
What beard cream and oil to buy is left to you even after we have provided you with all the information you need as promised. If your choice is any of the products we listed, click on the links we provided, make your purchase and your purchase will be delivered to the address you provided.
---
Beard Moisturizer
For your beard accessories, moisturizers are meant to be used on hairs generally but we have the ones specifically made to be used on beards alone. Using it to wash your beards will not only make it healthy but also help your skin.
Many of the beards available on e-commerce stores and the physical store are made up of vitamins and minerals that help to grow the beards in a way it is meant to be. Below is a list of beards moisturizers needed by men with beards.
1. Bossman Essential Beard Set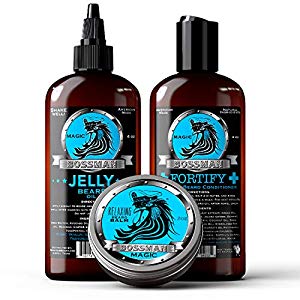 This product will prevent your beards from smelling and make it look great. Therefore, if you want a beard product that makes you smell nice then you should buy this.
It is made up of three parts; the beard oil that softens the skin, the next is a balm, which performs wonders by make the moisturizers work well. And last is the scent.
2. Jojoba Oil Natural Moisturizer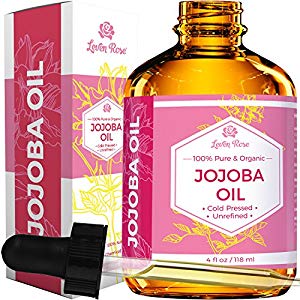 Jojoba oil can be used for varieties of things, and that includes working as beard moisturizers for your beard. This oil can take care of irritated and cracked skin. It helps in restoring skin back to order.
This oil from laven Rose is 100% organic and the Jojoba and it is used pressed, which makes it an effective product to use on the skin area where beards grow.
3. Jack Black Beard Oil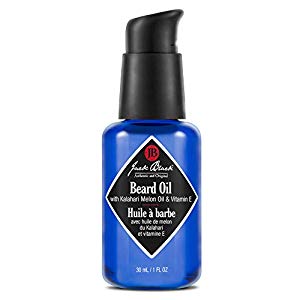 New in the industry but reviews provided by its users show that it is good for whoever has a full-blown moisturized beard. It is a product for whoever is on budget.
It provides comfort when using on skin
Good for those with sensitive skin
The scent can last for a long time
---
Beard Straightener
Keeping your beards looking great requires a combination of best beard trimmers, beard creams, and beard straighteners which we are going to look into here.
So your own part of the deal is to read from to the end, make your decision on which one to then place your order.
Things To Consider When Buying a Beard Straightener as part of your beard accessories
You can't just wake up, open your browser, go to Amazon to place an order for a beard straightener without reading reviews or putting some factors into consideration.
Think of:
Beard Length
Work Time
Price
Ease of Use
1. Andis High Heat Press Comb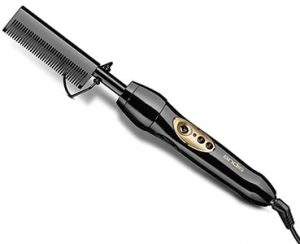 Andis High Heat Press Comb is for men looking for a fast and convenient way to straight and tame a longer beard.
There are almost up to 20 heat variable settings.
Temperature control is possible
The comb is made up of ceramic which helps in dispersing heat through the beards
One of its disadvantages is that it takes time to practice.
2. Lovani Ceramic Mini Beard Straightening Iron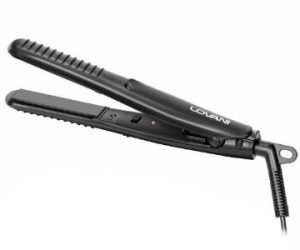 A lot of long-bearded men prefer making use of beard straightening iron to make their beards curly again. It is far more time consuming making use of heated beard straightening iron but this can easily get it done for you without having to wait for the straightener to get heated up.
It takes 30-50 seconds to get heated up
Make use of dual voltage
---
Reviews of Viking Themed Beard Accessories
#1.

Viking Revolution Beard Care Kit for Men – Ultimate Beard Grooming Kit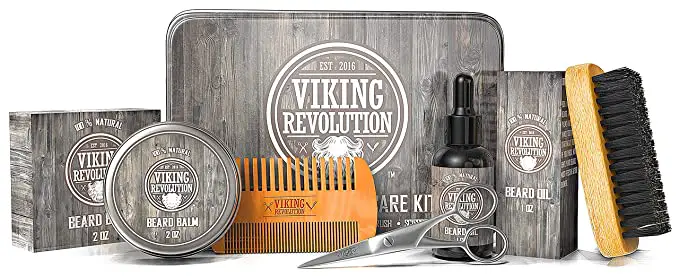 Viking Revolutions Beard Care for Men is a Viking Themed Accessories Kit that contains the majority of the accessories needed for beard care a supporter of the Viking movement. It Contains Wooden Boars Hair Beard Brush, Double Sided Pocket Beard Comb, Unscented Beard Care Oil, Citrus Scent Beard Styling Balm, and Beard Scissors in a cool metal tin.
With the brush and comb, you can detangle your beard hairs making it easy to trim with a beard trimmer.  And it comes with moisturizer and oil that makes the styling of your beard hairs easy and comfortable.
It is a pack of a great value set, that gives you all you need for beard and mustache care, making you spend less to get more. It is an ideal gift idea for anyone with a beard or mustache or thinking of growing one. With this, you can give them all they need to grow their beard from scratch.
The oil has a citrus smell to it but is not overpowering. the balm does clump some but when using the brush and comb you can get it to spread out. It does feel as if there is a lot on your face so I do take a towel and wipe some of it off. My beard is much fuller and looks healthier. The gem of this package is the brush. It feels great on the face and I also use it to comb my hair and it does very well at getting it to lay down.
#2.

Ultimate Beard Care Conditioner Kit – Beard Grooming Kit for Men
Ultimate Beard Care Conditioner Kit that worth every penny spent. It is a kit that contains all you need for beard care, from  Beard Wash to Beard Balm Citrus Scent, Beard Oil Unscented, and Dual Sided Beard Comb. It has a great value-packed as it can be used for the care of beard mustache.
I got the kit because my beard was scraggly, bushy, wild, unkempt and in discord and disarray. Exactly five seconds after opening the bottle of beard oil my beard was fuller, straighter, softer, and about six inches long. Now my friends don't make fun of me and tell me I look like a toilet bush anymore. I would recommend this kit to anyone trying to grow a beard when their genetics simply don't allow it. Now I look like I have a live baby grizzly bear sleeping on my face. Thanks, Viking Beard Revolution!
#3.

Beard & Mustache Brush and Comb Kit – Boar Bristle Beard Brush & Wooden Grooming Comb
Smooth Viking's Beard Comb & Brush Set is the ideal kit you need for detangling of your beard hair. It contains tools that will help you style your beard easily. Whatever your beard is like, either thick or thin, this kit is made to support beard growth and style for anyone and makes for a great gift that any guy can enjoy.
This kit also includes the Beard & Mustache Comb, a compact, men's, dual-action grooming tool made with high-quality pearwood with both fine and coarse teeth to achieve a personalized look. This wooden Beard Comb is designed to fit in your pocket or wallet for travel supplies purposes.
So far this is a great beard brush. Good fit and feel in my hands. I like the way it moves through my beard. Spreads my beard oil nicely as well. Bristles seem to be just hard enough without being uncomfortable on my skin. I'm pretty sure that if he needed a beard brush
#4.

Viking Revolution Beard Comb & Beard Brush Set for Men 
With a quality, Viking Revolution Beard Comb and Beard Brush Set for Men, get ready for a smooth, well-manicured beard free of tangles. It contains Brush or combs Beard Oil, Pomade, Beard Balm and Beard Conditioners that will be grooming and maintenance of beard easy and convenient.
I was actually looking for a beard comb and noticed positive reviews for this kit. Figure I might be able to also use a brush. Turns out the brush is what I use every day. I have kept my hair short for years, so I don't even own a comb or brush. As my beard got longer, it was harder to keep it looking neat. The brush allows me to quickly get all the hairs pointing in the same direction before applying oil. Highly recommend it.
---
Frequently Asked Questions and Answers on Beard Trimmer and Beard Accessories
What is the best beard Trimmer for me?
The best trimmer is the trimmer that suits your needs, the one that is suitable for Mr. Jack beards might be different from yours, his beards might not be as thick as yours. So make sure to read the full specification on Amazon before placing your order.
Where can I buy a beard trimmer?
You can get yourself a beard trimmer on Amazon or any other store on the internet and you can as well get it from the local store in your street.
Factors to Consider when Buying a Beard Trimmer?
1. Cordless or corded
What you will be using it for, whether it needs to be connected to direct electricity or not are what needs to be put into consideration before buying your beard trimmer.
2. Purpose
This is the first thing that you need to ask yourself "What is the purpose of this trimmer I want to buy?" Do you want to trim beards only? or you want to create stubble with it? Beards trimmer might have the same methods of operation but they are designed to serve different purposes.
3. Length of the Beard
Is your beard short or long, thick or thin? Provide answers to that then choose a beard trimmer that can meet up with your needs. Don't buy because your friends are buying or because the color is your favorite buy it because you need it.
4. Sizes of Comb
The trimmer comb size is very important when it comes to making a decision on which beards trimmer to buy. Depending on the size of the beard you want to trim, making use of comb is needed at some point. A product that comes with comb options is a good one to choose from.
5. Waterproof
We have some beard trimmers that are waterproof that is water won't be able to get inside. With Philips Norelco Beard & Hair Trimmer Series 5100 – BT5210 in your kit of beard grooming kit you can enter the bath without worrying about your trimmer getting damaged by water.
6. Battery Power
If your choice is a cordless beard trimmer then you need to make sure the battery can last enough. You'll have to determine how long it will charge and functionality.
Which one is better, a trimmer or a shaver?
The one to choose between the two depends on what you want to do with it. If you want a clean shave then get yourself a shaver.
But opt for beard trimmer if you only want to trim your face and you also won't be cleaning your face totally then trimmer is what you should buy.
The choice is also base on comfort and flexibility. If you are the type that travels a lot or you are not comfy with using razor blades then buy yourself a trimmer.
How much beard oil should I use?
The amount of beard oil you use depends on how long your beard oil is. If your beards are long, apply the amount that you think is enough and moderate if small.
Should I Use Beard Oil every day?
There is no limitation to how many times you can apply oil to your beards in a day. Applying more will surely boost your beard's growth.
What is the best oil for beard growth?
We have plenty of oil that can be used but make sure to choose the one that is suitable for you.
Beard Comb or Beard Brush?
If you are just growing beards go for a beard brush but if your beards have reached a point that you find it difficult making use of brush then get yourself a comb.
How Do I Make My Beard To Be Smelling Good?
To keep your beard smelling amazing, do the following:
Stick to the use of products made with natural ingredients.
Keep it simple.
Condition it when needed.
Comb and brush depending on which lengths the beard is at.
Make use of beard oil to keep it moisturized and attractive.
How Often Should I Wash My Beard With Shampoo?
Much like the hair on our head, it's is not always healthy to wash with anyhow ingredients. How often your beard should be washed is determined by factors like how oily your beard is. For someone with an oily beard, it can be washed every day but make sure the right shampoo that won't strip you off hair your hair is used. For someone with dry beard hair, we suggest that you wash your beard 1-2 times a week.
Lifestyle factors such as where you work should be put into consideration. For someone with a dry beard but work in a dusty environment. The beard hair can be washed every day, make sure to apply beard oil after every wash. And make use of the shampoo meant for beard, not head hair.
Are Beard Creams Effective?
From the reviews dropped by buyers of different beard cream from different brands, beard cream made with the right ingredients are effective. And below are few  of the reviews dropped by verified buyers on Amazon:
I've been growing a beard for nine months. I almost shaved it off due to the beard looking thin on the left side of my face. You could see through it if there was enough light behind me. Needless to say I was very self-conscious about it. My barber refused to cut it off knowing how long I've spent growing it and recommended Trying a thickening product. I bought this product as part of my beard accessories and I'm highly satisfied with it. The beard does look thicker and fuller and I now rock it with confidence. Before you shave your face out of frustration make sure you try this product. Don't give up!
Great product, very noticeable difference in just first 2 weeks of using. Doesn't have much of a smell, helps to keep beard styled as well. Will be buying again for sure.
What Are The Reasons For A Beard Straightening Comb?
Asides from making the grooming of beard easy, beard straightening comb have numerous benefits; it can be used as frizz remover, massager, the applicator of different beard products such as cream and balm.
Are Beard Straighteners Any Good?
Beard straighteners are not good only for beard care, but also because it can be used as beard straightening tools.
---
Conclusion on Best Beard Accessories needed To Grow a Proper Beards
Here we have talked on a lot of things that are needed for proper beard growth but you should not that we listed all does not mean you need all. If you are struggling to grow beards then you should go for Best beard cream instead, thinks of the beard trimmer if you are struggling to give your beard the shape it need then go for best beard shaping tools and trimmer.
MyBeardGang Team has collated all the information we think you need concerning this topic, what to buy and what you are buying is left to you.
Following the instructions, we have provided here will make you make the best decision on the best beard cream, oil, trimmer, dryer, and many others to buy instead of wasting money on the ones that don't worth it.
Note: We will earn a percentage on every product you buy on Amazon through our links which will be at no extra cost to your own charges. Won't this be nice for our efforts in bringing you the best information on beard accessories??
Don't forget to check out:
Share with friends and family.