Beard Trimmer Attachments Guide: There are some attachments that are necessary when using a beard trimmer. Beard trimmers are very important tools in beard grooming. Many beard trimmers come with attachments.
Most bearded guys are clueless on how to use these attachments. In this article, we will be guiding you on the different ways to use the different beard trimmers' attachments.
Before you can start to use a beard trimmer, it means that you have a decent amount of hair in your face. You can't use a beard trimmer on very short facial hair. To trim is to cut off excess hair from what is present.
So having little facial hair means that there is no excess hair to trim off. The sole purpose of a beard trimmer is to help in controlling the amount of hair.
So, when you have really much and full facial hair, then there will be excess hair available to trim off. Some people trim their beards with scissors. It's a choice thing. But the most recommended tool for beard trimming is the standard Beard Trimmer.
Check out a diagram of a beard trimmer attachment below:

Beard Trimmers are made to be efficient and effective in trimming of beards. Beard trimmers are unlike scissors which are made to cut everything and anything.
Instead, beard trimmers' are made solely with the singular use of trimming beards. This undoubtedly makes a beard trimmer the perfect fit for the job than the scissors. Beard trimmers will help you to bring out the details in your beard as you trim it.
Because sometimes, we trim your style the beard to the desired style not just to get rid of excess hair. There are quite a number of quality beard trimmers of reputable brands in the market that you can buy.
So, be sure to do your quality research for a good and highly functional beard trimmer. A number of attachments come with a standard trimmer. We have:
1. Beard Trimmer Attachments Guide – Variable Guard Lengths
This attachment helps you to control the length of hair to be trimmed. It comes in various lengths there is Guard 1 up to Guard 5. Guard 1 is for short-haired beards, same for Guard 2. Guard 3 is for medium lengths of a beard while Guard 4 and 5 is for Goatees, long moustaches and long beards in general.
So, the type of Guard you will use is totally dependent on the type of beard length you have. Guards are very common attachments that beers trimmers have. Trimmer Guards are almost always packed with the trimmers themselves because of how useful they are.
A guard helps you to maintain uniform lengths of hair (beard) throughout. Without a trimmer guard, it will be hard to achieve this. So, make sure to use the guard length that is appropriate for your beard length.
Also commonly attached to a beard trimmer is the nose clipper. This attachment is very useful for trimming nose hair that extends out too much.
Sometimes, the hair in our nostrils get too long, and we just want to trim off, this attachment comes in handy in such situation as it helps you to effectively handle unwanted nose hairs.
Imagine putting a pair of scissors in your nose to trim off the hair in it. Nasty and dangerous right? Yes. This is why this trimmer attachment called Vibrissae clippers/Nose Clippers is very good for you.
It saves you stress, helps you to look neater and more handsome and more handsome and helps you to easily clip off those annoying nostril hairs. When inserting this nose Clipper, please don't insert all the way into your nose.
Only the hairs at the nose edge should be clipped off. It is dangerous to insert it all the way in. This helps you to have a cleaner nasal pathway and look.
3. Beard Trimmer Attachments Guide – Beard Trimmers' Edgers.
Edgers are attachments and tools used to clip off and trim goatees and moustache. Edgers are used to shape the edges of the beards especially the sideburns, the goatee, and the moustache.
This particular section of the beard needs shaping if you want a neat look. The Edgers that come with most beard trimmers are very effective for outlining the beards and lets you dictate where your sideburn or goatee or moustache should start or stop.
Barbers also have the Edgers to outline the edge of your beard so, if you don't really know how to use the Edgers that come with your beard trimmers, you can go to your Barber.
They have the Edgers to help you outline your sideburns, goatees, and moustache.
So, those are the three beard trimmers attachments that come with beard trimmers. These three attachments are very useful in beard grooming and will help you achieve a neat, well-groomed, soft and gorgeous looking beard.
When using beard trimmer attachments, there are a few things you should make sure of.
Firstly, your beard must be well washed. To effectively wash your beard, you need a beard shampoo and a beard conditioner. There are quality beard shampoos and conditioners in the market so go for the ones that are well used.
Rinse out the shampoo and conditioner very well before you dry and oil. After washing your beard thoroughly, be sure to add a quality beard oil to thoroughly oil your beard.
Then you can use the beard trimmer and its attachments to give your beard a finishing touch.
Trimming your beard helps your beard to look less rough but very smart. Trimming your beard without taking good care of it is not a good idea if you want a good looking beard.
So, above we explained the different beard trimmer attachments to you and the various purposes that they are for. If you get a standard beard trimmer today, it is very likely that one or two of the above attachments will be added to it.
The attachments are very useful for taking care of your beard and your overall look.
You can check out the various beard trimmer attachments as seen on Amazon. Make your choice and buy as much as you want.
Remington SPR-XT Full-Sized Mustache and Beard Trimmer Attachment for the Remington Hyper Series
Where to BUY – AMAZON
Panasonic WER224S7398 Beard Comb Attachment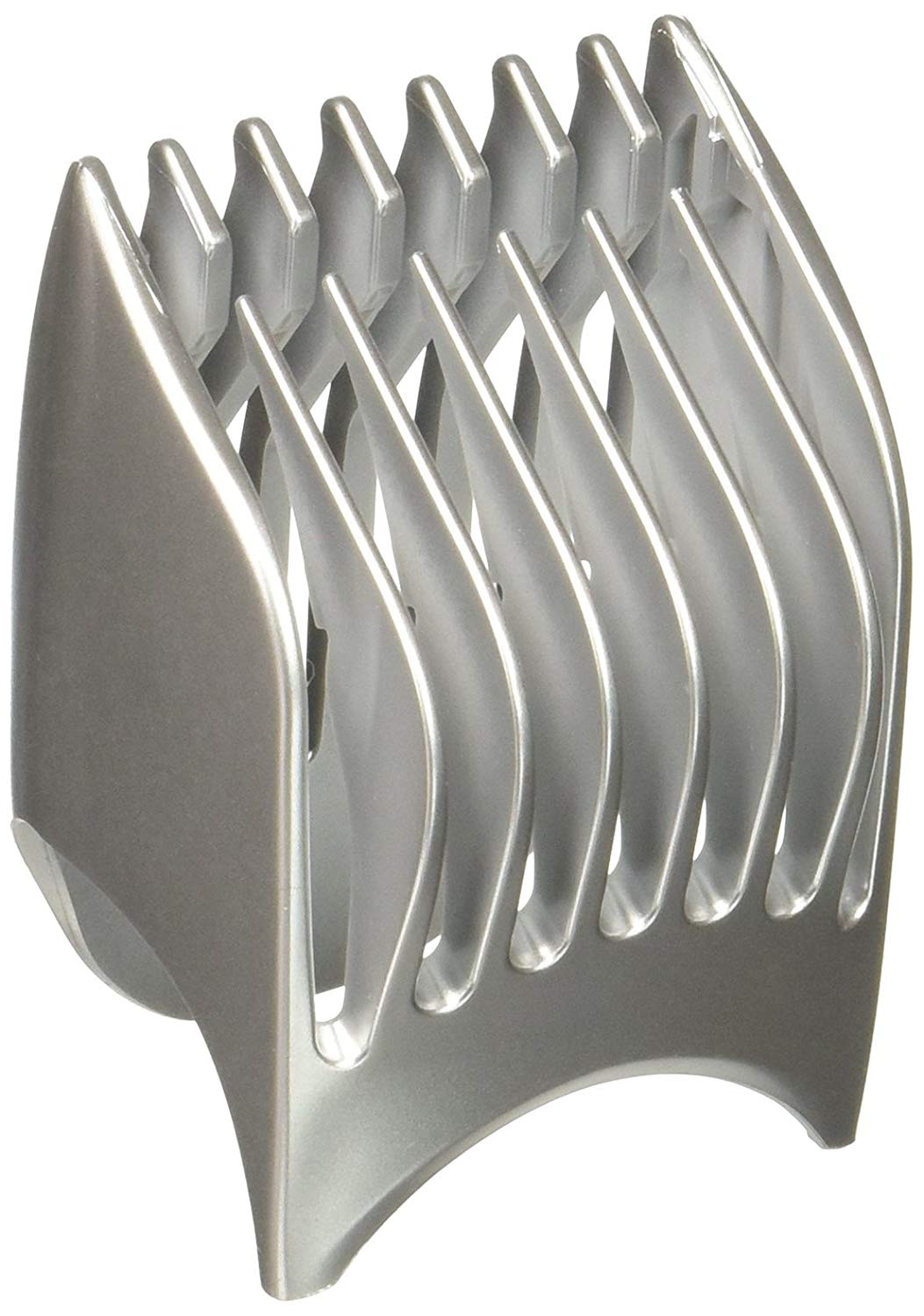 Where to BUY: Amazon
---
How to use a beard trimmer properly
The use of a beard trimmer will give you the opportunity to create design and styles to how you cut your hair. You may not necessarily need a beard trimmer for cutting a smooth and hairless skin.
Proper use of beard trimmer, as well as its components such as the attachment, can help you to easily trim edges with straight lines that can shape your face much better.
You can also cut facial hair in different lengths with the proper use of a beard trimmer and its attachments. With a beard trimmer, you no longer need to bother about trimming sideburns or a perfect goatee and moustache.
Personally, I have observed that most men who own a beard trimmer do not know much about how to properly use a beard trimmer attachment to get the best optimal result from their grooming device.
Some men and even hairstylists believe that once your beard trimmer has a powerful motor and sharp blades and a good clipper blade oil to maintain it then you are good to go. They leave out the importance of the use of the right beard trimmer attachment.
There is some basic knowledge about how to use a beard trimmer properly that I am going to share with you. A standard beard trimmer should come with varying attachment options for users to use. Let's examine them one after the other.
Variable Guard Lengths
You will find this type of attachment in almost every beard trimmer as they are very common. They come in various guard lengths that can cut hairs from one level to the last skin.
You should use the higher guard attachments if you want to clip your beard yet still want it to have a bushier and fuller presentation.
To prevent the bard trimmer from pulling hair when using this attachment, keep the hairs of your beard pointed in the same direction as the grain.
Edgers
These types of beard trimmer attachment clip very close to the skin because it contains a single cutting surface with sliding edges. The proper areas to use the edgers attachment is for moustache and goatees.
When you use edgers properly, they will give you cline lines and edges where the outline begins and ends. Edgers can also be effective for handling sideburns
Nose hair clipper attachments
This type of beard trimmer attachment is small enough to be inserted into those two openings of the nostrils. It is a single edge and very narrow.
When using these attachments, be extra careful not to insert them too deep into the holes of the nostrils. The target hairs are those strands around the opening of the nostrils, hence the attachment should not go beyond that space.
So, let's get to using the beard trimmer.
Preparing your beard for trimming
This is the first step in using a beard trimmer. Your beards need to be properly groomed before trimming. Picture what you want your beard to look like after you've trimmed it and begin to comb your hair in the direction that it grows so that the hairs are at their maximum height and facing in the same direction.
Just as you would do when shaving, do not exclude parts of the cheeks and necks that are pretty much exposed. Afterwards, get the shaving cream or lotion out of your face by washing off. I'd advise you to stick with the use of a longer hair setting initially so that you will not end up trimming too much hair.
This is very important when deciding how much hair you want to cut. You can opt for another length setting when you are already familiar with hair clippers.
Trimming the hair length of beards
When trimming beard lengths, start from underneath your chin then towards your jawbone line. Remember, after turning on the trimmer and placing the trimmer attachment, see that the front of the cutting unit is facing away from you.
From the jawbone line, move upwards to the ear and upper beard line. Skillfully use the beard attachment to follow the contours of your face.
This is the technique to handle edges and curves. It is OK to trim against the direction in which your beard grows. Or you can choose to trim in the same direction.
Highlighting the beard line
To perfectly define a beard line, you will not make use of any beard attachment. Grip the trimmer well and vertically in a way that the blade faces your direction.
Ideally, you should start with the beard line edges. While trimming, place the trimmer blades lightly on your skin then use motions toward the edge of the beard line to trim the beard line to the desired location.
Thin and taper the beard
You can use a styling comb or just another small comb to just hold and put the beard in place while you trim around the edges. The trimmer should be held horizontally in a way that the cutting unit faces away from you.
If it is your first time handling a trimmer to trim your own beard, then these tips I have shown you will be your best guide. The way you trim and groom your beard and moustache can tell people how clean you are.
It is always good to wear a perfectly trimmed beard. With the understanding you've gained so far about beard trimmer attachment guides and how to use them, you should be able to keep your facial forest groomed without stress.
While you trim your beard perfectly, do not forget to wash the beard frequently and to use a beard balm or oil on it regularly.
---
Frequently Asked Questions and Answers on Beard Trimmer Attachments Guide
What length Should I Set My Beard Trimmer?
What length to set beard trimmer to depend on what you want to do. If you're using the guard to trim your beard, it's should be set to 1/2 inch which is 1.25cm long.
This measurement is good for a long beard as well.
What length Should I set my trimmer for Moustache?
1/2 inch/ 1.25 cm will leave your moustache too short, and that will make it hard to style on to the sides and too long over the mouth.
Are trimmer attachments interchangeable?
Yes, trimmer attachments can be interchanged but not in all cases. Craftsman and Echo attachments are not interchangeable.
Will Ryobi attachments fit echo?
Yes, Ryobi attachments can fit perfectly on the Echo string trimmer either by the use of an adapter or directly.
It allows the use of other brands with echo trimmer and also chooses trimmer heads that accept diameter string to cut through tougher vines or thick grasses.
What brands are compatible with Ryobi attachments?
Ryobi attachments are compatible with John Deere, Cub Cadet, Troy-Bilt, Poulan, Yard-Man, YardMachine, MTD Pro, Weed Eater, Homelite, and Poulan pro.
How do you change a Ryobi trimmer head?
If the cutting attachments head on the trimmer has got damaged, it should be removed from the whole unit and replaced with another one. It will take some minutes, below are the steps to take:
Invert the trimmer, stand it vertically with the cutting head facing the top.
The next step is to loosen the " bump knob" by unscrewing by moving in anti-clockwise motion, grip with the plier to make it easier. Remove it and set it aside.
Remove the inner string reel from the interior of the head removed and set it aside. Avoid getting the inner reel spring damaged. Once you removed the inner reel, the lower part of the engine shaft will be more visible.
Hold the shaft firmly with the left hand. Wiggle the cutting head gently with your right hand while gently pulling it upward. Keep on with this, until it slips off.
What beard length is the most attractive?
Talking of attractiveness, not all beards look the same. According to a 2003 Australian study, the most attractive beard length is "heavy stubble". Science also has it that different beard length sends a different signal.
---
Conclusion on Beard Trimmer Attachments Guide
You have read on what beard attachments guide is, what each level means and what can be done with them.
With all you have read here you can now determine the best guard for your moustache and beard.
If you have anything else to ask or complaint to make don't hesitate to make use of the comment box.