Are you looking for good Beard trimmer length guide? If yes, you are in the right place bro, hope you came along with snacks? it's going to be a long tutorial.
Beard trimmers are important because they give you directives to follow, directives that will help you achieve that lush facial hair looks you want.
By the way how long have you been using a beard trimmer? How good is it?
Anyways, You really don't need a full beard or facial hair to make good use of a beard trimmer and a beard trimmer length guide.
Firstly, We would be addressing questions like, what is a beard trimmer? How to use a beard trimmer? What is the Importance of a beard trimmer in a beard grooming kit? How to care for a beard trimmer? and so on and so forth.
Beard Trimmer Length Guide: What is a Beard Trimmer?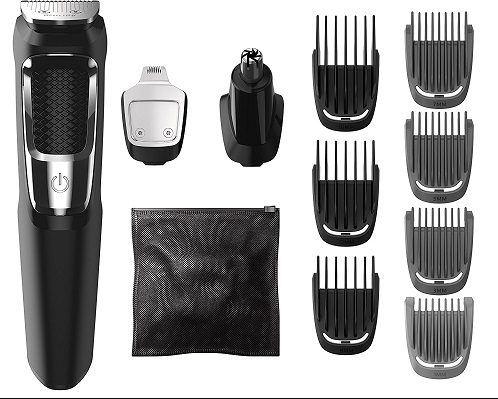 A beard trimmer is an extremely useful electronic tool in a man's beard grooming kit. A beard trimmer has the possibility to clean up that disturbing beard you've been working on, making it look intentional and respectable.
It can also help you get a nearer neat trim that looks nice if you prefer to not be clean-shaven. Using and maintaining your beard trimmer is easy.
From swapping guards to keeping the blades oiled, you can get a great trim and clean your trimmer in minutes.
Why You Need a Beard Trimmer?
Now you've known what a Beard Trimmer is, let's move on to why you need a beard trimmer.
Many men or should We say, more and more men are becoming pro beard enthusiasts. You can't deny the fact that in your social space there is always that one friend that is a beard lover.
When you were younger am sure you noticed that many young men wore clean shaves. it was the only remedy when sporting a beard didn't work.
Not necessarily blaming the men who wore clean shaves for their inability to manage the appearance, it will be only right to render an apology with a seeming awareness about Beard trimmers in this Article.
You being one of the teeming beard lovers, there are times you get to experience the shortcomings of your facial hair when it comes to your appearance. getting a beard trimmer could sure be one of the remedies for that.
The following is why you need a beard trimmer;
Beard Trimmer Length Guide: Pros and Cons of Facial Hair Trimmers

The following are Pros and Cons of Beard Trimmers;
PROS
You have absolute liberty to your beard however you like.
Smooth Shave.
There is no possibility of the blades cut into your skin and cause injury.
Durability
They can withstand humidity
Handy and can be carried from one place to another
less expensive and affordable
CONS
Ohh you weren't expecting a flawless beard trimmer, everything in this life has an Advantage and Disadvantage.
Now let us look at the unfortunate disadvantage of these beard trimmers;
Getting a clean/stylish shave is time demanding with a beard trimmer
they do tend to break off easily if you force them.
there's still a chance you may experience with some bad sores and even cuts. How can that be? you might ask. By using a really "cheap trimmer", of course.
Lets quickly address the last point under the disadvantages of using beard trimmers, "Cheap trimmers" had to be in quotes because they sell faster.
Cheap Trimmers are not giving the good ones a chance to prove their worth when you hear cheap I mean to say substandard. substandard beard trimmers.
And that's why we would guide you on how to decide a beard trimmer.
How to Decide on a Beard Trimmer
Examine the right beard trimmer for you.
There are so many different types of beard trimmers that range in price and capability. You certainly want to find a beard trimmer that will provide enough power to give you an even shave while keeping charged and quite affordable to purchase.
So after the glaring difference from the above beard trimmers, you should be able to decide what you what.
Acquire the right beard length
The best way to acquire the right beard length that works for you is to completely shave your face hairs and let it grow back again.
Constantly monitor it till it grows to your desired beard length, then think about what kind of trimmer you need to maintain it.
Please don't fail to take note take note of your desired length.
Purchase a beard trimmer that suits your needs
Now that you are aware of your needs and the beard length you desire, you can get a proper trimmer that fits your needs. That doesn't mean you should spend a whole lot of money. just buy the beard trimmer that suits your needs, the purpose of needing it.
If your situation requires a few guard options, go for it. Mind you, buying a trimmer that boasts plenty of attachments and features for a smaller price tag may not yield great results.
Keep your trimmer and it's accessories organized
It might sound silly for a piece of advice, but still, I'll say it, Take pride in your beard trimmer.
You spent time and money finding the right one for your face and those lovely beards. There may be a lot of little pieces/components that come with your trimmer.
Get a dedicated bag or container, if it doesn't come with one, to store your charger, oil, heads, guards, and anything else.
How to Use Beard Trimmer – Beard trimmer length guide
You've known how to decide a beard trimmer and also the right beard length you need, this Beard trimmer length guide will now show you how to use a beard trimmer;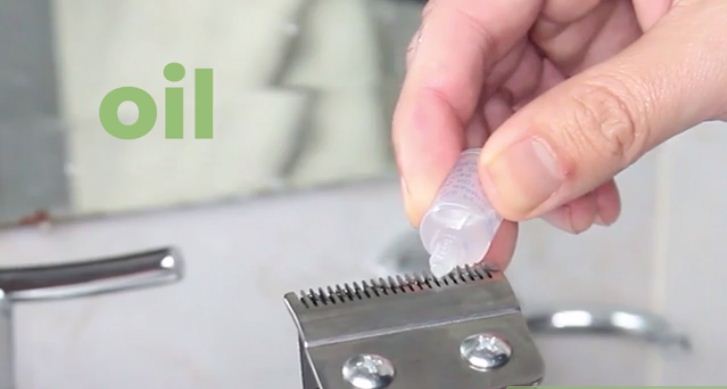 1. Oil (Lubricate) your Beard Trimmer: If your facial hair trimmer is the kind that needs to be lubricated with oil before it can function properly, make sure you oil it before using it. oiling enhances its durability.
 Endeavour to use the oil that comes with the clippers. After you must have applied oil to the blades, wipe off any surplus oil with a soft, dry cloth.
When oiling your clippers, you should make sure that you've brushed off any leftover hair that might be in the blades.
Turn your clippers on and drip the oil onto them allowing the moving blades to saturate
Run the steel blades for about 20 seconds.
Thoroughly wipe the blades down, making sure that the upper layer of your blades are dry so hair doesn't stick to it.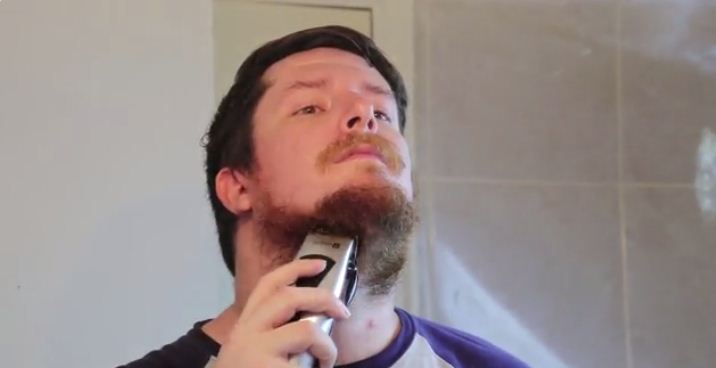 2. Start Shaving: After you successfully oiled your beard trimmer, you can commence shaving. as earlier said. you can style and shave your beards anyhow you want it. To get the best results, place the flat part of the beard trimmer comb against your face.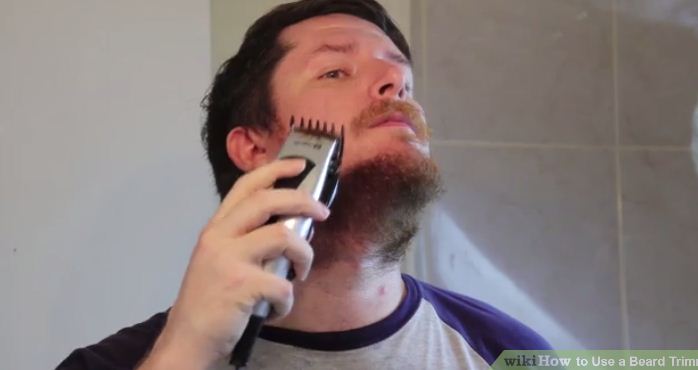 3. Switch to a Lower Guard: Once you've gone over your face and neck and have a good beard length, trim your neck. With a lower guard, tease the hair from your Adam's apple to just under your jawline.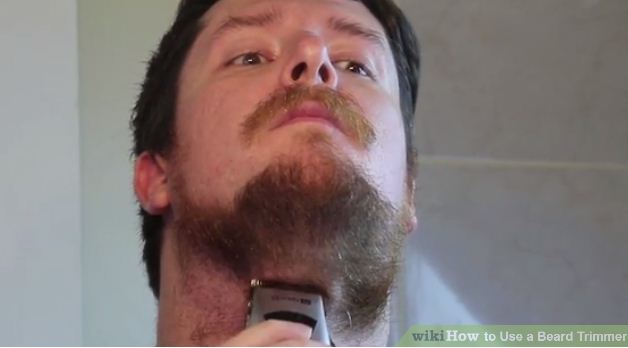 4. Shave Off stray hairs: these type of facial hairs ruins the outlook of your hard work with time if you don't shave them off. If your beard trimmer doesn't get them off, use a razor blade.
5. Eliminate the guard for shorter styles: If you want something smaller and less significant you can remove the guard.
How to Clean Up and Maintain your Beard Trimmer
Finally, The following are steps on how to clean and maintain your beard trimmer.
It's best to place a waste bin below you when shaving to reduce the mess.
Clean the guard: Remove any guards you have on your facial hair trimmer. carefully put the guards you used in the sink. Rinse your guards with soap and water.

Guard – Photo Credits: Wiki How

Clean your Beard trimmer: Kindly use the brush that came with your trimmer to clean. remove the clipper head from the handle. Brush away any hair that is caked to the trimmer. You can as well run the trimmer for 5 seconds so as to get rid of persistent hairs.
Hope you learned all you need on this Beard trimmer length guide? Have you got questions? use the comment section below, you can as well see our article on 10 luxury Beard Trimmers here.