Best Trimmers for Black Facial Hair in 2020: As a black man bearding, you would understand the pain and irritation experienced while going through the rigorous process of trimming your beard. All thanks to the kind of facial hair you possess as a black man.
Well, worry no further; what you need is a beard trimmer specifically designed for the black facial hair! However, it is quite unfortunate to admit, but it is the reality, that there are tons of unworthy beard trimmers out there in the beard market, which would cause your facial hair even more harm than good.
Wherefore the cause of the MyBeardGang reviewing the best beard trimmers for black facial hair. So, in this article, you would be getting familiar with the Six (6) best trimmers for black facial hair.
And without much ado, let's dive deep right into it!
But firstly, what should you look out for in beard trimmers for Black Facial Hair?
Yea, so should you not be able to get access to any of the beard trimmers that would be reviewed in this article, then we've got you covered too! All you need is to be aware of the requirements a beard trimmer must posses before such a trimmer could be regarded as a good trimmer for black facial hairs – for your use!
Basically, beard trimmers should have;
Reasonable battery life
Attachments
Just incase you are in a rush, here is a table showing our top picks on the best trimmers for facial black hair that you can buy.
Attention: The internal data of table "12" is corrupted!
---
Top Trimmers for Black Facial Hair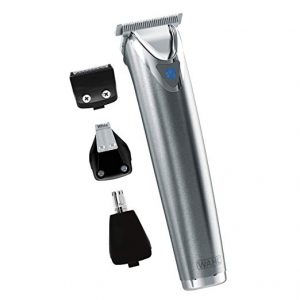 As a man with the desires of having a very clean appearance, with no traces of ingrowth and all, then this beard trimmer is one to consider.
This product is a wireless, dual voltage trimmer with a high-quality lithium-ion battery that charges completely in 60 minutes. As a dual voltage trimmer, it simply means that it can function still effectively when plugged into an electric outlet and with the electric cable detached.
The Wahl trimmer comes with several attachments, which asides helping in saving a great number of bucks, helps in getting the job done really quickly and efficiently. These attachments include a rotary detail head, detail shaver head, beard oil, 12 guides, cleaning brush, charger, and a storage pouch.
Summarily, the advantages of this beard trimmer for the black facial hair are;
The inclusion of the rotary detail head, which helps in cleaning the ears, nose, and unibrow.
The storage pouch.
Quick charge
Economical
However, despite all of these advantages, this Wahl trimmer has been designed to simple and straight, which might cause discomfort to a few users. Also, the charging cable requires an improvement. Asides these two suggestions, as a black man, the Wahl Stainless Steel Lithium Ion Trimmer for Men is one of the best options to go for.
This trimmer is the best trimmer on the market. I definitely got more value than the money spent. My last trimmer was really heavy, and struggled to get certain places, like on my chin. It also had a power cord, so I could only use it in certain places. This trimmer is powerful, light, and more efficient. There's no power cord, and plenty of attachments for any trim. I would highly recommend purchasing this product. 5 Stars!!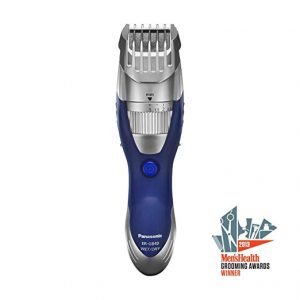 Are you keen on spending less whilst getting the best end result? Then this Panasonic trimmer is an option to consider.
Asides its affordability, this beard trimmer comes with a lot of features – like a whole lot.
Firstly, you can make use of this trimmer either for wet or dry shaves. Additionally, it is washable and comes with 19 adjustable settings.
Its battery life is one to be envious of; comes with a rechargeable Ni-MH battery – on a full charge, the Panasonic ER-GB40-5 Trimmer can run for 50 minutes uninterrupted.
Also, this Panasonic Trimmer is equipped with an ergonomic, rubberized grip. This means that the razor would fit perfectly and comfortably in your hands during its use. Hence, the reduction in the likelihood of the razor to drop or function otherwise.
Summarily, for black facial hairs, the advantages/importance of this beard trimmer are:
Great battery life
The Ergonomic and rubberized grip
Inclusion of the 45-degree blades
User-friendliness, and easy to clean design.
Inclusion of 19 precision settings – gives you, as a user, a wide variety of options.
Its blades are hypoallergenic.
Economical
However, irrespective of these tons of advantages/importance, this beard trimmer has its cons too; firstly, it can't be used efficiently for really thick and full beards (but, come to think of it, black men beard, but with a few exceptions, do not grow that extremely full). Instead, it picks hairs a little.
Also, should this beard trimmer develop issues, you would have to pay for shipping for its repairs. Which, I am sure would cost you quite some bucks. Asides these, this beard trimmer is a yes-yes! And can be regarded as one of the best trimmers for black facial hair.
My husband is kind of a fanatic about his beard. So when his last trimmer broke, I did some research. This one had great reviews and a lot of added features. He has used this Panasonic trimmer for about a month now and calls it the "Cadillac of Trimmers." He loves it. It is sleek, not too large, and easy for travel. Highly recommended.

Okay, this is yet another great one for the black man. We've got the best on our list, I tell you!
The Philips Norelco Series 3500 Beard Trimmer features self-sharpening titanium blades which also comes with various length settings, a lithium-ion battery, and a whole lot more.
Unlike other trimmers, this one has long-lasting batteries, which can also be charged fully within a short period of time – say within an hour, or thereabout. And with this full charge, you can be assured of making use of the trimmer for 120 minutes without getting interrupted by running out of battery.
Getting to replace your blades when they go blunt can appear to be quite expensive. However, this beard trimmer has gotten that area covered, as it comes with a self-sharpening blade. This which aside from helping you cut cost, gives you the assurance that your razor would definitely function each time you reach out to use it, without having to worry if you have changed your blade, or not.
Yea, there's a great precision attached to using this razor. With 20 built-in precision length settings, you should be sure never to go wrong while styling your beard.
All-in-all, the pros of using the Philips Norelco Series QT4018 Trimmer are:
Designed with 20 length settings to unsure precision when styling.
Long-lasting battery life; about 120 minutes of use.
User-friendliness and comfortability
Self-sharpening blades
Easily washable heads.
Albeit, like others too, this beard trimmer has its shortcomings too. But, basically, the only shortcoming this trimmer seems to have is that it is quite expensive. It costs a lot really. However, the good thing with this trimmer is, you get to see the value of what you actually purchased. In other words, this product is worth the price!
4. ANDIS PROFESSIONAL T-OUTLINER TRIMMER MODEL GTO (04710)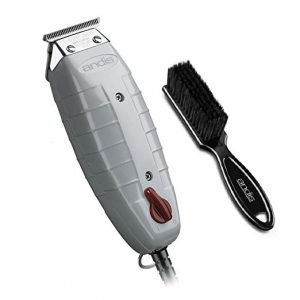 Truly, most people aren't a fan of corded trimmers. However, I am sure you will love this one! And that is more reason we have included it on our 6 best trimmers for black facial hair.
As much as corded trimmers can be very stressful and overbearing, a few of these trimmers are designed with cords that are just long enough to annul the stress, and the Andis Professional Trimmer is one of them. This trimmer is actually 8-foot long!
Okay, let's slide the "cord" part, let's proceed further; there's a T-blade – the professional's choice! This helps in ensuring a convenient usage.
Plus, the trimmer is extremely lightweight. This thereby would ensure that you don't have any problem whatsoever holding onto the trimmer.
Summarily, the advantages of this beard trimmer for the black facial hair are;
Despite it is a corded trimmer, the cord is long and durable.
It is lightweight and comfortable to use.
It is very efficient and powerful.
The included T-blade is convenient to use.
This trimmer is powerful and can be used for numerous applications.
Albeit, despite its advantages as a beard trimmer, it's got shortcomings too; the first, and most evident is the cord it has. Truly, it really doesn't have any effect, but s9till, it still stands as a turnoff to some people. All thanks to their previous orientation as to what a corded trimmer is like. However, this is not always true!
It is also quite expensive – in cases where you are having issues with the trimmer, you would need to pay in other to ship the product for warranty repairs. Do you get?
Asides these two, you are good to go with this trimmer!
I use it to shave my facial hair. I like it because it's great at getting close to the skin without leaving me with a baby face shave. My mom has had hers for 15+ years and this one feels just like hers. Very durable product if you maintain it with oil!
5. PHILIPS NORELCO SERIES 7200, BT7215/49 CORDLESS BEARD TRIMMER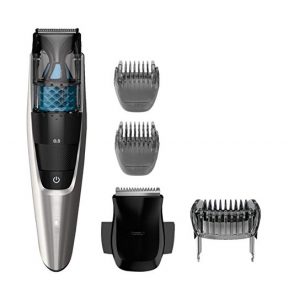 Before we move any further, this trimmer is "expensive." However, it is imperative to understand the importance of spending expressly on things that carries a great degree of importance like this trimmer.
The trimmer, firstly, has been designed with several attachments, which gives you the express rights to shave anywhere and everywhere on your face. Plus, this trimmer is cordless!
This series of Philips is also equipped with an integrated vacuum system. What does this mean? With the integrated vacuum system, you would be sure to have a clean shave, with no worries of having to clean up after every shave. This vacuum system catches at least 90% of hairs while trimming, thereby causing you to have far less to clean up when you're finished.
The blades of this beard trimmer also last longer when compared to a few other trimmers in the beard market. The good thing here is, these blades are self-sharpening. Meaning, as you're making use of the trimmer, the blades are getting sharpened simultaneously.
And then, there is a lasting battery life attached designed with this beard care product! This beard trimmer makes use of an excellent lithium-ion battery, that when it is fully charged, it can function for about 80 minutes without interrupting power. To charge the battery till it becomes fully charged takes just 60 minutes. Great stuff, isn't it?
Even if you are not conscious of you looks it is still very important to take care of your facial hair for hygiene purposes. If you are interested in joining the league of men who wants to keep a nice and healthy looking facial hair then look through all the trimmers above an make your choice
Summarily, the advantages of this beard trimmer for the black facial hair are;
Lifts hair more efficiently (which makes it great for the black man's facial hair).
Has an integrated vacuum system (as I explained earlier).
Long-lasting battery life.
Designed with several attachments
Inclusion of 20 built-in length settings.
However, the only downside of this trimmer is that it isn't durable. Within a few months of usage, the tabs holding the tabs would break. But trust me, it isn't expensive to get another – remember, the result it gives your face is worth the price.
I'm not sure how anyone could have written a bad review of this product. I have had my beard for over 20 years….had many beard trimmers….never have I had one that is so enjoyable and easy to use I actually look forward to trimming my beard!! Everyone who has made comments about the two plastic prongs on the sides breaking off is probably lacking opposable thumbs or something as I find them sturdy and click in perfectly. The only way I can see them breaking is if you drop the trimmer from a height or if you are deliberately trying to "test" the limits of this device. 5/5
6. PHILIPS NORELCO SERIES 5100 BT5210 BEARD & HEAD TRIMMER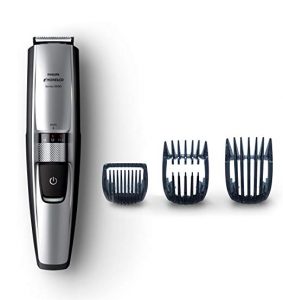 The last on the list happens to be yet another Philips product. Philips is just good at manufacturing just the best, you know.
Are you looking for a trimmer that would take care of your beard and head hair? Then this is the best option to consider. This trimmer is versatile.
The good thing is, despite its versatility, it is not expensive.
The battery of the series 5100 is equipped with an advanced lithium-ion battery, which causes it to last longer.  And this can also get charged full within the period of just an hour.
It also has 17 built-in precision sets – this enables this trimmer to work perfectly well on all types and kinds of beard irrespective of its length and/or fullness.  It is also quite easy to clean. It doesn't end up stressing you, you know.
Summarily, the advantages of this beard trimmer for the black facial hair are;
Easy to use
Inclusion of self-sharpening blades
A wide variety of length settings – 17
Long-lasting battery life
Fast charging
Durability and comfortability of use.
There are not too many sidelines other than the presence of some irrelevant adjustments in the length settings.
I was used to $20 to $30 trimmers so the build quality on this one really surprised me. It does a great job at trimming body hair with the included guide. For my beard I like using 5mm for a clean look. It also does a good job at cleaning up my neck hair line without cutting my skin. The battery is pretty decent, I don't need to recharge it that often.
7.

Philips Norelco MG3750 Multigroom All-In-One Series 3000, 13 attachment trimmer
The Philips Norelco Multigroom 3000 all in one trimmer contains everything you need for beard growth and maintenance. It is one other toughest trimmer you can find out their, blades made of steel with self-sharpening feature. Inside the packages are 13 pieces of guides including a full-size steel trimmer, nose, and ear trimmer, steel detailer, 3 beards trimmer guards and a storage bag.
Philips Norelco Multigrrom trimmer includes impact-resistant cutting guards, powerful lithium that can last for 60 minutes. It is built to last as the blades are made with steel. The guards are manufactured to prevent bending or buckling while trimming.
I got this to replace a Gillette trimmer that died after a few years of use. The Phillips one is great! It was cheaper than what I paid for the old one a couple of years ago and is of a much higher quality. It comes with tons of different heads and gets the job done. Just a tip, If you're using this for "personal" grooming, be careful! It's sharp.
8.

KoTag Men's Beard Trimmer Cordless Hair Trimmer Durable 5 in 1 Electric Hair Clipper
KoTag Men's Beard Trimmer Cordless Hair Trimmer is a trimmer made of stainless steel and has standing blades for precision. It can trim close to the skin, more running and create low friction heat.
It can be used to get rid of hairs from hard to reach areas due to the ergonomic design. The presence of an intelligent system makes it easy to use for someone without prior experience.
My husband is kind of a fanatic about his beard. So when his last trimmer broke, I did some research. This one had great reviews and a lot of added features. He has used this Panasonic trimmer for about a month now and calls it the "Cadillac of Trimmers." He loves it. It is sleek, not too large, and easy for travel. Highly recommended.
9.

T Outliner Corded Trimmer and Lithium Shaver Finishing Combo Model #17195 and Classic Barber Blade Brush
T Outliner Corded Trimmer is a trimmer for precise outlining and dry shaving. It comes with a carbon steel trimming blade that could be zero gapped. It features a gold titanium hypoallergenic foils for close shaving and a powerful lithium-ion battery that can last for over 80 minutes.
10.

Philips Norelco Gentle Precision Electric Shaver & Beard Trimmer

 
Philips Norelco Gentle Precision Electric trimmer is the perfect Pop up trimmer that is perfect for maintaining mustache, beard and maintaining sideburns. It features a microbead coating that helps reduces friction for 85% of men. This technology ensures that the shaver glides effortlessly over the skin.
Also, it comes with a Lithium-Ion battery that ensures you can shave longer with every charge. LED indicator is also present to let you know when its time to recharge.
This may just be the best shaver I've ever gotten! Fast and smooth! And to think that I was about to pay hundreds more for a top of the line model.
Very good, clean shave with this shaver. Ergonomically speaking, it fits the hand nicely. And it really holds a charge. I went over one month of daily use before I had to recharge it.
11.

BaBylissPRO Outlining Trimmer
The Babyliss PRO PowerFX is the powerful magnetic trimmer you need to get the job done. It has a better grip and easy to use. Its sleek look comes with an all-metal housing. If you like hanging your trimmer it comes with a detent that can make that possible.
If you're here looking for a gold fix trimmer, yo oír on the right spot. Before buying I wasn't sure I should purchase them here so I just did it, after receiving the package I totally loved them. If your looking for the best price, I recommend getting them here. No disappointment
12. Philips Norelco Beard Trimmer BT3210/41 – cordless grooming, rechargeable, adjustable length, beard, stubble, and moustache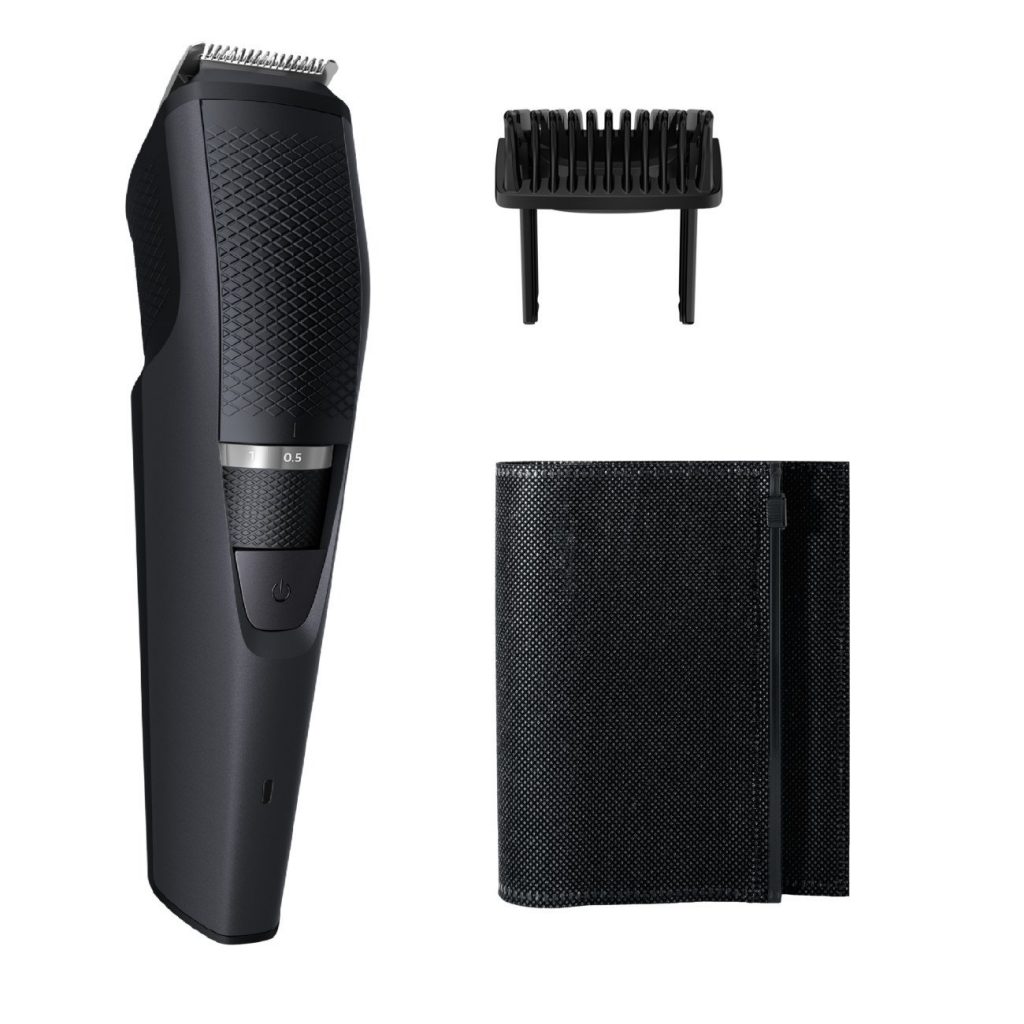 The Philips Norelco BT3210 gives you everything you need to define your style in one convenient all-in-one grooming kit. The BT3210 comes with a full-size trimmer, mini foil shaver, hair clipper comb, nose trimmer comb. Nose, Ear and eyebrow trimmer and precision trimmer as well.
The Philips hair trimmer is one of the biggest and largest brands of beard trimmers in the market and the features of the beard trimmers will make you want to have one of it in your closet for your hair grooming needs most especially trimming of your facial hair as a black man.
The trimmers unique system with a flexible guide comb follows the exact contour of your face allowing you perfect control over your facial looks. With the handy mini shaver, you can add crisp finishing lines and edges to your facial hair and neck.
The precision trimmer allows you to create and maintain the most intricate styles and the nose, ear and eyebrow trimmer provide a discreet way to keep unwanted hair in check.
The hair trimmer is convenient to use because all the attachments are washable and the trimmer provides up to 35 minutes of cordless operation on a single 10-hour charge.
Also, the blades are self-sharpening making your trimmer blades and attachments easy to maintain.
The features of the Philips Norelco BT3210 trimmer that make it excellent for facial hair trimming needs are listed below and they are the things you should look out for before making a purchase;
Includes six attachments for hair, beard, moustache, nose, ears and eyebrows
10 adjustable length settings lock-in 3/64 (1mm) increments
Self-sharpening wave-shaped blades provide precisely and an even trim
Skin-friendly blades for smooth and irritation-free trim
Rechargeable cordless operation
Rounded guard that is skin-friendly
The blades do not require oil hence they are maintenance-free
The attachments are washable hence they are easy to use and maintain
The battery type is Lithium-ion  battery with 90 minutes of run time
The ergonomic design makes it comfortable to hold and very easy to use
Detachable head for easy clean
WHATS IN THE BOX?
Philips Norelco BT3210
2 dual cut blade
Cleaning brush
Storage pouch
13. LFSP Professional Hair Trimmers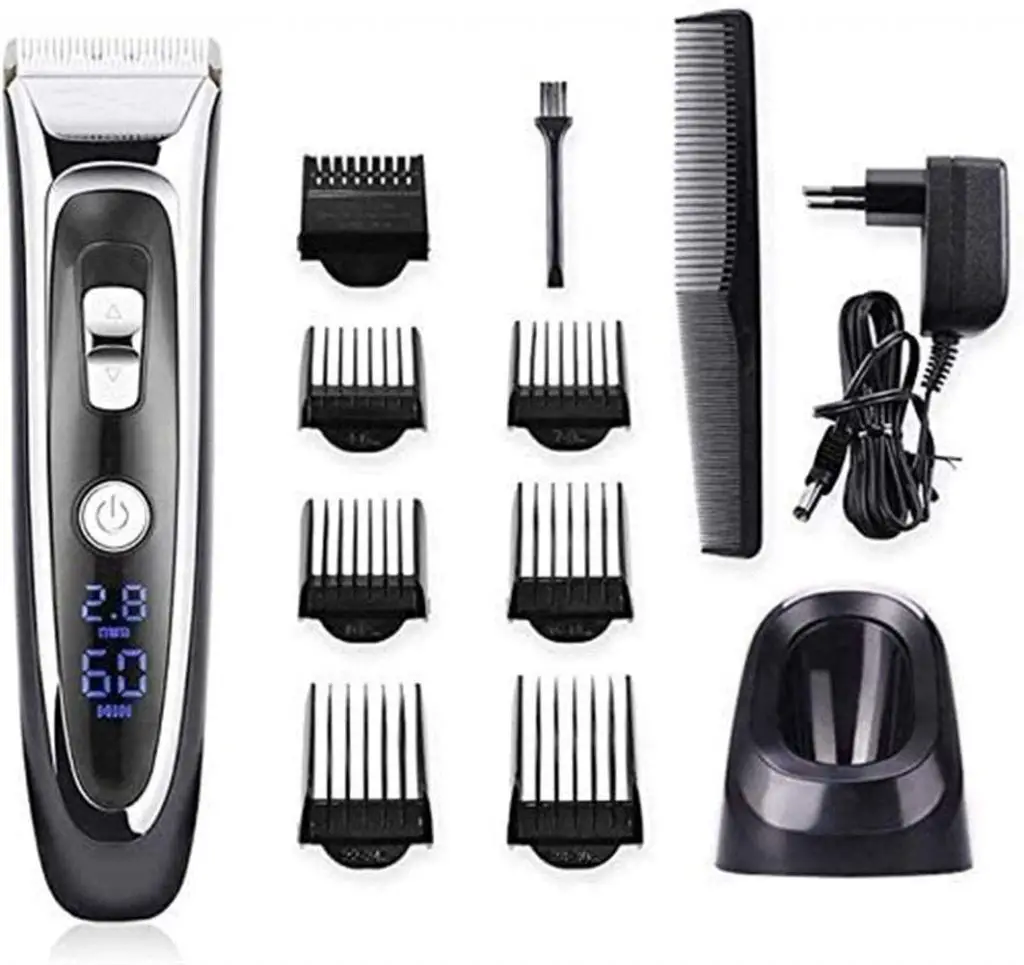 The LFSP professional trimmer is a trimmer recognized for professional use because of its numerous features, effectiveness and durability.
It has 5 kinds of cutter heads and an integrated styling kit that will help you complete 5 tasks with 1 device within a short time.
It is a full-size hair trimmer that trims hair accurately and evenly in an efficient way. It trims your hair to the required length because it has different comb sizes that you can choose from.
The shaver gently shaves your beard without any pain or irritation and also trims the nose accurately. The heat produced by the trimmer is low hence there is no way it can cause damage to the skin.
The LED digital system makes it possible for you to see the digital power display such that you know when the power is low and plug it in for charging.
The blades can easily be installed by just aligning them with the slot position.
It comes with 5 limit combs with different lengths capable of meeting the needs of different users with different hairstyles and lengths. The device can be charged separately or in the charging base.
It is waterproof and supports full-body washing to properly maintain the device.
It has 2 hours of charge time and 90 minutes of uninterrupted run time
SPECIFICATIONS
Voltage of 100-240V
LED display
100% waterproof
USB direct charging or base charging
It is made with stainless steel
2 hours charge time
90 minutes run time
USB or Base charging
WHAT'S IN THE PACKAGE
1 beard trimmer
1 hair trimmer head
1 precision trimmer head
1 body trimmer head
I nose trimmer head
5 guide combs(3,6,9,12,1/2/3/4mm)
1 styling comb
1 USB cable
1 stand base
User manual
14. Sminiker Pro 5 in 1 Multi Waterproof Man's Grooming Kit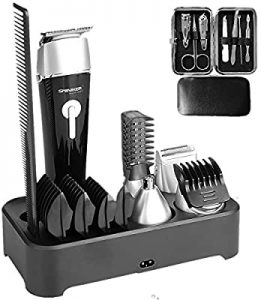 About product 
One of the reasons why we have included the Sminiker Pro 5 in 1 Multi Waterproof Men's Grooming Kit as part of the best beard trimmer for black facial hair is that it consists of not only  Hair Clippers but also Beard Trimmer Kit, Body Groomer Kit of Mustache Trimmer, Nose Hair Trimmer, and Precision Trimmer.
This particular trimmer will give you maximum versatility and a cleaner trimming. No matter the style that is needed, it helps you to comfortably trim your facial hair without making an unnecessary mess.
While it is very compact and adjustable, it has various attachment options that include a nose trimmer that allows you to remove those strands in the opening of nostrils and ears.
It has a very durable battery and the blades are super sharp for effective cutting. It is Rechargeable and the blades will never dull as they are made of tempered steel. Plus, it is also washable.
To get the clean and perfect trim that you want, the adjustable combs of the Sminiker Pro 5 in 1 Multi Waterproof Man's Grooming Kit is ideal. The trimmer comes with 4 haircut positioning combs.
It can be used for both hair on the face and head as well as body grooming. The titanium blade technology is all you need for your lines and edges.
You can now comfortably Remove unwanted nose and ear hair with this trimmer very easily. And after each use, you can simply rinse the blades and combs as they are washable. This makes it have a long-lasting performance.
You can choose from the various setting options to trim your beard to the exact length that you want. The features are all you need to achieve the desired look including around the edges and sharp lines of your facial hair.
It can also be useful to remove unwanted hair by getting a clean shave with the Sminiker Pro 5 in 1 Multi Waterproof Man's Grooming Kit. Use this device to have a clean shaving in areas like armpit, hand, bikini line, legs and soles.
This trimmer is entirely safe to use in any type of skin as the blades are durable and will not pull out hair. The trimmer will not cause irritation on sensitive skin or around sensitive areas of the skin.
15. Braun Series 3 3010BT Men's Beard Trimmer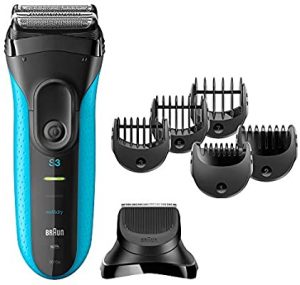 About product 
Let's talk of a German brand that has paved the way into making a world-class trimmer that most people use around the globe. The beard trimmer is not complex to use but has a very innovative design and fantastic features.
The outstanding performance of Braun Series 3 3010BT Men's Beard Trimmer can not be overemphasized.
It minimizes the risk of having skin irritation after a shave. This beard trimmer is one of the best we can recommend even being the last on this list.
Every good beard trimmer for facial hair is meant to be Waterproof and have a very sharp blade for effective trim. Well, the Braun Series 3 3010BT Men's Beard Trimmer is not an exception to these qualities.
You can conveniently rinse the beard trimmer after use. This aid hygiene and longevity of the trimmer.
When it comes to quality trimmers for facial hair, the Braun series is among the leading brands that men trust to give them perfect trim and get the desired style from the trimmer.
The Braun also Assures a gentle and close shave with the specialized shaving elements.
Use one of the five combs (1-7mm) to get the perfect beard style that you want. The trimmer is also perfect for trimming your sideburn. All you need to do is to attach the trimmer head.
The sharp bases of this Braun's series will help in mouth shaping and clean shave of standard.
---
Tips on Maintenance of Beard Trimmer
Beard trimmer are devices that work through the movement of rolling mechanisms, just like we give attention to out clothes, beards, cars, houses and so on, the same needs to be done for beard trimmer if you really want them to use them long enough. Having a good maintenance culture is the key to making them last enough!
Don't keep your beard trimmer wet after you're done using it.
Make sure it is reassembled instead of leaving it part by part.
Ensure that you read the manual to know which part of the trimmer can be put underwater.
Always clean the body and the head separately.
Easiest way to Sharpen a trimmer Blades for facial black hair
It is very important to have sharpened blades when trimming with a beard trimmer. It reduces the risk of having cuts and nicks. And it also makes the job easier and faster. For some people, they will only think of replacing dull blades and not sharpening them. But that is a waste of money, and maybe time.
You can get a beard trimmer that has the self-sharpening blades feature. This is a cool idea. But when your blades dull, you should have some basic ideas about sharpening them back.
To maintain the edge of your blade, they need to be sharpened. Taking your trimmer or clipper blades to a professional for sharpening will only cost you more. That is why I recommend you sharpen them yourself with the following tips that are recommended.
You do not need to have all the whole tools to skilfully make your clipper blades shinier and sharper. There are ways to sharpen these blades in just a few minutes without wasting time and money. This can be done by anyone, not just hairstylists and can be done at home.
There are many guidelines that reviewers may suggest on how you can sharpen clipper blades, but I've come across some that can actually ruin the way blades are supposed to run. While you seek ways to sharpen clipper blades, you should be aware of how frequently you should sharpen them.
Unless you are using a trimmer with self-sharpening blades, clipper blades should be sharpened regularly. And even self-sharpening blades must be maintained properly to avoid any drop in performance.
How often clipper blades should be sharpened
The truth is that there is no time interval to sharpening clipper blades. Once you notice that there is a drop in performance or the clipper is pulling hair while in use, then you should know your blades need sharpening.
It also depends on how often you use your trimmer. For a barber who uses his clipper on coarse hairs frequently compared to a clipper owner who just uses his device once in a while, you can tell the differentiation in the need to sharpen clipper blades among these two personalities.
But for the rule, you should sharpen your clipper blade every three months to keep them shiny and sharp for effective trim and cut.
A standard clipper blade should work as amazing as it worked when you first bought them. Dull blades will allow the clipper to pull hair or nick skin. And this is a red signal for those who use clippers on people.
So the best thing is to sharpen your clipper blade before these things happen.
---
Frequently Asked Questions on Trimmers for Black Facial hair
How Often Should I Change My Beard Trimmer?
For the achievement of better results whenever you trim your beard, it is advisable that the trimmer is changed every three months.
Do I Need To Oil My Beard Trimmer?
Beard trimmer is a machine made of the mechanical moving part which can lead to low productivity when the level of lubricant starts to decrease. Oiling your beard trimmer keeps it lubricated that all the moving parts will move without obstruction, it makes them move when they are supposed to.
How Do I Oil My Wahl Beard Trimmer?
Oiling of Wahl beard trimmer requires that the unit beholds in a way that the blade is positioned downwardly. When the clipper is on, drop 2-3 drops of oil onto the top blade. Note: make use of Wahl clipper oil only.
Are Trimmers Effective?
I'm not sure how anyone could have written a bad review of this product. I have had my beard for over 20 years….had many beard trimmers….never have I had one that is so enjoyable and easy to use I actually look forward to trimming my beard!! Everyone who has made comments about the two plastic prongs on the sides breaking off is probably lacking opposable thumbs or something as I find them sturdy and click in perfectly. The only way I can see them breaking is if you drop the trimmer from a height or if you are deliberately trying to "test" the limits of this device. 5/5
My husband is kind of a fanatic about his beard. So when his last trimmer broke, I did some research. This one had great reviews and a lot of added features. He has used this Panasonic trimmer for about a month now and calls it the "Cadillac of Trimmers." He loves it. It is sleek, not too large, and easy for travel. Highly recommended.
How Often Should I Clean My Trimmer?
Do you use your trimmer once or twice in a week? How many times you clean your trimmer in a week depends on the frequency of usage. It is advisable that the trimmer be clean immediately after each use instead of the scheduled cleaning.
---
Conclusion on Trimmers for Black Facial Hair
Using the best trimmers for your black facial hair is imperative as a black man, as it saves you from getting under the shackles of incessant irritation and itchiness – just like the importance of sharing too.
Try out any of these reviewed best trimmers for black facial hair and see how great your beard would blossom, and you too would enjoy it.
Its been a really great time with you so far, and I am happy you read till this point. I part with these words; "bearding is an art, enjoy it!"