Best Wedding Beard Styles: Gone are the days when people find it strange to see men with beards and there's no denying that it is becoming a movement around the world. Rocking a beard style on your wedding can speak thousands of words even when you decide not to talk about who you are, it will portray your personality and style.
You have nothing to worry about, especially if the beards cut you go for in the time past are not signatory, Now is the time to try out something different.
That is why we have compiled the list of awesome beard styles for men who have a few months or days to their wedding day.
List of Best Wedding Beard Style
Some scruff
Full and Styled Beard
Just a full Beard
Long Beard
Long and Groomed beard
Full with a styled Mustache
Chin Strap
The Goatee
A Mustache
Barely There Beard
Segregated Mustaches
Trimmed and Tidy Beard
Awesome Wedding Beard Styles
It is not always easy to choose the style that suits you the most, start playing around by having different styles before the wedding date. This way you can decide on how long you want your beard to be.
Just like you plan for other aspects of the wedding, planning for your facial hairstyle is not exempted. Below are some of the styles to choose from:
1. Some Scruff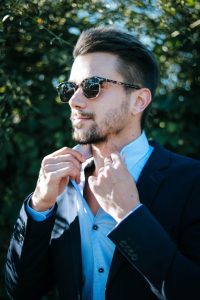 If you belong to the "Simple style" Team, just grow out a little scruff. How long it takes to start growing to depend on factors like genetics and many more. Even if you find it difficult growing this beard style you can get yourself a beard cream to make the growth rate a quick one.
2. Full and Styled Beard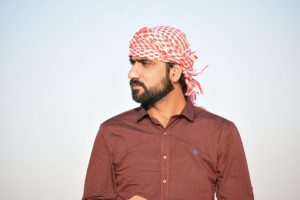 Way above scruff and it is the best to choose if you can grow out a full, even beard. This can be achieved with a brand new blade or trimmer to clean the lines, which is the best way to rock a beard and ensure that it looks nice for the occasion.
3. Just a Full Beard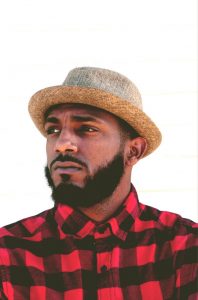 Compare to the first two on the list Just a full beard is not refined, but it still looks nice!. One of the factors that can make this possible is the ability to grow and even and a full beard. And it is the best beard style for someone who lacks hair on the top of the head. It will be cool because you are still clean and polished.
4. A Long Beard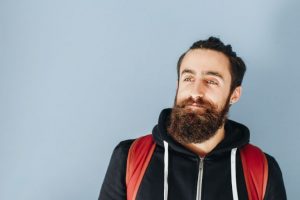 With the huge acceptance in beard grooming now in society, you can now grow a long beard and no one will complain about it. You can get this beard style if you have always looking for an amazing beard style, just give this a shot. The downside is that it is not well-groomed, so if you have vibes for things like this, then it is the perfect beard style you should rock on your wedding day to show that personality of yours to friends and family coming.
5. Long and Groomed Beard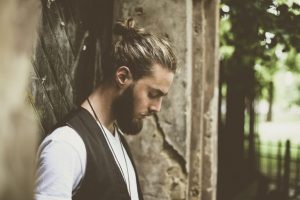 From the name, it is different from the one above. This is the perfect beard style for you if you are all about self-care. It will give you that look that everyone would want. Take care of your long beard by oiling it, which will make it look clean and polished.
6. Full With A Styled Mustache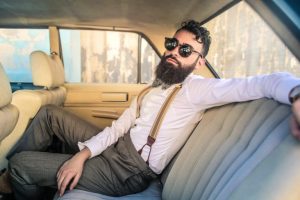 Full with a Styled Mustache is one of the trending beard styles you will see at a formal wedding. The styled mustache with a full beard needs a lot of work because it must be polished and clean at all times to keep in shape. If properly taken care of, people will be drooling to take pictures with you on your wedding day.
7. The Goatee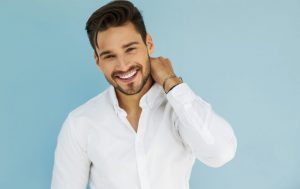 This is another perfect beard style for some who can't grow total facial hair and someone who is not a fan of the scruffy look. With this style, you don't have to worry about your cheek getting a patch, all you need is just a small amount of hair on the chin or wraps of it around the mouth, connects to the mustache as well.
8. Barely There Beard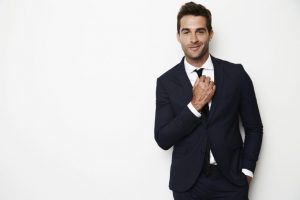 This is the perfect style for whoever whose beard is not really his thing or maybe look much like a little boy with face clean shaved. All you need to do is shave a day or two before the wedding day.
9. Chin Strap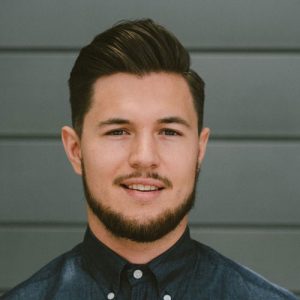 It can only look cool on someone when done perfectly. All you need to do is make your beard grow not only longer but thicker; then paired with a mustache and match a trending hairstyle or another hairstyle of your choice.
10. Mustache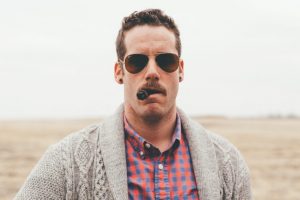 11. Segregated Mustaches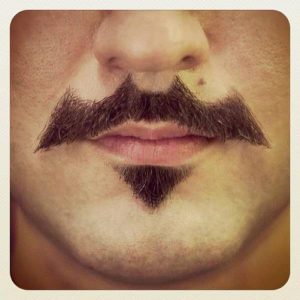 This is one of the most straight forward styles that does not need much preparation to get it done. The downside is that it is not suitable for all men, it depends on the face cut and many other factors.
12. Trimmed and Tidy Beard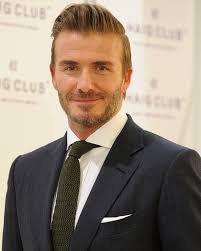 This is the perfect beard style for you if have a round-shaped face. It is the best beard style for you if you are going to wear a sherwani or coat suit. You don't need much preparation to explore the potential of this beard style for a wedding to the fullest, just grow your beard for some days, then trim it with a beard trimmer so that the length can be even.
13. French Style Beard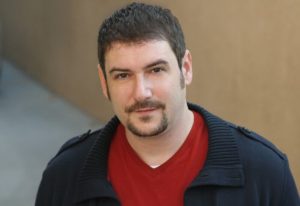 This style is also one of the popular beard styles popular among men getting married. French Beard style will look suitable when you use it with Coat-suit and sherwani, and traditional dresses of Indian men.
We also have beard styles like royale beard, Balbo beard, Hollywoodian, the beard of three days, Verdi beard and old dutch.
Don't know about the best beard style for the wedding alone, scroll down to learn on:
How To Maintain Your Beard
What will become of your beard after the wedding?
Leave it uncared for?
Follow the guides below on proper beard maintenance.
Talking of beard maintenance, the first you should know is that there are certain things you should and those you should not do.
From the type of shampoo, you use to the type of soap. The types of beard oil also contribute to what becomes of your hair.
Moisturize Your Beard
To keep your beard in shape you need to make sure beard hair and skin around it are moisturized and hydrated. Beard oil is one of the important beard grooming materials to do this. Using beard oil will make beardruff far from your beard, the beard will be soft, and your beard won't be dry or itchy.
Note: Do not use beard oil made with chemicals or silicone  Check out: List of best beard oils
Keep it Clean
This is the first step to take daily even before applying beard oil. It will keep your beard from getting dirty, or become home to bacteria. Make sure to use the right beard shampoo and beard soap.
Brush & Comb Your Beard
Combing your beard will make sure all beard oil you have applied is evenly distributed throughout the beard. Depending on the stage your beard is at, brushing your beard will also make sure the beard at pointing at the right direction, it does not end there. It also promotes beard growth by increasing the circulation of blood. Another benefit of combing beard hair is that it will not get tangled.
Check out: Needed accessories for proper beard growth
---
Reviews of Tools Needed To Keep Your Beard Under Check
You need the best and cost-effective beard care accessories during and after the wedding to keep your beard styled and shiny. Growing beards without proper care make one look unattractive and, certainly, you wouldn't want to end up like that.  To care for your beard, you need beard care tools like a beard trimmer, brush, oil, and styler.
#1. Wahl 9818 Lithium Ion Plus Stainless Beard Trimmer
Check on
This Wahl model is one of the best, a high-quality beard trimmer that can take care of all your beard trimming needs. It has self-sharpening features.
It's powerful to go through beard hairs of all types, thanks to the Lithium-Ion battery used – It can last long. The trimmer feels good in the hand, although it can be a little bit slippery.
Furthermore, it is well balanced and rugged, and it trims hair even when the battery power is decreasing. It has features that give you total control over the look of your beard than the majority of the beard trimmer on Amazon.
Another 'Why' reason you should buy Wahl 9818 Lithium Ion Plus Beard Trimmer is the presence of three more stainless steel detachable blades.
Inside the Wahl, Kit is 12 guide combs, beard trimmers, comb, a storage pouch, cleaning brush, charger and instructional manual to provides guides on usage and maintenance.
This is the best electric shaver I have had. I purchased the Andis T-Outliner, and the fact that I have to have electricity to use it is a definite difference. I have been cutting my hair so sometime now, and this is something that I would use exclusively.
This trimmer is very impressive. When you hold it in your hand, you immediately notice the high quality. It is just the right weight and the body is very sleek and sturdy. It comes with clipper guards so you are sure to trim your beard to the perfect length and fade if needed. I couldn't be more pleased with this product and would highly recommend it to anyone.
2. Beard Flux XL Caffeine Beard Growth Stimulating Oil
Beard flux XL Caffeine Beard Growth Stimulating oil is what you should get for your beard. It keeps your look at your best at all times.
Furthermore, it contains no fillers, paraben, fragrance or GMO. The beard flux XL is made up of top essential oils like Argan, Jojoba oil, Amla and others that are 100% natural and cause no harm to the beard or skin.
I purchased this product for my boyfriend to use to see if he could achieve a good looking beard finally. Within about a week, his beard started coming in thicker and faster than normal. One of my complaints, when he is growing his beard out, is the prickly stage.
We kiss a lot and I hate the redness he leaves on my face, especially right before I go to work. Since using this product his beard is noticeably softer during this stage. Since using this product his beard looks shiny and healthy. I highly recommend this product to the men who love to kiss their significant other but don't want the receiver of this kiss to have a chapped face during his beard growing phase.
3. Mini Portable Flat Iron Tourmaline Ceramic Dual Voltage Travel Iron for Worldwide
This is a portable beard straightener, travel friendly with a dual voltage that can be used anywhere. It has a super mini size design, which makes It compact and good for the beard.
Furthermore, it comes with a professional heat resistant portable bag. With this, you will be able to store your straightener conveniently.
 I got this nice little and compact hair straightener for my trip to the beach. It is small and lightweight. Perfect for a trip. It heats up fast, within seconds it is very hot. It comes with a pouch to tuck it away in. You do need to move slowly through your hair because the heated part is small but it does a good job. I made a little video to show how nice it is.
Also, I like the comfort of the design to hold it. Fits nicely in my hand. Not heavy like the bigger bulkier ones are. I took my time and shopped around for a travel one. I think this will be good to use every day. It doesn't take up much space either.
4. Viking Revolution Beard Comb and Beard Brush Set for Men
The Viking Revolution Beard Comb and Beard Brush for men can make you feel you feel your best. Inside the kit is not only beard brush and comb but also pomade, heard balm, beard conditioners, and beard oil. Viking Revolution is a kit that contains almost everything you need for your beard day to daycare.
Being new to beard-growing it was important for me to find a quality comb and brush that wouldn't break the bank. This kit fits the bill. At first, I was surprised at how small the comb and brush were but with time I came to appreciate its size. The brush fits nicely in my hand and the comb is small enough I can stick it in my pocket and go.
The comb also has wide teeth on one side which makes it easy to get any snags or snarls out and narrow teeth on the other for training my growing mustache. The brush is great for training my beard hair to go where I want it to. The only complaint I have, which isn't really a complaint, is that the hair in the brush tends to fall out. I would definitely recommend this kit to anyone growing or thinking of growing a beard.
5. Aberlite Clearshaper Beard Sharper Kit
Aberlite Clearshaper Beard Sharper Kit is a premium Shaping tool that you need for your beard styling. With this, you will have multiple options for trimming.
Furthermore, the full size and long edges designs make it easy to place and hold on the facial structure without reposition.
I wish these had been around while I was still working as a barber. I have a good eye for balance but this would have been a great tool for demonstrating the various shapes.
I have used it on myself and was very pleased with the results. I feel like it's the first time in a while that everything was balanced, not always easy to do freehand on yourself.
With the white pencil, it's easy to draw you shape. I would recommend trimming any hair that will be above the shaper tool so you can get a clean line with the pencil.
As a former barber of 32 years I can recommend this product 100%.
---
Frequently Asked Questions and Answers on Best Wedding Beard Styles
Should you be clean-shaven for a wedding?
The final decision on whether to shave your beard is left to you. But if the growing beard is part of your lifestyle then leave it but it is not and you are not interested in grooming any then shave it off.
How long before the wedding day should I cut my beard?
If you already know the best beard style for you, it can be cut a day before the wedding day. But make sure the beard style is suitable for the type of clothes you will wear.
How long should my beard be?
The kind of beard style for a wedding that you choose will determine what length it should be. But ensure that you are going to be comfortable with whatever length you want to leave it.
---
Conclusion on Best Wedding Beard Styles
As said earlier, choosing the best beard style for a wedding is not always for someone who can't decide on his own. Funnily enough, we have numerous beard styles to choose from and that is why MyBeardGang recommends that you start planning months ahead, so you can find the ones that are perfect for you and the ones that are not.
Choosing the right beard style that can portray your personality has a lot to say about people who will be seeing you, so make sure not only to choose the one that gives them the right impression.
Make sure you are comfortable with it as well and look like that same person your partner fall in love with over again.
Thanks for reading List of Best Wedding Beard Styles and if you have anything to ask or any you would like us to include on this list. Make use of the comment box to make users know about it.