Christmas is coming up soon and men with beards are not exempted from the celebration. To celebrate Christmas with your friends or family, there is numerous fun stuff you can do. And I guess that is why you are looking for ways to decorate your beard this Christmas.
Don't search further, as you will be provided with all you need to know or tips on how you can make your beards look more than the normal.
Ways To Decorate Your Beard This Christmas
Talking of ways to decorate your beard this Christmas, we have two different methods, and they are:
Making use of beard decoration ornaments
Doing-It-Yourself (DIY)
Making Use of Beard Decoration Ornaments To Decorate Your Beard
From the heading name, one can conclude that it does not need much effort to this. And it is base on using beards ornaments available on Amazon.
And that is why we have compiled the best beards decorations ornaments for you.
1. Beardments Beard Ornaments, 12pc Colorful Christmas Facial Hair Baubles for Men in the Holiday Spirit, Easy to Attach Mini Mustache, Sideburns, Goatee Whisker Clips, Festive Red, Green, Gold, Silver Miz.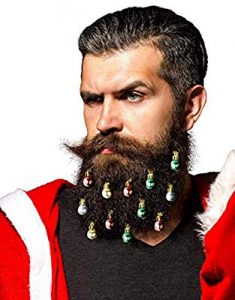 Check on Amazon
This is a product to get if you want something more fun and stand out among others. It is perfect for someone who just wants to add a little brightness to the world and this can make people talking. Another thing put into consideration before this was included as part of our best beard decoration ornaments for bearded men is that it is easy to attach to the beard.
Asides from being easy to use, it is made up of 12 piece beard bauble with red, green and silver. It is unisex as it fit women and men perfectly.
Reviews dropped by buyers on Amazon shows that they attach into the beard perfectly.
2. Anjou Beard Ornaments, Beard Baubles 12pcs Colorful Christmas Facial Hair Baubles in The Holiday Spirit, Red, Green, Blue, Purple, Gold, and Silver, Easy Attach Mini Mustache, Gift for Men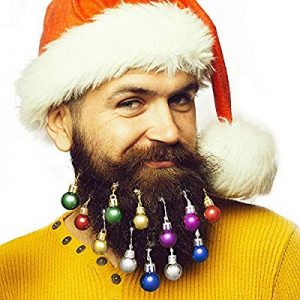 Check on Amazon
Just like the first on the list, it is easy to attach to the beard. So you can freely design your beard with six different colors like red, green, blue, purple, gold and silver. Asides from being available in six different colors it is suitable to use for a beard of any length and density.
If you are also considering buying a gift for your boyfriend or husband then this is what you should go for. It is UNISEX so you can use it with them.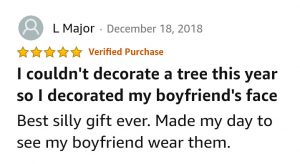 3. Abkshine 18pcs Beard Ornaments w/Clips Colorful Christmas Jingle Bell Ornament for Hilarious Ugly Xmas party Gag Gifts for Men Chest Hair Boyfriend Pet Dog Hair Christmas Tree Decoration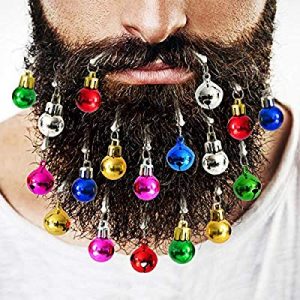 Check on Amazon
Abkshine 18pcs Beard Ornaments w/Clips Colorful Christmas Jingle Bell Ornament is not only perfect for decoration of beard, but it is also perfect for clothes or jewelry decoration, gifts and ugly sweater party.
Like others on the list, it is easy to attach to the beard or remove, made with sturdy metals and safe for the beard hair. Abkshine 18pcs Beard Ornaments w/Clips Colorful Christmas Jingle Bell Ornament contains 6pcs Jingle bells with metal clips.
4. Jetec 20 pieces Christmas Beard Baubles Ornaments Beard Decoration Includes 12 Pieces Beard Bulbs and 8 Pieces Ring Bells for Christmas Day Beard Clips Decoration
Jetec 20 pieces Christmas Beard Baubles Ornaments Beard is 5 cm/1.97 inch, 2 cm/0.79 in size. which is good for all beard size. The ball clips are bright in color, lightweight, funny and interesting to use on your beard for this coming Christmas. The downside of this particular product is that it can choke kids, so watch out for them, if you want to use it.
Not only suitable for the Christmas celebration alone, but for another celebration as well. You can as well gift it to friends or family.
Note: Watch your kids when you use it for them. It can choke them.
Below are few of the reviews dropped by verified buyers:
Works Well. All the guys wanted some.
and
Had fun with all the fellas. Played a game to see which couple could do the best bears decorating on time.

Check it on Amazon
5. CCINEE 12 Pieces Beard Baubles Ornaments Colorful Mini Gingle Bells Mustache Christmas Decoration for Boyfriends Brothers Fathers and Men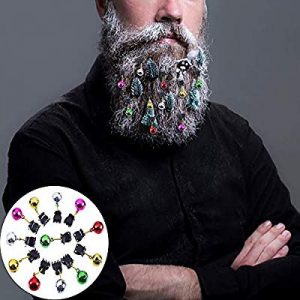 Check on Amazon
If you are looking for something to lighten up your Christmas as a bearded man then get yourself this on Amazon. This set contains 12 pieces of mini bells made with plastic. The bells a made with standard metal and plastic, and sturdy enough to serve its purpose.
Thinking of the size & color, it is mini-sized with 1.2cm diameter. The whole length of the ball is 3.5cm with a 1cm diameter black plastic clip. There are different colors like red, silver, green, gold, and silver. Looking at easiness to use factor, With the mini plastic clips, it is easy to use
6. DecoTiny Lightning Up Beard Lights Ornaments, 8 pcs Beard Lights and 12 pcs Colorful Sounding Jingle Bells, Great Christmas and New Year Gift for Husband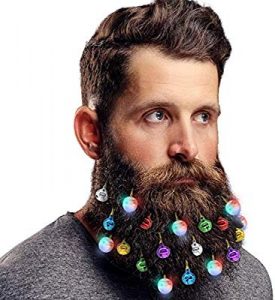 Check on Amazon
DecoTiny Lightning Up Beard Lights Ornaments contains 8 pcs Light up bauble Ornaments Wonderful beard ornaments with 3 colors that can easily be operated. All you need to do is press light on and continue to press to turn the light off.
Like every other decorating bead for beards listed here, it is easy to use and perfect for all types of hair regardless of the density and hair lengths.
Do I have other alternatives?
Yes!
Do-It-Yourself Method To Design Your Beard For Christmas
When we talk of Do-It-Yourself that means trying to be Creative, meaning you are going to create the design for your beard with the available materials. So if you want to do that scroll down. It is not rocket science.
Check them out below:
Dye your beard with multi-color
Attach flower to it.
Twist your beard hair and paint with any color of your choice.
Glitter your beard
How to Glitter your beard?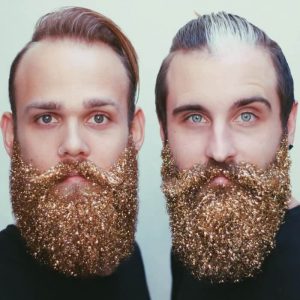 Glittering of beard is not a new act – it has been around for a long time but not many know about it and few that know about it don't know how to do it. So without wasting much of our time on explaining is what. Below is how to get your beard glittered for the coming Christmas.
You should know the following:
To be on the safer side, wear a cap to have proper control over the glitter so it won't drip on your clothes.
If you are going to be sitting out when doing this, make sure the wind is not strong.
Make sure you already have your outfit on to avoid it getting stained.
If you are glittering the full beard, follow the following steps
If you are going for a full beard, know this; the fluffier and bigger it is, the better.
The first thing to do is trim and shape your beard, this will make sure your beard is neat and well-groomed.
Get the best beard oil that you think is good for you. Pour some into the palm of your hands and massage your beard hair thoroughly with it. The function of the beard oil is to act as an adhesive.
Applying glitter to the beard is the next step.
Once you are done with this and you are satisfied with the result. Shake off the excess ones to get your beard into the taste you want.
To get a colorful result, add different colors of glitter.
---
Frequently Asked Questions and Answers
What If I Don't Have Beard?
If you really want to decorate your beard this coming Christmas but unfortunately you don't have any. Don't give up yet.
Get yourself a fake beard on Amazon.
Where can I get Beard Decoration Ornaments from?
You can get your beard decoration ornaments from Amazon at a cheap price that won't cost you much. From the ones we listed above, we have links to the Amazon store where you can get them from.
---
Here you have read on different methods to decorate your beard this coming Christmas, read reviews on the best beard decoration ornaments, and tips to decorate your beard at home without buying any of the products listed here.
With the information you have read here, you will be able to decorate your beard and that of others without assistance from a third party and teach others in case they find it difficult to do theirs.
If you have anything to ask on this topic or have products you have used in the past or using that you think should be on our list, kindly make use of the comment box to get back to contact us.