The Beard Trimmer Edger: The quality of a beard trimmer Edger that a user use is a huge topic for discussion. This is because customers do not settle for less as per their haircuts and beard styles.
Most men are likely to try different beard styles in order to find the perfect one for them. Therefore they visit their barber's shop frequently. Most men always prefer a well-detailed beard style. Beard Trimmer Edgers are very important because they add the finishing touches to every style. With new styles coming up every day, a barber needs an edge that is able to create different variations of facial looks with ease.
A good beard style will increase a customer's confidence and will keep them coming back to the same salon every time. To have a good clientele, barbers need the best tools to keep up with today's customer needs and wants. This list has the 5 best rated and easy to use professional edgers to ensure a barber is way above the competition.
Grooming of the male hair has come a long way in the last twelve years. With the world at people's fingertips, men have many more hairstyles options than before.
One of the few things to consider when picking the best edger for the best cut. A Beard Trimmer Edger's durability is a major key for a barber who does multiple haircuts and hairstyles daily. As a barber, you would want to make sure you have the best tool that would prevent you from getting blistered fingers and other minors that won't make do your job easy. Thirdly,  the best edger must possess the ability to carve out and create the best edges.
Each and every barber has his own different preferences, but below are the best edgers to create the perfect edge every time.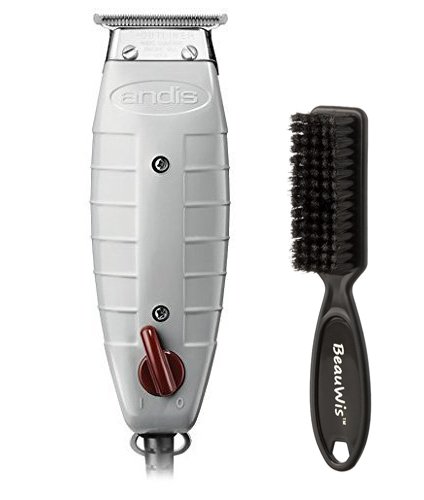 The Andis Professional T-Outliner Beard/Hair Trimmer is also called the artistic-barbers clipper. Reason being that it can be used to design and give a customer his dream haircut.  Any artistic job the customer craves for on his hair can be easily achieved with the Andis Professional T-Outliner Beard/Hair Trimmer. The T-blade allows you to trim the hair on all edges (beard, ear, neck, or mustache) for a more detailed haircut with great ease. The sleek style makes it easier to handle and side grips also make very easy to hold the trimmer. Its carbon steel blades are made to be durable enough to serve a barber throughout the course of his career.
Apart from being a silent trimmer, it always stays cool so as to make your clients very comfortable. The size of the device ensures the barber's comfort all day long.
I've shaved my head with this without any problems and usually use it for body and facial grooming. My only issue is getting hair out the inside of the clippers if you don't get the hair that gets trapped inside out it gets hotter faster and a lot of hair can get trapped inside believe me. The entire reason I bought this is that I damaged the wiring trying to clean my last Andis outliner. They get the job done no question but the trapped hair thing becomes a problem over time.
Buy it HERE.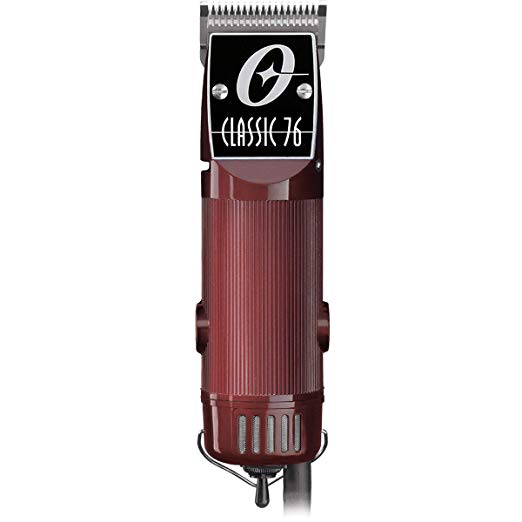 This is an all-purpose clipper. Reason being that it can be used on both dry and wet hair. It can also be used on hairs of different types and different textures.  It has other key breakthrough features such as nine feet long cord for easy accessibility for any type of shop;  the sleek design of its sides makes it possible for an easy grip which is important for all-day use; with its 7.5 in and 2lbs size, its durability and powerful performance is quite awesome; its close blades make sure after haircut issues such as ingrown hairs would not be a problem; it also comes with the lubricating kit and clipper grease to make sure that the edger is in its best performance.
Most people call these "The Beast" and that's because they eat through hair incredible fast and without a problem. I've never had a problem with this clipper and I've had it for over 6 years. Some people are intimidated by the speed and the fact that it may feel clunky or too big. Don't let that stop you from buying and enjoying this clipper. You can get use to it. As with most things, just practice and you'll be fine. You'll be able to do fades with it as well. Almost every barber that I know has this clipper or the Oster 111. Be sure to oil them regularly and clean the hair that falls within the housing – this advice is true for just about any clipper you have.
Others have gone into detail about the quality of these clippers. I'll just say I'm very glad I moved up to a professional clipper. I bought an extra clipper 00000 for a real close cut. These clippers are much better than the $40 Wahl's I had been using for years. I should have bought these years ago!
Buy it HERE.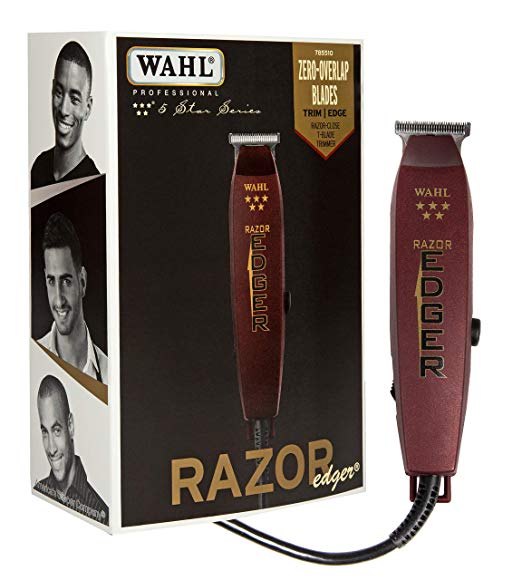 When Wahl is mentioned, what comes to mind is a reputable hair tool company. The Wahl Professional 5-Star Razor Edger proves that without any doubt. Some customers love a serene environment when having a haircut and the Wahl Professional 5-Star Razor Edger comes with an electromagnetic motor that is way quieter than most other trimmers so the customer can enjoy the silence. Its lightweight of 0.6lbs makes it easy for all-day use without any blister worries. The Wahl Professional 5-Star Razor Edger also comes with a full maintenance kit; a set of 3 T-blade guards, an oil and cleaning brush and a matching red blade guard which ensures that it is durable enough.
Stands up to a massive clientele, darn near powerful enough to cut an entire head of hair with (over comb). Still can't do very well on facial hair of men that have stubble like tree trunks, but nothing can be fair. The best set of edgers I've had in 12 years of barbering. WAHL never fails me. Favorite company. Andis and other companies break too easily, sometimes within weeks. Stick with Wahl for pros!
Buy it HERE.

This trimmer comes with many attachments that allow doing the exact edges your client desires for a perfect cut. With four guide combs of blending, ¼", ⅜", and ½" lengths; each with its own comb attachments, the blade guard, and cleaning accessories, this clipper sure gives value for money. It is quite unique because it also comes with a very powerful and quiet motor. It also comes with an adjustable blade feature which allows you to switch settings with ease. This trimmer also ensures that you do not spend too much money to get the best qualities as it is highly affordable. It is probably a money-saver. It is also a highly durable edger. This clipper is always used by professional barbers. I wanted to see what the hype was so I purchased it and it was so good and quiet I loved it. It was easy to use all you had to do is use the oil that they provided!
Great clipper if you ask me. I'm 16 years old started to cut hair 1 year ago and this a great clipper for a bigginer
You can buy it HERE.
The Wahl Professional Senior Clipper 8500 is a highly professional edger. Its V9000 motor is designed to stay cooler than other clippers. It is an all-purpose clipper; it can be used for cutting, tapering, fading, and blending the hair of your client. This means there is no need for extra tools.
Though it is a bit heavier and longer than other edges, its durability and its accuracy complement for this setback. The package when bought comes with some attachment combs. The cleaning supplies help keep it in excellent condition. In the hands of a skilled professional barber, this tool is a great wonder. It would make you're your client's, favorite barber.
A perfect haircut is like a charm that is why customer only goes for the barber the trust to the job best. An excellent haircut can give a client an edge when meeting date or during a job interview. A job well done can also improve barber's clientele. A barber must possess the necessary tools so as to give his client the perfect haircut, attract new clients, and build a great reputation. A very good beard trimmer edger and great barbing skills are a must-have for any barber.
As a mom of three boys, I needed a reliable, quality clipper. I'm not a professional hairstylist, but I am big on quality products and wanted a clipper that would last a long time vs. paying crazy amounts for hair cuts each month. I did a lot of research on good sets of clippers and came across this one. This Wahl has been a great replacement for the cheaper-quality set I previously purchased at our local big-box store. It is heavier, but seems to allow more control, cuts precisely, and I'm more confident while cutting their hair. My husband also has noticed the difference. I would highly recommend.
#7.

Gillette All Purpose Styler: Beard Trimmer, Fusion Razor & Edger for Men
Gillette All-Purpose Style with Edger is an edger that can be used for commercial and domestic purposes. It is waterproof and shower-safe. It is a beard trimmer made with Braun Engineered technology; Easy grip handle for precise trimming. 3 combs (2mm, 4mm, 6mm) for customizing your style. The package includes a trimmer, 1 ProGlide Cartridge, 3 combs (for different hair lengths), 1 battery, and an organizer.
Love the look, is pretty stylish. It is very sturdy.
It has 4 attachments including 3 different size trimmer guards and 1 shaving attachment. I hope the attachments don't break as they seem fragile and can break if dropped or manhandled so keep attachments carefully.
Works great & Hope it lasts.
Recommended definitely. Great price too.
#8.

Wahl Clipper Home Barber Kit Model 79524-3001, Electric Clipper, Touch Up Trimmer & Personal Groomer
Wahl Clipper Home Barber Kit Model is a complete kit that can be used for professional quality home hair cut and trimming.
The Wahl hair clipper comes with a 30 piece kit that offers multi-cut clippers, a cordless touch-up trimmer, & cordless personal trimmer with 2 attachment heads.
Also, it features a heavy-duty motor that can move through even the thickest beard hairs.
Another feature of Wahl Clipper is the self-sharpening features, it helps the blade sharpness and precision be the same over time, all you need to do is oil between every hair cut to increase the longevity of the clipper and blade.
It also has an adjustable tapper level that can easily change the closeness of your cut between guide comb lengths, move the lever up for the closest cut & move it down for a longer cut; allows for easy transitioning of blending & fading.
Somewhat easy to do by yourself but a better job with GF cutting it. Covers all the bases of cutting. Apron, combs, and trimmers are cheesy but very functional. Impressed with sharp blades. Be sure to use the blade oil. The main cutter/razor is quality built. Nice carry bag and lots of snap-on pieces for different cut lengths.
#9.

Wahl Clipper Compact Multi-Purpose Haircut, Beard & Body Grooming Hair Clipper & Trimmer
Wahl Clipper compact comes with a powerful motor and features a compact-sized design that provides increased comfort and cutting control.
This electric hair clipper has a built-in soft grip for the precise cutting control. Also, it can easily be cleaned as the blades are detachable.
Also, it includes Multi-Purpose clipper, clipper blade cover, 12 clipper attachment guards, blade oil, detail cleaning brush, styling and barber's hair combs, large cleaning brush, blade cleaning cloth, scissors, and a storage case
dead batteries. I use them of course for shaving my own and my son's head. I also use them for trimming the shag off my body and my wife cleans up my back. With the wide clipper head, it makes for quick work.
The variety of guide sizes is awesome. As long as you keep it clean with the cleaning brushes it comes with and oil the blades every 3-4 times or every other, I don't see any reason why these won't last for a long, long time.
I like how everything fits in the case when I'm done grooming and put it away (just fold the cord back the way it comes).
---
Frequently Asked Questions and Answers on Beard Trimmer Edger
Can I Take A Beard Trimmer On A Plane?
Yes! Beard trimmer can be taken with you on a plane, it can be put inside a shaving kit or carry-on bag.
What Do Numbers On Beard Trimmer Mean?
Number 1 – one-eight of an inch.
Number 2 – one-quarter of an inch.
Number 3 – three-eights of an inch.
Number 4 – one-half of an inch.
Number 5 – five-eights of an inch.
Number 6 – three-quarters of an inch.
Number 7 – Seven-eighths of an inch.
Number 8 – one inch.
What Lengths Should I Set My Beard Trimmer?
The ideal length to set your trimmer depends on how long your beard is, 1.2-inch/1.25cm is okay. It is not an ideal length for a mustache.
Is Wahl Professional Senior Clipper #8500 working?
Judging from the reviews dropped by a verified buyer who bought it for her kids, it is a great product working just like the information provided.
As a mom of three boys, I needed a reliable, quality clipper. I'm not a professional hair stylist, but am big on quality products and wanted a clipper that would last a long time vs. paying crazy amounts for hair cuts each month. I did a lot of research on good sets of clippers and came across this one. This Wahl has been a great replacement for the cheaper-quality set I previously purchased at our local big-box store. It is heavier, but seems to allow more control, cuts precisely, and I'm more confident while cutting their hair. My husband also has noticed the difference. I would highly recommend.
How Can I Maintain My Beard Trimmer?
Proper maintenance of a beard trimmer is needed to ensure it works as expected or sudden breakdown. To ensure your trimmer is working properly do the following:
Keep it clean always.
Change the blade at the right time.
Keep away from water if not waterproof.
How Often Should I Oil My Beard Trimmer Blades?
For better results, putting one or two drops of oil on the blades only when necessary, or once in a month is good enough. Make sure to turn on the trimmer when oiling, hold the unit with the blades facing down and squeeze one or two drops of oil onto the blades.
Can I Get My Blades Sharpened?
Yes, your blades can be sharpened, it is recommended that the blades be changes if it is becoming rusted.
How Long Do Beard Trimmer Blades Last?
There is no pinpoint time that a beard trimmer blade will last, to prevent damage in times when needed. Make sure to change at least every three months.
Is The Wahl Professional 5-star Razor Edger a face Shaver/ Hair Trimmer?
Yes, it can be used as both face shaver and hair trimmer. It depends on how much growth you have. However, it is precise in edging and great for trimming.
What Are The Factors To Consider To Buy Beard Trimmer?
Beard trimmer is important for a beard grooming kit. Growing a beard properly is important, and that starts from choosing the right beard trimmer like ones listed above. The listed are of started but how can the right one that can perform the functions needed to be chosen. The factors below are the ones to be put into consideration:
Is it dustproof
What is the price?
Are the attachments good that comes with the package good for my beard length?
Why Should I Buy A Trimmer?
Below are practical why you should buy a trimmer:
Beard trimmers are always soft on the skin.
The length of the guards can be adjusted, which allows one to determine how long the beard should be.
Portable and lightweight.
Fast and Accurate
---
Now that you have read on Beard Trimmer, Beard Trimmer edger, would you like to proceed to get your beard trimmer edger?