How often should you trim your hair? – Hair trimming is the process is described as the process of cutting split ends from the hair at least every 12 weeks. Cut the split ends of your hair. They are the damaged part of it that is caused by several factors.
Trimming of the hair is usually recommended for everyone including naturalists. Hair trimming does not expand the pace of the growth of your hair but can retain the length, avoid stunted growth, and promote good health. You may want to read: How to Prevent Razor Bumps on Neck, How to Destroy Hair Follicles Naturally at Home.
Trimming the hair is part of its care. It means it should be added to the hair care routine. There are different methods of trimming the hair which include: dusting method, Braid & twist method.
The dusting of the Hair
It involves the trimming of the hair by partitioning the hair into segments, by holding each of the segments under a light that is bright and then cutting off the parts that can be seen through. The see-through parts are normally small.
The Braid and Twist Method
This method features the braiding or twisting the tiny section of the hair and trimming the ends.
Why You Should Trim your Hair
There are lots of proven benefits to the trimming of the hair. Regardless of the kind of hair you possess be it natural, relaxed, trimming is beneficial.
• Trimming your hair split ends is a healthy practice as it makes the hair remain healthy.
• There will be remarkable hair breakage reduction if you trim your hair regularly.
• Trimming of your hair will help to prevent the movement of the split end to the hair shaft and therefore save your hair from stunted growth.
• Regular trimming of the hair is a guarantee for the retention of the length of your hair.
• It is said trimming promotes the growth of the hair.
• A trimmed hair makes it easier to style due to the even length.
• It gives your hair a fuller look.
How Often Should You Trim Your Hair?
There has been a lot of arguments regarding how often you should trim your hair. Some people advised that the best time to trim your hair is every 12 weeks, while others believed that the trimming should come into action once in a year. When is the ideal time to trim your hair?
We recommend that those with natural hair should trim their hair every 16 weeks for better and healthier growth, while those with relaxed and straight hair are advised to trim their hair once in 3 months. If you want the health of your hair, take good care of it in between trims by sealing it with essential oils. It should be done normally during winter in which the appearance of split ends occurs frequently.
When does my Hair Need a Trim?
You may not be an expert to know when your hair needs a trim. The professionals have made it realistic that the best time to trim your hair ranges from 8 to 12 weeks, and at the dates, the hair begins to show some signs that it needs trimming. It is more ideal and accurate to examine your hair closely rather than depending on the selected dates above.
Common Signs that your Hair needs Trimming
Knots
A hair knot is said to occur when two strands of hair begin to wrap around each other and then become tangled. With time, the tangled hair becomes bigger and hard to remove. Once you begin to notice this, you should understand that your hair trimming time is reached.
You can stretch your hair with hair stretcher, essential oil application and hair conditioners are also good at keeping your hair healthy. Trim the hair knot located at the ends of your hair. If you trim those tangled hairs at the ends of your hair, the follicles become more active.
Tangling
Trim your hair when the ends are always tangled. It is almost a similar condition with knots of the hair. In other, for you to grow healthy hair, try and trim your hair once this sign arises. It is not necessary that you wait for the universal dates set aside for trimming of the hair. The reason is that human body variation plays a big role here.
Stunted Growth
Trim your hair at the observation of stunted growth. You should be vigilant about the changes in your body system. If you realized that your hair is no longer growing in the normal length, the best thing is to trim it. It is normal that the split ends of your hair can travel to your hair shaft and then prevent your hair growth. Benefit your hair with full conditioning, styling, by trimming it regularly as the case may be.
Split Ends.
When you begin to observe split ends, it means your hair needs trimming. Split ends have the ability to affect the growth of your hair. Get rid of the split ends by trimming the affected parts. You may want to use some hair products that can provide a solution for split ends, but the bitter truth is that they can only give temporary solutions.
Benefits of Trimming your Hair
Trimming your hair has the following benefits: it remains fresh, it does not damage, frizzed out, boosts your hair growth, prevents hair knots, detangles your hair, prevents breakage, helps the hair retains length, it enables easier styling, and makes your hair fuller.
Fresher Hair
There is no doubt that if you trim your hair regularly keeps it fresh and healthy. Trimming of the hair removes the tangled area and then increases the freshness. Your hair is guaranteed of being vitalized when trimmed regularly.
It Prevents your Hair from Damage
No one wants his or her hair damaged. It is not a good thing to celebrate damaged hair. This is the reason why it is ideal you observe changes that occur in your hair so as to understand the best time to trim your hair. Trimming your hair does not only prevent it from stunted growth but will equally save it from damage.
It is good that you trim your hair every six to eight weeks, in order to minimize the damage that could occur to it. This practice will help your hair maintain a healthy and vibrant look that might have been hindered by damaged hair caused by tangled hair ends.
Frizzed Out
When you waste too much time not trimming your hair, it can cause it to freeze out. In order to protect your hair from being tangled, you need to practice regular trimming. Trimming boost your hair Growth
It is believed that if you trim your hair regularly, it makes it grows. You will enjoy the boost of fine locks.
• It makes your Hair Look Better
• Your hair looks shinier and healthier when you trim out the dead ends. The thinning and drying of the hair is normally caused by dead ends and therefore will be ideal to trim it.
It prevents Hair Knot
A hair knot is not something to celebrate. It can hinder the growth of your hair. The removal of the hair knot will be a good health practice towards our hair, so trimming it will make it look better and healthier. It will give it a better texture. This is the reason why it should be trimmed regularly.
It Removes Dreaded Dead Hairballs
Dreaded Dead Hairballs are not styles, they are dead hairs hanging around your split ends. There is no good job those balls are doing behind your hair but rather are just making the tangling of your hair more difficult.
It removes Tangling Hairs
Trimming of your hair regularly frees it from tangling. It helps to reduce the tangling of your hair and makes it look healthier and fresher. It gives your hair the ability to grow healthy and respond to good grooming through the application of essential oils.
Breakage
Trimming of the hair helps to reduce breakage. Getting rid of the split ends is a good practice as it will reduce hair breakage.
It helps Retain your Hair Length
When you trim your hair, it helps to either maintain the length or make it grow longer. This is a good reason why you should trim your hair. This is possible because the process of trimming your hair reduces hair breakage, removes split ends and then prevents your shaft from being attacked and as a result, causes long hair growth.
It Makes your Hair Easier to Style
This is one good benefit of trimming the hair. It makes it easier for you to style your hair. Say, for example, if you are willing to de-tangle your hair, since trimming it has already made it even, it will reduce the time and energy applied to do so.
• It gives you Fuller and Thicker Hair
• It is believed by some people that trimming of your hair gives it a fuller and thicker look. Although, there are people that stand against this claim; the only right judge about this matter will be the one who has experienced it.
Amazon Products to Trim your Hair
Braun MGK3040 7-in-1 All-in-One Beard Trimmer for Men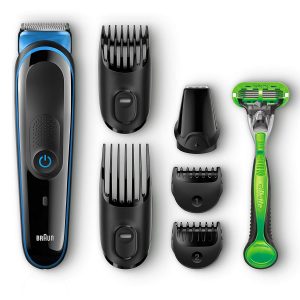 This is one special product you can use to trim your hair. It gives you that confidence due to the glad tiding of guaranteed fuller hair growth.
• It comes with a kit that includes 4 combs that have 13 precision length settings from 0.5-21mm and a detail trimmer attachment for easier usage.
• It can be charged for 8 hours and the battery lasts for 60 minutes.
• It contains lifetime sharp blades that cannot be compared with any other thing than something ultimate.
• It is a waterproof trimmer and can be washed under running water.
• It comes with a gifted Gillette body razor.
Check it out on Amazon.
Remington PG6025 All-in-1 Lithium Powered Grooming Kit
This is one of the best sellers' products on amazon you can ever get. You don't want to miss it out? It is high time you go for it. It comes with lots of features that are mind-blowing.
It comes with 14 settings precision for grooming full-size trimmer, nose, ear, and detail trimmer, detail shaver, and 8 length hair clipper comb; 3 snap-on beard and stubble combs.
It is a self-sharpening trimmer and has surgical blades made of steel for long-lasting precision and durability.
It is a cordless lithium trimmer that can hold power up to 70 minutes of run-time.
It is waterproof, therefore can be washed under the faucet to clean it up.
It is portable and therefore can be carried along for travel.
It has remarkable customer reviews, especially from females.
Check it out on Amazon.
SUPRENT Beard Trimmer Men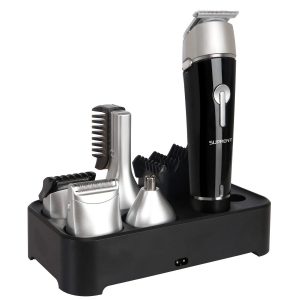 Talking of the best trimmers ever, we can't underrate this special one. It has been serving the buyers well, and you cannot be left out of this joy if you can buy.
It comes with a charging dock design that enables the beard trimmer to be ready to work. Say goodbye to those trimmers that don't have a charge that subjects you to waiting for them to get ready. This is an upgraded trimmer and you have nothing to lose when purchased.
It has this moving and running blades that run together. The 420 stainless steel moving and standing blade that comes with it are of great precision gap, deeply close to the skin, and has more pruning and low friction heat feature. Your skin is safe from being scalded, as it produces moderate temperatures suitable for it.
It also comes with 2 point pressing cutter that can help replace the cutters.
It has comb guide settings. The trimmer kit comes with 4 hair clipper combs, for the cutting of the hair, 4 adjustable combs for a precision trimmer and 3 adjustable combs for a full-size hair trimmer. It will also act well when it comes to styling your hair as desired.
The clipper kit equally contains clipper with blade guard, charger, storage charging dock, 11-guide combs, barber comb, styling comb, cleaning brush, blade oil and English, Spanish, French, German instructions, styling guide.
Check it out on Amazon
Now that we have been able to figure out the reason why you should trim your hair, the time interval to trim your hair, the benefits and some amazon products that can help achieve your hair trimming dream; we recommend that you should practice trimming when the need arises.