Can you sharpen clipper blades with Aluminium foil? Let's find out.
Whenever I want to judge the effectiveness of my clipper, I take a look at the quality and sharpness of the clipper blades. This, I believe you should think of too.
Before I came up with the necessities of sharpening a clipper blade more frequently, I discovered that I have been missing out in experiencing the full potential of that cutting tool
You shouldn't be really bothered about having dull clipper blades, it's inevitable, I tell you. Dull blades are what you get as a result of the regular wear-and-tear. However careful you are when using these blades, they will still get dull with usage.
But do you know the brighter side? I'll tell you.
There are some methods that you can put into practice that will minimize, or let me say, rejuvenate the dulling process of a clipper blade.
That's all I'll show you in this article. One of the most effective and easy-to-do ways to sharpen clipper blades yourself.
All you need to do is find an old toothbrush and an aluminum foil, then get ready to sharpen your dull clipper blades! I will show you how you can sharpen your clipper blades using aluminium foil. 
It is no news that aluminium foil is being used for so many important things in our surroundings today. Apart from storing food, this object can be used to sharpen our clipper blades.
When I discovered this truth, I made some extra research to see if aluminium really sharpened clipper blades so well. I tried it with an old clipper blade that seemed dull and yes, it became as sharp as it can ever be.
What makes this method of sharpening blades a popular one is that it is relatively inexpensive, durable, non-toxic, and greaseproof. The easiest way to sharpen your clipper blades in your home using an aluminium foil is spelt out below:
Sharpen your clipper blades using aluminium foil with the following steps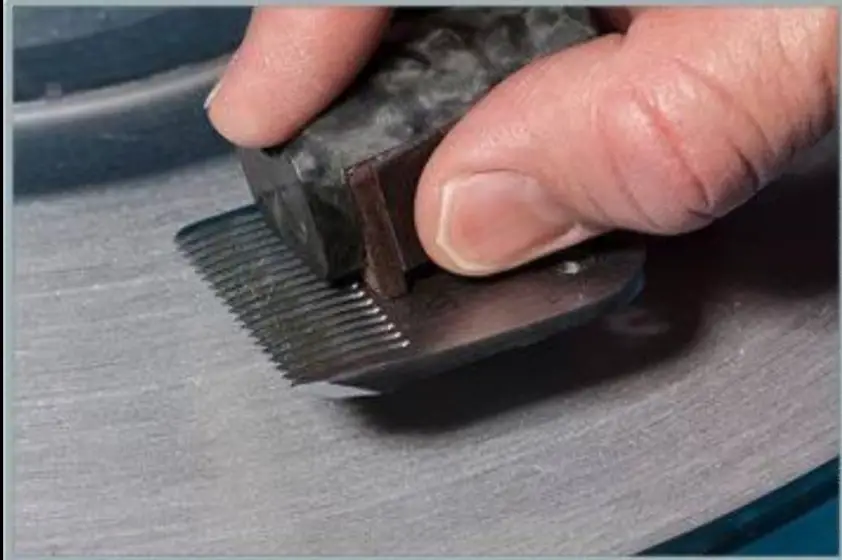 Ensure that the clipper blade is clean
The first thing to settle is to see that the blades you want to sharpen are cleaned thoroughly. I'll talk more about cleaning clipper blades later. But for a quick one, all you need to do is take off the blades from the razor.
This you can do by removing (if they are actually screwed into the razor). Then wash them with water and any brush with small, rigid bristle brush – toothbrush, preferably.
Dry the blades with a towel
Use a towel to dry the blades properly before sharpening. It must be entirely dried. Use a towel to remove any dust remnants from the blade.
If you are very sure that there is no other factor that can affect the sharpening process then you are ready for the next step.
Place your aluminium foil on a surface
Grab your aluminium foil and place it on an even surface. Now, whenever I sharpen my clipper, all I do is to place and move the blade sideways.
Move the blade from one side to another for like 10 times without stopping. After doing this, the blade should be looking sharpened and shiny.
See an example here:
Clean away particles
If you have used a sharpening stone for your clipper blades before, you can tell that it will generate a lot of dust. And this dust will now get stuck between your clippers. Real bad.
In case you find yourself in this situation, what you need to do is to use a small towel to clean and remove these particles away from the blades before reattaching it into the razor.
But this case is not the same when using aluminium foil. When using aluminium foil to sharpen blades, the remains may look like the blades. When I did mine for the first time, I was confused not until I paid enough attention and got rid of them using a small towel to dust them off.
You may repeat the process again if you want
If your aluminium foil is still intact and not rough, you could repeat the process again to ensure the blades are fully sharpened. If it's not necessary, you do not need to. They are already sharpened! It is important to use a towel to clean off the remnants of the aluminium.
Couple blade back to the clipper
We are done with the sharpening process. What you will do now is to couple back your clipper blades onto the razor. Be very careful and make sure you place them properly as the way you removed them.
To make the razor work more smoothly, apply a natural clipper oil into the blades after attaching it. This will also prevent the heat from destroying the blade quality.
I found out that it is not safe to use the razor for the first 2 minutes. So after turning the razor, you will wait for about 120 seconds. This is to ensure that the final sharpening process is accomplished. After two minutes, your clipper blades should be ready for use.
That's it. These steps should be enough to guide you on sharpening your clipper blades with aluminium foil. But that's not the end of your grooming story. One other important thing to consider if you want to rapidly grow a nice looking beard is a good beard cream.
You can read this article HERE  to get the best beard cream and how to apply it on your beard.
Important tips for maintaining clipper blades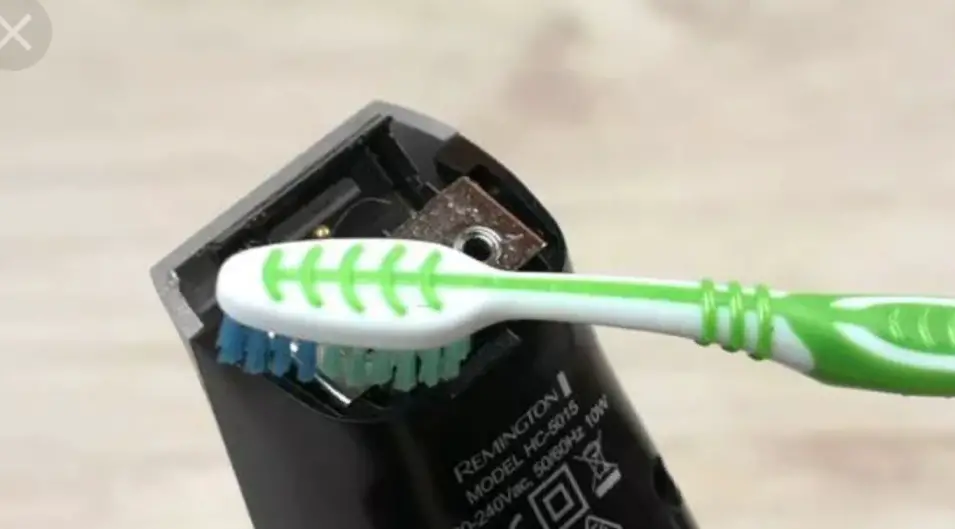 It is important to always make sure your blades are firmly reattached before use. They should be aligned and tightened properly.
When it comes to oiling blades, don't just settle for any less effective one.
You can damage or deter the effectiveness of your clipper blades when you use any other type of oil
Use trusted and tested products from approved, quality brands like Wahl's.
Except you would like to ruin your blades by drowning them, do not use excess electric clipper oil.
Cleaning of blades is important as well. Depending on how often you use it, your clipper blades should be properly cleaned regularly. Doing it per week/once every three to four uses is not a bad idea.
When brushing your blades, you want a small gentle bristle. Preferably a toothbrush or fetch a dedicated cleaning brush like Andis blade brush
 If you want to go for clipper blades brushes online, know that they will be small. If you need anything a little bigger, then the toothbrush is the best option for you.
Does cleaning clipper blades matter so much?
Yes, I've asked myself this question. Sometimes it looked like everything was good. I needed to save myself the stress of always sharpening when the blades were still quite sharp.
But without telling you, you should know that your blades will get duller and duller when leftover hairs get clogged into the blades and you refuse to oil them. At worst, they will not even cut hair well and that may give you a painful, patchy haircut that I almost had.
They'll get dirty if you don't clean them frequently. At this stage, skin irritations like bumps that might infect your skin are imminent.
If you are a professional barber, then there should be no excuse for having dirty tools and equipment. As a professional, your customers shouldn't be having razor bumps or rashes after your service. If they are, then I'll suggest you find another field. Don't be bitter about the truth. You can see that you are actually doing yourself a favour by cleaning your clipper blades regularly.
In addition, you're extending the life of your tools so you can save money and be more profitable in the future. The motor will definitely find it hard to work easily when blades are dull. This will eventually lead to the clipper breakdown, due to sustained too much strain.
In contrast, the motor will run smoothly and without slowing down if the blades are clean. This may not be that obvious until the effects start showing in your clipper generally.
How to properly clean a clipper blade, you say? Well, it is either you go for thee special blade wash to ensure their cleanliness. Or, if you like, you can go for the DIY home solutions which are easy to do.
Wrapping Up
If you want your razor to last long, you can't neglect sharpening!
Maybe someone has told you that the process of sharpening clipper blades by yourself is quite difficult, but now you know. I just showed you how you can do that in 7 simple steps.
Trust me, doing this regularly will keep the blades working as intended. Remember to always oil your blades after the sharpening process so that they can be able to function smoothly for a longer period.
I really hope this guide has answered your questions on how to sharpen clipper blades at home with aluminium foil.
In general, one interesting thing about electric razors is that they become lifesavers especially when you are late for work and you need to still shave. Consider buying electric shavers today and experience the swiftness and perfection of shaving.