In my recent post, I showed you how you can sharpen your clipper blades without using a stone. There, we looked at different methods to sharpen clippers like a pro at home using available resources apart from clipper blades sharpening machines.
However, if sharpening stone is the best available tool for your clipper blades, then we got you covered. In this article,  we will look at the best stone for sharpening clipper blades. Not all stones are recommended. Some can, instead of sharpening, damage the effectiveness of the blades.
Clipper blade sharpening is a required thing if you want to give yourself a perfect haircut or beard trims at home without having to make regular visits to the barber.
So, what are the best stones to sharpen clipper blades?  There are different types of stone to buy out there in the market. But there are ineffective ones that turn a lot of people away from even attempting to use a stone.
However, it's not really daunting to find the best. Which we've done!
Best stones for sharpening clipper blades
Vincent Razor & Clipper Blade Sharpening Hone
About product
With the soft stone, The glazing and buildup of dirt are prevented when using the Vincent Razor & Clipper Blade Sharpening Hone. This is one of the differences you will not get when using harder stones.
You can use water (rather than oil that can damage the stone) to lubricate the soft stones effectively
It gives a perfect sharpen and polishing to the clipper blade by the formation of the lubricating water and natural worn materials.
Special details
It Maintains your razor
Versatile for Sharpening Clippers, knives, and razors professionally and precisely
It gives blades that razor-sharp edges for a finish.  It is a traditional Japanese method
500 Grit (Rough Grinding)
Return edges to their original shape (Darker Side)
Sharp Pebble Premium Whetstone Sharpening Stone 2 Side Grit 400/1000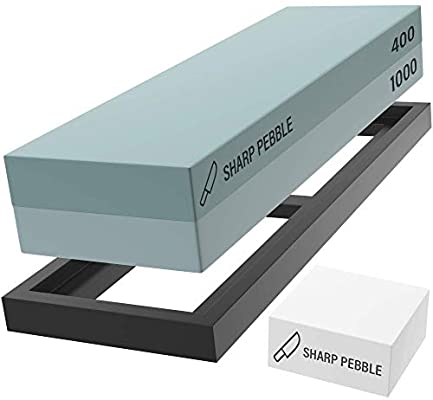 About product 
What makes it special among all is the non-slip rubber base, tool sharpening guide, and flattening stone which are ideal for making your clipper blades scary sharp. These are the three must-have essentials in any stone for sharpening clipper blades. All provided in an affordable set.
Please note that you can also use this tool to sharpen knives.
Restore the sharpness of your dull, lazy clipper blades with only one use of this stone.
After use, you get high productivity, Faster Cutting, reduces fatigue & keeps stress and fatigue on writs at the minimum, hands and arms caused by blunt or dull clipper blades. It is also versatile.
This particular sharpening stone can restore any dull clipper blades out there. Be it Blade sharpener, Straight Razor, Hunting Knife, Pocket Knife, Scissors, Chisel, Carving and Gardening Tools & it can even sharpen a dull Sword! Not just limited to sharpening clipper blades alone.
The special Flattening stone is used to make the uneven surface even. These uneven surfaces are brought about by the repetition of usage. Plus, you do not need any oil for lubrication since it's a water stone.
This Waterstone is made from highly durable silicon carbide dual side grit 400/1000. While Grit 1000 is used for sharpening and smoothing the edge, Grit 400 is used for returning edges to their original shape.
Special details 
Made from silicon carbide material,
Provides perfect grit combination to repair damaged or chipped edges
Sharpens dull blades in time
 Your go-to sharpening stone.
Two-Sided Grit (400/1000)
White Fattening Stone
Non-Slip Rubber Base
eBook Guide
DALSTRONG 1000/6000 Premium Whetstones kit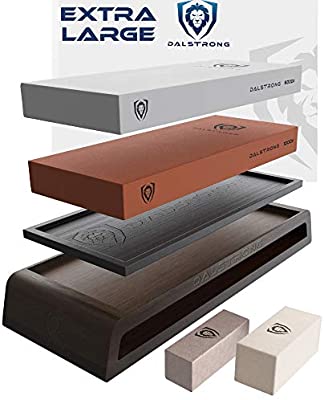 About product
Tested and trusted. The award-winning craftsmanship which has been handcrafted with an awe-inspiring design to present the best materials available for sharpening tools.
Ensure that your clipper blades and properly maintained and regularly sharpened with the Dalstrong Premium Whetstone Set
With this stone, you can now get the best performance at an affordable price. You are still protecting your investment.
The aim of this tool is to see that your cherished clipper blades maintain their long-lasting tooth-like edge and remain in peak performance whenever you use them.
The 1000 gritstone is available as a multi-purpose stone to sharpen blades and knives too. While the 6000 is to return and rejuvenate the bases back to its actual shape.
It has been proved as the best for sharpening both German and Japanese style knives, scissors and other bladed tools. The naguta flattening stone will serve as a conditioner for the finishing and sharpening stone.
Special features
1000 Grit Sharpening Stone
 6000 Grit Finishing Stone
Silicone Non-Slip Stone Holder
Handcrafted Acacia Wood Bast
Nagura Flattening Stone
Rust & Stain Remover
Detailed Instructions & step-by-step Whetstone Sharpening Guide
How to sharpen clipper blades with stone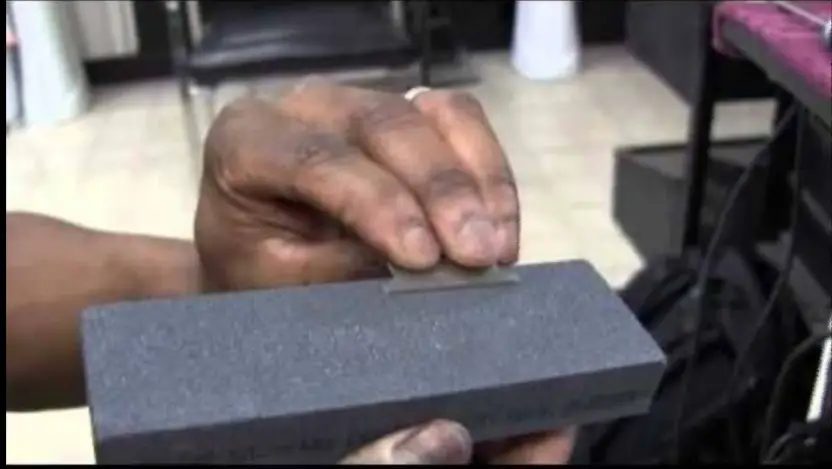 Now that you've gotten one of the best stones for your clipper blades, it is time to know how to use them to get a perfect outcome. This particular guide is going to be different. Here is a practical, no-nonsense and step-by-step guide on how to sharpen clipper blades using a stone.
Required Items You Will Need
Sharpening your clipper blades with stone should not require much. Here are the basic things you should put in place:
The detached clipper blades
A  Screwdriver;
A Cleaning Brush;
A Bench Stone ( I recommend any of the three stones I've shared with you.)
Clipper Oil
A cleaning rag
Well, your sharpening stone still remains the most required piece of equipment. You can easily choose any of the three best sharpening stones I have shown you earlier on. Some people still use sandpaper. Well, you've got everything in place? Let's get down to details…
Use Screwdriver to remove Clipper Blades 
All of the stones I've shared with you are water stones. And they will work really great for the sharpening process. Using water stones will require that you soak them before you commence anything at all. These stones will need a little lubricant before starting if they are Arkansas or Diamond.
Disassembling Your Clippers
Now, we have successfully put in place all that is required to have a perfect sharpening process. It is time to use Philip screwdriver to rove the clipper apart very carefully.
Now, this is important. Two blades are attached to a set of clippers. Pull out these two blades and clean them with a brush. Preferably an old toothbrush if you can get the normal clipper blades brush.
This phase is a nice time to clean those clipper blades. 
Sharpening the Blades with stone. 
This is the main activity. It's time to sharpen the stone. Now that the blades have been detached. You will want to sharpen the flats of both the top and bottom blade.
It is a very simple thing to do by reading carefully. Even sharpening a knife may seem more difficult.
So the main point is that you are laying the blade flat on the stone and running the blades back and forth along with the stone with gentle pressure, continually.
And at most, 10 passes along the stone should be enough to have that sharpened, shiny blade.
The only thing I can point out that may allow you to fail in this process is when you do not keep the flats of the blades on the stone. Hence, it is as well important that you keep the flats of the blades on the stone.
Most people I know do use a magnet to hold. But in a case where you aren't that sophisticated like me or the magnet is not just within your reach, then the perfect and usual thing is to use your thumbs and index fingers.
If you are Sharpening Clipper Blades with a Fine Waterstone, the time you will spend sharpening your blade should not be anything more than two minutes.
Other things being normal, you can end up spending 5 minutes. Let's assume you'll be trying to snap some pictures to show us while sharpening. LOL
But the actual sharpening is super easy and won't take time at all.
Cleaning  and Oiling of the Blades
By now, your clipper blades are now well sharpened. You will want to clean them and oil them before you reassemble them. That is the way it should be done each time you sharpen your blades.
Using alcohol will not hurt but You can use a little soap and water to clean the blades. Oil the blades down to avoid rusting. Make sure you blot away the excess oil once you notice any.
Reattaching  Your Clippers blades to the head.
This is the last phase but also where most people may miss it all. It is important to take your time and make sure the blades are lined up appropriately while reassembling.
Now that the blades are really sharp you will need to be very careful while handling them.
Now, until you have everything adjusted the way they should be, do not go ahead to tighten the blades down.
Immediately you have successfully reassembled the clipper blades to the body, do not forget to oil the blades and switch on the clipper prior to the time you will start using them on someone's head.
You want to make sure that everything has been put together properly already. Else, you don't want to hear sad stories.
It is recommended to wait for at most two minutes after switching on the clipper for it to run. The use afterwards.
So, guys, you can see for yourself that sharpening a clipper blade with a stone is not complicated and it's not a big deal.  The material needed for this process is easily accessible and will not cost a fortune.
In addition, you will spend, at most, five minutes for the whole process
It still amazes me why some men will choose to allow their clipper blades to die down finally before looking for solutions when you can just use five minutes to give your clipper blades another story.
Sharpening clipper blades with stone save you money as there will be no need to constantly replace your clipper with any new one.
Having  A simple whetstone and a tube of hair clipper oil can easily fix any problem for you.
Final thoughts on Best Stone For Sharpening Clipper Blades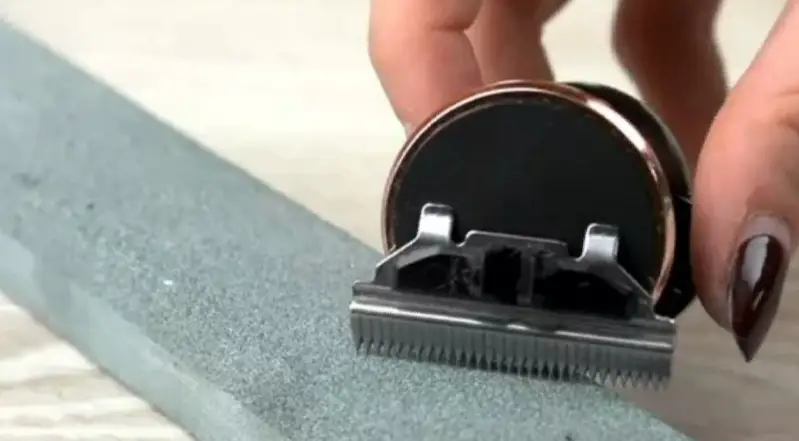 You will agree with me at this point that there is no pleasure in cutting hair with dull blades. You do not get a clean-cut, they pull your hair and above all, makes you feel like you are chopping a carrot with a dull knife.
I really want to reach out to many professional barbers to know how often they sharpen their clippers and how it works for them.
However, I hope this article has been able to provide you with the best sharpening stone for clipper blades and how to use them.
If this is your first time and you have been thinking of taking it to a professional for sharpening, well, it's a good thought, but get ready to spend a lot
There are many DIY options when it comes to sharpening blades that you can do for yourself at home. Sharpening clippers are easy to do and you will immediately be able to identify the difference after sharpening.
What sets the big difference here is your choice of sharpening stone. I'm sure you'd prefer one that doesn't move while you work on it.
You also want a stone that is wide enough to accommodate your clipper.
If you've not got a stone like this, then you need to get any of the three we have recommended in this article as they are relatively inexpensive and easy to use.
And at the end of the day, you will come to realize that, apart from your clipper blades, there are other household equipment that has been waiting for you to get a stone for sharpening.