Quite a number of travellers are confused as to whether taking their hair clippers in their hand luggage are allowed on a flight. Let's see if this is allowed.
Can You Take Hair Clippers In Hand Luggage? Taking your hair clippers in hand luggage is allowed. You can also take your hair clipper in your carry-on without being questioned. This is because the blades of these clippers are non-lethal and tiny in the cutting head. You should be aware though, that travelling with hair clippers are subject to the approval of the TSA officer who is situated to do security checks before you get into the aeroplane.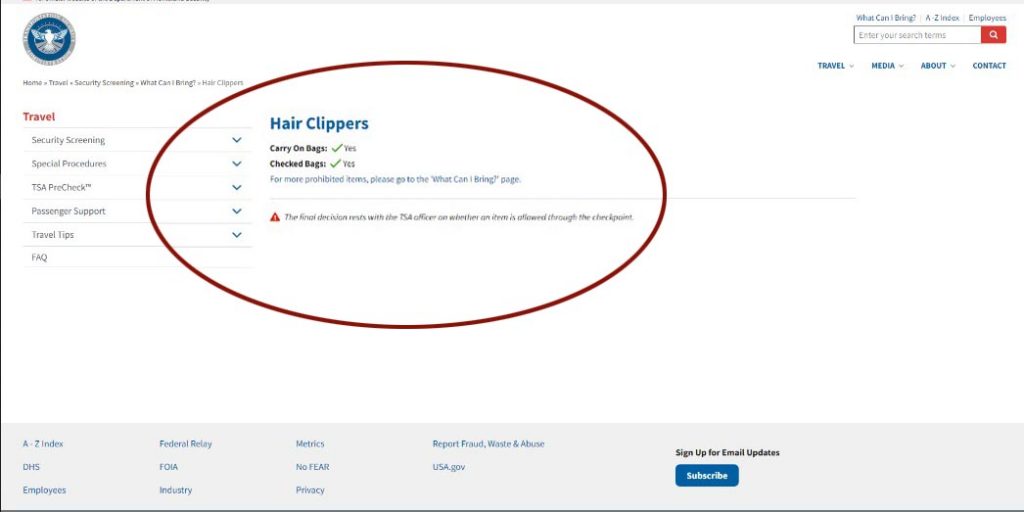 I always recommend that you remove the batteries and find a way to secure the on/off switch. If you do not do so, it can unexpectedly turn on itself and drain the batteries eventually.
For some men who love to always wear that clean shave look, you may be bothered about what shaving device is permitted on an aeroplane when it comes to razors.
In accordance with the Transportation Security Administration, there are specific rules that govern razor-like items when it comes to travelling – especially shaving implements.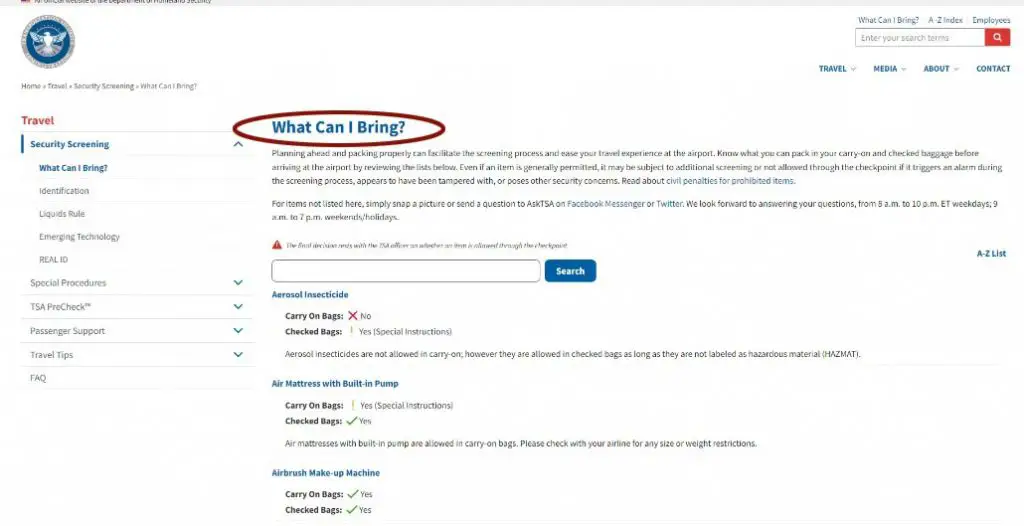 Thanks to hair clippers which are non-lethal as they have no sharp point and are good for air travel, according to the Transportation Security Administration.
Items like straight razors are not allowed on carry-on! 
Things to consider when taking shaving devices in hand luggage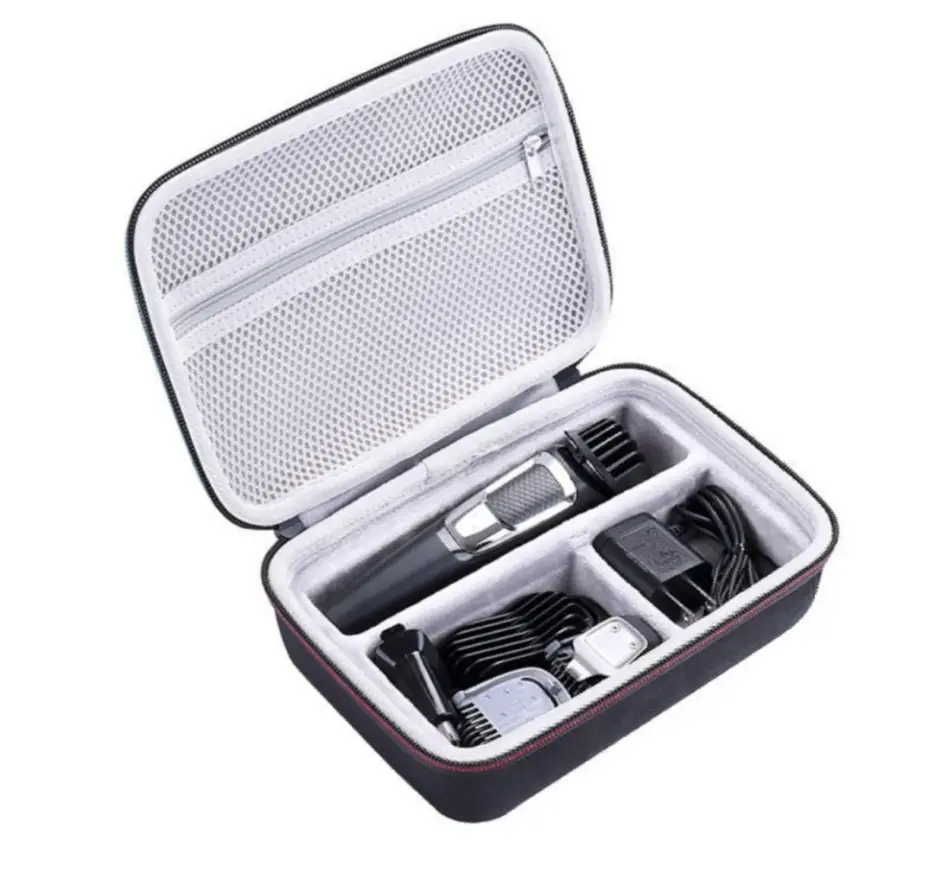 From electric razors to beard trimmers and other shaving-related toiletries, there are some regulations as stipulated by the TSA that sets a certain limit on what to bring on the plane and controls how to pack it.
Permitted  and Prohibited Razors
Hair clippers and electric razors are permitted in checked baggage as well as onto the plane. The same rule applies to disposable razors and cartridges.
Straight razors and safety razors are not allowed on a plane unless the blade is removed beforehand. I hope you've read the red quote up there very well.
You can include the Batteries of your hair clippers in carry-on or checked luggage.
Proper packing
I highly recommend that you pack your razor securely so it won't get damaged during transit. However, you are free to choose how you want to pack it since these hair clippers do not have sharp points.
To avoid injury to inspectors or baggage handlers, it is advised to wrap any other sharp object sheathed and securely.
 The rule that governs liquids
This implies items like aftershave lotion, cologne or shaving cream. If you have it in mind to travel with any of these items, then do not neglect the TSA's 3-1-1 rule for liquids and gels. What are these rules?
Liquids should be contained in a bottle of 3.4 ounces or less by volume.
A quart size, transparent plastic and zip-top bag are required if liquid or gels are in Bottles.
Only per person is entitled to one such bag and should be placed in a screening bin to pass through the X-ray machine for proper inspection.
Avoiding Security troubles
It may be difficult to ascertain these measurements. If this is the case, then you should put them in checked luggage.
Please I have to repeat that it is important to remove the batteries before the trip to prevent an ugly occurrence.
We've heard some travellers telling stories or how their hair clippers have switched on during travel after they were jarred in luggage.
Recommended carry onboard beard trimmers for you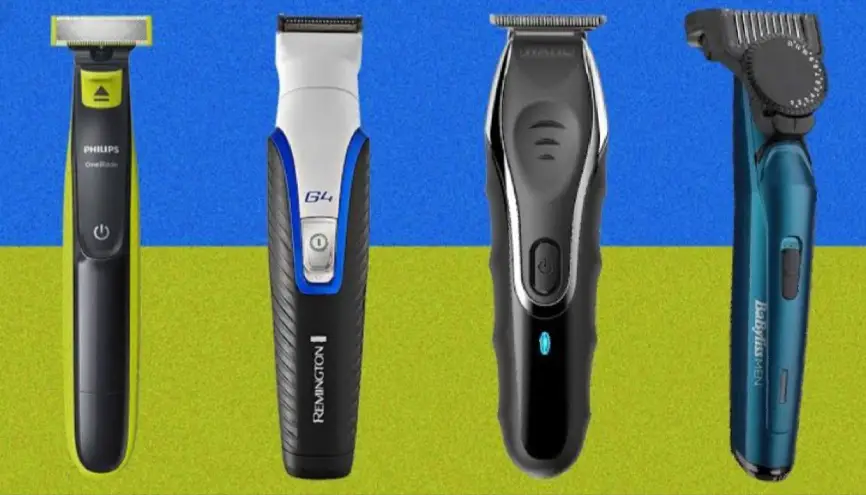 Now that you know hair clippers are allowed to take on hand luggage and you now know what to consider when packing them, why not explore the best and recommend Carry On Board Beard Trimmers. Below, I have reviewed the best beard trimmers you can carry onboard an aeroplane.
Attention: The internal data of table "8" is corrupted!
Philips Norelco Oneblade QP6520/70 Pro Hybrid Electric Trimmer and Shaver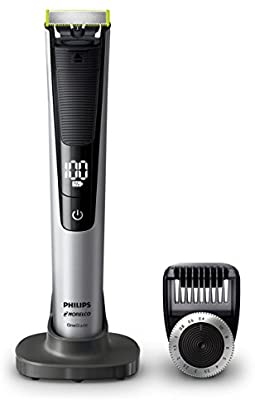 About product
The Philips Norelco OneBlade Pro is a very good beard trimmer, and I  recommend it. Talk of super stylish and powerful, you find it here! The build quality is great, and the Norelco products are a grooming staple.
This particular product is a revolutionary hybrid tool. OneBlade Pro can do it all with just one tool – trim, edge, and shave any length of hair. It has a Long Lasting battery life with a quick charge and indicator is a great feature.
Reasons to buy 
Unlike other trimmers, Philips Norelco OneBlade Pro is a revolutionary hybrid tool. OneBlade Pro can do it all with just one tool – trim, edge, and shave any length of hair. This makes it very ideal for travelling.
You will be impressed with the unique shaving technology which integrates a fast-moving cutter (200x per second) with a double protection system to give an effective and convenient shave on longer hairs. OneBlade does not shave too close, so your skin remains comfortable. The replacement blades last for about 4 months
Pros
The Philips Norelco OneBlade Pro comes with 14 length settings!
Also, the build quality is great and will last a long time
Very durable
The replaceable blade will last up to 4 months.
You get your money's worth.
Cons
Replacing the Shaver blade can be more expensive than some other trimmers. But it is worth it!
Key features
Trim, edge and shave any length of hair with only one tool
Unique OneBlade technology with 1 replaceable blade
Not too close, so your skin stays comfortable
14 length settings from 0.4 – 10mm
Li-Ion battery
An hour of charge gives you battery usage of 90 min coupled with LED display for battery life.
Product Dimensions : 3.8 x 5.1 x 8.6 inches
Product Weight: 13.4 oz
Can Use it in wet or dry situations
Wahl Lithium-Ion 2.0 Deluxe Groomer

About product
This falls on our #2 on this list because of its amazing features. I can't think of any better trimmer that will give that absolute and perfect trim.
The Wahl Lithium Ion 2.0 is yet another wonderful beard trimmer with a plethora of features that make it the best choice for travellers.
The long-lasting charge is a massive bonus and the one-minute quick charge that gives you three minutes of run time will prove convenient time and time again when you are in a rush to work or somewhere else.
Generally, Wahl trimmers are really ideal, but if you had to choose one, my choice would be the Wahl Lithium Ion 2.0, Deluxe Groomer. The worth of your money spent will surely speak when you use this.
Reasons to buy
The Wahl Lithium Ion 2.0 Trimmer for your best on-the-go trimmer is another great option as well. Keep your facial hair looking great at all times using this Trimming device that gives you all you need. This kit gives you Wahl's Lithium Ion 2.0 Power as well.
Pros
It is produced, containing all features needed for a  trim, detail, and tush your beard, body, and head.
Wahl offers a 5-year warranty. Posing as great confidence that you will surely be happy while using their product.
Equipped with Smart LED that tells you when the charge is running out
Has two times the cutting power of other standard rechargeable trimmers available on the market
Cons
Due to the switch's eventual wear, some reviewers complained that the on/off button does get stuck at times and could pose a problem.
Key Features
 Lithium-Ion 2.0 Technology
1-hour charge
Up to 4 hours run time
2X power
Smart LED
Auto charge off
Made in the USA
5-year warranty
120-240V 50/60Hz
Hatteker Men's Beard Trimmer Kit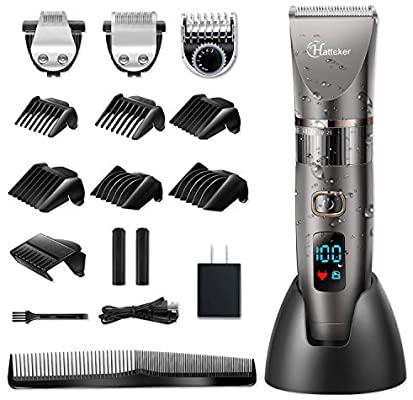 About product
Finally is the  Hatteker trimmer kit. We have made this product appear in our top 3 list because it has great features that will ensure a perfect trim.
It is an All-In-One personal groomer with 5 different attachments with additional combs. Hardly you find them in less-patronized trimmers.
Reasons to buy
This is a new release trimmer kit which will offer the best Precision. In addition, it is entirely washable with non-corrosive blades and guards that are water-resistant for easy maintenance.
The Hatteker trimmer is relatively inexpensive and offers excellent value
Pros
Great All-in-one groomer that is durable and long-lasting
Its modern design looks great and has a nice Led screen
It's compact and easy to pack as a carry on item. Ideal for traveling.
Cons
There are just a few defaults to point out.
But It would be nice if the warranty was longer than 1 year.
Key Features:
Powerful battery life  – 90 minutes of charging allows you 60 minutes of usage
Self-sharpening steel blades
Entirely washable
USB charging
LED display
These products offer the best to any bearded man, especially if you are looking at taking them along when travelling. Any can be carried onboard an aircraft and will provide great quality at great prices.
---
Other important grooming tools to carry along when travelling
If you are the type of man that love to maintain that perfect gentle man's look, then you will have in mind some important grooming kits to carry along when travelling.
Before deciding to put just anything into your bag to take care of your grooming during travel, you should consider some crucial things. First of all, it is always the wish of any traveller to reduce the loads in the bag to the simplest form.
So, before putting in just any item, look for anything you can reduce that are not necessary.
Also, it is a smart idea to pack grooming items that are multipurpose. For example, instead of packing two huge solid soaps, you can take only a shaving soap which can serve for both body and head.
Another travelling tip is to purchase most of the grooming kits when you have arrived at your travel destination. If they will not cost as much as it is purchased where you reside, then it is a cool idea.
I will advise that you trim your nose, ear and eyebrow hair and even cut your nails before embarking on your journey. Among the grooming items you will be carrying, do not include a clipper.
According to the TSA in line with the 3-1-1 rule, liquids, gels aerosols, creams, and paste carried by passengers are allowed but should not be beyond 3.4 ounces (100ml). Let's now move into the list of essential grooming kits to carry along when travelling.
Dopp kit
There is no other better way to conveniently store men's grooming products when travelling than the use of a Dopp kit. Often called a toiletry bag, this is among the important grooming items to carry along when travelling.
There are many things that pertains grooming kits that can be placed inside this bag to save space and to keep the items safe. A very good Dopp bag should be portable and contain your basic grooming items in your carry on.
You do not need to be bothered about taking your body wash or large bottle of shampoo
The Dopp Bag is ideal when embarking on a long journey. It will save you the stress of carrying extra baggage as well as space to include other items. Things you can put inside a Dopp bag include
Deodorants. I will not advise you to go with sprays because they are bulkier and may exceed the required allowance. I will go with a roll-on deodorant which you can use on your underarms.
Deodorants are, in fact, the heaviest item in a Dopp kit. You can also include a toothbrush in a Dopp kit. While the ones that work with battery or electric may take extra space in the bag, I will recommend you go with the regular ones.
If you will have a quick brush after a meal during your journey, then you can put the toothbrush in any space outside your bag for easy access.
You can take the toothpaste that has been made available in hotel rooms. They are usually 0.85 ounces in weight and can help during your journey.
It is much better than to be stopped for carrying larger tubes of toothpaste. Note that the required weight of toothpaste to be carried on a flight is 3.4 ounce. You may not even need to be bothered about this since toothpaste can be found anywhere and will be available in bounties in hotel rooms.
A Dopp bag for travelling can also contain a pack of gum to keep the mouth fresh and busy. Store it on the outside of your suitcase so that you can access it easily. A lot of people do not think about taking a sewing kit along.
It is necessary for a quick fix in cases of emergencies and can be stored in a Dopp bag.
Shaving tool
By now, you should be aware that Shaving blades are not allowed onboard an aircraft.  I recommend going with Philips Norelco body groom series 9000. Cartridge razors or electronic shavers are pretty much permitted. You will also need a shaving soap which can serve as a body soap. Check out Blades Grim Shaving Soap
Body creams and lotions
I would personally prefer TAUN Facial Repair Formula moisturizer for travel. But note that there is no need for moisturizers during summer or warm climates.
If you would go with TAUN Facial Repair Formula moisturizer it is pretty much better when you transfer them into a smaller plastic tube.
Pills and Medications
When travel, it does not require that you are ill before you take along medications. You can include some painkillers in your luggage as they can help reduce the unplanned headache that comes with the whole stress of travelling a long distance.
Do not forget to go with a recognizable prescription. As you probably know, not all type of drugs is allowed by the TSA.
Hairstyling product
Whatever hairstyling product you want to carry along when you travel, you can turn the contents in their container into a compact travel size container. An ideal product to keep your hair in good shape while travelling and nit going against the travel rules is VITAMAN's natural men's hair styling products as they are packaged in 3.4-ounce containers.
Also, I don't think there is any need to be bothered about carrying a shampoo in your luggage since most hotels will stock these items in their rooms.
Do not forget to take along comb for a quick fix if need be.
These are the basic important things that pertain to men's grooming that you should not leave out when travelling. While the grooming kit required to be taken when travelling is not hard to find, the essential ones should fit into a convenient Dopp kit
So have it in mind that beard trimmers, electric razors and hair clippers are allowed on hand luggage and on your carry on. However, there are rules attached to carrying razor-like objects that I've shared earlier on. Do not ignore them!
Final words
I hope the information above suffices. We have tried to answer your question and also to give answers to additions questions you may have on what to take in your hand luggage on a journey. Let us know if you've got any more questions.
Cheers!