Let us find out more about Galvanic Electrolysis Machine
One of the prominent and common methods of permanent hair removal is the electrolysis method and it is approved by the US food and drug administration (FDA).
There are three different ways in which electrolysis is performed. These three ways are thermolysis, Galvanic, and the mixture of both.
Also known as electrology, the general process of electrolysis involves disabling each hair follicle thus causing the hair to fall out by passing a small amount of energy into these hair follicles individually.
As you may suggest, there are some other methods of hair removal that destroys hair follicles like electrolysis. But what brings the permanence in this method is that germinating cells located below the sebaceous gland will also be destroyed to aid effective permanent hair removal.​
The major goal when using any electrolysis machine is to achieve total hair removal permanently. Thus, the hair follicles are to be destroyed so that regrowth does not take place.
So in this article, we shall take a look at the Galvanic Electrolysis method of hair removal, it's benefits, side effects, and of course, the best galvanic electrolysis machines for home use or otherwise.
I will also show you how you can carry out galvanic Electrolysis in your Home like a pro with a step-by-step guide. I encourage you to read further.
What is Galvanic Electrolysis?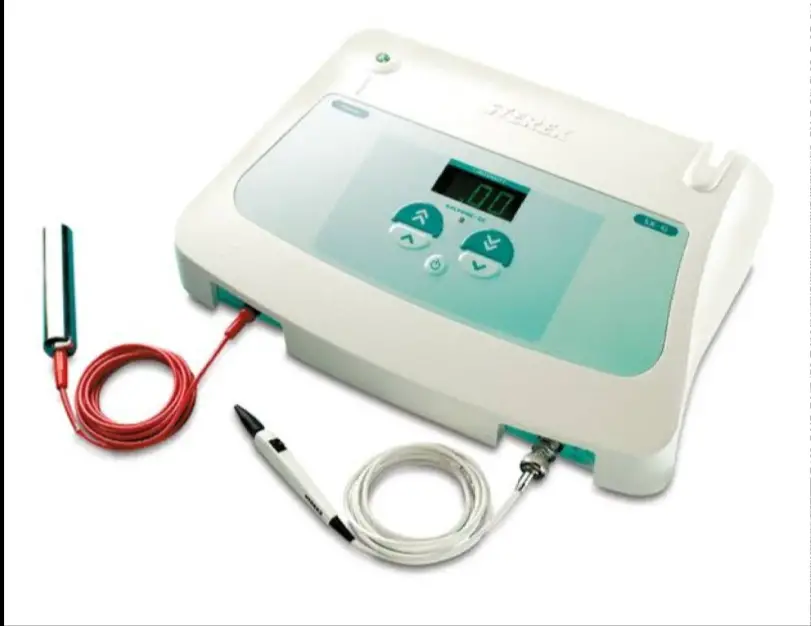 This ​is an example of an electrolysis method whereby chemical reaction is used to destroy the hair follicle such that a direct electrical current is used.
A brief historical check, the galvanic method was first successfully tested and used in 1875. Adding an additional 5 needles to the unit, it was later developed in 1916 where the required time duration for complete treatment was reduced.
It is over 150 years since this method has been used to get rid of hairs permanently.
So basically, it works by inserting a needle into the hair follicles. This needle will pass a little electric charge into the skin. The saline found at the base of the follicle Reacts to this to produce (Iye) what is commonly called sodium hydroxide.
Many people feel this method is not safe. But it is! When you carry it out rightly, galvanic electrolysis will not excessively take a toll on tissues in the surrounding areas of the hair being treated because even the galvanic lye faces a hard time in breaking down the sebum contained in the sebaceous glands.
Galvanic lye (sodium hydroxide) breaks down the follicle containing the hair is composed of some 6 known layers ( the weaker layers are destroyed and this allows the innermost part of the follicle to be removed. Consequently, the lye continues to work for some time after the hair is removed, seeing to the death of the outer layers and re-growth cells.
Even before the development of the 5 needle thing in 1916, the ​Multi-needle galvanic Electrolysis consumes time as per hair requires at least three minutes.
Regardless, it is a highly effective means of permanently removing unwanted hair.
What are the benefits of Galvanic Electrolysis treatment?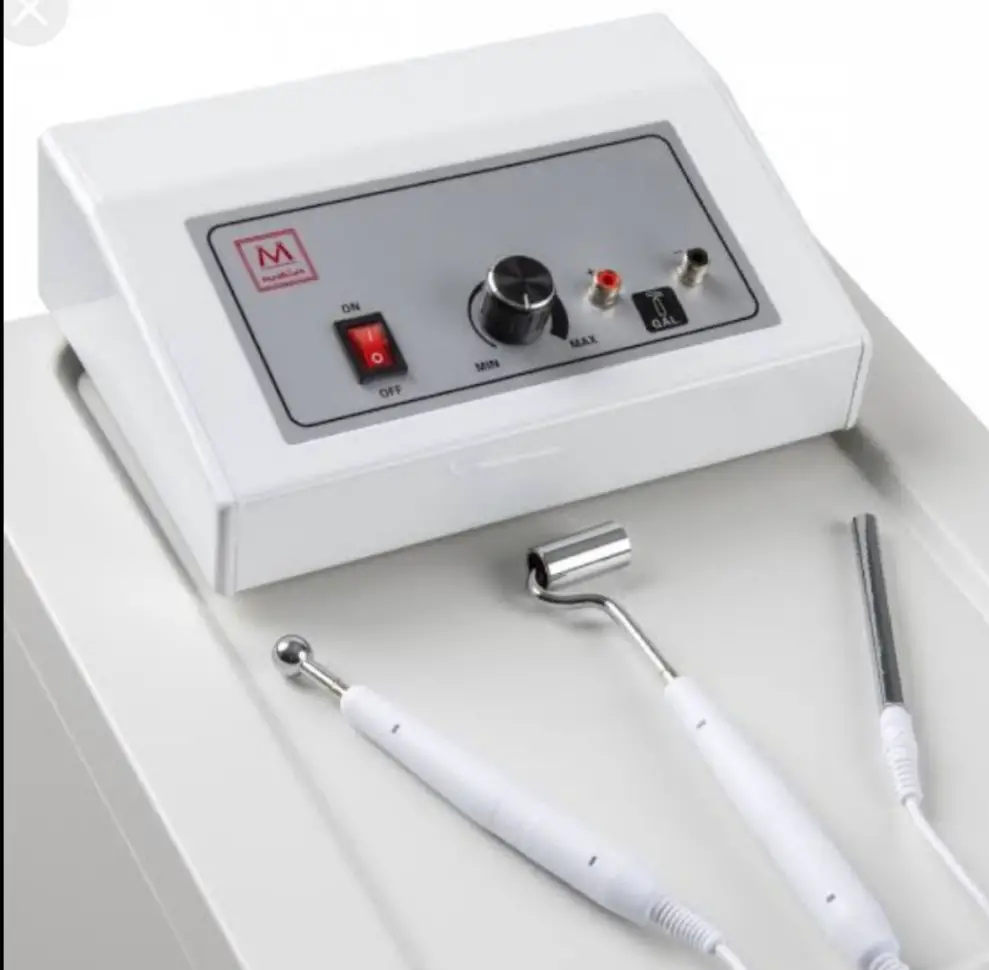 The galvanic method of hair removal is recommended for areas like beards and all types of body hair.​ Some of the benefits of using the galvanic Electrolysis are listed below:
1. Permanent Hair Removal
The first benefit to take note of when using any type of electrolysis is the promising removal of hair permanently.
Galvanic destroys the hair follicles without affecting surrounding tissues. This, in turn, will see that no hair regrows permanently.
What galvanic treatment does is to extract all the impurities stuck in your skin pores, leaving them clean. When this is done, the possibilities of getting acne are deterred.
3. Improves Complexion
This does not imply that the galvanic treatment will make you fair, no. In the chemical process of this method, harmful toxins are removed from your skin. Hence, you will get clearer and brighter skin. Your skin tends to look bright and clear when it is cleaned.
4. Detoxifies Your Skin
Not only does galvanic treatment give you that relaxing session but it also improves your skin's natural ability to cleanse itself of harmful toxins.
That feeling that your skin is now relaxed and great, I know right! Galvanic treatment has something more to offer.
The electric current enables lymph drainage and stimulate your skin, making your face look brighter and healthier.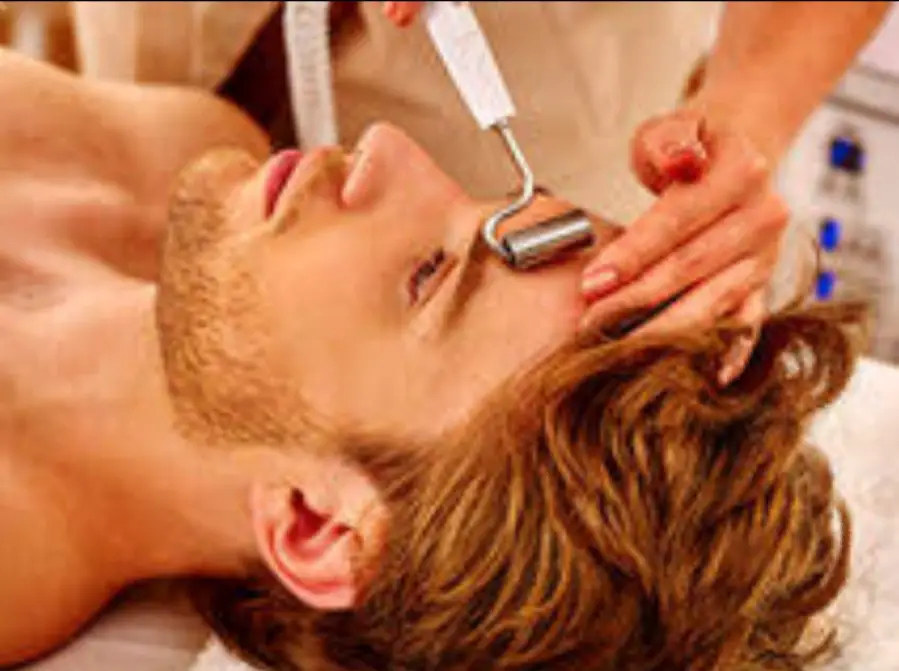 5. Boosts skin's oxygen levels and blood circulation
Oxygen will support moisture orientation and make your skin fresh and tight. Galvanic treatment will stimulate the flow of blood to the surface of your skin, thus, increasing the supply of oxygen to your face.
This treatment increases fresh skin cells and collagen such that old skin cells are replaced with the new cells much faster.
6. Makes skin glow and minimizes dullness
A prominent sign of ageing is the dullness of the skin. When using a galvanic machine for hair removal, all the impurities in the skin will be removed. This ensures the improvement of oxygen concentration in it. What will make your skin glow is the deep cleansing technique that takes place.
7. Reduces Fine Lines And Wrinkles
Still talking about ageing, You won't even notice the fine lines and wrinkles beginning to creep up on your face. Frequent exposure to dust and sun can also cause some bad things on your skin too.
One benefit of Galvanic treatment is that they restore balance, minimize fine lines and wrinkles, tighten your skin and prevent premature signs of ageing.  Treating yourself to a galvanic rejuvenates your skin
8. Improves The Elasticity Of Your Skin
Not only do they remove hair permanently and make your skin brighter, but the galvanic treatment also improves the elasticity of your skin.
So times, when you are stressed, it has some effects on your skin. I mean the effect of stress on your skin. Together with inadequate care of the skin and other related factors affecting it, your skin tends to lose elasticity and sag.
The chemical current in  The galvanic treatment passed through your skin during the treatment helps in tightening it. Consequently, your ageing skin is revived and firm again.
Side effects of Galvanic machines for hair removal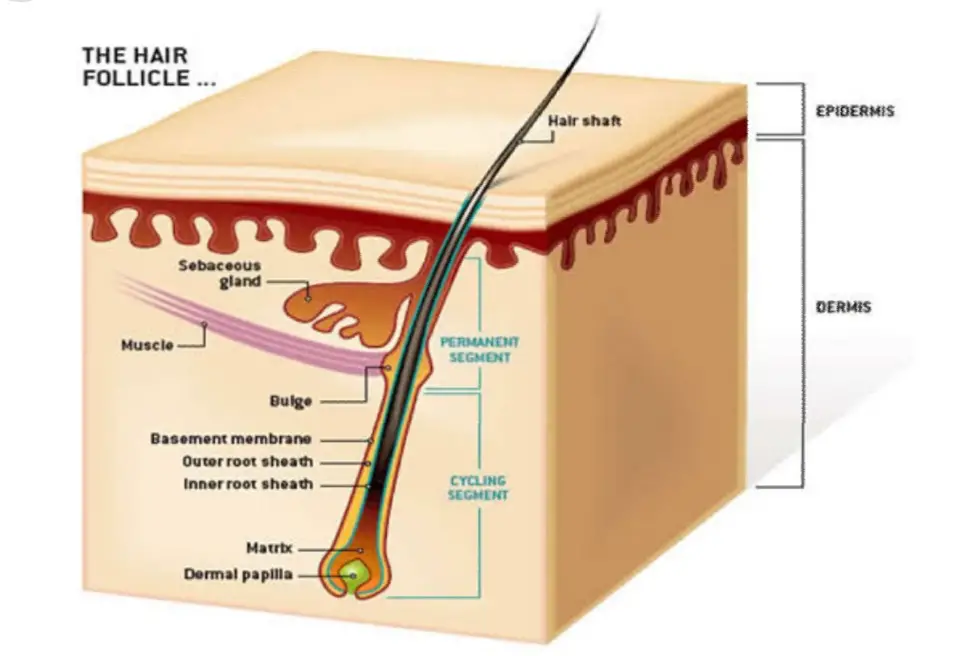 Apart from unwanted hairs, Galvanic treatments are also perfect for eliminating muscle pain and skin irritation. While they boost collagen in the body and aid the regeneration of lost skin tissue, there are some minor side effects that you should take note of.
However, almost all the users of Galvanic Treatment have no complaints about the products. Well, because the benefits of galvanic treatment supersede the minor effects, most people tend to ignore these downsides.
Nonetheless, it is important to take note of them as they can occur when treatment is not done properly.
The minor side effects of Galvanic Treatment are as follows:
It can cause dilated veins.
It can cause excessive sweating.
It can cause itchy skin.
It can cause the skin to break out.
It can cause eye irritation
Galvanic Electrolysis Machine you should buy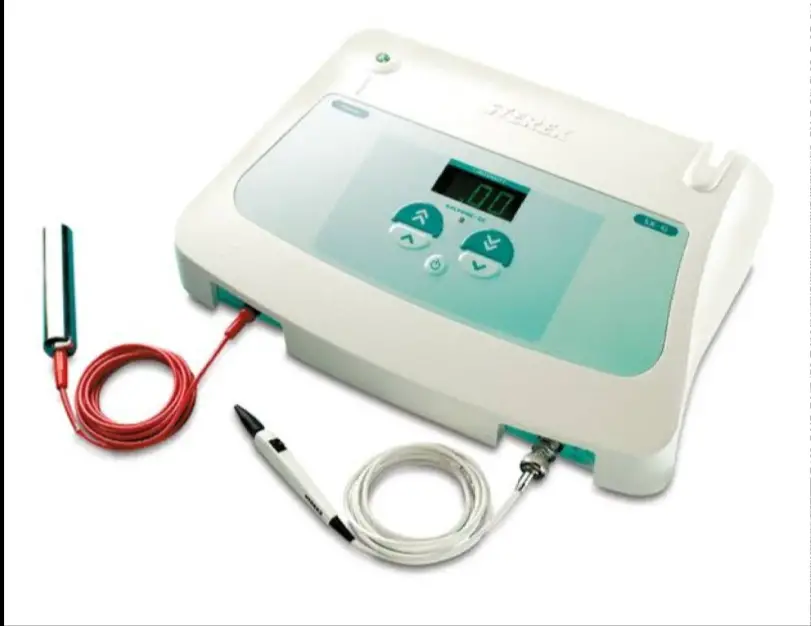 Like I mentioned earlier, this type of electrolysis treatment has been in existence for a long period of time. It's still being used today as a proven process to kill unwanted hairs on the skin.
It is recommended to consult a professional aesthetician for proper galvanic treatment, especially if you are a novice. There are some spas around you that may offer this service too.
Having understood the possible downsides, galvanic treatment offers innumerable benefits. This is the time to say farewell to a lifeless skin, and embrace a new you with the galvanic treatment.
If you are looking for the best galvanic electrolysis machine for home use or otherwise. I recommend this post HERE.
How do I carry out a Galvanic Facial At Home?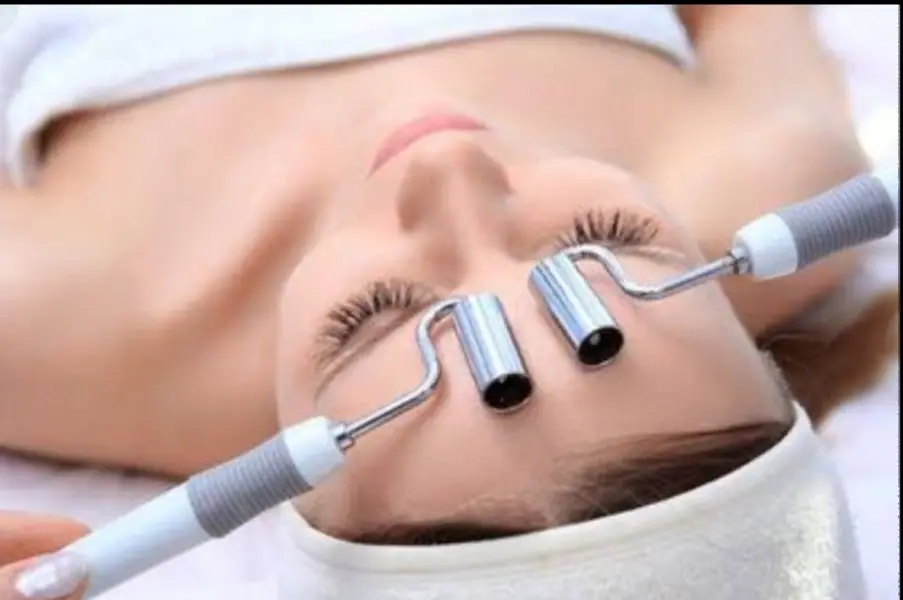 Quickly before I leave, I'm going to address this question. I noticed that most people ask how they can carry out a galvanic facial at home and whether it is safe.
As long as handheld galvanic facial equipment (like this one on Amazon) is available in the market, and you are fully equipped with the knowledge of how to do it, then nothing should stop you (except for uncertainty)
Follow these steps carefully:
1. Use the cleanser you have at home to Clean your face and neck properly.
2. Dry your face (pat dry) and spritz on your preferred toner.
3. As instructed in the kit, spread the treatment gel on one half of your face and neck.
4. If you are using a machine that does not have a timer, please Set the timer.
5. You can now hold the device having wet your hands.
6. Press the start button which is very visible, place the end of the machine on the area you've applied the gel on your skin and move it around.
7. Once the timer goes off, you should stop. Repeat the same steps on the other side of your face and neck.
8. After everything is done, use a wet towel to remove the remaining gel from your face.
9. It is important to apply a moisturizer when you are done.
That's it!
If you don't understand any of these processes you can always reach out to me in the comment section and I'll address it.
But please, peradventure the gel dries up while in the process, you can apply a little bit of water and continue. Most importantly, ensure that the current flow is steady.
Other types of Electrolysis method of hair removal
So far, we have been able to look into all that involves galvanic electrolysis. But do you know that there are two other types of electrolysis method of hair removal?
As mentioned earlier in this article, electrolysis works by passing a current with a needle into the hair follicles, such that they are permanently destroyed and will render that area of the skin hairless permanently. We have been able to look into galvanic electrolysis. Let's now examine the other two which are thermolysis and blend.
Thermolysis
This was discovered after the galvanic method. It offers a permanent and effective solution in getting rid of unwanted hairs on the body parts. The way it is performed by dermatologists is similar to the galvanic method that we have looked at earlier. But under this treatment, it does not involve the pass of electric current. This time, the needles pass radio energy at a predetermined frequency which is high.
The hair follicles will vibrate and irritate the water molecules around it as a result of the high frequency of current passed into the hair follicles through the needle. This action will generate heat and which will permanently destroy the cell tissue causing hair growth.
This type of electrolysis is recommended for finer hairs and will work very quickly. Notwithstanding, galvanic electrolysis is claimed to be the best when compared with thermolysis.
Advantages of ​Thermolysis
One advantage of the thermolysis method of electrolysis is the speed. It takes 3 seconds maximum for a single hair. Also, one will get an instant result.
Cons of Thermolysis
Like I have mentioned in the description of thermolysis, it will not work well for hair follicles that are curved. In addition, hair regrowth is relatively high.
A downside of thermolysis is that it will work for hair when they are in the growing phase called anagen as it is only effective on very light, fine hair.
​Blend Electrolysis

The short explanation for the blend electrolysis is that it involves both the galvanic and thermolysis method. It was established after the first two and has been the newest form of electrolysis.
An acidic iye is generated from the current passed by the galvanic, the high-frequency current from thermolysis vibrated and heats it up. This will subsequently cause the iye to increase caustic strength.
While the iye vibrates, it is spread across every area of hair follicles by the thermolysis.
This method is claimed to be faster than the galvanic but not as fast as my thermolysis. Blend method works on 7 seconds per hair. It will work best on a fine body of scattered hair.
Advantages of Blend
It is faster than galvanic such that it takes only  7+ seconds per hair. Hair regrowth is very slow when compared to thermolysis.

Cons of  Blend
Heat may affect the surrounding tissues. There may be a blow-out when heated as a result of the by-product of the galvanic process in the blend which is hydrogen.
---
Frequently asked questions about electrolysis method of hair removal
Is galvanic electrolysis safe?
If you carry out galvanic electrolysis properly and follow instructions, there will be no problem. As a matter of fact, almost all methods of hair removal can be dangerous to the skin if you do not do them properly.
Galvanic does not damage the tissue that surrounds the area of treatment.
Do any home electrolysis machines work?
There is currently no home electrolysis machine approved by the FDA for home use. In other words, the home electrolysis machine that works should be used by professionals and dermatologists.
There are laser machines in the market that you can buy and use at home provided you can follow the guidelines. But this does not apply to electrolysis.
Can hair grow back after electrolysis?
Electrolysis is known to be the only hair removal method that guarantees 100% permanent hair removal. During electrolysis, hair follicles are permanently destroyed individually.
If there is an odd case where hair will grow back, it will grow slower, thinner and weaker. After continuous treatment, it will eventually die down. Electrolysis is the only permanent hair removal method.
Does electrolysis ruin your skin?
While there are some risks associated with the electrolysis method of hair removal, the little pain from the needle passing electric current will not ruin the skin.
It is also normal to have inflamed or swollen skin after the treatment. They will disappear after some while.
Possible dangers of Electrolysis on the skin if they are not done properly includes scarring, keloid scars, and, for some people, changes in skin colour of the treated skin.
Can I do electrolysis on myself? 
We do not advise you to carry out electrolysis at home or by yourself. While it can be done on any part of the body, the best option is to consult a dermatologist. More emphasis is laid when you want to attend to facial hairs.
Well, people who are experienced with it can still do electrolysis in themselves. It is the best and permanent method of hair removal.
Which type of electrolysis is best?
There are three types of electrolysis. The galvanic, thermolysis and blend. As you have seen in this article, all of the three methods are perfect and will remove hair permanently. It depends on personal preference.
How long does electrolysis on the chin take?
There is a certain number of treatments required for electrolysis to be carried out effectively in different areas of the body. Any unwanted hair on the body will be permanently gone when the series of treatment has been completed. A treatment session can last for 15 minutes to one hour.
Does electrolysis work on hormonal hair growth?
The FDA has approved electrolysis as the only permanent method of hair removal. It will work for just any type of hair growth. Women get rid of hairs on their face, chest and back with the electrolysis method.
How many hairs can electrolysis remove

?
On average, 445 hairs are removed per hour in the genital area when the electrolysis method is used. The study also shows that the hourly amount of permanently removed hairs is lower in the genital area.
---
Final words on Galvanic Electrolysis for hair removal
Galvanic Electrolysis Machine for hair removal is an effective way to get rid of hair permanently. If you are still not comfortable with the process, there are other methods to get rid of unwanted hairs you may want to check out.
So Have you ever tried this treatment? How was it and what was the outcome like?
Do you mind sharing your experience with me? Great!
Just drop a comment in the comments section below.
Remember, sharing is caring! Hit the share button.