How Do You Prevent Acne After Shaving With an Electric Razor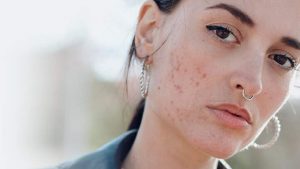 Acne, whose other name is called acne vulgaris, is a long term skin disease as a result of oil from the skin, dead skin cells, and clog hair follicles. The condition of acne varies from blackheads, or whiteheads, pimples, scarring, and oily skin.
Acne basically affects the skin with a relatively high quantity of oil glands, your face is not left out of the attack, the upper part of your chest and back are also included. In fact, many with acne are found to have low self-esteem, anxiety and in severe cases, depression or thought of taking their own life (Suicide).
This is how annoying acne can be, and this is the reason why I must provide a solution for prevention. You need to follow up carefully as I analyze the signs and symptoms, prevention, and treatment.
Our article centralizes on how to prevent acne after shaving using electric razor or shaver but the manifest truth is that 80 percent of acne cases have to do with genetics.
Cleanliness can be related to after shaving so, in this way, I will be able to link this problem to how to prevent acne aftershave using an electric razor. Without beating around the bush, let's go straight to the point.
How Do You Prevent Acne After Shaving With an Electric Razor
Prepare your skin for it
The first step you must take to prevent acne after shaving with an electric razor is to prepare your skin for it. One of the ways you can prepare your skin for shaving is by getting clean warm water to clean the area you are about to shave.
What is the nature of your blade
Another thing you should consider is the kind of blade the shaver is made of, ensure the blade is made of high carbon stainless steel so that small cuts that can result in specific acne such as pimples will be drastically reduced.
Dirty or Old Razor
If your electric razor is old or dirty, there is a higher chance that you will develop acne after shaving with it. In order to prevent this from happening, you must ensure that your razor is clean and recent.
Rinsing your face with warm or hot water
Rinsing your face or skin with warm water before shaving is good because it helps to open your skin pores for easier shaving, but how about rinsing your skin with hot or warm water after shaving?
This act is not ideal at all, and the reason is that you need to close your pores after shaving to thwart dirt and debris from getting in there, and rinsing with cold water will do the job.
Don't shave over pimples
It is very disgusting to see that a person shaves over pimples; the result will be that you will spread acne all over your skin. Many amateur shavers make this mistake and that's exactly the reason why their face is full of acne aftershave.
Besides that, scarring is also classified as acne, so shaving over your pimples can result in scarring. If you are serious about getting rid of acne on your skin, ensure you shave around inflamed blemishes as carefully as possible.
Apply oil apply shaving with an electric razor
You can do well to yourself after shaving any area of your body by applying some solutions that can help prevent the development of any kind of acne on your skin.
How Shaving Can Cause Acne
There are various sneaky causes of Acne especially after shaving with an electric razor. We can only trace notable cases to the following factors below. The major ways shaving can cause acne is as follows:
The Shaving Products you use
The most important thing to do to prevent acne after shaving with an electric razor is to use skin care products that are designed for men and are free of fragrances and dyes. This is because Some shaving creams and gels can irritate the skin. Which may eventually cause pimples
Not rinsing your face with cold water
Acne can be caused by dirt and debris. Rinsing your face with hot water after you have finished shaving will attract debris to your skin. It is advised to use cold water to rinse the face after shaving in order to close the pores.
The use of Old Razor Blades
If you are not using an electric razor, then this may be an immediate cause of acne after shaving. An old blade is a dirty blade. And a dirty blade is a home for bacteria. Once they get into your skin, the rest will be sad. Make sure you swap out your razor every five shaves.
What Are the Electric Razors to Use When Shaving
I am going to recommend some best electric razors you should use while shaving or trimming your hair or beard to prevent acne. They are very sophisticated razors that can deliver any errand you send them.
Attention: The internal data of table "5" is corrupted!
Panasonic Arc5 Electric Razor for Men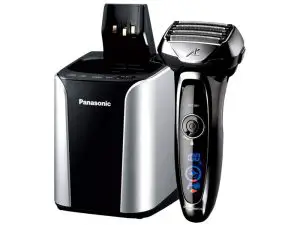 Description
Though, there is a saying that "Don't judge by appearance", in this case, I judged by appearance and I was right. This rugged-looking electric razor is one of the best in town.
It is a cordless product with shave sensor Technology, a waterproof machine that can be used both wet and dry, a premium automatic clean and charge station is also included in this unique product.
The product is made of five ultra-sharp precision-honed at 30° Nanotech blades and ultra-thin ARC foil that can follow facial contours for a quick, close, and comfortable shave or trim. It can be fully charged for 1 hour.
It is made of multiple flexes pivoting head that glides effortlessly to trace the individual contour of your face, chin, neck, and jaw.
It has a built-in shaving sensor that monitors differences in hair and beard density and then adjusts automatically for comfort.
The product is made of a high-performance motor that contains a linear drive. The linear motor delivers 14,000 cuts per minute—this is equivalent to 70,000 cross-cutting actions per minute. Wow! This is amazing.
With this heavy-duty explained, it can still maintain peak power until the end of every battery charge.
It is made of LCD Battery and premium automatic station that dries and charges the clipper with one touch to a button. Refer to read guide to troubleshoot when the need arises.
Braun Electric Razor for Men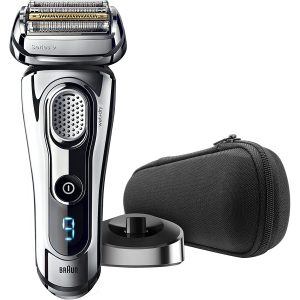 This is a highly proficient machine that gives you a comfortable shave or trims. There is no doubt concerning this claim. It is a specialized shaving technology that helps capture your hair in every single stroke.
It provides a close and comfortable shave without negotiation. It has been tested on 3-day beards with the leading tier premium products. You can find more detail on the company's website.
This product can be fully charged in 60 minutes and a quick charge for one stroke for 5 minutes.
Features and Details
It is made of LED that displays battery status, this is a good technology that alerts you of when to charge your clipper.
It can read and adapt your beard or hair no matter the density and it is due to a sensor built-in.
It includes a battery stand that keeps the razor charged all the time and also provides extra power where needed. This is a machine with an automatic voltage adaptation of 100 to 240 volts.
Remington Heritage Series Shaver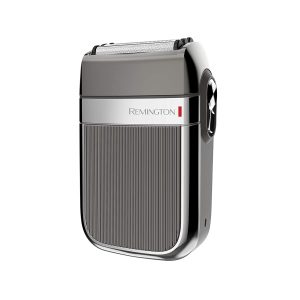 Features and details
Remington electric razor has proven capable of recent and people are beginning to embrace it better than ever. For the past 80 years, electric shaving experience has been the focus of Remington.
This shaver is foil and is inspired by tradition as seen in the compact, handheld design.
It is endowed with modern features that give it a unique nature, it has a lift logic foil through which it captures hair growing from multiple angles, and can pre-trim longer hairs for a close shave.
This is the best clipper I can recommend for you to purchase, it will deliver its job as expected. Remember, only quality products can give you that perfect skin free of acne.
The shaver is a waterproof system; you can, therefore, shave with gel or foam for great comfort. The machine is made of premium materials, so there is a guarantee that it will last long with you.
Shaving is made easy with this material and you will never regret buying it.
Panasonic Arc5 Wet and Dry Electric Shaver and Trimmer
Description, Features, and Details
This is a must-use clipper I am recommending for you. it is a powerful shaving machine with an ultra-fast motor attached with five independent blade shaving systems and can deliver up to 70,000 cross-cuts per minute. I hope you are already thinking about how to get a superb product like this very one.
If you need everyday shaving quicker and smoother or more efficient, this is the product you should go for.
It contains sixteen flexing shaving head that can pivot effortlessly in 16 directions as it follows your skin's contours. It also has an intelligent shaving sensor that can detect the density of beards 220 times per second and adjusts power 14 times per second.
The power source of this system is AC 100-240V.
It is made of Nano polished inner blades, durable for multi-fit arc inner blades are precision honed to an acute 30 that smoothly lift and cut through thick, and dense beard or hair with ease.
If you need an incredibly close cut, use this product, it is guaranteed.
You can use this shaver either wet or dry, it is a waterproof system and can also be washed under running water.
It has an in-built ultra-sharp pop-up trimmer that details moustaches, beards, and sideburns properly. The shaver has a premium automatic cleaning and charging system, and a bright LED that displays the power status can be fully charged in 60 minutes and can be used for 45 minutes cordless.
You can give it a quick charge for 3 minutes. This is the right razor you should spend your money on.
Home remedies for solving acne
Let me share with you some really effective home remedies that can be used to cure acne caused by shaving with an electric razor. 
1. Honey and Cinnamon Mask
To create a wonderful source of antioxidant, making honey and cinnamon masks is a natural and excellent approach. Chemicals like benzoyl peroxide and retinoids can not be compared to antioxidants when it comes to reducing acne in the skin. 
In the connection that inflammation and bacteria are the two factors that trigger acne in the skin, honey and cinnamon masks  are good natural remedies because they can combat bacteria and reduce inflammation in the process. 
How to use
Form a paste using 1 teaspoon of cinnamon and 2 tablespoon of honey. 

Clean and apply the mask to your face and leave it on for 10–15 minutes.

Rinse the mask off completely and pat your face dry.
2. Apple Cider Vinegar
Just as you already know, vinegars are known for their ability to fight various types of bacterias. The apple cider vinegar is made from fermented apple cider. It can also be made by the unfiltered juice from apples. 
There are various organic acids in apple cider vinegar that can kill acne. For example The presence of lactic acid in apple cider vinegar can help in how acne scar appears in the skin. All those excess oil that erupted acne at the initial stage will be dried up when Apple cider vinegar is applied.  
The succinic acid has been shown can prevent scarring by reducing the inflammation. 
The only downside about this natural method of treating acne is that there is a possibility that apple cider vinegar will cause burns and irritation. This should not really bother you because you can control it by using small amounts. 
How to Use
If you have a sensitive skin, use more water and mix with 1 part apple cider vinegar. 

Clean the face and use a cotton ball to  gently apply the mixture to the skin.

Wait for 20 second before rinsing with water. Pat dry after rinsing completely 

This procedure should be repeated 1–2 times per day. 
3. Green Tea
Regular consumption of green tea is healthy and can help the immune system as well as other cells in the skin. When we speak of acne, I can not clearly State out a well known theory or experiment that shows that green tea adds a benefit in the treatment. But it has been shown that direct application of green tea on skin affected with acne can help. 
Materials like flavonoids and tannins present in green tea can minimize inflammation and fight bacterias. epigallocatechin, the main antioxidant present in green tea deters the overall growth of acne on the skin. 
While there are creams that contain green tea substances, it is much easier to create the mixture at home and apply directly for effective results. Applying green tea on affected areas will reduce sebum production and pimples. 
Yes, there is no scientific evidence that green tea will treat acne. But yet, some studies advise that application of green tea will help. For instance higher blood sugar level and insulin level is a factor of acne and green tea has been shown to reduce this. 
How to Use 
Boil green tea for about  3–4 minutes and Allow the tea to cool.

You can use a spray bottle filled with the  tea already to spritz on the skin. Wherever is the affected area. 

Allow to dry, then rinse with water and pat dry.
Conclusion
Acne is not good on your skin and for that reason, you should ensure you take every precaution to prevent it. 80 percent of acne is natural but it can be triggered by our personal hygiene. Ensure you follow all the steps outlined above to save yourself from acne.