Does Plucking Chin Hair Really Make It Grow More?
I am certain that a lot of people are interested in this question. To make things clear, There are two sets of people who may need this article more than others.
One, those (especially females) who want to get rid of little hairs growing on their chin by simply Plucking them off.
The other set of people who may need this article are desperate guys who can not wait patiently for gradual chin hair growth.
Most people believe that plucking out your chin hair individually, which is also known as tweezing, can make your hair grow more. But really, is it? Let's find out in this article
I have spent some time making sure I put out this article in the best understandable manner.
Today, I'm going to get the myth busted! When hair issues are discussed,  plucking and shaving are always popping up as the main subject matter. People usually ask relative questions like:

"Does plucking hair grow back more?"
"Is it safe to pluck your chin hairs?"
"Does tweezing cause ingrown hairs?"
You will agree with me that hardly can you see any human on earth without a single hair on his or her skin.
This is why virtually all discussions about human hair are vital.
Does Plucking Chin Hair Make It Grow More?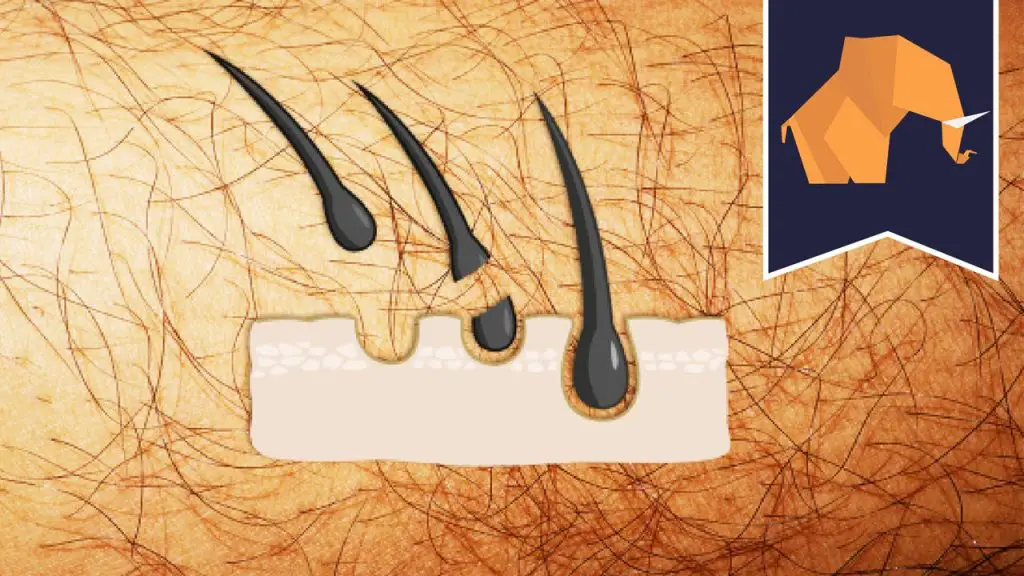 Yes, it is possible that plucking your chin hair will make it grow more. Although we do not have scientific evidence to back this up, we, however, carried our research on hundreds of Nigerian women, and we understood that more than 60% agreed that whenever they pluck out their hair, it comes back thicker and fuller.
Plucking your hair from the roots doesn't mean it will not grow back. It will only take some time, but regrowth is sure after some weeks.
These hairs grow back after 2 to 6 weeks. This process of plucking chin hair is known as tweezing. Tweezing can last up to 6 weeks before regrowth(when done rightly).
On the brighter side, this process of hair removal is quite quick, easy, affordable and least irritating.
You may notice some brief red on your skin, but it will clear in no time.
After reading through the vital information I am about to share in the post, you can get some good tweezers, keep them clean, and you are totally fine to remove those facial hairs by Plucking.
So you've got the answer right there. But it doesn't end there. There is more information you should know about this topic. So, I encourage you to read further!
What is the proper way to pluck chin hairs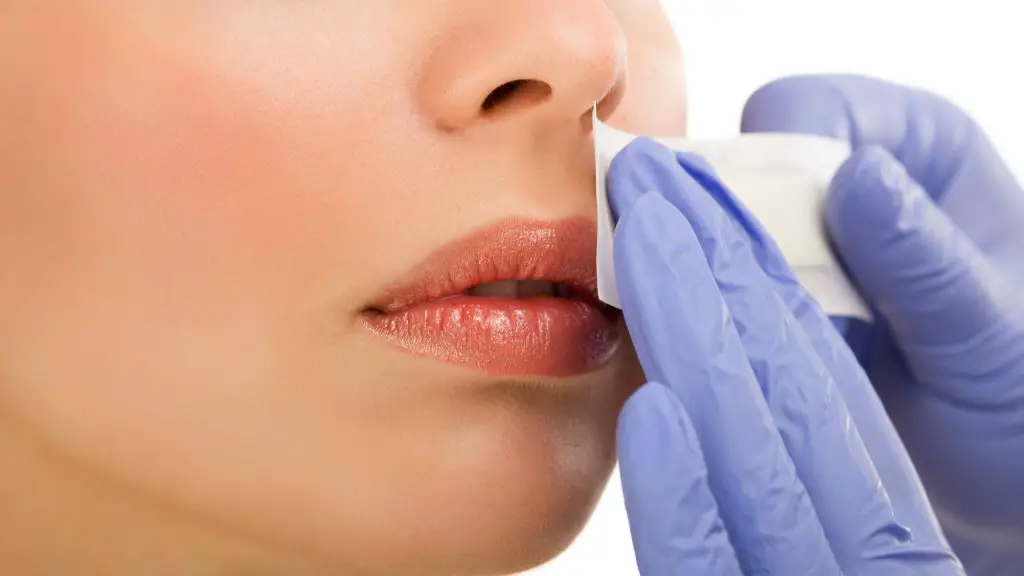 I won't lie to you, it is always hideous and obnoxious to carry out this plucking method of hair removal from your chin no matter how few or much the hairs are.
But we have people who are successfully doing it and having excellent results.
All it takes is some little skill and that is all. Here are the steps to follow to pluck chin hairs properly.
Buy the right tools for you
This is the first thing to consider. Even in general grooming needs. Having a good pair of tweezers will make the job easier and a little bit less painful.
You will spend more hours facing the mirror and trying to pluck out hair individually with tweezers that are sliding off.
The problem of using an imperfect tweezer is that they break your hair at skin surfaces, not from the roots. And this will make hair grow back within days… No longer weeks!
Get  Your Skin prepared
To begin Plucking hairs from your chin, it is important to prepare your skin.
The use of warm water to wash your chin before tweezing should not be neglected as the warm water helps in relaxing the skin and the hair follicle, so the hair can be more easily removed when plucked.
This is also a good chance for you to exfoliate if you haven't done so yet
After washing with warm water, Wipe off your face, and pat it dry to remove any moisture. Then you are ready to use the tweezing techniques.

Use the Proper Technique
Now that you are standing in front of a mirror with a perfect tweezer in hand and all ready to tweeze the hair, you should first hold your skin taut with the freehand. Usually left hand. Afterwards, follow the steps below:
Pick hair as close as you can near the skin, and remove it in the direction that it grows.
If you're actually worried about the pain, apply a numbing spray to a cotton swab and then apply that to the area. This should be done very carefully
Start off with only the thick, dark hair first and see if that does the job.
Don't dig your tweezers into the skin to grab really short hairs, or you could end up injuring your skin and make it scab up.
Wait until it grows out in a couple of days for removal.
Finer Hairs should be tweezed last
While working, dust off any hair with a towel to keep the place you're plucking clean and clear.
You may notice finer hairs after dusting off plucked hairs, or after applying baby powder to reveal them. You can remove them in the same manner if they are disturbing you.
After you are Done with everything, apply aloe-based lotion or gel with a cotton square. Especially when you notice brief red on your skin or little irritation.
Does plucked hair grow back differently?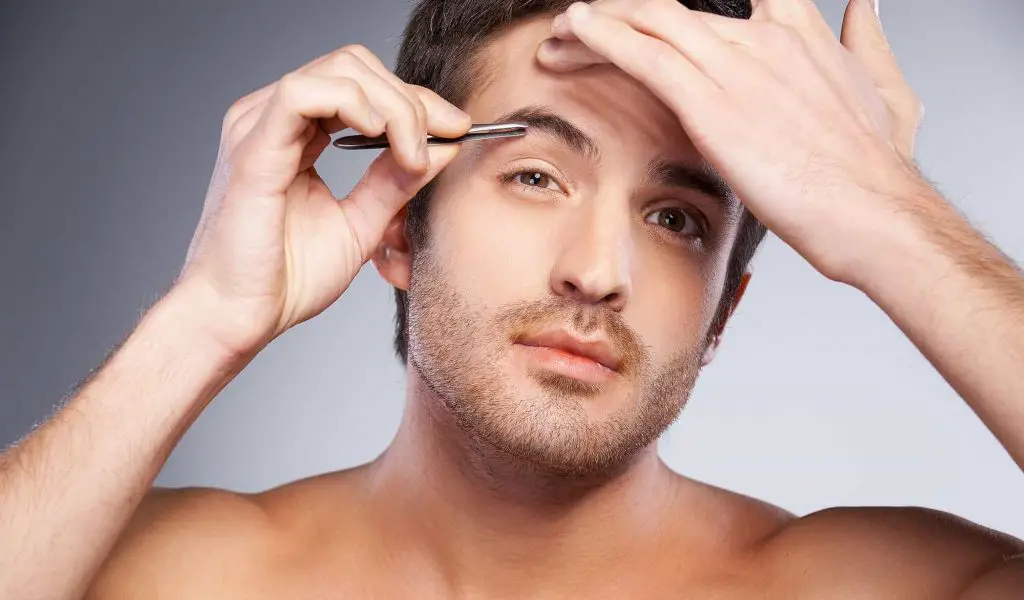 This is a very interesting question and I want to believe people who have experience in tweezing can nod in affirmation to what I'm about to show you about plucked hair regrowth.
There are advantages and disadvantages of Plucking which I will share later, this, you should check before even buying Best tweezers for your chin.
People say a lot of things about Plucking of chin hair. Some are right while some are entirely a myth. But I'll clear the air now. One, it is true that Plucking can destroy hair follicles. No doubt.
I'll advise a newbie not to expect chin hairs to regrow thicker after Plucking them. It is not always the case for most people, however.
Chin hairs can truly regrow thicker after being plucked, but consistent hair plucking can eventually destroy the follicles of the hair.
So the point is that your hair will become finer and even regrow less thickly after repeated tweezing. This may not apply to everyone, though.

Is the tweezing method of hair removal safe?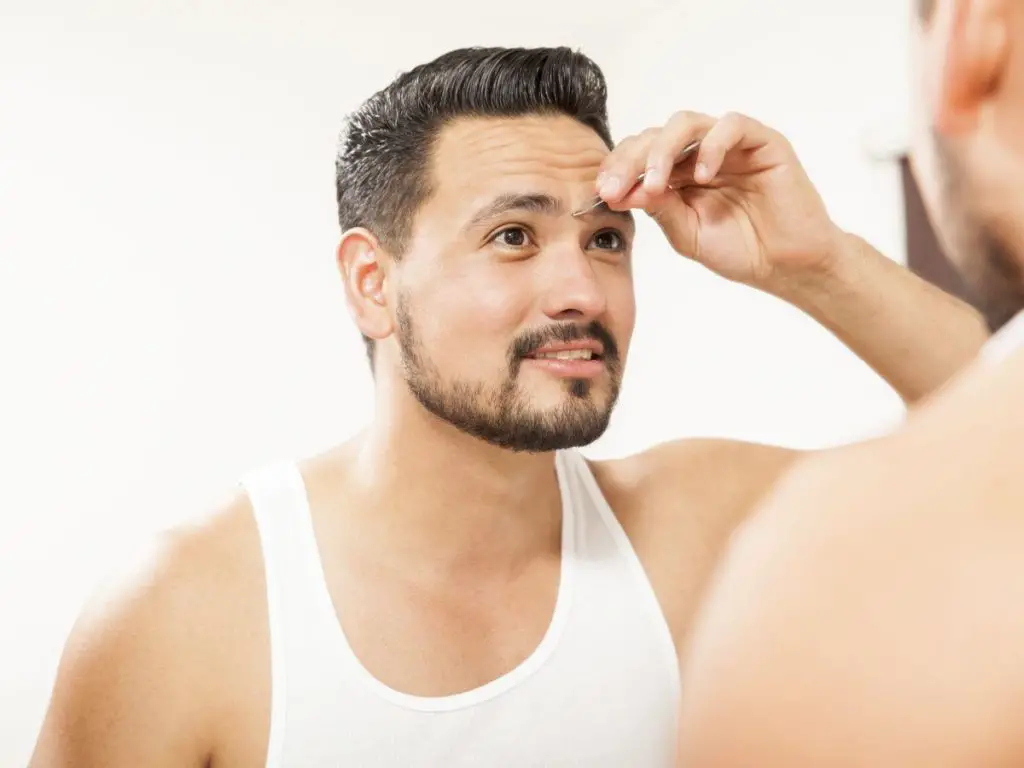 When you use tweezers to remove hair individually, that method of hair removal is called tweezing. It is done by pulling out the entire hair follicles from the root and not skin surface.
Luckily in this post, we've been able to address tweezing chin hairs. This method is only particular for shaping eyebrows and removing unwanted facial hair and small amounts of body hair… Like the chin.

Benefits of tweezing
Like I have said, tweezing is best for shaping eyebrows and removing unwanted facial hair and small amounts of body hair. That's a cool pro.
It is, if not exaggerated, the cheapest method of hair removal. Prices can range from just a few dollars to approximately $18-40 for specialized tweezers.
While it a convenient process, it can be successfully done right in front of your mirror at home

Possible problems of tweezing
You may want to reconsider another mode of hair removal if you have sensitive skin. This is because the effect of the process can cause a bit of blood or redness to the area that was tweezed.
It is a relatively slow process. Making it tedious and somewhat painful to get the job done. We will never recommend  Tweezing for large areas of hair.
You can attract ingrown hairs, and other related skin infections to your chin if you tweeze improperly. This is why you should take the guide I wrote earlier in this article very seriously. Do not forget to sanitize tweezers after use.
We recommend slanted tweezers to reduce the possibility of having discoloured areas after tweezing. But this is based on skin type. Plus, discoloured areas will usually fade with time. 

Are there other tools for plucking chin hair? 
I will agree with you if you say using normal tweezers to pluck hairs individually from your skin is very painful. Especially when it is around the face and eyebrows, you may cry while doing it.
The pain can be likened to someone stabbed with a knife from behind. Hardly will you even see someone who tweezes hair without letting down water from the eyes and screaming 'ouch!' in the process.
But to avoid all these, there are alternatives to the use of tweezers to pluck hairs from the skin. To get perfect eyebrows and remove unwanted hairs from the face, there are other tools you can use in place of tutoring tweezers.
Examples of these substitutes include electric trimmers, precision scissors and so on.
These tools are used especially by professionals because they are less painful and will do an excellent job in removing hairs from the skin. Let's examine some of these tools and a product sample for each.
Panasonic Facial Hair Trimmer for Women

This particular version of the Panasonic set of trimmers has been specially designed for removing facial hair. It is recommended for women. Especially women who do not find the use of tweezers pleasant. (no one sees tweezers pleasant though. LOL)
It does it use a single AA battery, it is lightweight and portable as a facial hair trimmer for women.
Two different combs are added to this trimmer for you to do proper justice to unwanted hairs around the eyebrows. They Will be very helpful for women with bushy eyebrows.
If you choose to buy the Panasonic facial hair trimmer for women, using it to do your eyebrows is no big problem.
Tweezerman Brow Shaping Scissors and Brush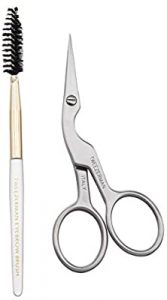 Especially for getting the perfect shape of eyebrows the Tweezerman Brow Shaping Scissors and Brush is very needy if you do not want to use tweezers.
It is worth the while when you invent a product like this because it helps greatly in taking care of your grooming.
Getting a good pair of brow shaping scissors and an accompanying brush, allows you to cut close to your eyebrows. While they are must-have for anyone who doesn't want to use a tweezer, the process of using Tweezerman Brow Shaping Scissors and Brush to remove facial hair is very simple and just anyone can do it.
When you get Tweezerman Brow Shaping Scissors, you do not need to bother about the pain that comes with plucking hairs as these tools are far less painful than regular tweezers.
Philips Norelco Facial Hair Trimmer
I will stop at the Philips Norelco Facial Hair Trimmer. But do take note that there are other tools similar to all I've mentioned on these alternatives.
Although this particular trimmer is for removing hairs in the nose, ears and neck, they can be very useful for removing hairs on the face too.
The trimmer comes with 5 different combs settings that include ⅛ inch and 3/16 inch eyebrow combs. It is a recommended and ideal alternative for using tweezers to pluck facial hair.
The Philips Norelco Facial Hair Trimmer is battery-operated and contains a  built-in ProtecTube technology that prevents pulls and cuts as you trim. 
Feel comfortable as you remove hairs from the skin while the rounded tips on the combs fit the contours of your face.
---
All on Plucking Chin hairs and regrowth
I am pretty sure you now  know the answer to the question, "Does plucking chin hair make it  grow more?"
The truth remains that plucking hair regrows after some time. You do not have to fret if you've mistakenly plucked out your hair at one point or the other. After some weeks, they will grow back.
On the other hand, if you desire to get rid of unwanted hair on the chin, you can check out this post HERE to read about recommended methods of painless hair removal purely based on your hair type, skin colour and cash in the wallet.