Is Argan oil good for beard growth?
Or does Argan Oil work for beard growth in any way?
Whatever you do, and as you continue to research on your beard growth journey, you should realize that adding Argan Oil to your list of oils you will try out on your beard will be one of the best decisions you ever made.

Argan Oil not only works on hairs, but it also does an amazing job on the skin. With extensive research, we have come up with this post to let you into the world of Argan Oil for Beard growth.
Do you want to find out more? Keep reading!
If you are a keen reader of MyBeardGang or rooted in the knowledge of best oils for beard growth, you have known that argan oil made with the list.
However, with the recommendations and prove, many are still finding it difficult to accept that Argan oil can contribute to the active growth of beard hairs.
That is why this article will be dedicated to answering everything you need to know about using argan oil for beard growth.
I'll be talking on argan oil for beard growth, and you will learn and get answers to everything you've ever wanted to learn from its advantage and what Argan oil is to its usefulness as a beard oil ingredient.
---
What Is Argan Oil?
Argan oil for beard growth is plant oil extracted from the kernels of the Argan tree that can be traced to Morocco.
People from Morocco (Moroccans) initially don't use Argan oil for beard growth and care; it was typically used for the treatment of eczema and psoriasis to hair loss and wrinkles.
It is an essential oil for beard growth that can be found in two forms: edible, food-grade argan oil extracted from roasted argan kernels and can be ingested and cosmetic argan oil, which is an extract of unroasted nuts and can be applied to the beard and skin directly.
---
Why You Should Use Argan Oil For Beard Growth
What is that thing so unique or different for argan oil?
You can't know till you start applying Argan oil. Once you begin applying to your beard hairs and skin beneath, you will experience another level of fluffiness within days. Then you will understand why everyone in the hair community is excited about Argan Oil.
Argan oil is known to be a natural moisturizer that can soften the thickest beard hairs, that it becomes so soft and tender to make others want to grow beard hairs. The applied argan oil gets trapped in the skin, creating moisture.

No matter how tangled a beard is, using 2-3 tablespoonful of argan oil can allow you to comb through with lesser efforts.
Also, if you want to fight dandruff making your beard hairs grow to be imbalanced, buying argan oil products from Amazon can help solve that. It is perfect and working oil for grooming of beard hairs.
Argan oil contains vitamin E that does not only promote proper beard growth; it helps heal dry skin.

With consistency and follow of instructions, your skin gets nourished and supports healthy beard growth. Vitamin E is an effective anti-inflammatory, which makes it perfect for getting rid of razor burn.
---
What Makes Argan Oil So Perfect For Beard Growth
It becomes accessible for beard growth with a significant reason, and that can be traced to compatibility.
That is, it can be used on all skin and hair types that you don't have to worry about your pores getting clog or breakouts.
This is due to the presence of antioxidants and fatty acids that are skin-friendly and can easily get absorbed into the skin.
Even if you are with acne-prone and oily skin, Argan oil contains ingredients that allow it to reduce sebum oil production level, meaning it can keep the level of natural oil the skin is producing under check.
You can use as many as possible that you don't have to worry about feeding your skin or hair too much.
---
Other Benefits of Argan Oil?
Can Argan oil be beneficial for other reasons, aside from being an excellent conditioner and moisturizer for beard hairs?
We have lots of argan oil benefits and more will get discovered in the future. Here I'll be mentioning a few of them, so keep on scrolling.
#1. Hydrates Skin and Boosts Elasticity
When professionals in the skincare industry start talking on the best oil for skin, Argan oil always make the list.
Perhaps, it's the ability to make the skin so soft with components such as vitamin E and fatty acid, which give the moisturizing and hydrating properties needed by the skin.
#2. Prevents and Treats Stretch Marks
Apart from its amazing advantage on the beard, Argan oil can be used for the prevention and treatment of stretch marks.
A study carried out by Journal Clinics, Cosmetic and investigation have it that using a cream that contains argan oil has the potential to get rid of stretch marks and prevent its occurrence.
#3. Reverses and Prevents Sun Spots
In addition to the treatment of stretch marks, skin hydrating, argan oil can increase skin look. Argan oil is an oil with different properties with the potentials to reverse and prevents skin discolouration.
So, if you are facing problems related to skin discolouration or sunburn, this could be the best oil to get rid of it.
#4. Control of Oily Skin and Breakouts
The use of Argan oil for control of breakout may be seen as another surprise or impossibility, but possible.
A lot of researches were carried out, and it was discovered that Argan oil has the potentials to keep sebum oil production under control.
---
How Can I Get Argan Oil?
Producing your argan oil needs a lot of know-how and technicalities, and I don't think it is feasible if it is not for commercial purposes.
There are many ways to get argan oil for whatever reasons; you can get from online e-commerce stores such as Amazon, Ali-Express, and others.
---
Reviews of Argan Oil That You Can Buy
VoilaVe USDA and ECOCERT Pure Organic Moroccan Argan Oil for Skin

It contains 100% pure Argan oil that is naturally rich in vitamin E oil and cold-pressed from sustainably harvested kernels of the Argania tree.
VoilaVe Argan oil can be added to your shampoo or conditioner to make your hair soft, lustrous, and manageable. It also helps repair damaged hair follicles in men and women.
Macho Man Care Argan Oil
About product 
When you have a nice looking and well-groomed beard, it attracts compliments and attention. That is all the Macho Man Care argan oil has to offer – nothing but a healthy and shiny beard.
The product is a great addition to your beard care routine as comes with Tools and Barber Scissors. And taming and shaping your beard and moustache is no longer a chore.
It contains 100% natural product that, when applied on beards, will help relieve itching and promote healthier, smoother and cleaner beard.
This is a very effective backup plan for all your basic beard care products. The package will virtually all you need to make beard grooming easier.
Reasons to buy 
It will be a nice gift idea for your family member or a bearded friend: father, boyfriend, husband, Valentine the man in your life or any male colleague.
It is a blessing to any bearded man and something they'll appreciate. It is a well known Perfect men's grooming kit for beard oil growth.
There are no additives, artificial fragrances added to this oil. It contains 100% of Argan Oil, Coconut Oil, Jojoba Oil, Vitamin E Oil. Natural and organic.
It is compact and handy making it travel-friendly and carryable to anywhere. It is also affordable and will take effect with just a few drops.
It also serves as a good moisturizer for Facial hair and will prevent dryness of skin at any time of the day.
If you want to have an elegantly groomed beard, then you should go after Macho Man Care Argan Oil.
Much has been put together to make this oil as it contains premium quality materials and all are essential to great grooming moisturizing and hydrating experience.
Pros
Pure natural and organic ingredients 

100% satisfaction guarantee

Perfect for a gift

Easy grooming trimming and styling

Premium Deluxe Argan oil
The Gentlemen's Beard Wash Shampoo with Argan Oil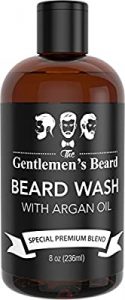 About product 
If you have been Battling with dirt and grime from the beard as well as dandruff in facial hair, then this is a one-stop solution.
The Gentlemen's Beard Wash Shampoo with Argan Oil is a very good beard care kit that will not leave your beard looking dry and frizzy like other beard shampoos.
It will also serve as a very perfect gift idea to buy the man in your life that seems to have everything.
I believe every bearded man would appreciate this oil very much because they want to have a nice looking beard which this oil can offer. The pleasant smell from this oil is all it may take to convince any user.
It contains all the necessary natural and organic nutrients needed to help the beard grow.
Reasons to buy 
One useful attribute of the gentleman's beard shampoo beard wash containing Argan Oil is that the product alleviates itching and reduces dandruff by hydrating and moisturizing your beard.
You no longer have to worry about those breakouts and uncomfortably rough beards. Those who have used this oil can testify to how they got a positive result just with  2 squirts of the beard wash shampoo every day.
The product comes with  Organic Argan Seed Oil and Organic Aloe Barbadensis Leaf Extract to aid healthy beard growth and lock in the natural oils.
Unlike other oils that will leave an awful scent on the hair, this product is set aside and groups among the Best beard care kits for healthy beard grooming.
Pros
Soothe irritation and eliminate flaking

Fresh, clean and manly scent

Naturally sourced ingredients. 
Pure Argan Oil for Hair & Skin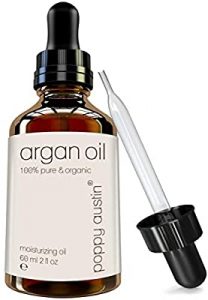 About product 
This is yet another amazingly mixed Argan Oil that has 100% pure organic argan oil in it. It is among the most sought for exquisite, luxurious and triple purified Moroccan argan oil.
The Pure Argan Oil for Hair & Skin is sure to give you almost immediate results. Yet, it is compact, lightweight and very affordable. It supplies the beard with enriched nutrients for healthy and faster growth while relieving itchiness and irritation.
Creates naturally soft, luminous and manageable hair with one application. Another advantage that one can not miss out when using this pure Argan Oil is that it will not rush and restore and strengthen damaged hair and brittle hair.
It is safe to use on all skin and hair types and will deliver clear results.
It is a well-packed Argan Oil that serves as a good moisturizer to keep the beard hydrated even in hot conditions.
It contains other vital vitamins such as Vitamin E, essential fatty acids and natural antioxidants. It's a good oil for treating stress marks on the skin and eczema.
Reasons to buy 
This is the last reviewed Argan Oil on this list but definitely not the least, this is a well known Argan Oil that contains all the important vitamins that help beard growth. Absolutely nothing added or taken away from this Argan Oil to deliver the best result.
It is also a lightweight moisturizer you'd love to add to your beard care product at home. It does nothing but softens and condition your entire body, helping to create a more radiant, fresh, younger-looking face, and healthy skin and nails as well!
The package is really looking nice and the pleasant scent is worth craving for. Undiluted argan oil that will supply quality nutrients from natural and organic sources is what you should go for. Help prevent hair from frizzing, split ends, and environmental damage.
Argan Oil has a lot of benefits to the body and facial hair, as does this pure organic argan oil. Traditional extraction techniques were used to process and harvest small batches to preserve the purity, quality and integrity of every single bottle of this product.
Pros
Fastest result 

Made with the finest quality 

Guarantee
---
Things to Consider Before Buying or Using Argan Oil
There are dime dozens of argan oil available either as pure argan oil or infused-in product. But not all of the products tagged as produced with argan oil are as advertised.
You need to look out for certain things, especially if you are buying from online stores.
#1. Reviews
This should be the first thing to search for; it will give you hints on the authenticity of what you are buying and what to expect.
Having negative reviews more than positive ones is a sign that the argan oil products is a bad one. Also, watch out for reviews that are in short words, the sellers can purchase them.
#2. Purpose
Do you want to apply to the beard hairs or use orally? If you wish to consume orally look for argan oil products made for oral consumption, not otherwise.
---
Are there any side effects of using Argan Oil?

#1. Severe Allergy
Argan oil is beneficial. If not used properly, it can result in more pain. Let's take, for example, mixing of impure oil to some amounts of argan oil can lead to side effects.
#2. Prevents Signs Of Aging
The presence of antioxidants in argan oil is to avoid any signs of ageing and wrinkles. However, if you have wrinkles presence on your face before applying, argan oil can't get rid of it. Before using any argan oil products, make sure to read the instructions.
---
Frequently Asked Questions and Answers on Argan Oil for Beard

Can I Leave Argan Oil On Face Overnight?
Yes, you can leave argan oil on your face overnight, so you don't have to worry about any side effects. It is for the production of so many skincare products, and you will need just a drop or two to get the job done.
Can Argan Oil Reduce Wrinkles?
The presence of omega fatty acids makes argan oil a perfect solution to get rid of face wrinkles without adverse side effects. It will help strengthen tissues in the skin and aid in preventing further show-up.
Does Argan Oil Tighten Skin?
Argan oil contains properties that help in neutralizing skin radicals and acts on soft tissues. If you can get a cream or lotion made with argan oil, tightened skin is what you will always have.
Can I Use Argan Oil Every Day?
Argan oil does not make the pores clog, so it is safe to apply argan oil to the face every day but should be in small quantity.
Do You Put Argan Oil on Wet or Dry Hair?
It can be applied on both wet and dry hair, but using damp hair is more effective and takes more effort.
Does Argan Oil Really Work?
Yes, take a look at the customer's reviews below
I love this argan oil. I've tried lots of different brands and this one is definitely one of my favs. I use it all the time for my hair (both for pre and post washing) and for moisturizing my face (after exfoliating). I definitely recommend it ladies!
This oil is fragrance-free and non-comedogenic for the face. It nourishes the skin nicely, however it doesn't have any antioxidant effects or other botanic effects to improve the clarity of the skin. A very little amount is needed and the amount in the bottle will last a long time. Highly recommended though and far superior over synthetic emollients.
Where does your Argan come from?
Our Argan Oil is grown, harvested, and cold-pressed in Morocco. We then import the oil to the U.S. where it is bottled and packaged.
We also want to believe that quite a number of companies in the US have started producing Argan Oil in large quantities.
Who can use Argan Oil?
Anyone can use our 100% Pure Argan Oil and will work on all skin types. If you have extra oily skin it is advisable to apply Argan Oil only before bedtime.
If you suffer from nut allergies it is advisable to see your doctor before using this product.
What is Airless Pump?
The airless pump conveniently dispenses the desired amount, protecting the formula from air and light, keeping it stable and preserving its effectiveness.
---
Conclusion
Here you've read on what Argan oil is, benefits of Argan oil, and how to get Argan oil.
In short, you've read on everything you need to know on Argan oil for beard growth, and I believe you will be able to make decisions on use for beard growth and that you're more enlightened than before.
Do you have any questions to ask about using Argan oil for beard growth? Kindly make use of the comment box.
We also have some of our heavily researched articles for you to read on. You'd surely love 'em.
Almond Oil For Beard Growth: Things You Should Know
Why You Need Grapeseed Oil for Beard Growth
Does Jojoba Oil Help Beard Growth?
Does Vaseline Help Beard Growth?
How To Apply Olive Oil For Beard Growth
Does Onion Juice For Beard Growth Work?