You may be wondering if it is normal that you should trim your beard when it grows out. You see, beard to me is like a child we need to take good care of it all the time.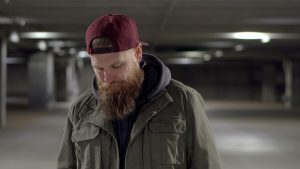 Should You Trim Your Beard When Growing It Out
You can trim your beard when it grows out. If you actually need a fuller, healthier and well-shaped and styled beard, adopt the habit of trimming it when necessary.
While trimming your beard may not help it to be stronger or thicker, trimming surely has an indirect positive effect on beard growth.
You should also note that while you are on the journey of growing your beards, do not trim it in the first three months of growth. Let it grow wild and untamed.
You can now begin to trim to your taste after these months.
There is no harm at all trimming your whisker beard. Experts have recommended it that trimming the beard doesn't cause any harm to it.
Why trimming your beard is important when growing a beard? 
When you are growing out your beard, Trimming should be your friend. When grooming your facial hair from a few strands into a big, thick, manly face bush, it may occur that some hairs will be thicker and longer than others on your chin.
This may leave you wondering whether you can trim off or not, since you want to grow a full beard. Yes. Trimming is essential and there is a unique way to go about it that I will show you.
A regular slight trim is a smart move as it will control your beard not to grow out beyond the neckline and some other boundaries of your face.
As a man, there is an extent of which your beard should not grow beyond if you really want to maintain a great bearded masculine look.
If by now, you are worried as to whether you can trim your facial hair or not while growing out, then you should equally be happy that it is a sign of progress.
>A sign that you are truly growing Beards rapidly
Growing beards out of control like flyaways, split ends, dryness, and dishevelment will never look good. So it is important to trim from time to time while growing out.
How Do You Trim Your Beard?
Most of the time, it is necessary we trim our beard on our own rather than taking it to the barber. For this reason, we need to learn the various skills through which we can trim our growing beard.
Trimming the beard regularly keeps it fresh and healthy, so it is a good idea. When you trim your beard,  it helps to remove split ends, fly away, dryness, and dishevelment.
It makes the conformity of your face and beards a regular achievement. It helps to keep your beard shape intact.
Some people believe that when you trim your beard, slows the growth process, but we don't believe in that for the scope of this article.
We strongly believe that trimming is an indicator of good beard progress because it indicates that your beard is growing enough so that it can be coached and pruned.
In spite of these above, you need the right tools to carry out the trimming process of your beard. Trust us; we are going to recommend the best trimmers tools for you.
Getting the right tools
Getting the right tools are as simple as the tap of your thumb, but to a layman, or an amateur, it is another story entirely. We are going to suggest the best market to get these tools that will be suitable for trimming your beard as you desire
Getting the Right Trimming Tools
You need some tools to carry out a proper trimming process. You don't need to worry about the tools since we have taken care of that for you through the recommendation of the best tools out there.
A beard Brush is Needed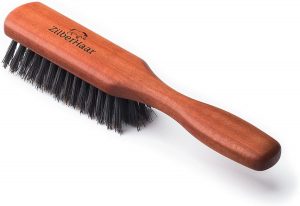 You need a good quality beard brush to brush your beard hairs before trimming it. Beard brush will help you keep the beard relaxed and moisturized so that the trimming process will be easy for you to carry out.
This very beard brush we recommend above is one of the best ever sold on Amazon, so you shouldn't hesitate to get it. It will give your beard an awesome relaxation, and then make trimming easier.
Zilberhaar is the name of the high-quality beard brush we recommend above. It had a lot of fantastic features you don't want to take for granted.
The Features are as Follow
Talking of the best features ever, Zilberhaar is one of the best choices in the amazon market. It made of:
Fine solid pearwood alongside pure boar bristles.  This quality is uncompromised for this awesome reason don't you think it is very essential to get this kind of brush already?  It is on Amazon right now, so don't hesitate to give it a trial.
The brush is made in Germany, by third-generation master craftsmen of brush making. Talking about one of the toughest bristles, boar bristles is one of the best, no wonder the manufacturers of this brush have decided to use it as their best choice.
Remember, we will always bring you the best products on amazon and here we are.
The handle is smooth and nice to handle. Definitely, you will thank us later after the usage of this brush. There is no compromise once again.
Get a Beard Comb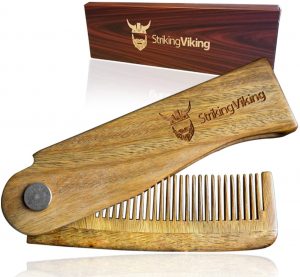 A beard comb is also essential when you need to trim that beautiful beard of yours. Believe me, it is one of the best tools anyone with whisker beard should have.
You can always straighten your beard with a beard comb.
There are many beard combs out there but we are recommending the best one for you.
Just as the name indicates, Striking Viking can't be taken for granted when it comes to straightening your beards. Just in case to need the best comb that can humble your beard to be trimmed the best way, you are already at the right place.
Get Facial Hair Scissors
This is another important tool a person with a whisker beard should have. It is essential since you can easily use it to clip out some uneven beard hair while preparing to trim it.
These products are widely available on Amazon and you can always find them cheap. We recommend the tool because it comes with a lot of good features the customers are talking about.
Ontaki is one of the best scissors in the amazon store which many people have been talking good about and we have carefully selected some of the awesome features that come with it.
They are as listed below:
The Features of Ontaki are as Follows
Multipurpose Cuts All Beard, Hair, Mustache, Eyebrow, Bodily Hairs.
Travel Carry Case TSA Friendly for Airports.
German Steel Hand Forged.
Small Comb for Mustache Shaping.
Bevel Edge for Layer Cuts.
Clippers Are Also Needed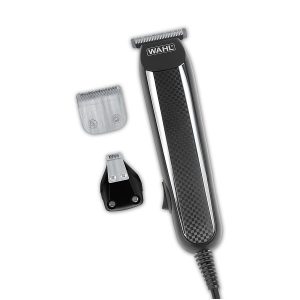 You also need clippers to keep the beard even when grown. That's if you need a beautifully looking beard. For sure, this will give you that stunning manly feeling.
For instance, Wahl Power Pro Corded Trimmer is one of the most demanding beard trimmers in the amazon store.
People have been purchasing it, and also have made a lot of positive reviews on it.  The features are as listed below:
Wahl High-Carbon Precision Ground Blades
Power of a Full-Size Corded Clipper
3 Heads For Trimming, Touch-Ups, & Detailing
12 Individual Blade Guards For Easy & Precise Grooming
Unbeatable Trimming Results
Heavy-Duty Components for No-Snag Cutting & Trimming
Compact Corded Power
Trimming Lengths from 1/8″ to 1″
Razor is also needed
When you are trimming your beard, it is important to have a good razor too.  Although, it is not advisable to part with the blade until you must have shaved everything below your neckline or ensure your cheeks lines are cleaned up.
How to Trim Your Beard Properly
Here are some tips on how to trim your beard properly. We recommend you follow the steps carefully to achieve the best result.
Wash and dry your beard before trimming: You are to wash your beard thoroughly and dry with a clean towel before the trimming process.
If you do so, will you be able to get rid of dirt from your beard, and also, this act will make it easier for you to trim the beard.
Brush your beard: Brush your beard to make the hair stand straight and moisturized. Apart from this benefit, brushing of the beard helps in the removal of dandruff, and also protects your beard from bacterial.
Take advantage of your clippers and scissors: With the aid of your clippers and scissors, you can trim your beard to an even length.
The clippers will help cut the beard hair while the scissors will help maintain an even length, thereby leaving your beard well-shaped.
Address the moustache: It is advisable to run a shorter guard over your upper lips while you trim your moustache.
Gently clean up your moustache unevenly grown hair with a clipper this can be achieved by combing your hair down over the upper lips, and then use your moustache scissors to clip away the hairs on the lips.
Rearrange your beard: After the trimming, you need to rearrange your beard by combing it back to how you will like it to look like.
Check the trimmed beard: you can also check the trimmed areas again with your mirror to see if there is any part that is not well-trimmed. If there is any part not well-trimmed, kindly adjust it as necessary.
Wash or rinse the beard: At this point, you can now wash your beard with clean water and soap, dry it with a clean towel to maintain the freshness of the beard.
You should Style the beard: After the washing and drying of your beard, you can now style your beard using any of the beard products we have previously recommended.
We recommend you style your beard once again using a beard balm. This will help moisturize and relax your beard as you desire.
Give a Final Snip: Go through your trimmed beard again to see if you will find any stray hair, snip it and you are done.
The Importance of Trimming Your Beard
Our beards grow at a different rate and most of us will like to trim them down to keep them in control, due to some myths surrounding the trimming of the beards, we may be discouraged.
We are about to show you how beneficial it is to trim your beard.
Removal of Split Ends: I am sure no one likes split ends in beards, they are normally caused by environmental factors such as heat, cold and wind.
Getting rid of these split ends should be your goal, and to do so, is through trimming.
Fuller Beard Achievable: trimming your beard makes it look fuller, it is like a gardener, when you trim your flower in the morning, it looks fuller in the evening.
Fewer Tangles and Knots: No one likes tangles and knots on their beard, so if you trim your beard regularly, it is a sure way to get rid of tangles and knots.
Let me know your thoughts in the comments.