Hello fellow bearded man, you know I will never let you down in giving you the best grooming products recommendations. I used to be one of those guys that have entirely closed up the thought of possibility when it comes to buying the quietest beard trimmer around.
But after deep and thorough research on this particular thing, I discovered I was wrong and perhaps, my fellow thinkers were wrong too. There are indeed very quiet beard trimmers to facilitate a complete peaceful trim for any bearded man.
Well, Being wrong or not, I do believe that there are many men out there who have not experienced the usage of a Quiet beard trimmer.
Trimming your beard is no child's play. It's a serious business that requires quality tools and a sturdy hand
It is for this reason that, in this post, we will take a look at all the quietest beard trimmer available on the market, features that make them the best, as well as things to consider when buying a quiet beard trimmer. I'm pretty sure you know what a beard trimmer is and how it is different from a Clipper. You don't? Then read this article HERE. Very important.
Many men like to trim their beard at a barbershop for supreme quality, but with some good gear, most of your basic beard clipping, cutting, and trimming can be handled at the privacy and comfort of your own home.
To help you not colossally mess up the results, we built up this review of the best choices of banger quality trimmers and trimmer kits for helping you sculpt and shape your favourite beard styles with ease and of course, without any noise!
Having said that, it is time for you to know more about a quiet beard trimmer, why you should get one, and the best product for you.
Quietest Beard Trimmers – Our Top Recommendations
Attention: The internal data of table "29" is corrupted!
What makes a beard trimmer quiet?
Jerking up from your sleep as a result of the humming sound of your room mate's trimmer can be such an annoying experience.
But it's important to know that there are trimmers out there that actually try to minimize how offensive they are to the ears.
In this connection, let's quickly run through exactly what makes a beard trimmer quiet. Then, I'll list the best beard trimmers that meet these criteria and provide a peaceful trim.
The quality of the blades
An important feature that makes a beard trimmer quiet its the undisputed blade quality. You will need a trimmer with blades made of titanium, stainless steel, or ceramic. High-quality blades also produce less friction and therefore produce less sound.
These are the most durable materials and also produce the least friction as the blades rub against each other.
Apart from being silent, A good beard trimmer needs good blades. This isn't just because the quality of the blades is important for the evenness and neatness of the trim.
The motor
Yes, the motor. It will be immaterial to put out and effective trimmer that has no powerful motor.
The power of the motor is crucial to how efficiently these parts can move, which in turn determines how noisy is the entire device is (including the blades).
A beard trimmer, much like any machine, consists of moving parts colliding with one another. When moving parts are slow and not well lubricated, they get noisy.
To cut to the chase, a beard trimmer needs a powerful motor to be quiet, surprisingly enough.
You can not do away with this feature especially when a coarse, thick beard hair is involved, which can quite easily overwhelm a weak motor.
The charge
You attempt to reduce the number of times you hear this noise from your trimmer should include getting a good battery life for that trimmer.
Again, this isn't purely to do with the trimmer. But bear in mind, if a beard trimmer is getting progressively noisier during a trim, it's quite likely that it's running out of battery.
The longer it lasts, the fewer times you'll have to charge it, and the fewer times you'll wake up the neighbours with a deafening trimmer hum.
How clean and well oiled it is
Away from having a quiet trimmer, Oiling the blades is also key to keeping them well lubricated, thereby reducing the amount of friction and also the noise.
Yes, a good trimmer needs to be easy to clean. However, it is mostly up to the user to ensure that they actually clean it. A washable trimmer is easier to clean as it can just be rinsed.
This is partially to do with the trimmer, and partially to do with the user. When you have Hair clogging up underneath and around the attachments, it will definitely lead to the increase of noise levels, No doubt.
And you won't like it when the trimmer sound rattly and clunky, so a clean trimmer is a quiet trimmer.
Read that again!
A clean trimmer is a quiet trimmer
However, there are plenty of excellent (and quiet) trimmers that are not waterproof, but still easy to clean. It just takes a bit of brushing underneath the cutting attachment. And… That's all.
Just in case you are in a rush, the table below shows our top picks on Quietest beard trimmers for you to buy
Quietest Beard Trimmers You Should Check out – Detailed Review
For every salon owners or DIYs, Having an electric beard trimmer is a necessity for maintaining facial hair.
So, have you maintained the same beard for years and just need a one-trick pony? Do you alternate between short and long styles and need a trimmer that offers a lot of variety? Will you take your trimmer on business trips or are you leaving it in a bathroom cabinet? Finally, what's your budget?
No matter how you answered any of my questions above, our picks have you covered.
1. Brio BeardScape Hair and Beard Trimmer

About product
Have you heard of Brio Beardscape hair and beard trimmer? It is entirely forgivable to say No as The Brio BeardScape is a not so well-known beard trimmer in the medium-high price category.
It was recommended to us, however, by many people who seem to be raving fans of the trimmer, which is why we decided not just to include it in our beard clippers review but make it our number #1. And we will tell you why!
Reasons to buy
Right from the start you can feel and see that it's not a small trimmer by any means.
Their main "marketing angle" seems to be the ceramic precision blades and the fact that the Brio BeardScape is one of the quietest beard trimmers on the market as of now.
The design and colours of this beard trimmer make it look much older than it is, and although this doesn't matter for most users, it's still a sad fact that this unit simply isn't up to the design standards of its competitors.
The only drawback of bulkiness and weight, the BeardScape makes up with a large Li-ion battery that has a trim time of 4-hours, and with a powerful trimmer motor that can easily cut long and coarse facial hair without pulling the whiskers. With the 7.9 oz weight its more than two times as heavy as the Panasonic ER-SB40-K mentioned earlier in this review.
Just like some beard trimmers these days, the unit comes with a digital display.
Oh did I mention that there are also multiple guard combs? (1mm, 2mm, 3mm, 6mm, 9mm, 12mm, 15mm, and 18mm) and a 1.0 to 1.9mm blade height adjustment.
Pros:
Powerful and quiet blade motor with five selections of speed.
Extremely high-quality blade design with some extra adjustability.
The big Li-ion battery gives an impressive 4-hour trim time with a 3-hour charge time.
Comes with a nice looking charging stand, and USB-charge option, which is nice.
Cons:
Quite heavy and big beard trimmer to work with, especially for close detailing.
The comb guard attachments are two-sided and the clamping mechanism is not ideal.
The design has much room for improvement, looks more like a 90's product right now.
The guard comb sizes are all over the place with multiple lengths left out completely.
2. Philips Norelco Multigroom Series 7000, MG7750/49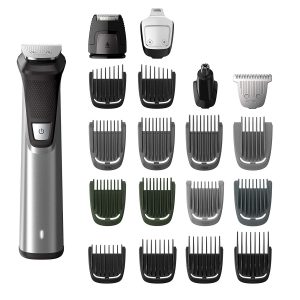 About product
What will you say to a beard trimmer that its battery life is very competitive, clocking in at five hours when fully charged. Ideal yeah?. It can also be used plugged in if necessary.
The Multigroom comes in a close second. The main thing which may make you rate this trimmer higher than the Beardscape is that it really is an "all-in-one" trimmer.
Having said that, it has managed to become the go-to all-in-one trimmer on the market. If this versatility is something you prioritize, go for this trimmer instead.
Reasons to buy
Due to its range of attachments, it can competently trim not only the beard but also the head, nose, ears, and body.
What makes it quiet? Again, mainly the quality of the blades and the power of the motor.
Bear in mind though, that I'd still recommend brushing and oiling it regularly to ensure it lasts long
All in all, the Beardscape is objectively a little bit quieter than the Multi groom. Honestly, I can't clearly say what the former outshines the latter. Well, some reviews say it's the ceramic blades. At the end of the day, it is the reason the Multigroom comes in second on our list today.
Pros
The blades are made of high-quality stainless steel and utilize "DualCut Technology".
It is waterproof.
there are twice as many blades, and they sharpen themselves as well.
Cons
It comes with 14 length guards ranging from 1mm to 16mm.
comes with many extra parts
3. Panasonic ER-SB40-K Beard Trimmer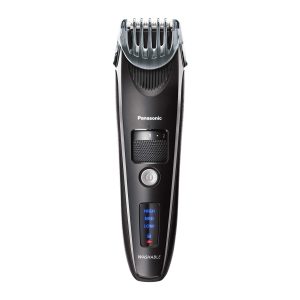 About product
I have my personal favourites when it comes to beard trimmers, and the first thing you will notice – after seeing the pleasant design – is the weight of the trimmer; at 2.99 oz the Panasonic ER-SB40-K is incredibly light and easy to manoeuvre.
Adding in the fact that this high-quality beard trimmer comes with Li-ion battery and a dual-LED display, there's really a lot of positives and not a whole lot of negatives that come to mind when looking at the Panasonic ER-SB40-K.
Reasons to buy
Panasonic has fitted this trimmer with a 9800 cuts-per-minute (CPM) linear trimmer motor that is strong enough to cut and groom even the thickest and longest beards.
The blades are made from hypoallergenic stainless steel and come with a wide cutting edge and rounded tips, which allow you to edge out sharp and clean beard lines effortlessly.
Depending on your needs, it may as well be the best beard trimmer for you, and we certainly think it has to be the best beard trimming product in its own category.
This is also one of the easiest and quietest beard trimmers to clean, as its waterproof enough to clean under the faucet with running water (provided that you disconnect it from the electric outlet).
Pros:
One of the most powerful quietest beard trimmer motors available.
Extremely lightweight and easy to manoeuvre on the face.
Easy to adjust the quick-lock guard mechanism without multiple guard attachments.
High-quality lithium-ion battery with 1-hour charge time and 60 minute trim time.
IPX7 waterproof, allowing for effortless beard trimmer cleaning under running water.
Can be used corded or cordless with universal voltage (100-240V) and travel adapter.
Cons:
4. Remington VPG6530 Vacuum Trimmer
About product
This "4-in-1" trimmer comes with the normal beard clipper blades, a close-skin foil shaver head attachment, an attachment piece for ear & nose hairs, and a smaller detailer piece.
Although the manufacturer boasts that this specific vacuum beard clipper model has 3x longer battery lifespan than the average standard beard trimmer battery would last, I find that somewhat hard to believe, especially since many people who purchased this trimmer have complained about its subpar battery performance.
Reasons to buy
When it comes to trimmer length adjustability, the Remington VPG6530 vacuum beard trimmer comes with a larger adjustable guard comb with 9 different length settings and also 4 fixed-length guards for shorter beards and stubble.
Remington claims that their vacuum beard clippers "sucking power" is roughly 2x more powerful than that of their competitors, but such details tend to be only important to the brands battling against each other, not so much to the customer.
The trimmer can be used with or without a power cord, and the Li-ion battery has a trim time of 1-hour which falls right into the average time within the beard clipper industry.
If you are looking to reduce the mess left behind by the beard cut, you may want to opt for Remington's vacuum beard trimmer, which collects all the clippings while you use it. The chamber can then be removed and the contents dumped into a bin.
Let's say when used in cordless mode, the battery may not be sufficient enough to power both the vacuum and the blade motor if the user has long and coarse facial hair.
Some users also report that the trimmer sometimes pulls the beard hairs mid-cut and the blade motor seems to struggle to keep up at times.
Pros:
The best vacuum beard trimmer on the market as of now.
Responsive customer support and above-average 2-year product warranty policy.
Solid all-around clippers with plenty of length settings for the average Joe's use.
Received some recognition like the Red Dot award and British GQ grooming award.
Cons:
In cordless use with longer thicker beards the trimmer sometimes struggles to cut.
As with many electric men's beard trimmers, this one suffers from "bloat" of guards.
For this price range, there are some much better products available (without vacuum).
5. Hatteker Men's Beard and Mustache Trimmer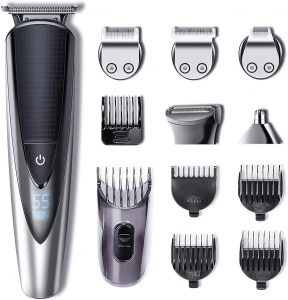 About product
This cheap beard trimmer comes with a selection of five different blade attachments; beard attachment, hair attachment, precision detailer, ear & nose attachment, and a body groomer. On top of this, the clipper kit comes with five adjustable guard combs.
For an all-around trimmer that works for hair, beard, ears, nose, moustache, and body grooming (and can be used in the shower) you are unlikely to find anything better in this price range
Reasons to buy
Of course, this thing isn't perfect, and like many cheap budget beard trimmers, it will end up wearing out and breaking much faster than some of the bigger brands' flagship models showcased above do. This explains why it is the last.
But trust me, it's not the last in effectiveness. If you are looking towards spending less for a good quiet beard trimmer, then you've found the lost sheep!
The Hatteker Men's all-in-one Trimmer Kit is the best budget beard trimmer option we have in this list. Behind its low price is an impressive array of value and functionality.
The Hatteker clippers also come with a digital screen display which shows much of the lithium-ion battery's 60-minute charge is left. The unit can be charged via USB and as a pleasant surprise, this beard trimmer is waterproof.
The Hatteker trimmer is manufactured in China, which isn't a good sign. There are also some negative reviews showing that in a couple of buyers, the thing wouldn't even turn on when they first bought it.
Not to mention the fragile clamping mechanism for changing the attachment heads, or the fact that the electric blade motor is not powerful enough to cut thicker and longer beards.
All-in-all, this is still the best cheap beard trimmer there is, and when it works, it seems to work exceptionally well.
Pros:
The best low budget beard trimmer available.
Comes with a wide selection of attachments and guards.
This is a waterproof beard trimmer that can be used in the shower.
The lithium-ion battery charges in 90 minutes and has a 60-minute full-charge.
Cons:
Made in China and the quality varies.
Flimsy head attachment clamping mechanism.
Customer support response time is long and the trimmer has no warranty.
The motor isn't powerful enough to handle thick and long beards without pulling.
6. Andis Personal Hair Clipper with Stainless Steel Blade and FREE Body Spray Included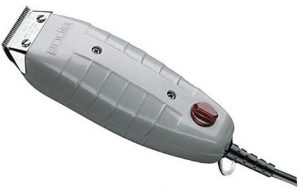 About product
This is a hair clipper used by professionals worldwide. The Andis Personal Hair Clipper with Stainless Steel Blade and FREE Body Spray Included is the perfect hair cutting tool that will assure users a very fantastic cutting experience.
It includes a stainless steel blade, contoured grip, and extra quiet operation. The stainless steel blade helps in giving the perfect beard outline. It is a versatile trimmer that will work effectively on any type of hair.
Reasons to buy
One of the good things in this hair clipper is that it has a precise blade perfect for all-around outlining and fading. The blade has been designed to give close cutting that will assure a comfortable trimming experience.
It has a very powerful motor that allows the clipper to run cool without making annoying noise while in use. The 8ft long cord will allow you to move around with being constrained.
Special features 
Ideal for trimming necks, beards, mustaches

Great for edging around ears

Powerful motor runs cool and quiet

Heavy-duty 8-foot cord with hanger loop

Fine smooth cutting teeth

High-quality carbon-steel blades

High-quality carbon steel blades

All-around outlining and fading

Extremely close cutting Blade

Excellent for dry shaving
Pros
Powerful Magnetic Motor Runs Cool and 

Quiet; High-Quality Carbon-Steel Blades

8-Foot Cord with Hanger Loop

Ideal for Trimming Necks, Beards, Mustaches and Edging Around Ears 

Excellent for Dry Shaving; Heavy Duty 

Precise All-Around Outlining and Fading, with SAFE Extremely Close-Cutting Blade
7. Professional Barber Hair Clippers Cordless Hair Trimmer

About  product
The Professional Barber Hair Clippers Cordless Hair Trimmer comes with Stainless Steel blades and is effective for professional use. It is among the Best Quietest trimmer to use to get a very peaceful and smooth trim. It has a high performance and has a LED display to indicate when charging.
It contains everything you will need to have a smooth cut in your salon or at home.
Reasons to buy
While the motor is heavy-duty, the all-metal constructed clippers will work efficiently without making noise. It is designed with topnotch materials varying from the ergonomic construction that makes it durable and assures comfort when in use.
It has varying options for the adjustable length and guides combs that help you in achieving a perfect and desired haircut. The haircutting varies from  0.8mm to 2.0mm. With this clipper, you can cut out your desired hairstyle as it has been made with 3 guide combs respectively: 1mm, 2mm, 3mm.
This clipper comes with blades that will last longer and remain durable. Users are advised to clean and oil clipper blades when required. The blades are engineered to give the best precision to achieve the preferred style.
With the clipper blades, you can be sure not to get pulled off hairs or nicks. You do not need to go too much stress or difficulty when detaching the clipper blades for cleaning as the process is very easy.
One of the most important parts of any clipper is the motor. This Professional Barber Hair Clippers Cordless Hair Trimmer has a motor that is Quiet and produces low noise. It assures superior performance for haircut without any snag. 
Special features
Easy to use with adjustable taper level & guide combs

LED indicator showing charge level

support Cordless

Voltage: 100V-240V 50/60HZ .

Soft-touch grip for comfort and easy control
Pros
It is made of stainless steel body parts. 

Ergonomic handheld design

Smooth and heavy-duty

Powerful rechargeable 2000mAh of Lithium-Ion Battery which can take  240 minutes of cordless use after 3 hours charge

 Blades are self-sharpening and made of stainless steel
8.Ceenwes Hair Clippers Cordless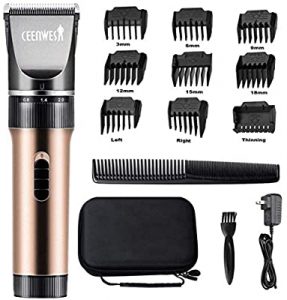 About product
Ceenwes Professional 16-piece Haircut Kit is another perfect hair clipper to accomplish a successful Home Cutting. Not only is it easy-to-use but also a compact clipper set that contains titanium blades.
The Ceenwes Hair Clippers Cordless will cut through even the thickest hair under any condition. It is a Waterproof clipper that can run for 240 minutes after a 3 hours full charge.
The package of the Ceenwes clipper includes 1 CEENWES Hair Clippers, aCord with Universal Voltage Adapter ( About 76″), one Cleaning Brush, Long Comb, Carrying Bag, Hard Storage Case, Manual guide, and varying  Comb Attachments ( 3/6/9/12/15/18mm/left Guard/right Guard)
Reasons to buy
The blades of the Ceenwes Hair Clipper have been engineered to self sharpen and give the right precision for a durable haircut. The blades of this clipper will cut hairs evenly and smoothly without causing the clipper to make much noise.
This is a very efficient clipper that you don't want to look at. It has a Precise Length Control that offers 5 built-in length settings(0.03"-0.08"). This feature allows the user to select what trim length they want.
Keep your cutting tools safe by using the hard storage case that comes with this flipper as it is convenient and travel-friendly. The durable battery in this clipper, that is, 2000mAh Li-ion Battery will require 3 hours for a full charge but will last for about 240 minutes running.
The battery is durable and will not drop in performance even after a long time if using the trimmer.
Special features
Professional Ceramic Blade

Attachment Guards

2000mAh Li-ion Battery 

Hard Storage Case

Precise Length Control
Among the special features to take note of, please be aware that you can remove and wash the blades of this silent clipper. But keep the body of the clipper away from water. Make sure it is oiled and cleaned properly and regularly. The red light from the LED indicator means a low battery and needs charging.
Pros
Precise Lengths Control

16-piece Hair Cutting Kit

Durable lithium-ion batteries

Ceramic Blade &Low noise design 
Since you are reading this article, you have already decided that you prefer your grooming tools to make less noise, which is always a good thing! Now that you've seen our list. We can now move on to other important factors to consider before you make your purchase. It's all about getting value for your money!
What To Consider When Buying Hair Clippers?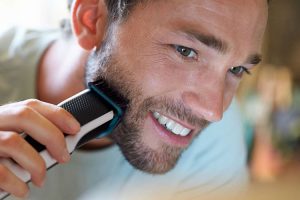 If there is one thing that you do not want to mess up in your grooming process, it's clipping your hair.
Not only you won't get as much respect from the customers – but you will find yourself wondering how to make clippers quiet, which will make you spend a lot more time and effort.
This is why it is important that you should always go for a good quality hair clipper.
Safety
First and foremost, the safety factor when using the product is extremely important, especially if you are a beginner at using trimming/clipping tools.
Check if the product has properly designed guards, uses quality materials and has good protective mechanisms to prevent accidentally hurting yourself when using the product.
Easy To Clean And Maintain
Any product that comes with a steel blade can break or fail to function well if it was not cleaned or maintained properly.
Therefore, it is important that the hair clipper you plan to buy is easy to clean and maintain without having to too much time for it.
The Motor Of The Device
The power and also the size of the motor of a hair clipper can make all the difference to the efficiency and the precision of the product.
And if you are wondering why do your clippers make a loud noise – the number one reason is the motor of the device.
The blade and the motor are the two most important parts of the product that usually determines the price. If you go for a cheaper/ low-quality motor, it is likely to burn out very fast.
Frequently Asked Questions about buying quietest beard trimmers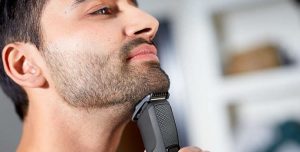 So before you do the mistake of jumping in and buying something without taking a closer look, let's quickly go through areas that bring confusion to people when it comes to buying the quietest beard trimmer, so that you actually know what you're getting. And make the right choice.
Based on my research, here are the most frequently asked questions about beard trimmers as well as their respective solutions.
What Is The Best Philips Trimmer For Facial Hair?
Philips makes tons of different trimmers in multiple model classes, and while you can find relatively good beard trimmers in all of them, the Norelco series is regarded as the "top tier" that Philips produces, and out of that the 7000 series is regarded as the best.
I'm Looking For A Small Beard Trimmer That's Good For Travel Use?
The Wahl 9818 Lithium Ion Plus would be my recommendation for the best travel beard trimmer. It's quite small, comes with universal voltage, has a travel case, and gives out an impressive 4-hour trim time for each full charge.
I Hate Changing The Plastic Guards, What's The Best Adjustable Beard Trimmer?
Definitely the Panasonic ER-SB40-K. There's nothing I hate as much as constantly changing the clipper guards and its adjustable 19-length guard is, in my opinion, the perfect choice for men who want to keep it simple.
Should I Buy A Corded Or Cordless Facial Hair Trimmer?
If you know that you will always trim your beard in your bathroom/toilet which has a power socket nearby, then choosing a corded beard trimmer will give you bit more durability, cutting power, and overall, more professional results.
However, choosing a cordless beard trimmer gives you more freedom to trim wherever you choose and allows you to easily carry it with you when you travel, etc.
Also without the cord weighing down the end of the trimmer, you'll find that cordless beard clippers tend to be easier to manoeuvre.
Any Good But Cheap Beard Clippers Out There?
To be honest, most beard clippers are pretty good and do their job well, even the cheaper ones.
One of the reasons why the Hatteker Men's beard trimmer is constantly receiving top reviews is that it's one of those "value" trimmers where the price and quality come together exceptionally well.
Hence, it would be my recommendation for the best budget beard trimmer.
What Are Some Professional Beard Trimmer Models That Barbers Use?
Most pro barbers – at least to my personal experience with them and YouTube videos – use the Wahl Magic Clip and often do detailing work with the Andis T-Outliner. These seem to be the go-to beard clippers for pros, although every barber has their own preferences.
To help with your face grooming, definitely check out our list of best beard scissors to help you out. Having a beard comb is also super helpful for free-hand cutting longer beards, and beard shapers & shaving templates are handy for the edge work.
What Beard Trimmer Is Best For Stubble?
There are specific stubble trimmers available, which I didn't mention in this review. The Philips Norelco OneBlade Pro, however, works really well as a hybrid between the stubble trimmer and an electric beard shaver. See HERE for more details on this.
Can A Beard Trimmer Be Used To Shave My Head?
Yes. The main difference between hair and beard clippers tends to be the motor power and blade with, but from the above options, most of the All-in-one trimmers like the Philips Norelco MG7750 can be used to cut hair as well.
How To Sharpen A Beard Trimmer?
The best beard trimmers come with self-sharpening blades, which pretty much never go dull on normal use.
If you insist on getting a trimmer that needs manual sharpening, then you have to remove the blade part and use a coarse sharpening stone to the edges roughly 6-10 times at a 45° angle.
Let me hint you: we shall be putting out a content soon about 'How to sharpen a beard trimmer'. Trust me, it's something you should look out for. Stick close or subscribe to our newsletter to be kept updated.
---
My final words on buying the quietest beard trimmer
It is a pure fact that A quite beard trimmer can play a huge role in a man's sanity. The sound of a trimmer may be one of the first things a man hears every day. LOL
Regardless, My ultimate Hope is that this quietest beard trimmer review helped you choose the right gear for you.
And remember, trimming is just the beginning. There's so much more that goes into beard care. You got the oils, the shampoos, the beard growth-boosting supplements (yes, those exist for you – and real ones – not the scammy kind).
Be it Wahl, Braun, Philips, Remington, or Panasonic; we are sure you are going to enjoy your new trimmer.
Oh! Do you know of any trimmers that should have made this list?
If so, you are now the boss. drop them in the comments below!