Perhaps, you're not sure which wall mounted hair dryer to get. There are a lot of options out there, but which are the best? Lucky for you, I made a list of the best wall mounted hair dryers out there.
You probably have seen these in your Gym showers, or a health spa as well.
As much as these hair dryers are well fitted for hotels, gyms, etc. they can also be a great addition to your studio apartment, or your guest bathroom.
Today, I'm not just going to share with the best wall mounted hair dryer trending in the market, but I will also provide a well-detailed review and buying guide for each product you will come across in this article.
If you have ever stayed in a hotel during your travels, you have probably seen travel-sized hairdryers firmly attached to the bathroom wall, or the dressing room.
Get it? That's what I'm about to serve you in this post. They didn't just choose to give their customers these types of hair dryers, they understand how helpful, easy-to-use, and cool it is.
But is it worth the extra money you will be spending? Does it full fill your purposes? Keep reading to find answers to everything you need to know about wall mounted hair dryers. And also get to buy one for yourself.
Ensure you also read my recent articles on hair dryers
Best Battery hair dryers
Best bonnet hair dryers 2020
Now, we can always 'nod' to things we don't know much about. But not for a hair dryer especially the wall mounted ones. It will be a total waste of money, and time if you are enticed to buy a product that you don't know much about.
We see it in the salon. The gym showers firmly hung in various brands, we see it in the spa but we don't know how much it can be of use to our hair – in our home.
Best Wall Mounted Hair Dryer – Top recommendations
Attention: The internal data of table "31" is corrupted!
So What is a wall mounted hair dryer?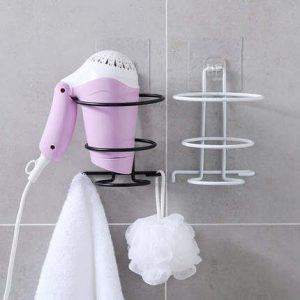 Wall mounted hair dryers are specially designed hairdryers for commercial use (or otherwise either way). These hair dryers can be hung on the wall or your bathroom or dressing room and are lightweight and compact.
From my definition, we can deduce that Wall mounted hair dryers were initially designed for commercial purposes but can also be used in the comfort of your home. So this connection, let's quickly run through the efficiency of this product in these two areas – home and commercial use.
Home use of wall mounted hair dryers
If you are living a small-sized apartment and there is not much storage available, owning one of these air dryers can be of great convenience.
Although there are not many wall mounted hair dryers designed for home use, companies like Conair, Andis, Oster, and Sunbeam offer blow-dryers with wall mounts that are suitable for home use.
These hair dryers are also a great addition to your guest bathroom making your home more hospitable for guests.
However, if you want the technologies like Ceramic, Ionic, tourmaline, stick to regular hair dryers or go for commercial wall mounted dryers.
Commercial use of wall mounted hair dryers
You no longer have to worry about drying your hair after taking a shower post-workout. Gyms and health spas are also owning these dryers making it more convenient for their customers.
Hair dryer companies have come up with a great wall mounted hairdryers for diverse customer needs.
For places like hotels and cruise ships where there is very limited space for extra utilities like a hair dryer, wall mounted hair dryers are intelligent options.
They are smartly designed with compact size and lightweight, perfect to be attached to the bathroom walls. Imagine carrying a full-size air dryer in your backpack while going to the gym!
Whichever way this product is important to you, either for home or commercial use, one of the best choice you can make now is to get the top-notch ones. Ones that will be worth your money and time of research.
Even with the well detailed buying guide that I have provided, This post will definitely not be complete without showing you the best wall mounted hair dryer on every hairstylist's lips today.
You can always rely on our legit reviews as they are results that have been tested by personal use and thorough-going research.
Have you seen our list of best professional hair laser removal? 
Here are the Top 7 Wall Mounted Hair Dryers for 2020
If you are the kind of person who would rather choose a wall mounted hair dryer over regular ones then we do have items on our list for you too. Keeping the important features in mind, we are suggesting 5 great wall mounted hair dryers which are great for commercial and home use.
Are you an African American man? Here is the best facial product for you.
1. Andis 1600-Watt with Night Light –

Built-in shock protection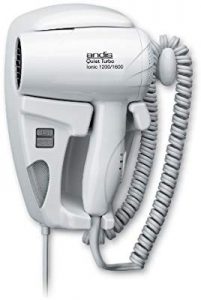 About product
This dryer has 2 heat and air settings, as well as a cool shot button. It also comes with a nightlight that costs a lot less than other night lights.
The night light lasts longer and won't need to be replaced for a long time. It has a hanger loop also prevents the excess cord from dangling and stores it properly.
What I like
I have made Andis 1600-watt my number one on this list because of the great features that it has. Which I believe will catch your eyes too.
It's often rare to see an effective wall mounted hair dryer with 3 position switch like this particular product. Apart from the fact that it has been built to prevent and protect users against shock, the product has a very good name and it's known by a big-time hairstylist that will recommend.
It has a secured wall mounting cord storage and light that last for a long period of time. Interestingly, this is very cheap to maintain.
What I don't like
Andis definitely has a downside, but that doesn't make it any lesser in my list. If you are not really experienced or good in handling, you will find this hair dryer very difficult to mount.
Although it has a long power cord which is good but alternatively has a short dryer cord. Which is not so good.
All in all, it's a preferred choice for anyone who wants to make his or her customer happy.
Pros
3 position switch
Built-in shock protection
Long-lasting light that's cheaper to maintain
Secure wall mounting
Cord storage
Cons
110v
Long power cord but short dryer cord
Not very easy to mount
2. Sunbeam 1875 Watt –

Soft handle that is contoured for comfortable handling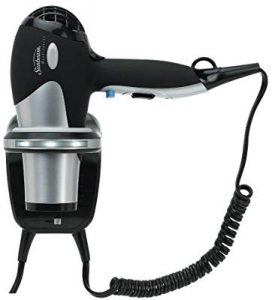 About product
This wall mount hair dryer has dual wattage to help save up on energy. It also has a night light, but this one has a dimmer switch for when you don't want the light to disturb your sleep.
This has 2 air speed options, as well as 3 heat settings and a cool shot setting.
It also incorporates ionic tourmaline technology to help reduce heat damage for your hair. Like the previous hair dryer, this also has a removable lint screen that's easy to clean.
What I like
After I was able to enlist Andis as my number one choice, I sought for a product that could meet up the standards. I can across this Sunbeam 1875 Watt. Trust me, you will surely come back thanking if you get this one.
Most positive reviews from people were that it is very comfortable for handling as a result of the contoured soft handle. It is easily cleanable and has a light that makes hair drying easy at night
What I don't like
There is only one feature of Sunbeam 1875 Watt that began to give me black looks. Please be aware that this product has no diffuser.
Pros
Has a night light with a dimmer switch
Easy to clean
Ionic tourmaline features
Soft handle that is contoured for comfortable handling
Has a cool shot button
Cons
3. Sunbeam Global EconoMizer –

Magnetic hand locking system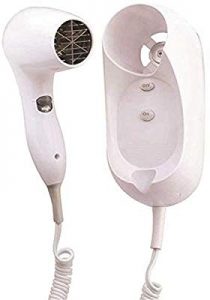 About product
This wall mount hair dryer has 2 speed and heat settings, plus a small switch to control these options. This wall hanging hair dryer design has more enhanced airflow than the previous models, along with less noise level.
It also has a magnetic hand locking system and a lint filter that can be removed for easy cleaning. The cord is 6 feet long and allows you free reign of movement despite being wall mounted.
What I like
Just like our number one and two, Sunbeam Global EconoMizer is very compact and easy to use anywhere it is mounted.
Oh, have I mention that its cord length is indeed pleasing as it is long enough to reach. And when you don't feel comfortable with how it works, feel free to access the ideal heat setting available
What I don't like
There is a possibility that Sunbeam Global EconoMizer overheats. Be cautious to read manuals for proper approach. Although it is compact and easy to use, this product is not all that durable.
Pros
Has a night light
Compact
Ideal heat settings
Easy to use
Good cord length
Cons
No cool shot setting
Can overheat
Not very durable
4. ProVersa JWM6CF –

2-Speed and 3-Heat Settings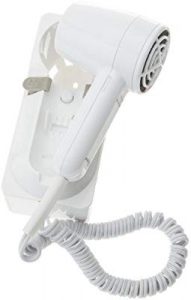 About product
This hair dryer comes with 2 speed and 3 heat settings. It also has an ALCI safety plug built into the cord, along with an automatic off feature that keeps users safe. The lint filter is also removable for easier clean up. It's powerful yet gentle on hair and it can be installed easily.
What I like
Powerful is the word to describe Proversa's. Do you know why it is so popular? It has a significant amount of purchase today as a result of its safety features, easy installation process and perfect durability.
If this is your first time using a wall mounted hair dryer, then I think this is the ideal product to go for.
What I don't like
I really do not Like wall mounted hair dryers with short or not too long cords. Like, how do we get to use it efficiently!
What struck the camelback on reviewers opinion on this product is that it is loud. Yes, loud.
Pros
Safe
Powerful
Compact
Easy to install
Durable
Cons
No cool shot
Loud
Not very long cord
TRENDING : Beard creams in Nigeria that grows beard like magic
5. Jerdon –

Everything you need to install this hair dryer comes with the packaging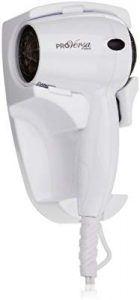 About product
This hair dryer also has two-speed settings and two heat settings. It's pretty powerful and can dry your hair in just a few minutes. It has an automatic switch and an ALCI safety plug that's built in for preventing electrical shocks to the user.
It also keeps the dryer from malfunctioning when the power surges or when there is a thunderstorm. Everything you need to install this hair dryer comes with the packaging.
What I like
Do not underestimate Jerdon simply because it falls on the last in our list. It's a top-five remember?
Turns out irony may come in play and you'll be shocked to discover how well Jerdon performs than our number one. (slight joke)
So what makes Jerdon scale through into our top five list? Let's talk of its design. And then how perfect its mounting bracket works. This product is, Infact, a hundred percent durable and compact.
What I don't like
Okay, you know I previously said I do not like hair dryers with short cords. Jerdon took the whole opposite of the situation as it has lots of excess power cord that makes it fall into "what I don't like"
Pros
Compact
Powerful
Sleek design
Very durable
Mounting bracket works well
Cons
100V only
Lots of excess power cord
Cord is not coiled
6. Andis 30765 1600-Watt Quiet Ionic Hang Up Wall Mounted Hair Dryer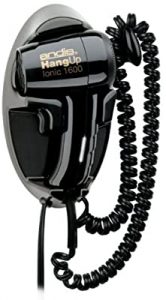 About product 
The Andis 30975 Quiet hangup 1600 Watt hair dryer with night light is known to be among the best wall mounted hair dryers any lady can have.
It will be firm when attached to the wall as the plate for wall attachment is metal mounting.
The motor in this hair dryer is durable and long-lasting. Quiet and effective, this hair dryer has a lifeline shock protecting built into the unit. It contains 2 different heat and air settings.
Reasons to buy 
If you'd go for the Andis 30765 1600-Watt Quiet Ionic Hang Up Wall Mounted Hair Dryer. One big reason may be because it comes with a new Hanger Loop.
This is a new and innovative improvement from Andis for cord storage. It's energy efficient and cool.
This wall mounted hair dryer would be preferred as it has a long lasting electronic light that will not spoil or require replacement.
Special features
LED light

Built-in Lifeline shock protection

3 position switch with 2 heat/air settings

Removable air intake grill for ease of cleaning

Polymer body material
Pros
Long-lasting electronic light – no bulbs to burn out or replace

Less expensive to operate than most night lights 

stays cool and is energy efficient
7. Sunbeam HD3003-001 1500 Watt Wall Mount Hair Dryer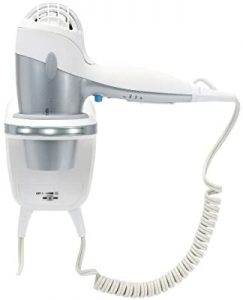 About product 
Avoid going through the hassle of properly cleaning and maintaining a wall mounted hair dryer when you can just buy the Sunbeam HD3003-001 1500 Watt Wall Mount Hair Dryer which filters are easy to remove to aid effective cleaning.
Not only that, the Sunbeam HD3003-001 1500 Watt Wall Mount Hair Dryer Delivers up to 1500 watts of drying power with ionic technology.
It is less noisy and can assure users a successful hair dry. The motor in this hair dryer never dulls out and it has varying air and heat settings and controls.
The cool shot button is among the fantastic body designs of this hair dryer both interior and exterior.
Reasons to buy 
There are many benefits of using the Sunbeam HD3003-001 1500 Watt Wall Mount Hair Dryer instead of other basic wall mounted hair dryers.
Some of the reasons why you should buy this particular product include:
Dual wattage at 1500 and 1200-watts for energy savings of up to 19 percent

Energy-saving LED night light with dimmer switch

3 airspeed and heat settings, plus Cool Shot button

Ionic technology

Removable lint screen and disposable lint filter for quick labour-saving maintenance
Check out a wide range of hair laser removal product HERE
Wall Mounted Hair Dryer – Complete Buyer's Guide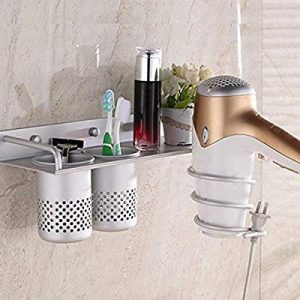 Benefits of wall mounted hair dryers
Although wall mounted air dryers are not designed to be the ultimate hair drying solution, they are great for many reasons.
Great Temporary solution to hair drying

Easy storage solutions

Lightweight and easy to handle

Secured to the wall

Dries your hair with great power saving options

Perfect budget-friendly hair gadget!
Negative sides to wall mounted hair dryers?
Wall mounted hair dryers are not as versatile as a regular home or professional dryers. Also, they do not have as many options as regular blow dryers would have. The following are the few negative points about wall mounted dryers.
Low wattage and thus, takes time to dry your hair!

You may have to compromise with the latest technologies!

Options like a cool shot, ionizer, and variable heat speed settings may be absent!
What to Look for in wall mount hair dryers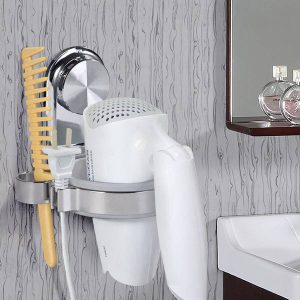 Size
Because wall mounted hair dryers were primarily designed for hotels and cruise ships, most of them take up a little space. They are also shockproof, but most of them haven't been updated with the more advanced technologies that handheld dryers have.
Heat / Speed Settings
Wall mounted dryers generally come with a high and low heat setting, though few have cool shot options. There are some models which have a variety of speed settings to choose from.
Automatic switch
A lot of the wall mounted hair dryers don't have an on/off switch and usually automatically turn off once you attach it back to the wall mounted base.
Night Light
While optional, this feature can be found in a lot of wall mounted hair dryers. It's useful to have around if you're getting a wall mounted dryer that can be used at any time of the day.
Ionic of Tourmaline Features
That being said, some wall mounted dryers still have advanced features like ionic or tourmaline like their handheld counterparts.
These wall hanging hair dryer features help avoid heat damage from hair dryers.
---
Frequently asked questions about the use of wall mounted hair dryer
Is it OK to use a wall mounted  hair dryer?
The use of a wall mounted hair dryer can be a lifesaver in the bathroom. You do not need to be bothered about where and where not to place your hair dryer after use since it comes with a wall mounted piece as well as a Hanger Loop for cord storage.
It is equally important to be aware that studies have shown that the heat from hair dryers in general can pose serious health threats to the body. It is advised that users, especially at home, keep the hair dryer in a moderate temperature and the appropriate distance.
This is done to reduce the risk of damage. And perhaps, hair loss, for some type of hair dryer.

Why are Wall Mounted hair dryers so important?
The use of a hair dryer is needed to pre-mould your hair into a style. You have no idea about the huge role a wall mounted hair dryer will play in having a perfect hairstyling service right in your bathroom.
A good hair dryer will effectively take the moisture out of hair, to reduce hair frizz.
Does a wall mounted hair dryer make you lose hair?
There is really no difference between a wall mounted hair dryer and the handheld ones. The only visible difference is that while you can have one hanged to the wall, you will have to carry the handheld ones all over the place or store them in the drawer.
So, when we talk of hair loss from hair dryers, it should be generalized. Hair dryers will not lead to hair loss as long as you are not burning your skin or irritating your scalp with your hair dryer.
People who use hair dryers more frequently, however, should be aware of the adverse effect that the heat from the hair dryer can cause.
How long can you safely run a wall  mounted hair dryer?
The safe time duration that you can run a wall mounted Hair dryer is 600-800 hours. This can also be applied to when using normal hair dryers.
Using a very old hair dryer or wall mounted hair dryer that needs replacement may begin to damage gradually when you use it above 600-800 hours.
Can I use a wall mounted hair dryer as a heater?
Depending on the design of the wall mounted hair dryer you are using, the casing of the dryer can get real hot when the overheating intake is cut off.
Effect of overheating from hair dryers can be more dangerous when compared with ones from basic space heaters.
What is the side effect of a wall mounted  hair dryer? 
One big disadvantage of wall mounted hair dryers is that they are not as mobile as a handheld one and can be used in specific positions and places. A general downside to the use of hair dryers is the risk of hair dryness.
When you blow-dry the hair too much, it can dry the skin of the head and lead to dandruff. Excess blow dryers can also cause hair loss and damage to the hair texture.
Why does my wall mounted hair dryer overheat?
Overheating in hair dryers is mostly caused by poor maintenance and improper cleaning. The use of a clogged dryer can overheat and have a shorter lifespan.
So when cleaning your wall mounted hair dryer, make sure you get rid of tissues, cotton, swab and other residues that are in the crate.
---
Best Wall Mounted Hair Dryer – Final Words
Purchasing a good wall mounted hair dryer can be tricky. However, it can get easier with a little bit of knowledge about what makes a wall mounted hair dryer great.
Also, it is important to identify yourself as the right customer for a product like this.
These are the best wall mounted hair dryers on the market, and they all offer different advantages depending on what you're looking for.
If you need a regular blow dryer then you can click here.
Getting a wall mounted hair dryer also saves up a lot of space and time, and it gives your bathroom a hotel-y feeling. What's not to like about that?
In my next post, I plan to share with you the best hair dryers with LOW EMFs. So get ready. You can also subscribe to Mybeardgang to keep in touch. Trust me, it's something you want to read.