Hey, I've gathered the soft and hard best bonnet hair dryers so that you can make the most informed decision possible!
Like most hair tools, there's many different brands and specifications to think about before buying.
They've been around for a long time in salons, but now this premier technology is available to everyone
[su_highlight background="#ffb199″]Generally, There are two different types of bonnet hair dryers, hard bonnet and soft bonnet. These two types are separated from each other because they are significantly different in function and design, and features.[/su_highlight]
As you read on, you will understand the difference and see the best 6 products for each category available in the market today.
How often do you wash your beard? 
Perhaps, you've been hearing about bonnet hair dryers but you don't know what it is or how it can be effectively used to bring out the beauty in your hair.
So before we dig into the best products available, let's run through the significant things you should know about bonnet hair dryers.
[su_highlight background="#ffb199″]Many people have seen bonnet dryers in professional hair salons but didn't realize they could have the same device in their home.[/su_highlight]
Just so you know, there are significant differences between a soft and hard bonnet hairdryer. It's left for you to decide which one suits you.
This brings us to the differences between hard and soft bonnet hair dryers
The Difference Between Hard and Soft Bonnet Hair Dryers
Identifying the different types of bonnet hair dryers is fairly easy if you know what to look for
Meanwhile, Soft bonnet hair dryers are more like adjustable bags that completely cover your hair.
Soft and hard bonnet or hooded hair dryers both have advantages over traditional hair dryers. However, they serve those benefits in different ways.
Which type of bonnet hair dryer suits you?
Besides simple personal preference, this will depend on your hair type.
Hard bonnet hair dryers are better for those with thinner or straight hair. Due to a lower overall dry time, thinner hair will be fine either way.
Soft bonnet hair dryers, on the other hand, are better for coarse natural hair.
This is because they disperse heat more evenly than most hard bonnet hair dryers or a traditional handheld hairdryer.
Delicate natural hair needs this kind of gentle drying.
Here are the Reasons Why You Should Use a Bonnet Hair Dryer?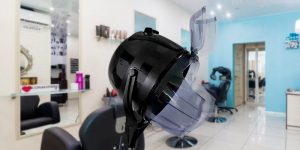 You don't have to wave your arms around holding a hefty hot air blower. Save your workouts for the gym!
Bonnet hair dryers ensure drying your hair effortless.
1. Presence of Even Heat Distribution
Bonnet hair dryers disperse heat over your entire head. This ensures that your hair dries evenly and avoids putting too much stress on individual sections of hair.
2. It is Quick & Relaxing
They're practical devices based on function. To use them all you have to do is sit back and relax and a good bonnet hair dryer will dry your hair evenly and quickly.
Bonnet and hooded hair dryers allow you to multitask while doing something that would take up valuable time out of your day.
3. Travel-Friendly
If you travel a lot for work packing a bonnet hair dryer can make your morning routine easier for you in the long run.
Best of all, bonnet hair dryers are portable. This makes bonnet hair dryers more customizable to an individual's lifestyle more than traditional hair dryers.
4. Avoid Hair Damage
Traditional hair dryers blast concentrated heat at small areas of your hair, making hair damage inevitable
There's no better way to simplify your morning routine. It's as good as going to a salon and costs a fraction of the price.
Additionally, bonnet hair dryers are simply better for your hair.
Before we move into the categorized review, the table below shows a list of the best bonnet hair dryer to buy.
Best Hard Bonnet Hair Dryers – Quick Recommendations
Attention: The internal data of table "57" is corrupted!
Best Hard Bonnet Hair Dryers
Let's begin with the best hard bonnet hair dryers on-trend. The three hard bonnet hair dryers listed here are slightly different in both performance and use than soft bonnet dryers.
Any of these could be the perfect hard bonnet dryer for you.
Hot Tools Professional 1061 Hard Hat 1200 Watt Salon Hair Dryer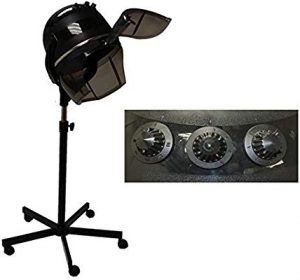 About product
The Hot Tools Hard Hat Dryer is compact and white with pink highlights.
It also has lots of air dispersing holes in the hood to dry hair more evenly.
The heat settings are low, which blows cool air, and high, which blows warm air.
The high heat setting can easily dry hair quickly, without extreme heat. Less heat means less damage to your hair, which is always a good thing.
It has a storage compartment for its cord. This is great because it means that you don't have to wrap the cord around the base messily.
Once collapsed, this hard bonnet hair dryer has a carrying handle for easy transport.
| | |
| --- | --- |
| Reasons to buy | Reasons to avoid |
| Very compact and lightweight | Hood too small for curlers |
| Made for travelling | Height not adjustable at all |
| Cheap price for the quality | |
Learn how to grow your beard fast here
Laila Ali LADR5603 Salon Ionic Dryer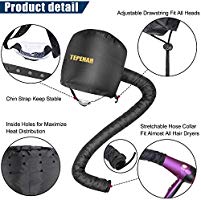 About product
If you've never used one before, the setup for these is simply to set them on a flat surface to use. If you'd rather not use ionic drying for any reason, you don't have to.
The ionic feature is togglable! It's nice to have the option and makes this machine much more versatile.
One of the problems with this model is a fault with the design of its neck, which may collapse annoyingly.
Most models, like this Laila Ali Ionic Dryer, have adjustable lengths so that your head fits comfortably within.
Besides that, the drying time is short and the hood is large enough to use large curlers.
| | |
| --- | --- |
| Reasons to buy | Reasons to avoid |
| Toggleable ionic drying technology | Loud enough to disrupt activities |
| The large rounded hood can fit curlers | Setup can be frustrating |
| Quality will last a long time | |
Conair Pro Style Collapsible Bonnet Hair Dryer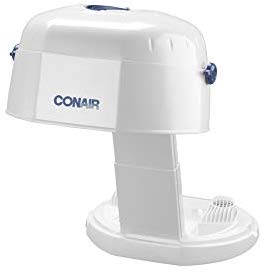 About product
This Conair hard bonnet hair dryer is very popular. Unarguably one of the best-hooded hair dryers for home use.
It comes in two different colours, black or white. The only difference between the two is aesthetic. Both have the same carrying handle and collapse into something resembling a slow-cooker.
All you'd have to do is use the high setting for a little while first. Then your hair would be dry enough for the low setting to do it's work quickly.
The high setting blows hot enough that it could burn if not careful. That being said, it is the ideal setting for extremely wet hair.
Speaking of slow-cooking, you're going to want to be careful with this bonnet dryer.
| | |
| --- | --- |
| Reasons to buy | Reasons to avoid |
| Runs very hot for fast drying | Potential to break down |
| Not as loud as other dryers | Quite heavy for its size |
| Two adjustable heat settings | |
Best Soft Bonnet Hair Dryers
Next up is the soft bonnet hair dryers. If you like to be as comfortable as possible or travel a lot, then these will be right up your alley.
Hot Tools Professional 800 Watt Ionic Soft Bonnet Hair Dryer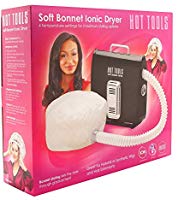 About product
This soft bonnet hair dryer gets hot! You probably will never need to turn the dial past medium.
When using the higher heat settings you should wear a towel around your neck to protect the skin.
But again, the high setting should only be used briefly, especially since this is an ionic dryer.
The hose locks into the bonnet with a secure 'click' sound so you know that you're all good to go.
The ionic drying feature will protect your style for longer and dry faster than what you're used to.
Hot Tools Professional 800 bonnet dryer works great in curly hair. It does what the name says.
| | |
| --- | --- |
| Reasons to buy | Reasons to avoid |
| Convenient for storage or travel | Higher price than other brands |
| Hose locks into place securely | Heavy to carry around |
| Ionic for faster dry time | |
Andis 500-Watt Professional Bonnet Hair Dryer (80610)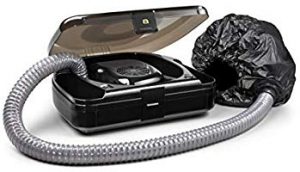 About product
It's a great middle of the road tier hairdryer and is the next step up from a brand like Conair.
There is a storage compartment for the bonnet and electric cord for easy storage.
This Andis 500-watt soft bonnet hair dryer is around the average price point and has a luxurious look to it.
You won't be able to fit large rollers comfortably and it may affect the speed of drying.
The 40-inch flexible hose means that you can easily lounge on your bed as your hair dries; the ultimate comfort
The two heat settings, low and medium, will not fry your hair. The adjustable bonnet ensures that your entire head of hair is being dried evenly.
| | |
| --- | --- |
| Reasons to buy | Reasons to avoid |
| Ionic drying to dry hair faster | Small bonnet size cannot hold curlers |
| Looks professional and stylish | Only two settings, low or medium |
| Good for thick and curly hair | Hose frequently pops off |
I used this dryer for the first time yesterday for my deep conditioning treatment and let me say, AWESOME! It distributes heat so evenly that when I took the cap off the conditioner penetrated really well! I love it!
Laila Ali LADR5604 Ionic Soft Bonnet Dryer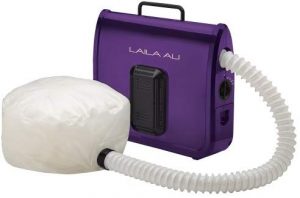 About product
It may seem out of place, but the science checks out.
Laila Ali soft bonnet dryer is ionic. If you're not familiar with this term, it means that this dryer is infused with negative ions.
This soft bonnet dryer has three heat settings, as well as a cool setting to set styles. I recommend this one for deep conditioning too!
Negative ions dry your hair faster (with less heat!) and help products work better on your hair.
That's why many traditional hair dryers labelled as ionic often have 'moisturizing' as one of their features.
| | |
| --- | --- |
| Reasons to buy | Reasons to avoid |
| Ionic technology dries faster | More expensive than others |
| Great for deep conditioning | Gets very hot over time |
| Helps wet styles for hair dry | |
| Sleek 'Ready to Go' container | |
CHECK PRICE ON AMAZON
$129.99
INFINITIPRO BY CONAIR GOLD Soft Bonnet Hair Dryer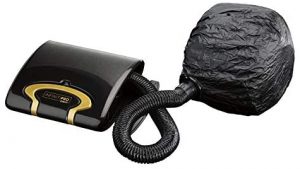 About product 
To get gentle drying and deep conditioning treatment, choosing the INFINITIPRO BY CONAIR GOLD Soft Bonnet Hair Dryer will never fail or disappoint you.
It features all the necessary attachments needed for a classic salon hood dryer. This is a  traditional bonnet dryer that is fashioned with a modern update with ionic technology for less frizz and more shine! It also features  4 heat/speed settings which users can select from to achieve their best look.
Reasons to buy
The INFINITIPRO BY CONAIR GOLD Soft Bonnet Hair Dryer provides conditioning ions for less frizz and more shine. As mentioned above, it is made with 4 heat/speed settings for maximum styling versatility.
An additional attachment is the store hose and bonnet in the elegant, purse-shaped storage case.
The machine is compact and also comes with a  Compact storage case for easy storage and portability. It has a power cord of 6-ft and a wonderful, easy lock feature.
Pros
Ionic technology for less frizz and more shine

For hot conditioning

4 heat/speed settings for maximum styling versatility

4-ft. hose with easy lock feature

6-ft. power cord

The compact purse-shaped case stands up to save space
Beautyours Safety Portable Hairdryer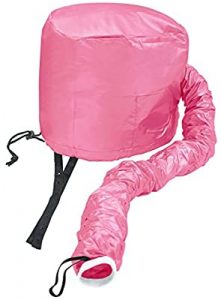 About product 
Use the Beautyours Safety Portable Hair Dryer to achieve a convenient perming of the latest hairstyle. It is a very portable and space-saving hairdryer that will deliver nothing but a fast and convenient hair setting dry for your hair.
Reviewers also mention that this is a great and ideal accessory to use with Curlformers, rollers and Velcros.
Beautyours Safety Portable Hair Dryer is very easy to use, made for both professional use and home use.
To use the Beautyours Safety Portable Hair Dryer properly, make your hair wrapped with a towel after cleaning it and coating evenly with hair treatment cream.
Wear the hairdryer bonnet hood with great delight and then, connect and open the electric hair dryer for heating.
Reasons to buy 
I strongly believe that you'd love Beautyours Safety Portable Hair Dryer because it is a versatile hair dryer which can be used for both colour processing, hair setting with rollers, deep conditioning, hot oils as well as heat treatments.
The Unique adjustable Chin Strap and Side Fitting Drawstring in this hairdryer will secure it in place.
I also recommend this product for newbies as it is very portable and easy to use. Use Beautyours Safety Portable Hairdryer with a blow dryer, to convert your blow dryer into a professional hair setting system at home.
The product is also an awesome gift idea for any occasion including Christmas, Birthday, new year, valentine's day, Mother's day and so on. It is a perfect hair dryer for both men and women.
It is an all in one hair dryer that is Safe, lightweight, comfortable and of course, absolutely convenient for use.
Extra features
Great for hair care like conditioning treatments, heat-activated treatments, hot oils treatment etc.

Great for styling and setting with rods or rollers, hair colour processing, give you a professional Salon Hairdressing.

Travel friendly 
Pros
Use Beautyours hair dryer attachment cap with hairdryer.

The larger hood capacity gives greater flexibility.

Drawstring to tighten around the head.

Strings can be buckled under your chin and keep the bonnet in place.

Elastic at the end of the tube holds the hood on the hairdryer.

Unique, non-slip, silicone hose collar, attaches to most hand-held dryers.

It has more ventilation holes for faster and even heat distribution.
Red by KISS Universal Soft Bonnet Hair Dryer Attachment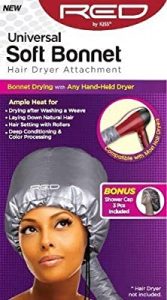 About product 
Red by KISS Universal Soft Bonnet Hair Dryer attachment is yet another interesting soft bonnet hair dryer that you may want to check out too. It is a comfortable Hand-Held Dryer with  Ample Heat.
It is a very versatile hairdryer for Drying after Washing a Weave, Laying Down Natural Hair, Hair Setting with Rollers, and of course, Deep Conditioning & Color Processing.
Reasons to buy 
It is an ideal hairdryer for drying after washing a weave and laying down natural hair. Optimized for hair setting with rollers, deep conditioning, and colour processing.
The product is made with an Adjustable forehead strap that will give you nothing but comfort when handling.
Enjoy an effective drying experience with the Red by KISS Universal Soft Bonnet Hair Dryer Attachment as it Fits most hand-held dryers.
While the Ample heat evenly dispersed, it has a special bonus of 3 pieces of  Shower Cap Included in the package.
Pros
Adjustable forehead strap

Shower Cap 3 Pcs Included

Ample heat evenly dispersed
Conair Soft Bonnet Hair Dryer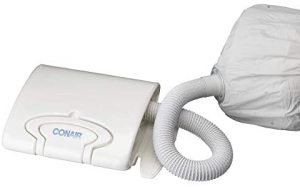 About product 
Enjoy the way your hair dries with even and constant airflow with the Conair Soft Bonnet Hair Dryer.
I have included this product among the Best soft bonnet hair dryers I'll review in this article because it has the features needed to achieve a convenient, fast, safe, and easy hair dry process.
The hairdryer features adjustable controls with four heat levels that allows you to set your style just the way you like it.
It is made with 4 heat/speed settings, including a cool setting.
In addition, it is a compact and lightweight hairdryer that will save space in your salon. It comes with a compact storage case with a handle which makes it portable and travel-friendly.
The manufacturer recommends this particular product for home use only.
Reasons to buy 
An additional benefit of choosing this  Conair Soft Bonnet Hair Dryer is that it includes a hot air vent brush attachment for style and volume.
It features an easy lock design and 6-foot long cord that will make it easy to style and adjust with great comfort. It is an ideal soft bonnet hair dryer that offers great styling versatility.
Pros
Easy Styling

Easy lock feature

Compact storage 

Hot air vent brush included
---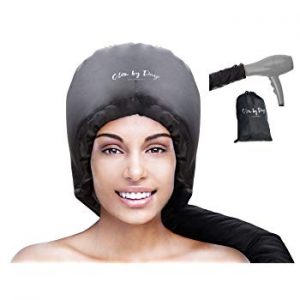 Unlike hand-held models, bonnet dryers leave the user with full use of their hands, so they can read, type on their laptop or do other tasks while waiting for their hair to be ready.
Bonnet dryers have also been shown to reduce hair frizz more effectively than hand-held varieties, and are gentler on chemically over-processed hair.
Even if the user does nothing at all while sitting under their bonnet dryer, that is better than putting a continuous strain on their arm, the way they would with a hand-held model.
Some bonnet dryers attach directly to your existing hand dryer; simply connect the hose of the bonnet model to the nozzle of the hand-held model, and the heat from the latter will be directed up into the hood.
The thicker the hair one has, the higher the wattage they will need in their dryer to speed up the process.
People who struggle with dry, frizzy or brittle hair know how damaging hair dryers can be.
So, friend, I hope that this post helps you in your search to find a bonnet hair dryer that perfectly fits your needs.
Get ready to sit back, relax, and unleash your elegance.