Do people still blow-dry their hairs? Hell, yes, they do. How about we show you some handy battery hair dryer that will make blow-drying your hair easy as eating a pie.
Jump right in!
Apart from the fact that you want to achieve a straight sleek looking hair with enough volume, you won't want to have a flat hair day right because that is the next worst thing to a bad hair day.
Truth be told, Having a blow dryer is indeed a blessing and one of the best things your hair can have. But as you know, human wants are unlimited. Even when we see something good, we would want to get the best of it ASAP.
So if you've thought of something that won't require you to go looking for an electrical socket or do away with a cord which often tangles with everything on the dressing table and sometimes even tangles with your neck, then you have just landed in the right page to get the perfect answer to this dilemma.
In here, I'll share with you the top best Battery hair dryers that do not come with those uncomfortable cords.
Regardless of your level of experience in cosmetology, you'll come out the end of this guide with knowledge and confidence that'll you'll be buying a hair dryer that will give you not only the biggest bang for your buck but also luscious natural-looking hair. fastest drying hair dryer 2020. Are you ready?
It is important that you know some key factors around a particular product before buying it. This will help you understand its importance and know whether it is really what you want. It is for these reasons that mybeardgang.com has provided, not just the best brands of battery hair dryers but also their reviews, pros & cons as well as an ultimate buying guide. Before then, let's understand the concept of what we are about to shop
Have you checked other insightful posts of ours to ensure you look good year-round
What is A battery-powered Hair Dryer?
Simply put that it is the answer to your wish for a more convenient hair dryer, a device that does not require you to go looking for a power outlet and doesn't have the inconvenience of the cord. Most models are lightweight, suitable for travelling, fit for use outdoors, and can be used even without electricity.
What Benefits do you get from a Battery Hair Dryer?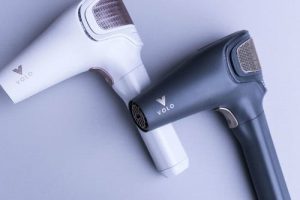 Safety
The low risk from electric shock and overheating.
Portability
Since less bulky and comes without the cord or wire, battery-operated hair dryer is easier to pack for travel or outdoor activity.
Travelling/ Camping
No need to bring along a bulky generator, just make sure you get spare battery and power bank.
Easy to use and lightweight
With these, You know what a battery-powered hairdryer is, you know it's benefits and what good it can do to you and your business. Why not get one of the best below?
Our List of top 5 battery hair dryers
1. SCNVO Outdoor Cordless Hair Dryer – For Men and Children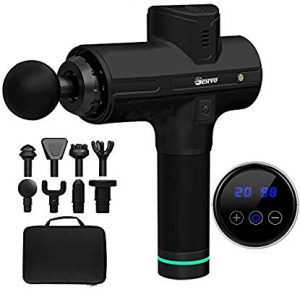 With a Close study, I discovered that this product has been made exclusively for people with fine or short hair. Hence, it will be of great use to men or children because their hair is usually short and they do not require high temperature and high-pressure airflow to dry and style their hair.
But this doesn't mean that if you are not in these categories, you do not need it. It actually depends on your needs, the SCNVO outdoor Cordless Hair Dryer can be very useful for travelers and campers that enjoy outdoor activities like swimming and hiking.
What I like
Indeed, it is a reliable, good quality cordless hairdryer and a very effective product for people with fine hair and a safe one for children with surprisingly long running time and other multifunctional use.
The interesting part of this product is that it comes with a concentrator attachment. Plus, The battery can be used as a power bank to charge your phone. It is also especially good for children's hair due to its safety features as well. In the case of women or people with long hair, you have the option of adding an extra battery for more power.
Speak of the working time? Hot air can be used for 20 mins and then cold air can be used for another 20mins. It can be used for 4-5 hours if only cold air is used.
What I don't like
Well, it is true that nothing is a hundred percent perfect. While this product skyrockets to our first choice in our top 5 list, there are some drawbacks I discovered about it.
People with long hair may not smile with this product because it has an additional cost to purchase extra batteries if you are to use with long hairs.
You may not be happy with the Long charging time which can take about 3 hours to fully charge. Although, it's really Lighter than normal hairdryer but a bit heavier than other cordless dryers.
Get full body hair laser removal HERE
Pros
EMF free for children
Travel-Friendly
The overall weight of 1.9 pounds.
Rechargeable battery that can be detached
Cons
Takes long to charge 3 hrs
A bit heavier than other cordless dryers.
Comparatively expensive
The extra cost for people with long hair
There are several attachments so you can get a strong deep tissue massage and there are softer attachments so it doesn't get too deep into the muscle. Works well, charges quickly and holds a charge for several uses. It comes in a nice box that keeps the gun and all of the attachments organized. Overall this is a good item and I would order again.
CHECK IT OUT ON AMAZON
$118.99
2. FreeDryer Cordless Hair Dryer – Multi-purpose hair dryer with its own charging unit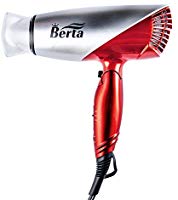 It is several uses such as, for campers, babies, pets even make-up artist who uses it to dry latex glue when doing special effects make up.
This is a classic and has its charm; however, the combination of high charging time and low running time can become very difficult when traveling. It requires very frequently charging batteries and the charging unit needs to be charged by a cord so, in a way, this can make us feel that we are still not fully cordless.
What I like
This product is a classic as it claims to be the world's first cordless hairdryer. It is several uses such as, for campers, babies, pets even make-up artist who uses it to dry latex glue when doing special effects make up. This innovation is perfect for anyone or a scenario that requires blow-drying without a power outlet nearby.
What I don't like
Bulky since the charging unit will need to be carried around as well. The dryer weighs 1 pound and along with two batteries and a charging unit, it would take up quite some space in your luggage.
Just like the first one, Charging time will take up to 4 hours which is comparatively very long. So very frequent charging is required. Subsequently, it runs for only 15 mins of hot air and 7 mins of cold air.
Pros
Comes with its own charging unit
Availability two removable batteries
EMR free
Cons
Takes 4hours to charge
Short time for running
Weighs 1 pound
The main reason I picked this dryer was it being foldable. I don't have a lot of space and need it to be easy to store. I was considered the hinge that holds would be flimsy or not hold up well. The folding joint feels very durable and clips into place so no loose wobbling you get with some foldable hair dryers. Besides that it is light weight and has good air pressure. I definitely will have this dryer for a long time.
CHECK IT OUT ON AMAZON
$29.99
3. Vloxo Cordless Portable Dc Hair Dryer – for Safe Yet Effective Hair Drying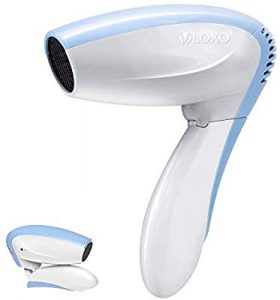 The reason this VLOXO blow dryer grabbed a position in my list is that it comes with all the features we look for in a battery-operated hair dryer, plus it dries your hair locks safely yet effectively so that you can rock a head full of blow-dried manes even when you are traveling, camping or hiking.
What I like
I'm labeling this wireless blow dryer as one of the safest options because it produces only cold air and even though cold wind requires a bit more time to dry your tresses as precisely and effectively as hot air, we still recommend it as it is extremely gentle and doesn't expose your delicate manes to any potential heat burns and damages.
Not only this, the 32 Watt DC motor incorporated in this dryer not only ensures great service but at the same time also operates quietly so that there is zero disturbance to your (as well as your baby's) ears.
In one word, it is a great combination of workability, power, and price that won't disappoint you a bit
What I don't like
This tool is not EMF-free, which means that there is electromagnetic diffusion from the battery which has the potential to cause some damaging effects to the immune system.
Furthermore, you are not allowed to dry your manes while the unit is still charging; this means that you must wait for 3 long hours (the charging time) before you can use it for the drying or styling purpose.
Pros
Overheat protection
Travel-Friendly
The foldable handle and compact dimensions
At 0.76 pounds of weight.
Cons
Not EMF free
Cannot use while charging
Doesn't include any diffuser or concentrator nozzle
This hair dryer is a game-changer for me. I go camping, a lot. I have always wanted the luxury of being able to dry my hair after swimming or a camp shower. Now I can! This only uses cold sit, so it doesn't damage your hair at all. Easy to use and recharge. Works about a half-hour per charge, plenty of time to dry your hair. Really love this item
CHECK IT OUT ON AMAZON
$49.99
4. LXB Wireless Portable Hair Dryer – Best for Hours and Hours of Continues Airflow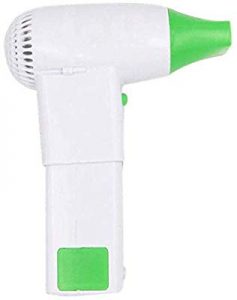 Even though this wireless hair dryer comes with quite a hefty price tag, it is worth every penny you spend because of its amazing features and services. With this drying tool in your luggage, you can be worry-free about drying your hair locks even in the most remote place without any electricity as it operates for a phenomenal amount of time with just one charge.
Therefore, we would suggest you ignore the price tag and try this tool even for once; we can assure you that you won't be disheartened with its wonderful services and excellent usefulness.
What I like
This hair drying tool comes with a powerful motor of 450 watts that blows air at a high speed to make sure that your tresses are dried quickly and precisely; such powerful motor ensures that you don't waste much time grooming your hair locks when you are on an adventurous trip. LXB included a detachable concentrator nozzle with this dryer to provide its users with choices for styling versatility.
Additionally, to assure the user's freedom of choice, this blow dryer provides both cool and hot airflow so that you can choose according to your preference; hot air delivers a very quick drying result whereas cold wind ensures safe and effective blow dries. LXB backs up this tool with a service life of 3 years to ensure quality and phenomenal service.
What I don't like
LXB didn't introduce the EMF-free feature in this battery-operated blow dryer to provide better safety measures to its users. Secondly, it may look quite expensive for you. The heavy price tag of this particular product often discourages interested buyers. But if only they can understand that it worth it. Really!
Pros
The cold airflow
Travel-Friendly
Incredibly compact
weight of 1.2 pounds,
dual voltage feature
Cons
It is not EMF free
Heavy price tag
It works perfectly and I will recommend it any day for whoever is looking for a hairdryer that works with a battery. It is highly recommended.
CHECK IT OUT ON AMAZON
$129.45
5. EVERTOP Cordless Hair Dryer with Folding Handle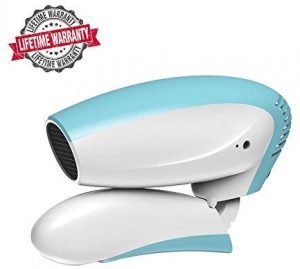 If you want a cordless device to only dry your hair and don't have any other requirement then this is perfect. Since the running time is 30 mins on only cold air setting, hair styling isn't an option. However, this is suitable for people who are very concerned about heat damage and want to avoid heat completely.
This option is for extremely light packers and people who prefer the simplicity and minimalistic approach without any extra frills. It is most suitable for frizzy hair as it has a cool switch.
What I like
This product caught my eye because of the simplistic cordless dryer for travel junkies that want the bare-essentials and want to stay on a tight budget. This dryer has all the features you need, nothing more and nothing less. Just what backpackers, campers, and travelers blinded by wanderlust need.
What I don't like
For the downside of overtopping, it has No hot air so drying may take a bit longer and cannot be used to straighten or curl. In addition, it has a Charging time of 3 hours but a running time of only 30 mins.
Pros
Travel-Friendly
Folding handle
Very lightweight at 0.77 pound
EMF free
Cold switch feature for locking in frizz
It can produce powerful wind.
Comparatively cheap
Cons
No hot air
Take long to charge.
Short running period
In a pinch, it works ok at best. As a reminder, it only blows cool air so it takes way longer and it does not leave your hair feeling soft more like straw. I did use it camping and it dried my hair just a bit faster but I would not reorder it again or recommend this hair dryer.
CHECK IT OUT ON AMAZON
$49.99
Grow Beards faster in Nigeria like Magic
#6. INFINITI PRO

 BY CONAIR 1875 Watt Salon Performance AC Motor Styling Tool/Hair Dryer
If you are looking for a lightweight and easy to battery-operated hair dryer then you should get yourself INFINIT Pro by Conair.
With INFINIT Pro you can dry your hair like a pro. With a professional AC Motor, dry your hair 50% faster with up to 3X longer dryer life. It makes use of ionic technology for smooth, shiny-looking hair and up to 75% less frizz – and – Ceramic Technology provides uniform heat for fast drying and less damage.
Also, it comes with 3 Heat / 2-speed settings for custom heat and airflow.  And it includes Diffuser for textured styles – and – Concentrator for smooth styles; 6-foot line power cord. So, if you are looking for a battery-operated hair dryer with different.
INFINITI PRO features an AC motor that makes it delivers fast airflow and up to 3x longer life. Also, it comes with Ionic ceramic technology that helps promotes healthy-looking, shiny hair while fighting frizz and a concentrator for versatile and pinpoints styling.
What I Like
It is easy to operate and maintain.
It makes use of both ionic and ceramic technology.
Features a diffuser and concentrator for textured styles and smooth styles respectively.
Hair can be dried 50% faster with up to 3x longer dry life.
It is affordable and worth the price.
It comes with 3 heat or 3-speed settings for custom heat and airflow.
What I Don't Like
#8.

Go Styler Cordless Hair Styler & Dryer
Another hair dryer that makes use of battery on the list, It is a cordless and rechargeable hair dryer that can be used on the go. – It can be taken with you anywhere you go. It is lightweight and lets you dry hair anywhere anytime. Powered by a lithium-ion battery. It is a salon standard hair dryer with dual heat and cold mode for efficient use and sleek design. Go Styler comes with 3 different styling attachments. Also, it comes with a concentrator for more targeted drying and a diffuser to enhance natural curls.
Go Styler also features a heat protecting technology, which is Nano-Tourmaline that releases negative ions as you dry your hair to give you soft and shiny hair.
What I Like
Cordless and Rechargeable.
It is can be used on the go.
Make use of a lithium-ion battery.
It can be used for domestic and commercial purposes.
It comes with a concentrator for more targeted drying.
The design is good which makes it easy to hold.
What I Don't Like
Few negative reviews from buyers.
#9.

Hair Dryer, MANLI Cordless Hair Dryer Only Cold Wind Design Speed Cooling with Folding Handle
Are you looking for a hairdryer that you can use even when you are travelling?
Or Worried about the safety of your children when using AC powered hairdryer on them?
I don't think you should look further, MANLI cordless hairdryer is the solution for you. This is a hairdryer mainly for infants, men, and oil painting. It can also be used dry long hair, but it will take more time compared to AC powered hairdryer. 
It is unique from the well-known AC powered hairdryer as it is powered by 2000mAh polymer batteries. This hair dryer is designed not to produce any form of electromagnetic diffusion which can be harmful to the brain. However, to prevent unforeseen circumstances it is recommended you buy a hairdryer meant for babies.
It is portable convenient that it can be taken with you even when travelling, as the handle can be folded. It is the ideal hair dryer for travelling, outdoor camping, hiking, swimming, drying oil painting, etc.  Also, it comes with intelligent chip control that acts as overheat protection. The indicator gets turned on and off automatically when the battery is either full or low.
What I Like
The handle can be folded.
It is lightweight.
It is easy to carry around and maintain.
Suitable for camping, swimming, drying oil painting, outdoor camping, and child use.
DC rechargeable battery without electromagnetic diffusion.
Features intelligent power protection.
It is not harmful to a child's brain.
What I Don't Like
Few negative reviews from buyers complaining of its ineffectiveness.
When the hairdryer came I was really shocked by how light it was. Since I went on vacation a few days ago I brought it with me to try it out and I was not expecting it to be really convenient to bring with me.
#10.

Padi Home Wireless Hair Dryer, Portable Cordless Hair Dryer with Concentrator Nozzle and Storage Base
This is definitely the last on the list of battery-powered hairdryer of 2020. Padi Home Wireless Hair Dryer is a cordless hair dryer that makes use of battery and run on either a rechargeable battery or battery. It is the ideal hair dryer to take with you while traveling, the designed can be well suited in a traveling bag saving space. With a hairdryer like this, you don't have to panic about power outbreak or lack of access to electricity when on vacation.
When fully charged, it can work for three hours in cold air mode. The downside of this hairdryer is that it is heavy compare to another wired hairdryer, as the battery used to have a certain weight.
Reason Not To Buy
It worth the price.
Ideal for use when on vacation.
It can be used for three hours in cord air mode.
Reasons Not To Buy
---
How Do I Choose the Best Battery Powered Hair Dryer?
Choosing the best battery powered hairdryer isn't that hard. And to help you decide, here are the criteria we used in selecting the best battery powered hairdryers on this list:
Small Dimensions
The addition of a battery can drastically increase the dimensions and overall size of the dryer. You might have to spend a bit more but it is well worth it to get a compact dryer rather than one with a chunky battery.
Less Charging Time
Many battery hair dryers come with high charging times. There are two ways you can avoid this.
One is to go for a dryer with an easily replaceable battery so you can swap the empty battery for a charged one. Otherwise, get a hair dryer which charges fast and/or gives good battery time so you don't have to charge in the midst of your morning hair drying routine.
Internal Battery
An internal battery is usually integrated into the device and doesn't affect its shape in a major way. You'll get a natural-looking hair dryer without any noticeable bulky addition. Similarly, you'll be able to charge it by simply plugging in a cord or adapter. However, you'll be limited to using the dryer only when it is charged since you won't be able to change the battery.
Warranty
Make sure the device comes with a warranty not only for the motor but also for the battery and charging mechanism. The warranty for the battery should guarantee good battery time (apart from leakage, damage, defects, etc) for some period of time
External Battery
The main advantage of an external battery is that it can be easily removed. This allows you to disassemble the device easily, making storage easier. Furthermore, if you remove the battery, you can place a fully charged spare battery which will allow you to immediately start using the device. You won't have to stop drying your hair just to charge the used up battery.
Ionizer
Travel hair dryers such as the Remington D3010 come with natural ionizers such as an ionic grill, tourmaline plates or ceramic plates. Consider a battery-powered hairdryer which has a natural ionizer in it. The ionizers won't require any extra energy and will be rendering your hair frizz-free at the same time.
---
What Are the Drawbacks of a Battery hairdryer?
Weaker airflow
For salon or professional use, conventional hairdryers are still the leading device of choice.
Limited usage
Battery life usually lasts only up to 15 minutes for medium heat setting while only 7 minutes for a high heat setting. Some devices offer even less operating time.
Not suitable for coarse/thick hair
Coarse and thick hair normally takes longer to dry up and requires high heat to achieve the desired styling effect which might not be served well using the battery-operated hairdryer.
Battery overheating
Prolonged usage and when not rested at intervals, certain types of batteries tend to overheat.
Low heat
Compared to an electric hair dryer, the heating capacity of a battery-operated hairdryer is always inferior.
---
Check out this Advanced Rechargeable Cordless Hair Dryer
https://www.youtube.com/watch?v=jiONBgBfPs8
Wrapping up on buying your battery hair dryer
Choosing the perfect hair dryer for you is just like making purchase decisions on any other gadget or device, always based on purpose. What do you intend to achieve by acquiring such a device?
In summary, you should pick the best battery powered hair dryer based on what you need, what you like, and what you prefer. Although all of the products on this list are great, the ultimate decision will still depend on you.