There are a good number of reasons why grapeseed oil for beard growth made the list of best Oil for beard growth. Its benefit goes beyond making the beard hairs look shiny or making the skin beneath free of dandruff.
For the majority, the grapeseed oil is for cooking, but for many of us at MyBeardGang and other bearded men that know their onions. It can be used for face and hair scalp moisturizing.
Beyond the grapeseed being used for cooking and hair moisturizing, it can also be used for beautification by women and men.
So, here I'll be sharing with you all you need on  Grapeseed oil for beard growth, benefits of grapeseed oil for beard hairs, and its disadvantages.
Also, I will answer questions on problems you might be facing. Below is a hint on what you will be learning here:
Grapeseed oil for beard shine restoration
Using grapeseed oil for blood flow promotion.
Grapeseed oil for beard hairs conditioning.
Recovering from the loss of hair follicles.
Before then, let's look into:
What is Grapeseed Oil?
Grapeseed oil, also known as grape oil, is produced through pressing, therefore an abundant by-product of winemaking. It is used as natural by-products likewise marketed as a healthy alternative for cooking.
It contains Omega-fatty acids in high proportion; hence, it can be used on the skin as part of beauty products.
---
Benefits Of Grapeseed Oil On The Beard Hairs
As said earlier, the importance of grapeseed oil does not end at being used as ingredients for beauty pigment – its applications as a conditioner for beard, promoter of blood flow, and beard shine restoring is what I'll be talking about here.
#1. Grapeseed Oil As Beard Conditioner
If you're at this point where a well-conditioned and healthy beard hairs are what you need. A product that contains grapeseed oil should be on your next buying list.
Its anti-oxidant properties and lightness make it a good beard conditioner.
Therefore you don't have to worry about it feeling sticky to your face. As a result, thinking of wiping off is what you can rarely think.
But, that does not prevent you from washing and rinsing. One of the numerous benefits of grapeseed oil as a beard conditioner is it's odourless.
#2. Grapeseed Oil (grape oil) For Beard Shine Restoration
Do you have dull beard hairs?
Have you been looking for the best beard oils to sustain the shining of your beard hairs? Grapeseed oil got your back.
Grapeseed oil can be the best for the treatment of the dull beard. Instead of the usual method of washing and rinsing, you can rub grapeseed oil moderately.
Applying grape seed oil to your beard will enable oil sink into your skin, and hair follicles.
To achieve better results, it is recommended that grape seed oil that's slightly heated be used, so that it can easily penetrate the skin.
#3. Promotion of Blood Flow
In the process of finding a solution to beard hairs' rapid growth, you can buy any beard oil that contains grapeseed oil, as it helps and provides properties that can resolve many skin problems.
Due to numerous properties, it can help heal skin problems preventing proper growth of beard hairs. The smooth feeling that body experiences during application promoted blood flow.
---
Grapeseed Oil Products that you should buy

Attention: The internal data of table "54" is corrupted!
Here I will look into different grapeseed oil products, reviews and why you need to buy any of them. So, all you need to is read to the end.
#1. Handcraft Pure Seed Oil – 100% and Natural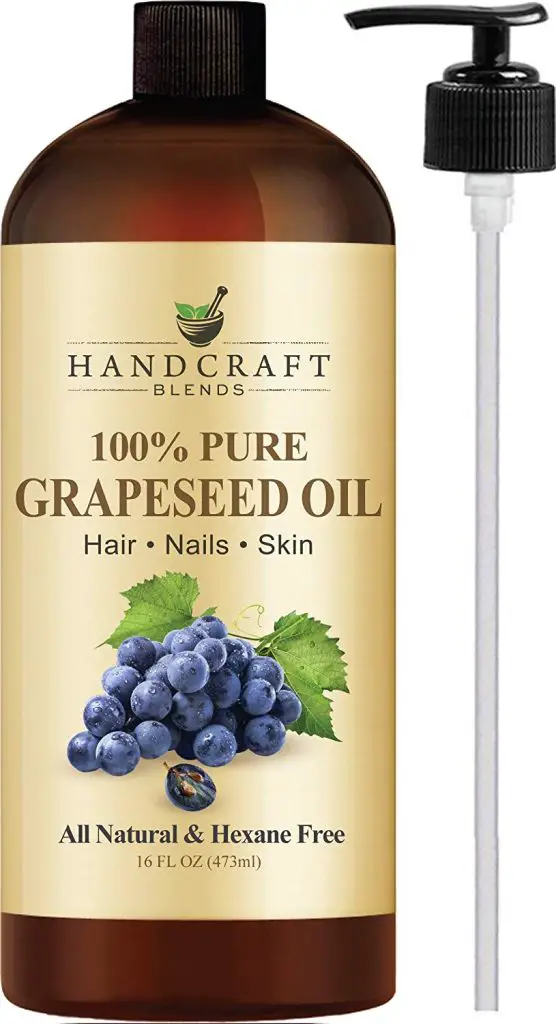 Handcraft pure seed oil is perfect for you if you want to do more with grapeseed oil than the normal cooking. It will offer protection against sun damages and contains astringent oil that will help you tighten the skin.
This is because it contains linoleic acid, it can be used for treatments of skin problems such as acne, eczema, and dermatitis. It will nourish your hair and serve as a carrier oil.
If you are doubting the effectiveness, you can buy with confidence as reviews provided by the majority of the buyers were positive.
#2. Pure Grapeseed Oil Extract Cold Pressed Extraction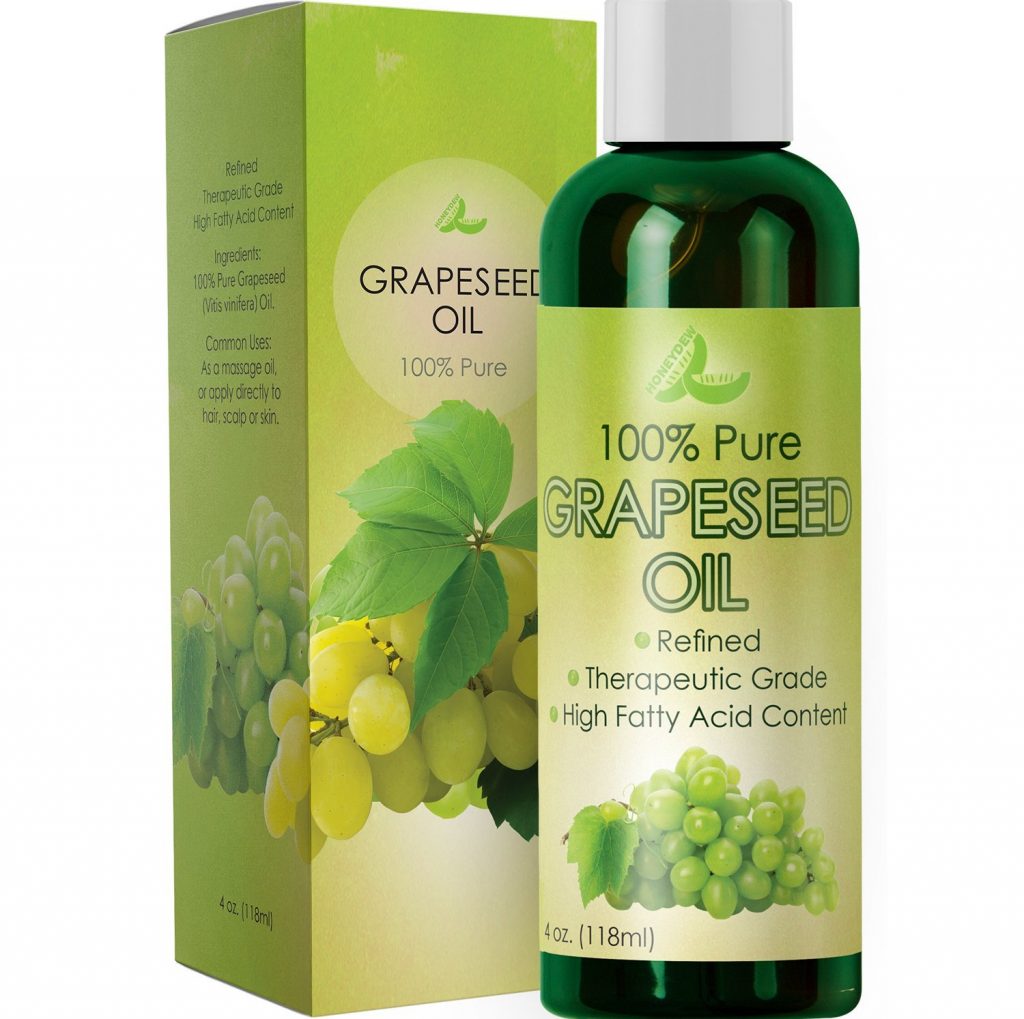 This cold-pressed grapeseed oil will work perfectly for your skin, nails, and hairs. Aside from being good for beard care, it can be used for the prevention of premature ageing.
Pure Grapeseed Oil Extract Cold Pressed Extraction is the perfect oil for dry hair and scalp that makes a once shinny hair look ugly.
This product contains vitamin E C D which will provide the skin with various benefits such as reducing wrinkles lines and so on.
#3. Grapeseed Oil by Sky Organics 100% Pure, Natural and Cold Pressed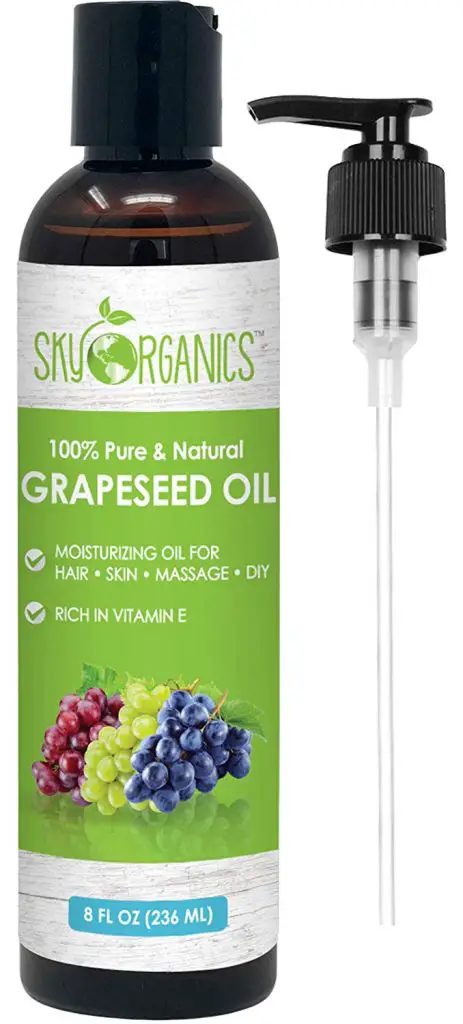 If you are looking for an organic grapeseed oil sourced directly from Italy, you should buy Grapeseed Oil by Sky Organics. It is rich in vitamins A, E, and K that can fight free radicals for strong immunity.
Also, it can be blended with other oils and lotion, making it suitable for massage.
#4. Beauty Aura 100% Pure Hexane Free Grapeseed Oil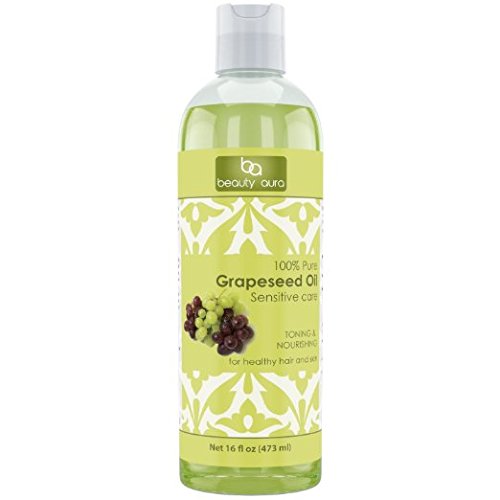 Beauty Aura Grapeseed oil is a cold-pressed oil extracted from the seeds of grapes. Grapeseed oil is rich in vitamins, minerals, and antioxidants. It is dry skin sensitive and can give nutrients to dull skin in need of a simple moisturizing.
It helps soothe skin conditions such as dryness, inflammation, and itching. So, if you are looking for a beard care product that won't clog pores or acne breakout, you should get this from Amazon.
Its antioxidants properties help in neutralizing free radical damage. Regular use of this oil on the beard and skin can help protects the skin natural collagen and slow the signs of ageing.
When you buy Beauty Aura 100% pure Hexane-Free Grapeseed oil you will get a grapeseed oil product that is suitable for all skin types, chemicals free and made in the United State of America.
#5. Verdana Pure Grapeseed Oil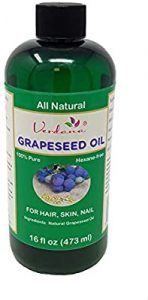 Verdana Pure Grapeseed Oil contains 100% nutrients including a sample percentage of greatly enriched grapeseed oil for beard growth. This is a product that can give you the full benefits of using grapeseed oil for beard growth.
The main objective of using this oil is to get harmonized and moisturized facial hair and skin. It is very affordable and works perfectly without side effects.
Adding a few drops of the Verdana Pure Grapeseed Oil on a regular basis can help your skin fight against acne, wrinkles, sun spots & ageing. There are so many benefits attached to the use of this particular grapeseed oil.
You will also be saving a lot of money that could have been spent on expensive moisturizers, conditioners, and body washes. This product is a perfect blend of all those other products and is very affordable.
In addition, it is 100% natural and supplies natural nutrients to the skin and facial hair.  It's unscented, super lightweight, absorbs quickly, and is non-greasy, making it ideal for the face and hair.
It is also highly rich in vitamins and omega 6 essential fatty acids, oleic (C18:1) and linoleic (C18:2) It is a very good source for vitamin E for beard growth as well.
Special features
Contains natural antioxidants that help fight free radicals

Soothes inflammation

Hydrates skin

Fights acne

Lightens dark spots

Tightens skin pores

Reduces the appearance of scars

Removes makeup

Fights dandruff when applied to the scalp

Stimulates hair growth
---
Side effects of using grapeseed oil for beard and how to avoid them
Now you know that there are a lot of benefits to obtaining when using grapeseed oil on your beard but there is always a side effect to most things.
The good thing about the side effects of grapeseed oil is that they can be avoided. Speaking about how the grapeseed oil is processed and packages, it means that certain chemicals can be added to fine-tune it. This type of oil can be an allergy to some types of skin and may cause some really awful result.
One may begin to have negative responses to the use of this grapeseed oil while others may not.
So once you begin to use this oil, and you notice any negative response or result, you should quit using it and go for other oil that can help skin and facial hair growth that I will show you in this article.
Actually, an overabundance of anything is terrible so we don't suggest you apply grapeseed oil consistently. If any irritation is observed when using grapeseed oil, then you should stop using it. We also advise that you consult a dermatologist before taking any action.
All in all, grapeseed oil is very good for beard growth when used moderately and properly.
Other natural oil that helps beard to grow
The use of natural oil is very essential and can help stimulate blood vessels and help beards grow.
Following the discussion on the side effects of using grapeseed oil for beard growth, there are other natural oils that can equally help facial hair to grow.
These oils are great alternatives when you notice negative responses or reactions to the use of grapeseed oil.
Most men get frustrated with patchy and itchy beards when the solution lies in the use of essential oils as listed below.
While other beard care products are helpful, these natural oils play a significant role in grooming a beard conveniently.
Coconut oil
Coconut oil is widely used to boost beard growth and keep the facial hair moisturized and full of natural nutrients.
Coconut oil contains natural properties that promote soft, healthy beards, and keeps the skin underneath your beard moisturized and hydrated.
This is among the essential natural oils recommended to grow a healthy beard.
Olive oil 
Olive oil has long been used to keep the skin and hair healthy. It also contains nutrients used for cooking any lubrication.
It is a great source of nourishment that the beard needs to grow faster and healthier. It helps to treat likely beard problems such as tangled or patchy beards.
Scientists have confirmed loads of benefits when one uses olive oil on a beard as it contains compounds of antioxidant properties, anti-inflammatory and antifungal properties, as well as its natural ability to moisturize the hair and skin.
The only reason why one may choose not to use olive oil is that it can be very thick but will ensure a shiny and straight beard.
Sunflower oil
Have you heard about sunflower oil? The most important use of this oil is to treat and prevent hair loss and breakages.
Also, the oil is highly enriched with fatty acids & vitamin E, C, B, A, ingredients that can keep the facial hair moisturized and soft at all times. Many beard oils produced today have a mixture of sunflower oil to get the perfect result.
Argan oil
Another natural oil that will help beards in every way to grow is the Argan oil. Argan oil has undoubtedly proven to be among the best essential oils needed for beard growth.
When you read the pack of those beard oil you buy, you will always see an addition of Argan oil. This is because the oil contains  Vitamin E which is extremely beneficial for hair.
It gives the beard a softer, shinier and thicker appearance that you want.
The vitamin E present in Argan Oil contains antioxidants that boost cell growth and produce healthy hair.
Just a few drops of Argan oil on a regular basis can give quick and amazing results.  Every classic beard oil should have a touch of Argan oil.
Frequently Asked Questions and Answers on Almond Oil for Beard Growth

Can Grapeseed Oil Make Hair Grow Faster?
There are a lot of causes of dandruff. So, grapeseed is like dermatitis, fungal irritation, build-up from improper washing, and seborrhea. However, if your dandruff is caused as a result of dry scalp, you can make use of grapeseed oil to get rid of it.
Can It Make Hair Grow Faster In Any Way?
According to research carried out in Japan, Where grapeseed oil was applied to mice as a scalp treatment, there was a significant increase in hair growth recorded. Apart from that, buyers of grapeseed oil products were talking about them positively.
But according to the majority of the feedback and reviews, patience and consistency are needed to get desired results.
Can It Make The Hair More Vibrant?
When it comes to hair health, some claim that grapeseed oil can restore hair shininess and vibrancy. The scalp is known to produce Oil, but as time goes on, it becomes difficult due to old age, leading to brittle, scalp, and dry hair.
Grapeseed oil contains conditioning properties that, when applied to the beard, can fight and restore moisture to the scalp. It is also lightweight, so it conditions the beard hairs without it getting sticky or oily.
What Makes Grapeseed Oil So Great?
What is so special about Grapeseed oil?
Grapeseed oil, which is an extract of grape seeds, contains linoleic acid. Nothing may be so special about that.
However, this particular acid can't be produced by the body system, and it's necessary for the proper functioning of major body organs.  Grapeseed oil getting insufficient in the body system can lead to dry scalp and hair loss, dry hair, and scalp.
It is one of the two essential fatty acids that can be gotten from food.
Research has it that linoleic acid extracts of grapeseed can reduce the risk of coronary heart and harmful cholesterol levels in the body system.
It is a good substitute for olive oil.
Can I Use Grapeseed Oil For Hair Conditioning?
Yes, you can use grapeseed oil for hair growth. To majority uses of the grapeseed oil is limited to juice-making and referred to as a useless by-product of winemaking.
With the latest discovery in the beard care industry, it has been given more attention.
Since it is a by-product, grapeseed is less-expensive, which makes it a better alternative. If compared to other beard growth oil, it's is lightweight, and that makes it great for beard hair products.
Can You Drink Grapeseed Oil?
Drinking grapeseed oil is healthy when done in moderation. No side effect or negative feedback is yet to be recorded or traced back to the drinking of grapeseed oil, but should not be used by those who are allergic to grapes.
Does Grapeseed Oil Clog Pores?
Grapeseed oil can not get the pores to clog; unlike other Oils, it is non-comedogenic.
Can You Use Grapeseed Oil As A Moisturizer?
Grapeseed oil is an organic essential oil that can be gotten from food, inexpensive and straightforward for treatments of dandruff and others.
Using or applying grape seed oil to your beard hairs and skin beneath can give you the best results.
How Do You Use Grapeseed Oil For Hair Growth?
To use grapeseed oil for beard growth or beard hairs conditioning, pour a few tablespoons of oil on your palm, rub to your beard hairs and leave for 10-20 minutes.
Rinse with cold water to achieve better results. For dandruff treatment, apply directly to the scalp and leave to dry off.
What Are The Side Effects Of GrapeSeed Oil?
Headache
Dizziness
Nausea
Itchy scalp
Where Can I Buy Grape Seed Oil
---
Final Words on Grapeseed Oil for Beard Growth
Only a few know about the great benefits of grapeseed oil to the beard.  Reading through the content above, it contains anti-oxidants and omega-6-fatty-acids that make it perform wonders on beard hairs.
The beneficial uses of grapeseed oil do not end at beard care, it can be used for a wide variety of purposes, and it can be important in taking care of the skin.
Its conditioning effects can help deliver moisture and vibrancy to the beard and skin.
In some part of this post, I made mention of grapeseed oil not having any side effects, but the truth is that no products made with organic ingredients will have no side-effects.
However, it is always moderate, and you can know by carrying out a skin patch test before using a beard or skincare product.
Here you've read on Grapeseed oil for beard growth, benefits of grapeseed oil for beard growth, and answers have been provided to some boiling questions.
If you have anything to ask on why grape seed oil is essential for the beard growth or benefits of grapeseed oil, kindly make use of the comment box.
Interested in reading more beard growth articles, then follow the links below:
Best Edgers For Barbers in 2020
The Beard Trimmer Edger Review For You
Professional Beard Trimmer for Barbers
Best Blow Dryers for Curly Hair – 2020 Buying Guide