Looking for the real home electrolysis machine to buy? Jump in. When dealing with unwanted hair growth for a long period, it is expected to become tired of using measures like epilators, creams, waxes or even razors. You've been researching something more effective and long-lasting, and now you are on the right page.
I'll show you in this article all you need to know about the electrolysis kit for home use and the best products to purchase online today.
Just in case you are in a hurry, the best home electrolysis machine that we think is best is the Electrolyse Automatique Home Electrolysis Machine. This system combines an electronic epilator with the probe style used in professional medical machines.
While it claims to be professional and has more features than the bare-bones home kits, it's still a far cry from the machines used in a licensed electrolysis facility.
Best Home Electrolysis Machine to Buy – Top Recommendations
Attention: The internal data of table "20" is corrupted!
Home Electrolysis kit for hair removal is one way to tackle the Hair Problem by totally preventing hair growth, permanently. But should you bother going to a professional when there are at-home electrolysis machines available?
Make sure you don't forget to read these articles that will pave your way into buying the best hair products on Amazon today!
Best Hairdryer with retractable cord — Buyer's guide
Top electric shavers for ingrown hairs
FULL body hair laser removal to buy
The best beard mug gift for a bearded man
What Electrolysis Hair Removal is all about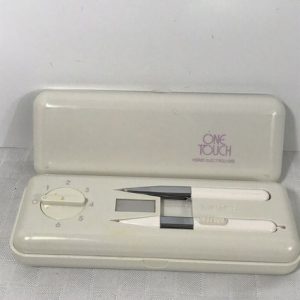 It's a simple mechanism of hair removal from the skin that involves  just a tiny needle (don't fret, it's a tiny needle hence  you'll feel it has a mild pinch at worst, comparable to tweezing.)
The function of this needle is to zap out the follicles with chemicals or heat energy when inserted into the "root" of your hair
This process needs to be repeated for several sessions to be effective. The end goal: destroying the hair follicle so it no longer produces hair!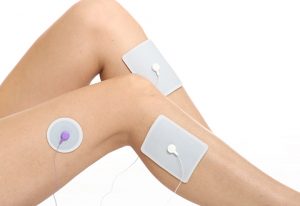 Electrolysis is the only method of hair removal approved by the FDA and the American Medical Association as a permanent method.
Yes, it works. It may take a few sessions, but professional medical electrolysis sessions from licensed technicians can prevent hair regrowth. Keep in mind that there is a BIG difference between professional medical electrolysis and "home electrolysis kits."
There are huge benefits to going to a certified professional rather than trying to "DIY" your electrolysis or go to the cheapest beauty salon offering this service.
Now that you know that it truly works, you may want to get one at home. This is why people find it rather cumbersome. But not to worry, I have included in this post the top 5 home electrolysis kit that you can use at home and feel like a professional after a job well done. If you are ready, let's run through.
Best Home Electrolysis Machine to Buy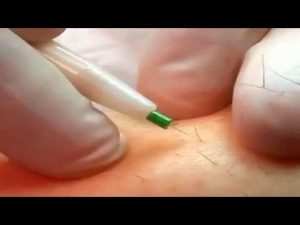 There is plenty of choice on the market. However, they don't all do exactly what they claim. For this reason, it's great to read around before making up your mind. We've rounded up the 5 best home electrolysis hair removal kit and below are thorough reviews of them all.
Please read the "about product" carefully to know about each model.
1. Electrolyse Automatique Home Electrolysis Machine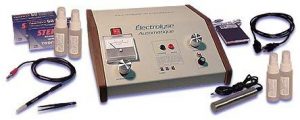 Five sterile disposable probes are included, which should only be used for one session each. This system combines an electronic epilator with the probe style used in professional medical machines.
Although this system claims to be professional and has more features than the bare-bones home kits available at cheap prices, it's still a far cry from the machines used in a licensed electrolysis facility.
Unless you're willing to become a certified electrolysis technician, you'll find getting the technique right difficult. The Electrolyse Automatique system comes with a one-year warranty, foot-switch activation, electrolysis epilator, and conductivity gel anode prep.
2. AVX500 Professional Electrolysis Machine For Permanent Hair Removal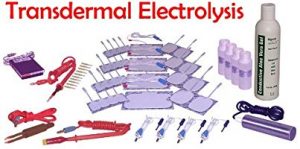 The galvanic specifications for the AVX500 are the same as the Aavexx 600, complete with single or multiple modes, foot switch, overload protection and so on.  It may or may not add to the long-term effectiveness of your hair removal efforts, but it's only a little extra money.
It sells for less than the Aavexx 600, so if you're looking to spend in this price range we'd suggest springing for the 600 with the blend function.
Performance is just about equal to the dual-mode machine, requiring slow but steady work overtime but not requiring the re-treatments you'll have to do with the Clean and Easy or with thermolysis models.
This is a model that's very similar to the one we've just reviewed, but it's strictly a galvanic unit with no blend function.
3. Clean And Easy Deluxe Home Electrolysis Machine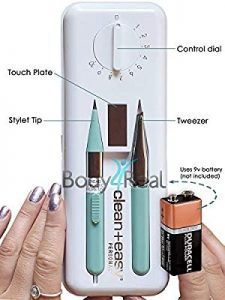 When I say this unit is simple, we mean it. There's a single dial that allows you to control the intensity of the experience, which comes in very handy when you're still tentative about the process and aren't sure how much (or whether) it will hurt.
The Clean and Easy is a modified version of a galvanic electrolysis machine, designed for home users who won't be as proficient with a sharp probe as a professional technician would be.
I feel that the Clean and Easy Unit is the best home electrolysis machine for novices. It's easy and intuitive to use and is very affordable. Just to put your mind at ease – the sensation isn't pain, it's more of a sharp tingling feeling. It can still be a bit of a shock (no pun intended), though, until you're used to it.
A 9-volt battery powers the Clean and Easy; it's best to buy a separate rechargeable battery and charger for it. The unit comes with one spare tip, and you can buy replacement tips separately.
The chances are good, however, that by the time that needs arises you'll either have decided to buy a more professional model or given up on the idea of doing electrolysis yourself.
It utilizes a thin, flexible stylet tip instead of a needle, with the electricity meant to vibrate the hair follicle instead of shocking it into submission.
That means there's no danger that you'll accidentally puncture your skin, but it also means it's tougher to get the tip right into the follicle.
So the electrolysis process with the Clean and Easy isn't quite as effective as it is when done with a "real needle," and it's likely you'll need to treat each hair several times (at different times) to get good results.
I am using this on facial hair (moustache, chin, and eyebrows). Do not expect a quick fix. You will need to put the time in to get results. I use this to target as many hairs as I can every weekend and non-work day and am hoping that by summer there will be days where I have no hairs to pluck. I have already had a noticeable reduction since buying this in November. Moustache hairs are especially easy to target because they are finer, easier to see, and easier to stick the probe in the right way. Chin's hairs are tricky but any time I have success it's one less chin hair to deal with in the future.
4. EP85M Professional Radio Frequency RF Permanent Hair Removal Machine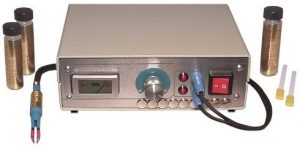 As I've mentioned, the majority of experts don't buy into the theory of shortwave diathermy that depends on "radio wave tweezers" instead of electric needles to kill hair follicles. However, many salons do a brisk business in the technique and many women swear by the process.
Four micro clips attach to one hair apiece and deliver lower-level RF waves for 15-30 seconds, heating the hairs to remove them and theoretically destroy the follicles. Another set of tweezers can be used for shorter, higher-level radio wave "zaps" so you can treat several more hairs while the microchips are doing their work.
Long-term results? Your mileage may vary. The EP85M will set you back nearly four figures but is a good bet for thermolysis believers. The EP85M was designed for professional use but is also suitable for individuals.
5. Verseo ePen Permanent Hair Removal kit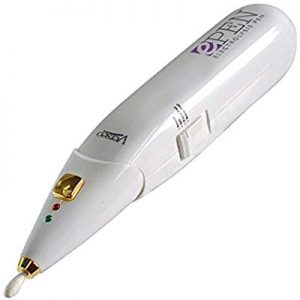 You want to get rid of that embarrassing facial hair once and for all? Here is the perfect touch. And that is why it's placed at the last in our list.
What is more to Verseo ePen kit? even Unit, 2 Rectangle Patches, 1 Banana Patch, 2 Round Patches, 1 Lead for patches with 3 pad connectors, ePen Conductive Gel, 6 Cotton Swabs, 2 AA Batteries Tweezers Soft Storage Pouch
Do not underestimate the effectiveness of Verseo ePen Permanent Hair Removal Kit simply because we have placed it as our #5.  This particular model is a Needle-free electrolysis pen that removes unwanted hair permanently. Easy and comfortable to use; automatic timer/buzzer.
After using the Verseo ePen only a couple of weeks, I can assure you that you will start to see noticeable results without the pain of electrolysis or the cost of waxing.
The pen-shaped removal wand works on the face, underarm, bikini line, or anywhere you have unwanted hair, and works without the use of painful needles.
Instead, the ePen uses small pulses of electrical energy to get right to the hair follicle and destroy the root so you can tweeze or wipe hairs away.
Self-adhesive pads for multiple treatments. It also includes pad leads, cotton buds, conductive gel, tweezers. Extra ePen face and body patches and conductive gel can be purchased.
Penn's hair removal kit eliminates the need for costly wax treatments as this system removes unwanted hair permanently, and in the privacy of your own home.
How to use it?
First and foremost, apply the conductive pads or the conductive gel to the area with a cotton tip, and then put a cotton bud on the end of the ePen.
Put the ePen to the hair removal area and press the button. The green light goes on when you've made good contact with the conductive gel, and a buzzer goes off after 20 seconds to notify you that the treatment is finished.
The ePen does require a few uses to ensure that you've removed all hairs within a growth cycle. Easy yeah?
The Verseo ePen Permanent Hair Removal System is perfect for those wanting to get rid of unwanted facial hair, hair around the bikini line, or even hair under the arm.
I've only used a few times but seems to be doing the job… Still too early to see if hair grows back. I can sometimes feel a little "pinch" Thinking I just need more conductive gel. I tried it on my chin (just two dark darn hairs) and I tasted a metal-y flavour in my mouth; I do have the silver fillings so maybe that is why. Overall, a good purchase.
6. Epitron 85, High Power Radio Frequency Tweezers Epilator
Epitron 85, High Power Radio Frequency Tweezers is the last on the list of home electrolysis hair removal machine. It is quite expensive but it can handle several hairs at the same time.
The EP85M was designed to be used for professional purpose, however, it can be used for domestic use. It comes with four clips that can be attached to one hair apiece. That makes the process of hair removal faster and convenient.
---
Benefits of choosing the electrolysis method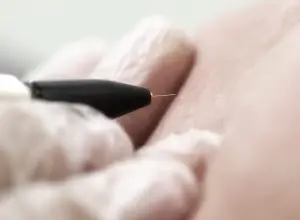 Just before we bring this post to an end, it is our conventional style to bring to you every detail about a product. In this vein, here are some related factors to an electrolysis hair removal that every user should know.
The FDA has approved the electrolysis method of hair removal as the only permanent method that is safe and reliable. This means that in electrolysis, the hair follicles are actually destroyed so that hair does not grow again. Unlike in laser therapy for hair removal where only the pigment of hair is dealt with.
There are many benefits of the electrolysis method of hair removal that undermines the downsides. Not only is it safe for all skin types but can be done on any part of the body.
Lasers will work best and easier for a limited area of the body. Same goes to tweezing and waxing. Electrolysis can be applied on any colour and type of hair as it has no business with the hair but the follicles itself. Electrolysis also helps treat ingrown hairs.
In the section, we will take a deeper look into the advantages of electrolysis and why it is suitable for you. Most people actually want to get rid of unwanted ways… Because those hairs are…. Well, unwanted.
The perfect method to use is electrolysis because you will not have to bother yourself about post-medication or any other hair removal method.
Many people are now embracing and using electrolysis than other methods of hair removal as a result of the benefits that it does not share with other methods.
The major advantage of electrolysis is that it Removes hair permanently. And this remains a prime benefit among other r methods of hair removal.
Let's now take an individual look into the benefits one stands to gain when using electrolysis for hair removal.
Not expensive as other methods of hair removal
If you are bothered as to if electrolysis is a cheap method, Yes. Electrolysis method of hair removal is cheaper than laser treatment.
But it is preferred to pay a higher price for a method that will give you permanent hair removal than paying cheap to the non-permanent hair removal process.
No matter the cost of electrolysis when compared to other methods of hair removal, clients will bite the bullet to go for it as the benefits are worth paying for.
Based on the permanent hair removal feature, electrolysis is a cost-friendly treatment.
Less painful treatment

 
Most people are made to believe that electrolysis method of hair removal is a painful method. But that is just a myth.
Like I have explained earlier, electrolysis involves the use of a very thin needle that will charge electric current into the hair follicles when inserted into the skin thereby destroying the follicles.
The thin needle is, in fact, thinner than the hair itself. A professional and perfect electrologist will handle your treatment with care and it will be less painful.
While this may sound hurtful, it is actually not painful. All you will get when undergoing electrolysis is an itching sensation that is less painful.
Safe for all hair and skin types
Another added advantage of choosing electrolysis over other methods of hair removal is that it is safe to use on any hair or skin type. There are various hair types and skin types that may be too sensitive for some hair removal methods.
But not in the case of electrolysis. In this method of hair removal, hairs are removed from the roots and not the surface. In that way, the colour of the hair doesn't matter at all.
The same thing applies to skin types. It can be safely used on any type of skin as it will have no side effects. Lasers are recommended to be used on lighter skin. This makes electrolysis suitable for body hair and facial hair removal without any repercussions. While electrolysis will work on any type of skin, it is best efficient for people with dark skin and hair.
Requires fewer sessions of treatment 
Another thing that makes electrolysis hair removal method different from other types of hair removal is that it is permanent and will require fewer sessions. This actually depends on the type of hair or person dealt with.
What is required to be done after treatment and to maintain a perfect hair-free skin after electrolysis treatment is not as hideous as some other methods of hair removal. It is much more simple than other non-permanent methods of hair removal.
Minimal after-treatment care
In most hair removal methods, there is something called an after-treatment course that patients should undergo to have a complete result. These treatments may involve dealing with minimal discomfort that accompanies that particular method of hair removal.
In the case of electrolysis, minimal after-treatment care is needed and will not take too much period of time. The discomfort that comes after electrolysis treatment will not last long. The treatment may involve the use of herbal gel to soothe the skin if any irritation is noticed.
However, experts advise that you should not expose your skin to too much sun after a few days of electrolysis treatment.
Risks Associated With Electrolysis
It is equally important to be aware that there are risks associated with electrolysis, so you do have to be vigilant when performing electrolysis at home.
If you do decide to invest in a machine like these, you had better be patient. The process takes some time to learn and master so you may think that a machine "doesn't work" after trying it a few times when it's a matter of gaining experience and using the machine properly.
Follow the instructions carefully, start with a less visible area like your leg instead of your face, and try working on a follicle several times if necessary. You'll get there.
Let's discuss how to reduce Pain During Electrolysis Hair Removal?
The amount of pain that you feel when undergoing electrolysis treatment greatly depends on your pain threshold. Some people describe electrolysis as a stinking sensation whilst others say that it is one of the most painful experiences that they have ever had to endure.
Luckily, there are some things that you can do to ease the pain a little.
You may want to try rubbing some ice on the area of skin you are going to have the treatment done. This can temporarily numb the area but you should ensure that you do it immediately before you have the treatment.
Some people like to take ibuprofen around half an hour to an hour before their electrolysis session begins. This will help to lower the amount of pain that you feel as the nerve endings will become numb.
You could listen to some soothing music. All you need to do is take your MP3 player or your phone with some songs loaded onto it and listen to your favourite music through some headphones whilst the procedure is being carried out.
This can help you to remain calm during the treatment as well as diverting your attention away from the pain.
---
Frequently Asked Questions and Answers on Home Electrolysis
Is Electrolysis Removal Of Hair The Best Method?
The electrolysis method of hair removal started in 1875. And since then, the process of hair removal has changed; other methods and technology have been introduced.
It makes use of a needle-shaped electrode, which conducts electric current into the hair follicle thereby distorting the growth process.
The electrolysis method of hair removal may not be the best overall, but it has a lot of advantages that you would not want to miss.
Before the addition of Radion Frequency to the technologies used by electrolysis hair removal machine, it was considered the most reliable method of hair removal. Aside from being trusted by professionals, it is effective for all types of skin and hair.
Furthermore, it's side effects are temporary and they are rare to be experienced especially in cases where the technician follows the instructions.
Can Electrolysis Damage My Skin?
Skin damage is the worst side effect of electrolysis hair removal that could be experienced by anyone. However, it can be prevented by following the instructions if it is to be done at home and seek the right person for the job if it is to be done by a technician.
Getting the right person for the job will save you from recurring expenses for hair removal and experiencing side effects that could have got prevented.
What Should I Not Do After Electrolysis Removal Of Hair?
It does not end at getting the right technician or machine alone, some precautions must be taken after the process. They will safe you from experiencing certain side effects:
No perfume.
Do not stay in the sun.
No shaving
No scrubbing or scratching of the treated area.
Does Electrolysis Always Work?
Yes, but note that you won't be able to get rid of your whole hair at once. Understanding the process of hair growth will give a better view of how the electrolysis method of hair removal works.
The hair removal will be in steps and that is why all sessions must be completed to get noticeable results.
How Does the Electrolysis Method of Hair Removal Feels?
It feels different as per individual. Some consider it a little bit painful while others consider it very painful. How it feels depends on the reaction of individual body systems to chemicals and items.
What Can I Do To Reduce The Pain?
Experiencing pains during electrolysis is considered normal, however, the discomfort after the process can be reduced to minimal.
There are dime dozens of over-the-counter topical anaesthetics that can be applied in some situations to reduce the discomfort.
Is the Electrolysis Method Of Hair Removal Permanent?
The electrolysis method of hair removal although tagged as a permanent by many was never meant to be one.
It is a temporary method of hair removal just like many but the result lasts for long and the hairs grow back finer and thinner.
Can I Go Out In The Sun After Treatment?
Direct exposure of the treated areas to the sun is not advisable. It can cause freckling that could take up to 6-12 months to fade.
If going out in the sun can't be avoided you should protect the treated area from direct exposure to sunlight for 48 hours.
Does electrolysis cause scarring?
There are few dangers associated with electrolysis, but these discomforts usually take a shorter time to disappear. 
Patients of electrolysis method of hair removal may experience pain from the charging of electric current flow, this may likely cause scarring, reddish sensation or keloid skin. 
Does electrolysis work on chin hairs?
Electrolysis can be done on any part of the body as it works on any skin type. Electrolysis method can be Done on the chin and it will permanently remove hairs in that area.
Experts advise that it is not ideal to use electrolysis for hairs on the upper lip as the needle inserted could form scars.
What hurts more laser or electrolysis?
When compared to laser treatments for hair removal, electrolysis is considered a painful method of hair removal. This is because patients may feel pain from the current charged into the follicles by thin needles. Laser treatment is an expensive method of hair removal unlike electrolysis and will require more sessions.
---
Final Words on Home Electrolysis Machine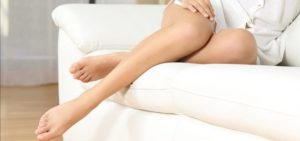 In conclusion, I'd like to bid you good luck in your search for permanent hair removal among these five listed here!
Remember to Always read the instruction manual included whatever model you choose so that you can be sure that you're using it properly. Also, keep in mind that not all products do what they promise.
Thus, if unsure always be sure to pick a model with a guarantee included. This way you're insured against any shoddy designs.
If you are not cool with the use of a home electrolysis kit, there are other alternatives.