How Many Sessions Are Truly Needed for Electrolysis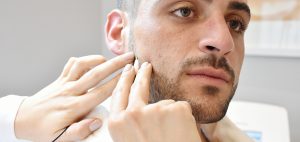 Electrolysis is termed as the hair removal method that involves the insertion of a needle into a human skin to remove unwanted hair. It has to do with the permanent removal of human hair from the body.
It has to do with the practice of electrical hair removal, in another word; it is the actual process of hair removal from the human body using electricity.
This process of electrical hair removal from the human body is usually carried out by a professional called electrologist who slides a hair-thin, solid metal probe into each of your hair follicles, by avoiding puncturing your skin.
This is done by the delivery of electricity to your hair follicle through the probe, which will then cause localized damage to the areas of your body that generate hairs, either through the formation of caustic sodium hydroxide otherwise known as a galvanic method, overheating, or the combination of the both.
How Many Sessions Are Needed for Electrolysis
Electrolysis generally requires 8 to 12 sessions (treatment) in order to remove hair from a particular part of the human body. The average time from the beginning to the end is about 12 months.
There are some cases where up to 8 to 24 months is needed to undergo electrolysis treatment. This largely depends on the type of person who is under such treatment.
Removing hairs permanently from a particular part of your body will definitely vary with your body system.
Now that you have removed your hair through electrolysis; how long should you wait between electrolysis treatments
This is a question that must be answered. If you so wish, you can return for another treatment once a week or every other week as may be necessary.
As soon as the treatment is complete, the unwanted hair will be gone forever. Each treatment lasts between 15 minutes and 60 minutes.
Types of electrolysis hair removal
Depending on the method recommended to you by a sincere dermatologist or electrologist himself, various methods are very effective in the practical aspects of electrolysis.
I will outline the different types of electrolysis we have.
This method is named after Luigi Galvanic and it treats a human body as an electrolytic cell. It was first reported in the medical field in 1875 by ophthalmologist Charles Michel, as an electrolytic method used in the removal of ingrown eyelashes.
It is an important method that delivers 0-3 milliamperes of power through the body.
It has a follicular probe which acts as the cathode of an electrolytic cell (human body acting as the anode). During this process, sodium hydroxide is formed at the cathode by the process called chemical electrolysis and as a result, kills the hair matrix cells.
Thermolysis
This is the method that is also called radiofrequency, shortwave, or diathermy. It was a method that was developed in the 1920s and was first reported in medical literature by Henry Bordier.
This method is actually carried out by radio transmitter process usually with an output of about 0-8 watts at a frequency of 13.56 MHz, RF energy that finds its source from the probe tip to issue around about a millimetre.
This method works by heating your hair matrix cells to about 48 to 50 °C (118 to 122 °F), causing electrocoagulation.
The blend method
This has to do with the combination of both methods mentioned above. This is a method that was developed by Arthur Hinkel in 1948. It uses both Radio Frequency and direct current as an advantage to deliver its performance.
So, any of the methods used is effect hair removal, as long as you follow the due instructions.
How long does it take for electrolysis to work
Well, depending on the person, we all have different hormonal systems and responses to electrolysis. The treatment takes a long time to respond especially when you are doing your initial clearing.
After the initial longevity, keeping your hair clear will begin at one to five hours a week and as time goes, it will taper off.
Electrolysis responds in most people within 1 to about 4 years with an anecdotal average of around 2 years to complete the face.
How many electrolysis sessions are needed for your face?
8 to 12 electrolysis sessions are okay to permanently remove your hair. Once the session is carried out as prescribed, the hair will be gone forever.
The density of hair in an area determines the number of sessions that should be run on it.
Can hair grow back after electrolysis
Yes, hair can grow back after electrolysis, because the hair is caused by the electrolysis to come from the bottom of the hair follicle. Once released, the hair can be lifted out with a tweezer.
The treated hair will grow back but initially weaker and less coarse and after some time with substituent treatments, will not grow back again.
Is electrolysis better than laser hair removal? 
Both electrolysis and laser therapy will give you a long-lasting solution to the removal of hair unlike some other methods of hair removal like shaving. But when you look deeper, you will want a more permanent solution that only electrolysis will give.
Safety-wise, electrolysis seems to be the best option to go for. Not only is the result more permanent but it is relatively cheaper to carry out and undergo the aftermath maintenance, unlike laser therapy. 
There is a general argument as to if electrolysis is a better option to get rid of hair permanently than laser hair removal method.
But one will need to understand what these two concepts involve, their pros, cons, side effects and advantages before we will be able to conclude.
The only reason that a laser can take a stand with the electrolysis treatment is that the laser does not really require a long time to cover large areas of the body.
Electrolysis will need more sessions and treatments to cover major areas.
This is why electrolysis is preferably recommended for hairs in areas like chin, fingers and face.
Laser therapy will be effective for large areas like the legs, chest and so on. In other words, the method of hair removal you will choose among these two will depend on how quickly you need temporary or permanent hair removal.
One precaution I must not fail to tell you here is that it is not a good idea to get electrolysis done after undergoing laser hair removal therapy. It is dangerous and will surely disrupt the initial treatments.
If you are not still sure of what type of hair removal method will work for you between electrolysis and laser therapy, then it is best to talk to a qualified and certified dermatologist.
You will also be advised to wait for some months before starting any other method of hair removal having used one in the past.
Electrolysis over laser therapy, what is the main point?
The main thing is that laser hair removal will only slow down the growth of hair while thinking about them. While electrolysis, on the other hand, will permanently and completely stop hair growth.
While both are recommended for long term health, laser therapy will only work best for light-skinned folks.
And when it comes down to the pain involved, Electrolysis takes the big cake. This should not scare you. All this means is that electrolysis seems to be more painful than laser therapy.
One of the reasons is that electrolysis will demand more treatment sessions than laser. But the latter remains cheaper.
To get a fast and less painful hair removal process, a laser is a good option. Only that you should be ready to spend more.
What are the side effects of electrolysis
Here are the side effects of electrolysis
Skin damage: you will have to pay the price for excess electrolysis to your body as it may cause skin damage. Sometimes, skin damage may occur if it is carried out by a quark electrologist, so you must be vigilant selecting who to carry out electrolysis on your skin. Search out for a professional that is trusted.
Blisters: This is another popular side effect of electrolysis, blisters look like acne, so it appears on your skin after electrolysis is being carried out on your body although it doesn't take blisters more than 3 days to fade away on their own.
If blisters persist over two days, you are required to see a doctor for proper treatment. Try all your best never to scratch or scrub your face for a few days.
Face Swelling: electrolysis treatment can also cause your face to develop some swellings after the surgery. Especially when you get large areas treated at once, there are chances that your face will appear swollen which will also cause inflammation.
If inflammation appears on your skin, treat it by applying ice on the area affected.
Acne: after the electrolysis process also causes acne to the area it is carried out, especially your face. If you realize that your skin is allergic to breakout, begin to use mild lotions, cleanser, or toners to maintain the health of your skin. Ensure you apply the right products to your skin to avoid worsening the case.
If treatment with a particular product worsens the case, kindly discontinue using it.
Burning sensation: there is a chance that you will develop a burning sensation after electrolysis. However, this occurs mostly when the electrolysis is being carried out by an amateur.
If you experience a burning sensation after electrolysis, don't hesitate to inform a professional dermatologist for immediate treatment. Discontinue treatment with such an electrologist and hire a professional and reliable one.
Skin Discoloration: skin discolouration is another side effect of electrolysis. You may suffer skin discolouration if your skin is sensitive.
Discolouration of the skin comes either in the form of dark or brown spots on your face. To treat this, you need a skin lightening cream. Skin discolouration is an expected side effect after electrolysis is carried out on the skin.
Formation of Ingrown Hair: undergoing electrolysis can cause ingrown hair. Ingrown hairs are formed when the hair follicle is being damaged instead of being destroyed completely.
As a result, this will lead to skin irritation, itching but can be removed by using an exfoliator product.
There are various types of hair electrolysis devices, let me review this one for you, they are number one in town
Iluminage Touch Hair Reduction
This is a must get hair removal device. It will do the perfect job for you and you will be glad you use this product. If you need a smooth skin or you wish to remove your unwanted hair permanently, this is just the best hair removal device that soothes your need.
It is powered by potential dual wave technology and will always be the best for your kind of skin.
It is highly acceptable by the dermatologists around the world, proven to be very effective on every hair colour; even the blond, dark blond and red hairs are not exempted.
This device will help reduce the growth and appearance of body hairs as perfectly as you want it. The precision is developed to allow an easy on all your skin areas, including the underarm.
It can reduce your hair by 94 percent after 7 weeks of regular treatments.
Braun IPL Hair Removal for Women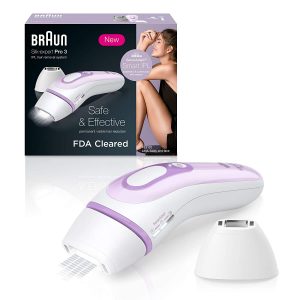 This is another hair removal device that will give your body a smooth look after helping you to permanently remove those unwanted hairs.
This product soothes all kinds of skin and does not have side effects if properly used by a professional electrologist. You can use it to remove unwanted hairs from your body and face; it is made with Venus's smooth razor blade.
If you are concerned that your hair might regrow, this device is giving you the guarantee that there is nothing as such. The quality of this product is extra, it gives you fast permanent hair removal within 3 months of regular treatments.
It can treat your legs in 9 minutes at the lowest energy level. It is 2 times faster than the previous silk expert 3.
It is a new compact design embrace by customers, 15% smaller, and 25% lighter than ever. If you need a hair removal with convenience handling, this is just the right device you should buy.
There is a guarantee for you to return the item if you are not satisfied with it.
Braun IPL Hair Removal for Women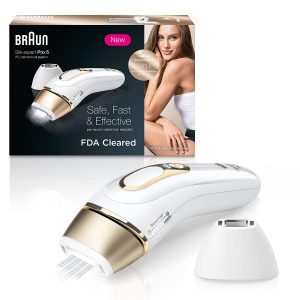 This one is similar to the one above, it is also a fantastic device, you will so much like it because it gives you the very result you expect.
It is the pro version of the previous one, so imagine how more effective it could be. Your hair will be removed permanently, the assurance is guaranteed.
There will be permanent hair reduction within 4 weeks of treatments, either for face or body and any other parts you desire to treat. It is a safe technological development that soothes the kind of your body so getting it will not be a bad decision.
International health organizations have patronized this item time with many numbers. It has the ability to adapt to your skin type so this makes it a good choice for hair removal
Conclusion on Sessions Needed for Electrolysis

Electrolysis requires 8 to 12 sessions to get your hair properly removed. In order for you to get this done properly, you need an expert in the field who will make use of the best devices to eliminate the unwanted hairs from your body.