Painless laser hair removal works with the help of high-heat lasers or intense pulsed lights (IPLs) that dissolve hair and temporarily disable hair follicles. Such that the follicles won't be able to produce new hairs for up to several weeks. So. If you're looking for a smooth solution to body hair, and you're totally ready to stop shaving, waxing and epilating your unwanted fuzz, you'll want to read this article to the very end!
Are you sick and tired of shaving always? Or do you think shaving really sucks? Then, you might consider other more permanent methods of hair removal. Laser hair removal offers the longest-lasting results. However, not completely permanent, you might go weeks without having to redo your treatment.
Great news. Discover the best at home laser hair removal devices and look forward to smooth skin ahead in this article.
Ensure to also read the rest of our article on Laser Hair Removal Devices as they provide lots of useful information to help ensure you can make the most informed choices.
Without further Ado, let's run through the best painless laser hair removal that I have for you.
Here's our Hand-picked Painless Home Laser Hair Removal Devices for you.
1. Braun Silk-Expert IPL 5004 Hair Removal System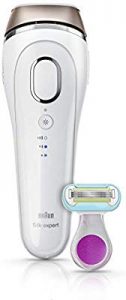 Only Braun Silk-expert has the unique SensoAdapt skin tone sensor which continuously reads your skin tone at an astounding 80 times per second.
About product
The Braun Silk-Expert IPL provides fast treatments suitable for large parts of the body such as legs or arms. A leg or arm can be treated in just 8 minutes, without compromising on effectiveness. It also offers 10 energy levels, so you don't have to compromise comfort while effectively removing hair. With 300,000 flashes, this home laser hair remover will last you a long time, before the light cartridges require replacement.
It works beneath the skin's surface by targeting the melanin in the hair follicle, helping to break the cycle of hair regrowth. With continued, regular use, it helps prevent unwanted hair from reaching the skin surface.
Braun Silk-expert is a newer option among IPL devices. The Braun Silk-expert's IPL system can result in permanent hair reduction in as little as four treatments.
Reasons to buy
Effective and reducing hair and regrowth
Fits well in hand
Fast treatment times
Automatic skin sensor adjusts on the fly
Reasons to avoid
It still hurts
Pretty spendy compared to others
Some complaints about short shelf life
Can be difficult to use on chin and upper lip
BUY ON AMAZON
$299.00
2. Tria Beauty Painless Laser Hair Removal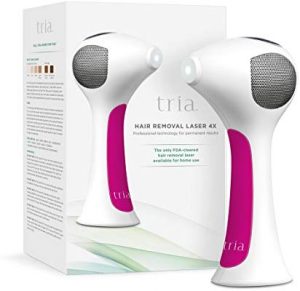 faster treatment times, a digital display and a pulse counter to make sure you are operating it correctly to get the best possible results.
About product
The Tria laser costs just a fraction of what you'd pay for professional treatments from a dermatologist. If you're looking to remove lighter hair colours such as naturally white, blonde, red or grey, the Tria might not be a suitable choice.
The Tria Hair Removal Laser 4X is an FDA-cleared at-home hair removal laser. It is specially designed with advanced features to deliver professional, permanent results and laser-smooth skin from head-to-toe. It uses professional-strength laser hair removal technology, preferred by nine out of 10 dermatologists, to deliver 70 percent hair reduction within three months.
Because even at-home laser hair removal can be harsh on your skin, Tria Beauty Finishing Serum helps rejuvenate your skin after each treatment.
It targets the pigment in your hair and then permanently disables the hair follicle's ability to regrow hair.
These hair colours simply will not absorb enough of the laser's energy to disable the hair follicle.
Reasons to buy
Effectively removes hair
Easy to use
Far less expensive than professional
laser treatments
Automatic settings
Reasons to avoid
It is painful a bit
Doesn't remove blonde, white, grey or red hair
Not suitable for use on areas with tattoos
It takes time and patience
BUY ON AMAZON
$449.00
Have you seen The best beard cream in Nigeria that grows beard like magic
3. DEESS Permanent Hair Removal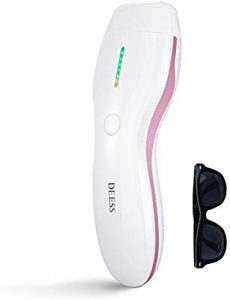 a two in one device that tackles both excess body hair, and treats acne-prone skin, both with the same technology
About product
This DEESS Permanent Hair Removal Device comes with 350,000 flashes, and delivers fast treatment times of just eight minutes per arm or leg, with 25 flashes per minute. With two heads that perform their different functions, this could save you hundreds of dollars if you're dealing with both issues.
Naturally, it comes with a much higher price tag, but you'll save in the long run versus buying the hair remover alone and then purchasing a wrinkle removing laser as well.
If you're looking for a multi-function device that targets unwanted hair, acne, and overall skin rejuvenation, the DEESS ICE COOL IPL Hair Removal Device comes with a two-year warranty which certainly provides ample time to try all three functions. In six to 12 weeks, you can have 90 percent less body hair than before, and upkeep just requires the occasional maintenance session.
Reasons to buy
Removal head and acne treatment head
Affordable compared to many
Fast treatment times
350,000 flashes last a long time
Reasons to avoid
Not effective for all hair colours
Huge list of contraindications
Button controls are configured poorly
BUY ON AMAZON
$137.99
4. BoSidin Facial & Body Painless Permanent Hair Remover
With 450,000 flashes, it will last for years, making both initial hair removal and follow up treatments possible.
About product
Comfort is a key with this device. AI technology reduces the time between flashes, making the process more seamless and easy. 360-degree surround cooling technology means treatment areas are rapidly cooled, shrinking pores and avoiding skin irritation from treatments. You'll also appreciate that this device comes with eye protection
If pain is one of the main things that's been holding you back when it comes to trying laser hair removal at home, this new device from BoSidin might be what finally pushes you over the top. It boasts nearly painless hair removal for men and women using a slightly different technology than traditional IPL devices.
Reasons to buy
Easy to use thanks to continuous flashes
Uses improved technology for long-lasting results
Far less painful than many
Cooling technology keeps skin irritation at bay
Reasons to avoid
On the more expensive side
It still is painful for some
Takes time for lasting results
BUY ON AMAZON
$139.99
Have you seen the best electrolysis hair removal for home use? 
5. LumaRx IPL Hair Removal Device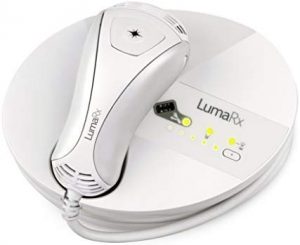 Ideal for large and small areas all over the body, including female facial hair, it can also be used on underarms, bikini line, arms, legs, chest and stomach.
About product
Men who are looking to remove chest hair and back hair might want to consider this more robust device. It promises up to 94% hair reduction in just three treatments, over the course of one month. With summer on the way, you still have plenty of time to look great for the beach or pool party.
The LumaRx IPL at home laser hair removal device claims their users experience up to a 94 percent reduction of unwanted hair.
It employs the same technology used by skincare professionals. This gives you many of the same benefits of professional treatments, but with the convenience of scheduling the time and place that works for you.
If you've got a more substantial goal than de-fuzzing your face and armpits, you might opt for the LumaRX Full Body Laser. With a three by two-centimetre treatment window and 65,000 flashes, the full-body device is ideal for larger areas like legs and arms, and deliver more intensive treatments.
Reasons to buy
Effective for hair removal
Small and easy to handle for treating facial areas
Well priced
Reasonably rated by Amazon purchasers
Reasons to avoid
It hurts a bit
Time and patience required
Not effective on light blonde, grey, white or red hair
It too small to tackle large areas like legs and arms
BUY ON AMAZON
$449.00
6. Remington iLIGHT Pro Plus Quartz Hair Removal System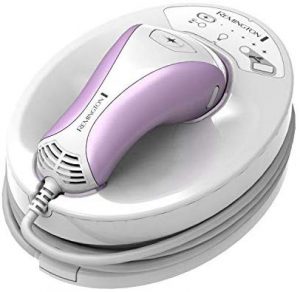 With this device, you never have to take a break between treatments to recharge.
About product
Fast, gentle and easy to use, the Remington iLIGHT Pro Plus Quartz Hair Removal System has an ultra-fast flash rate that lets you treat areas like your underarms and bikini line in about a minute each. Most people find the treatment sensation less painful than other at-home laser hair removal systems.
The product should not be used anywhere on or around the face, head, ears or neck
After just three treatments, you will see permanent results. After your initial treatment regimen of three times over the span of one month, just use the iLIGHT Pro Plus Quartz for touch-ups as needed
The Remington iLIGHT uses the same IPL technology used by dermatologists. It is good for use by both men and women, but only for hair removal below the neck, including legs, underarms, bikini line, chest, stomach and arms.
Reasons to buy
Good for men and women
Works with time and patience
Long cord makes it convenient to use
Fast treatment times
Reasons to avoid
Cannot be used to remove facial hair
The shape can make it difficult to use on hard-to-reach areas
Does not work for everyone
Can cause pain and skin irritation
BUY ON AMAZON
$332.21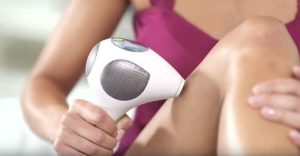 Hair laser devices may seem to be your one-stop solution to 'hair problems' but there are important things to look out for just before your purchase any. You don't want to waste your money.
Let's run through some of the things you should vet before you buy any of these devices.
1. The Price
As you might imagine, those that are more spendy tend to get higher reviews for overall performance
Mind you, there is this belief that nothing really effective comes cheap
Home laser hair removal doesn't come cheap. These devices can cost from the hundreds to the thousands, depending on the kind of investment you're willing to make.
2. Consider the Time Commitment
Results aren't instant.
Nearly all of the home laser hair removal devices indicate that you will need to do maintenance treatments over the long haul, but that seems perfectly reasonable if you're looking at a mostly hair-free future, yeah?
Generally, Treatments involve slowly guiding your hair remover across a targeted area, such as your arms or legs, and allowing the remover to send light pulses to small sections of your skin.
Each of these home laser hair removal machines requires you to regularly take the time for treatments, in order to deliver the best results.
3. How about the Pain Factor?
Let me make it clear to you that all IPL devices involve some level of pain. You'll need to decide if you can handle 30-40 minutes of that for every treatment you do.
Each light pulse delivers a stinging sensation, akin to a rubber band being snapped repeatedly.
4. Your Skin Tone and hair colour
Truth be told, Most lasers aren't recommended for people with medium-dark or dark complexions. However, one newer product even works for black skin and all hair colours. That's a major development in laser hair removal at home.
Home lasers deliver intense light pulses (IPL) to your skin that target dark hairs and stop the follicles from producing new hair. That's great if you only have dark hair, but lots of people don't. In fact, most at-home lasers make it clear – they simply aren't effective for blonde, grey, white or red hair.
5. Eye Protection
Ever since I've been writing on IPL devices, it was recently I discovered during research the importance of appropriate eye protection.
Laser light pulses can be damaging to your eyes, per the National Institutes of Health, and in fact, some, (but not all) of the devices clearly state that you shouldn't use them on your face. That may rule some devices out if you're looking to target those sneaky little moustache and beard hairs that keep popping up.
But do not fret. you could also consider facial epilators as an alternative. Just for your safety.
I hope this article on Painless Laser Hair Removal was helpful. If you've got any questions, I'll be at the comment section.
You should check some of our favourite picks for laser hair removal machines
List of Best Light Hair Removal Machine
Full Body Laser Hair Removal Machines to Buy
Best Professional Laser Hair Removal Machine
Best Facial Hair Removal Device