Unlike a lot of other brush types that you see around, boar bristle brushes bring out the natural texture in straight, wavy, or curly hair. They also do an incredible job of carrying your scalp's natural oils throughout your hair so that your strands stay well-conditioned.
By doing this, it helps reduce frizz, prevent oil build-up at the scalp and improves hair texture, all while stimulating your scalp.
"This isn't the brush you'll use on wet hair (it can cause breakage) or for styling your hair — but it is the perfect everyday brush to rid your hair of tangles, boost its body, and keep it Glossy"
The best boar bristle brushes remain one of the most timeless brush options for achieving the shiniest, healthiest hair ever. Finding a hairbrush is kind of like choosing a sushi entree at a Japanese restaurant: they all look good, but they aren't all necessarily going to suit your palate (or, in this case, your hair type). And so here are the ones we recommend for you.
Have you seen our post on :
Benefits of boar bristle brushes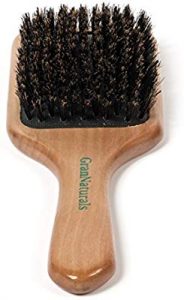 So, what exactly are the benefits of using a boar bristle brush and what makes them so special?
This brush type has been around since the 1800s, but today they include a mix of nylon and boar bristles that are perfect for detangling coarse, thick hair. Below are 5 mind-blowing benefits of boar bristle brushes
You've heard the outdated advice "brush your hair 100 strokes per day" right? This originated in reference to boar bristle brushes since a lengthy period of brushing meant well-conditioned, healthy hair
1. Boar bristle brushing improves hair texture
I wouldn't say that a boar bristle brush changes hair type, it just brings out the best. If you have straight hair, it will add bouncy volume and shine. If you have curly hair, it will condition and slightly loosen the curl
Boar bristle brushing benefits The most remarkable difference I've seen after regular boar bristle brushing is the improvement in my hair texture. After my morning brushing, my black fluffy hair settles into a Radiant groove.
2. Boar bristle brushing stimulates the scalp
A boar bristle brush feels divine on the scalp and stimulates blood flow to the hair follicles, which can improve hair growth. One can find his or her daily session of boar bristle brushing a meditative and relaxing experience.
3. Boar bristle brushing reduces the frequency of washing
A boar bristle brush helped them maintain healthy, clean hair. A boar bristle brush prevents oil build-up at the scalp, which weights hair down and makes it look greasy.
By transitioning to Morrocco Method shampoos and using a boar bristle brush, most men and women find that they can reduce the frequency of their hair washing to every two, three, four or even five days
Frequent hair washing is actually a modern practice. Up until the 1960s, before handheld hair dryers and curling irons, women would wash and set their hair once every week, and often less frequently.
4. Boar bristle brushing reduces the need for styling products
Fortunately, you'll end up saving time and money on styling products by incorporating boar bristle brushing into your hair care routine and brushing your beard in front of a beautiful bathroom mirror.
I do not recommend using heavy styling products with a boar bristle brush.
As your hair becomes healthier, softer, and conditioned with regular brushing, you'll no longer need to use leave-in conditioners or hair serums.
5. Boar bristle brushing naturally conditions hair
To conclude this, boar bristle brushing is a conditioning treatment. While it does boast styling benefits, it was originally designed to improve hair texture and shine before products like conditioners and hair serums existed.
The unique structure of the boar bristle carries sebum – the oil produced by the scalp – from the scalp to the end of the hair shaft. By coating each hair strand with a very, very small amount of sebum, a boar bristle brush repairs dry hair and adds lustrous shine.
Our list of Best Boar Bristle Brushes For healthier hair
Buy just one of these and you'll join the ranks of screen goddesses like Lauren Bacall and Rita Hayworth, both of whom used this natural brush type to get their famous lustrous waves.
These 17 highly rated boar bristle brushes are just waiting for you to grab them. And guess what? We've made it just a click to online purchase!
1. A 100 Percent Boar Oval Brush For Fine Hair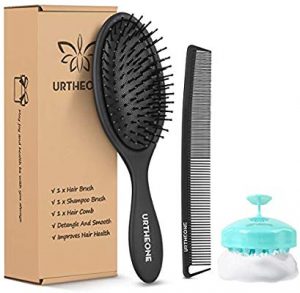 Hair will be shinier and more manageable – but those with thicker hair may have a hard time getting this brush through the length of their hair.
About product
Got fine or thin hair that could use a dose of shine? This 100 percent boar bristle oval cushion brush is perfect because it evenly distributes your scalp's oils and makes hair smooth and less frizzy, according to reviewers. Unlike a plastic bristle brush, it won't damage delicate fine hair.
When I went through the review, people suggest using a comb or a detangling brush to get tough tangles out first and then separating hair into small sections to brush it with this tool. Hair will be shinier and more manageable – but those with thicker hair may have a hard time getting this brush through the length of their hair.
BUY ON AMAZON
$9.99
2. Beauty by Earth Boar Bristle Hair Brush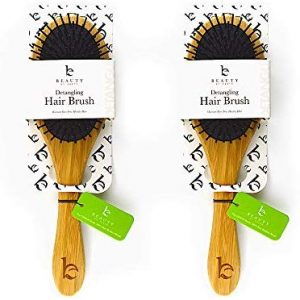 Only use it on dry hair — it can cause damage if you use it to detangle wet hair
About product
Reviewers say the scalp massage this brush delivers is beyond amazing, that it's very gentle, and they've even noticed less hair shedding.
The long nylon pins detangle thick hair, while the boar bristles work their magic redistributing scalp oil.
A mix of boar and nylon bristles work best for thick hair and this eco-friendly boar bristle brush with bamboo is the perfect tool to help de-frizz and smooth hair, while preventing breakage.
$25.99
3. Repsol Care Boar Bristle Hair Brush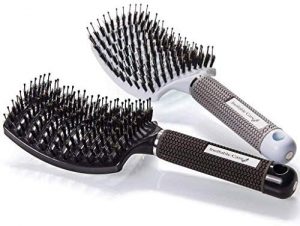 About product
Most boar bristle brushes are great for brushing hair but aren't your go-to brushes for styling with a hairdryer.
This nylon and boar bristle brush is safe for all hair types, but reviewers with long, thick, curly hair rave the most about how gentle this is on their hair and how it takes every knot out quickly and without pain.
That's why this vented boar bristle brush is amazing — it detangles thick, curly hair and can be used while styling hair with heat.
BUY ON AMAZON
$19.97
4. Mason Pearson Sensitive Boar Bristle Hair Brush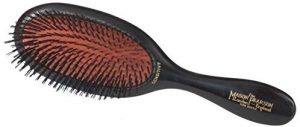 Some call this the "greatest brush ever made" and others swear it's worth every penny, especially if you're considered about thinning or shedding hair.
About product
The Mason Pearson boar bristle brush for sensitive scalps and thin hair is considered the gold standard of brushes because it's made with premium-grade boar bristle that's extremely gentle and won't tug or tear at hair and the long bristles provide the perfect amount of stimulation to the Scalp.
It's one of the most recognizable names in the beauty world, and for a good reason.
BUY ON AMAZON
$200.00
5. Styling Essentials Natural Boar Bristles Hair Brush

Best for Creating Curls
About product
The smaller barrel of this Styling Essentials brush gives users more control, making it perfect for creating bouncy curls. Plus, you'll be thankful for the ergonomic handle when you get to your tenth section of hair.
BUY ON AMAZON
$7. 66
6. Harry Josh Pro Tools Round Brush

Best for When You're Short on Time
About product
The dipped bristle pattern of this Harry Josh brush helps to firmly grab on the hair so it won't slip out while you're styling. It'll help to cut out unnecessary time spent gathering and regathering sections around your brush.
BUY ON AMAZON
$69.95
7. Kent Unisex Grooming Brush
About product
Kent is the world's oldest brush manufacturer — it was founded in 1777 — and it has the Royal Warrant from the Queen herself. Needless to say, this unisex brush is a total classic.
BUY ON AMAZON
$ 9. 99
8. GranNaturals Boar Bristle Paddle Hair Brush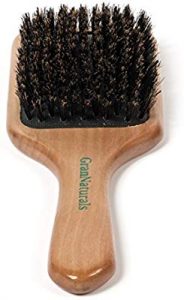 If you've got dry or damaged hair, make it a priority to use this brush daily
About product
The distribution of scalp oil throughout your strands will make your hair look and feel well conditioned and can extend the time between shampoos.
This brush works best on fine or normal hair, as the short bristles won't be as beneficial to thick or curly/coarse hair.
Few brushes can create a shiny, super sleek and straight style like a boar bristle paddle hairbrush. If you've got dry or damaged hair, make it a priority to use this brush daily
BUY ON AMAZON
$9.99
9. Drybar Texas Tease Teasing Brush

Best for Creating Volume
About product
Comb giving you tangles? Trade it for Drybar's teasing brush with half boar/half nylon bristles. You'll get an instant volume boost by brushing backward on the underside of your hair.
BUY ON AMAZON
$34.50
10. Olivia Garden Divine Care & Style Brush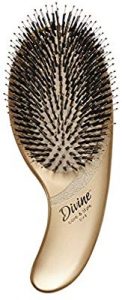 Best for Travel
About product
This posh pick from Olivia Garden looks pretty in your purse and it does wonders for your hair with an exclusive blend of memory-flex and boar bristles. Ergonomic design reduces wrist strain, too.
BUY ON AMAZON
$60.95
11. Mason Pearson Pocket Mixture Hair Brush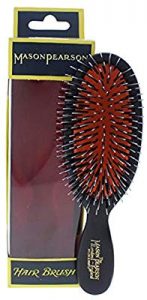 Best Investment Brush
About product
Mason Pearson's iconic brushes are pricey, but they'll last your entire life, which easily outweighs the cost of buying replacement brushes over the years. Just a few strokes make hair instantly shiny and healthy-looking.
BUY ON AMAZON
$105.00
12. DIANYI Natural Boar Bristles Hair Brush

perfectly sized brush for styling stubborn bangs.
About product
This brush helped people hair dry faster and provide volume and shine, but small enough to be used by those of us who have shorter hair.
It boasts ergonomic polished wood handles, has both nylon and boar bristles, and is anti-static and anti-bacterial.
This large round boar bristle brush is big enough to create frizz-free curls while styling hair.
BUY ON AMAZON
$29.89
13. Spornette DeVille Cushion Oval Boar Bristle Brush
Best Overall
About product
For a basic oval brush, try Spornette's boar bristle line, which is suitable for all hair types. These brushes do it all, from straightening to smoothing to detangling.
BUY ON AMAZON
$30.00
14. Wet Brush Pro Shine Hair Brush

Best for Wet Hair
About product
Anyone who's used a Wet Brush after washing their hair knows that it's life-changing. This version uses Mongolia boar bristles to add shine to dry hair (although it can be used on wet hair, too), and it's even designed to work well with dry shampoo when there's no time for a full cleanse.
BUY ON AMAZON
$12.00
15. Care me Round Hair Brush With Natural Boar Bristles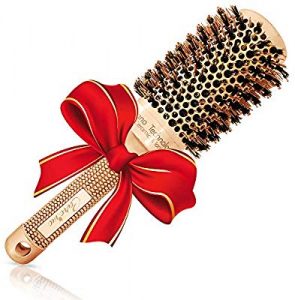 About products
You remember all the benefits I told you earlier. Get all of it (including intense shine and conditioning and no frizz) while styling your hair into the perfect blowout with this round boar bristle brush.
This brush works best on medium to long hair (curly or straight) and reviewers say it leaves hair shiny and smooth and provides a "nice bend" at the end.
This three-inch brush has a vented ceramic barrel that helps evenly distribute heat for faster drying time and the nylon/boar bristle mix detangles thick hair.
BUY ON AMAZON
$15.99
See our best professional hair machine removal for 2020 HERE
16. Moroccanoil Ceramic Barrel Boar Bristle Round Brush

Best for Mid-Length Hair
About product
Add a pop of color to your haircare stash with this bright blue ceramic barrel brush. Crafted from all-natural materials, each bristle is intended to evenly distribute your hair's natural oils, and this particular size is designed for medium hair lengths.
BUY ON AMAZON
$30.00
17. GranNaturals Boar Bristle Paddle Brush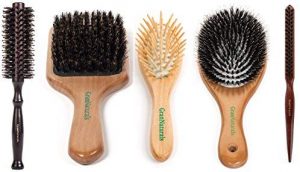 Best for Dry Hair
About product
This GranNaturals paddle brush was designed to help distribute oils from the top of your head all the way down to the ends, conditioning hair throughout. You'll be left with soft, frizz-free strands.
BUY ON AMAZON
$7. 99
Get a good wooden watch box for your exquisite watches 
How to correctly use a boar bristle brush
So you've fallen in love with one of these brushes and enticed by its benefits to your fluffy hair. But you don't know how it's properly used. Don't fret! We've got your back. Simply follow the steps below :
Start with dry hair – avoid boar bristle brushing wet hair, because this can cause breakage and doesn't distribute the sebum well.
Detangle hair first – a boar bristle brush will not detangle and will actually create more tangles if you start with a tousled head of hair. Gently detangle your hair first using a wide-tooth comb.
Always brush from root to tip – With each stroke of the brush, start at the root of the hair and work all the way down to the tip. This distributes the sebum and creates shiny, bouncy locks.
Brush in sections – Unlike a regular hairbrush, you need to approach boar bristle brushing with a careful plan of action. First, start by brushing the back of the hair by bending over, then stand up and brush the hairline.
Was this article helpful? Please share your thoughts in the comment section.