Get int to check out our Wahl Aqua Blade Trimmer Review. You'll surely love it.
The secret behind every sexy looking and well-trimmed beard is being fashioned with some handy effort. This includes regular Trimming and the use of the best trimmers. Not based on magic at all.
A very good beard trimmer is one of the most important grooming tools for any bearded man or aspirant, especially in this modern day.
In addition to this secrete, it takes time, patience and a good trimmer to Craft an attractive beard.
Any modern man needs the latest tech in his arsenal to deal with his beard issues
So, if you're searching for regular beard management or the occasional trim, a perfect handy tool to do the job for you? what is the best beard trimmer/sharper?
Well, thankfully, I've got a beard trimmer we will talk about today. And trust me it is the sharpest, to put it bluntly. You'll find out yourself.
In this article, I will be making a review of one of the best trimmers of 2020, we will also look in details about the product, reasons why you should have it, what people are saying about it (reviews from real people) as well as where you can get it.
So you are probably asking now, what is this beard trimmer?
The truth is that many beard care experts online are now putting out a long list of trimmers in their blogs, recommending their readers to buy, while some are interested in their readers' look, others are just creating those lists for blogging sake.
The case is different in this article, It's time to face the best product squarely and get value for your money spent.
So, to answer your question about the best beard trimmers. You are about to know. We shall be looking at the legendary Wahl Aqua Blade Trimmer and its components as well as what makes it the top in every trimmer countdown.
Now we go into every hook and cranny of Whal aqua blade, Afterwards, we will briefly run through the general features that any perfect beard trimmer should have.
What is The Wahl Aqua Blade?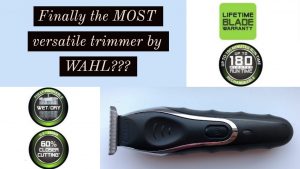 Buying and using the best beard trimmer – such as the Wahl Aqua Blade Trimmer – is essential for maintaining your beard.
The Wahl Aqua Blade is the latest addition to the company's product range. It can be used wet or dry to trim or edge one's beard as well as shave one's head.
The Aqua Blade trimmer which comes with a five-year warranty plus a lifetime warranty for the blade (as long as it is used for domestic purposes only) is priced as a premium product at £89.99.
It is, however, available on Amazon for $49.99.
The Wahl Aqua Blade looks good, feels good and most importantly, lasts a very long time on a fully charged battery. There's not much more you need from a trimmer. For more information, head over to the Wahl website.
As the Aqua Blade is washable and can be used either wet or dry or even under the shower there is an important safety warning in the instructions stating that it should not be used whilst charging.
In fact, it has been designed so that it won't run whilst plugged in to the mains and charging.
A set of eight clip-on combs are provided in increments from 3 to 25mm so that the hair or beard can be trimmed to a chosen length.
There is also a set of four stubble guide combs that are used for "blending, tapering and defining" Beards.
Wahl is one of those names that you recognize, but you're just not sure where from. Well, I found out today. They supply my barbers with their hairdryers, shavers and other tools. Knew I knew them from somewhere.
Well, Wahl has just invaded the home grooming market, with their new Aqua Blade Wet/Dry Beard Trimmer.
Everything feels very nicely built though and is waterproof for cleaning out the blade. There's a rubberized handle for extra grip and control over your shave, and 12 different guide combs depending on the length you are going for with your beard and hair trimmer.
Cutting lengths run from 0.2mm right up to 25mm. The trimmer comes supplied with a convenient travel pouch in which one pocket can hold the trimmer and charger while the other takes all the combs as well as the cleaning brush and the tiny bottle of lubricating oil.
It is recommended that a couple of drops of oil be applied to the blades approximately once a month.
At its business end, it has a detachable 40mm wide T-blade head with its self-sharpening blades having an effective trimming width of 35mm and providing a close cut of 0.2mm.
To minimize the risk of the trimmer becoming switched on accidentally, while in its travel bag in one's luggage, holding down the on/off push-button for 10 seconds activates the travel lock.
The lock is released by holding down the button again for a similar period or, alternatively, putting the Aqua Blade on a charge which automatically releases the lock.
In use, it is a straightforward task to select a comb for a particular length of the cut as length information is molded into each of them and then clip it onto the blade.
One might then want to change combs if one has the point of the beard at a different length from the sides.
Some men, however, might consider swapping combs is a bit fiddly and prefer the system, employed on some other trimmers, that uses a single comb together with a dial or similar form of length adjustment even though, with this method, there is a risk that the adjustment might slip.
The Wahl Aqua Blade is rather skinny, making it great for when you need to take it away with you on that business trip weekend away.
It has a 180-minute lithium battery inside which is perfect. I would have liked to see some kind of battery life indicator, rather than having to guess how much battery is left.
Where to buy Wahl Aqua Blade Trimmer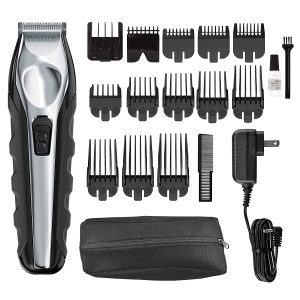 Now you've met the best trimmer, and you can't wait to get it. We are here for you. Getting the Wahl Aqua Blade Trimmer is a simple process just as your purchase other grooming product online. The price too is something you can afford.
In summary,  The Wahl Lithium Ion Aqua Blade Deluxe Wet/Dry Trimmer is an All-In-One trimmer, shaver, detailer, and groomer. This trimmer has a washable shower-proof design for maximum convenience and easy cleanup. This trimmer will work best for beards, mustaches, stubble, ears, nose, and body grooming.
Reasons to buy
This 23 piece kit comes with 4 interchangeable heads: An Extreme Precision T-Blade, a detail shaver head, rotary nose/ear trimmer head, & a detail trimmer head. The kit also includes 12 attachment guards and a charger.
Pros
Washable Shower-Proof Design Is Convenient & Easy to Clean
Extreme Precision T-Blade For Super Close Trimming & Shaving
World Wide Voltage
4 Included Detachable Heads to Trim, Shave, Detail, & Groom
Electronic Travel Lock
23 Piece Kit
Special  Features
Lithium-Ion Trimmer provides up to 3 hours of run time from a single charge.
3 Minute quick charge for 5 minutes of instant power.
12 Easy to use attachment guards from 1/16″ to 1″.
A washable shower-proof design is convenient and easy to clean up.
Why should I choose The Wahl Aqua Blade?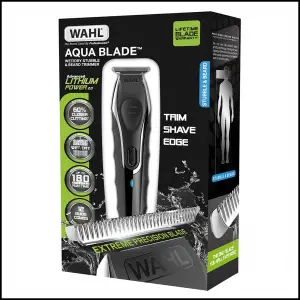 The Wahl Aqua Blade is the only blade you will ever need. Why? That's what I'm about to show you. These 10 facts about Wahl Aqua Blade Trimmer is what will motivate any wise buyer to make a quick purchase while stock lasts.
1. You'll never look back
Yes, even when you decide to look different in the future by changing your style, you will still need to use the Aqua Blade for a peaceful and perfect trim.
2. Best battery life
What do you need in a beard trimmer than 1-minute durations for charging and up to 180 minutes of battery life?!
Trust me, You'll never be stuck without charge. While using the Wahl aqua blade, there is absolutely no need to ever trim in fear of running out of charge again.
3. Versatility
What I mean by versatility is that this trimmer works for any style of facial hair. If any of the following describes you, you need the Wahl Aqua Blade! So, if you're unsure of what trimmer to buy, this is a no brainer.
4. It Guarantees Lifetime
Having tested and trusted this particular product, we can assure you that you'll never need to buy a replacement blade again. Yes, you read that right.
5. You can Take/use it  anywhere
It's safe to take your Aqua Blade anywhere, the handy travel lock feature assures this.
6. Waterproof
Whether you prefer wet or dry shaving, in the shower or over the sink, you can use the Aqua Blade anywhere and simply rinse it clean when you're finished.
7. A Peaceful shave/trim
The Aqua Blade has a soft touch grip and designed to be comfortable for use at any angle. Put an end to awkwardly holding uncomfortable trimmers. .
8.  Closer cutting reads 60%
With a blade that cuts 60% closer than other standard blades, you can now Get a close shave, without the irritation of a razor.
9. It is affordable
Having an affordable price in mind, Wahl aqua blade allows you to Save 1/3 on the Aqua Blade for a limited time only. Not bad for the only trimmer blade you'll ever need.
10. Versatile styling
Finally on reasons why you should buy this trimmer is the feature of 12 attachment combs. Thankfully, you can now trim your facial hair to any style or length
5 Features of a perfect beard trimmer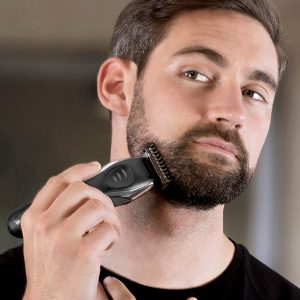 With the consistent increase of fake beard trimmers in the market today, and an equal demand for a perfect trimmer, here is how you can make the perfect one-time investment for a quality beard!
Below lies the essential features every Perfect Beard Trimmer should have
1. Have you been in an annoying situation such as when you are being stuck in the middle of a trimming process because of dried up batteries!
This makes Chargeable trimmer far better than constantly adjusting the wires and working around it.
A good beard trimmer will allow that you simply charge and ensure your readiness to go. It is also better than a battery one as batteries do leak and it is hard to actually understand when it's time for a new battery.
2. Show me a very good trimmer and I'll show you how light in weight a good trimmer should be. The trimmer should be lightweight as a heavy one may cause a slip-up and ruin your beard as well as spoil your precision.
3. I can not imagine a perfect beard trimmer without adjustment! This adjustment is to ensure that you can get precise trimming in different patches if you want to opt for a soul patch look or a Van Dyke or even a goatee.
The trimmer absolutely must have adjustments! Usually ranging from 1 to 5, these adjustments will mark the closeness of the trim with 1 being the closest.
4. Another feature of a good trimmer is having a firm gripper. This point is often ignored but when you are out to buy a trimmer hold it in your palm and just identify the one that feels most comfortable. It should have a strong gripper.
5. The trimmer should be a two-in-one. What I mean by this is that a good beard trimmer should have a smaller blade which was originally for mustache but is also used for trimming goatees and shaping up different styles.
Now that you know the important features a perfect beard trimmer should have, it is now time to make the best choice of buying Wahl Aqua blade, I'm pretty sure that you have now discovered that this trimmer got all we have listed above.
Let's continue by digging deep into the Wahl Aqua Blade Trimmer on the market today and what people are saying about it.
What are people saying about Wahl Aqua Blade Trimmer?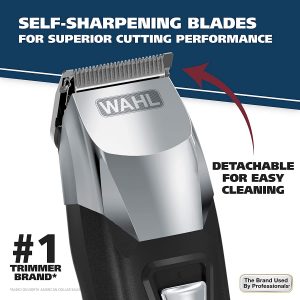 Many people are talking about this product day in and day out. We have people who are really testing Wahl Aqua Blade Trimmer and dropping their unbiased and verified reviews every day. If we decide to share ALL, then we will not finish this article. That's crazy, right.
So let's take a look at what some top pros on beard care are saying about this product and how it can add to our knowledge.
While we have more positive feedback, I've also included some downside of the product highlighted by reviewers as well.
I Gifted this to My boyfriend As an early Christmas present, it was Used had someone else hair on it!!! No telling where the hair was from.
The clippers are great, and so far holds a charge better than my old Remington clippers. My only complaint is the guards I felt were pretty flimsy and cheap. My Remington set had "tougher" (or harder?) guards.

These are cheap Chinese plastic ("Made in China" is stamped on each guard), but the clippers are US-made. The guard tines are very easily bent/moved with a finger (but they do go back to their original position).

One guard has a bent tine from packaging, but it's a rarely used one for me and I'm sure with enough bending back it would hold. Granted, I don't shave that rough for the flimsiness to really be an issue, but older Wahl sets from 10+ years ago had quality guards.

Hopefully, I can find a good set that will fit this.

There is another model out there right now on Amazon with stainless steel guards that look really nice, in retrospect those are 20 bucks cheaper, but they're not "aqua" nor is it cordless (but I would have dealt with that for nicer guards). Anyways, thanks for reading my ramblings, hope it helped someone.
Wahl's Deluxe trimmer kit gives you a luxuriously smooth shave at a great price point.

For a true baby-bottom-smooth shave, I would recommend Wahl. I have tried different brand names, but this blade really does measure up.

When I used it for the first day, the blade glided on my skin, not too sharp and did groom away unwanted hair well. The blade positioning makes the shaving closer, and are sharper and lasting long. The cost is less too.

Thus, I am shifting to Wahl's wireless trimmer for all my grooming and 'manscaping' needs.
Purchased this Wahl trimmer as a replacement for a Panasonic unit I had used for many years. My Panasonic trimmer wouldn't hold a charge as long as it used to.

When I received the new Wahl trimmer, I noticed that the charger was for UK electric outlets. So I called the Customer Service number on the Wahl box, gave the rep the model  and that I received the wrong charger.

She took my mailing info and said she would send a replacement Priority mail. She emailed the tracking info and I received the correct charger in a few days. I like the fact that this trimmer can be rinsed/cleaned with water.

However, I do question the plastic connections for the various attachments. I also appreciate the quiet motor, my old one sounded like a buzz saw. Overall very satisfied with this trimmer.
These clippers provide a sharp, clean trim. The cut is extremely close, however, and may cause skin irritation. These are the best that I've owned and I would purchase again if they stopped working.
All I can say is

Wow.

Nah, but these are some hella nice clippers. Battery life is amazing (easily lasted 1 hour for me and still had juice). High-quality blades. Actually waterproof. It doesn't feel cheap.
Great product!!

This trimmer is excellent. It comes with a great variety of attachments that will meet all of your grooming needs. It's also lightweight and easy to use. The small size allows you to precisely trim any area of your body. It's a great value and highly recommends it!
"When I received this trimmer, I put in on the charger for a full day or more. Its battery would not hold a charge for more than 30 seconds which obviously made it useless. I requested a replacement and, when that one was received, it had hair all over the trimmer and was obviously used. That is absolutely disgusting and is very unethical. DO NOT BUY!"
I didn't listen to some of the reviews. The clippers were used and had hair on it. Wtf?
There was hair on the blades and guards. Trimmers were clearly used. Which was pretty disgusting when my boyfriend opened them in front of people at Christmas.
In conclusion, Wahl has been making electric hair clippers for almost 100 years and describes itself as the brand used by professionals. Hence, its personal care products merit serious consideration.
I do hope you enjoyed our Wahl Aqua Blade Trimmer Review.
You can also share your experience using this trimmer with us in the comment section.