As a female, Can you use a beard trimmer to trim your pubic hair? What ever your immediate answer is, this is a question that is mostly asked than you might think. In the next 7 minutes of reading this article, you will come to understand the truth about using beard trimmers on female pubic hair.
Well, the straightforward answer to the question is YES. But this will not be gratifying without deep explanation and other Important factors that are related
Yes. You can use a beard trimmer for your pubic hair. But there are certain qualities a beard trimmer should have if it is to trim down pubic hair without any trouble. High-quality blades, a powerful motor, multiple size guards and ideally a safety guard is necessary.
Hygiene also plays a part, as some people don't like the thought of using the same trimmer on their privates and on their faces. But as long as it's properly cleaned afterwards (which it should be anyway) you should be fine.
Generally, Women are way ahead of men in a lot of ways, especially when it comes to grooming. For instance, women – more than men – understand the importance of trimming "down there."
You know – trimming their pubic hair.
So I've given the short answer. Let's now dive into and dig a little deeper into details.
In what way is beard hair different from pubic hair?
Have you tried it? Well, I believe a lot of females are reading this and most likely do not grow Beards. But when a guy grows out a beard, he may notice the hairs aren't that different from pubic hairs. The similarity lies in the thickness of the shafts, the texture and distribution.
As long as it develops after puberty, it so should really be considered pubic. I don't really want to get into much explanation on this as it may digress my point.
They start growing from tiny, mouse-ish hairs called vellus hairs at birth. Then when we hit puberty and our testosterone levels rise, these vellus hairs transform into thicker and larger terminal hairs. Should we continue the Science thingy?
Well, let's forget about that for the moment. How does this awe-inspiring fact affect females when it comes to pubes?
Well, taking this into consideration we can conclude that a trimmer that mows through beard hair should have no trouble doing the same through a female pubic hair.
As long as we've got a trimmer with a powerful motor and sharp blades, we shouldn't have any trouble zipping through those coarse, wiry pubic hairs. Speaking of a powerful motor and sharp blades, do you know the essential features a beard trimmer should have in order to suit a female pubic hair? That's our next step.
Features that make beard trimmers suitable for Female pubic hairs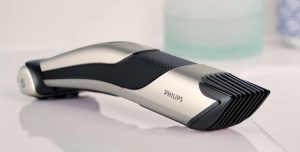 There are, of course, certain features pubic hair has that aren't necessarily unique but need to be factored into the equation when selecting a trimmer. If you understand this, then We need to talk about these features as the trimmer we use should be capable of tackling them and removing these hairs with little to no fuss ideally.
In this way, if we're going to be using the same trimmer for our face and pubes, they should really have these features.
Basically, you need your beard / pubic trimmer to have the following..
Let's go through them one after the other
1. Lightweight and Compact
You want one that's light and simple to navigate around your pubic area, genitals and inner thighs.
When it comes to pubic hair, you don't want a trimmer that's heavy, bulky or uncomfortable to hold for a prolonged period of time.
2. The perfect Blades
Take Stainless steel and titanium for example, they are indeed durable. They are also unlikely to trigger an allergic reaction and so we love them even more.
Fresh, sharp blades are also less likely to cause itching, irritation, razor burn and razor bumps on the sensitive skin around your pubis.
Old, dull blades aren't going to work. The coarse pubic hairs will stand tall and laugh at a useless blunted blade.
3. Your trimmers battery shouldn't disappoint you
No one likes a job half-assed (or half-cocked, in this case), so your best bet is to choose a trimmer that has long-lasting battery life.
While cordless trimmers are your best option for trimming your pubic area, you have to be careful not to let your battery die out in the middle of the trim.
4. Multiple Size Guards
It's usually a good idea to vary the length of the hairs in the pubic area a little for neat and natural-looking results.
Good beard trimmers usually come with numerous guards and attachments to allow for meticulous trimming and shaping.
A gradual increase in hair length as you go downwards here really does neaten things up and draw attention to your neatly trimmed pubic patch.
Having intricate control over the length of your pubic hair is important.
What you choose is your preference, of course, but many shaving experts say skip the cord and go with a cordless model instead. Why? Because a trimmer with a cord limits your range of motion, and you need all the range of motion you can get when trimming around such a sensitive area.
Some pubic trimmers for female come with power cords while others don't.
How to Choose the best pubic trimmers for female: What we did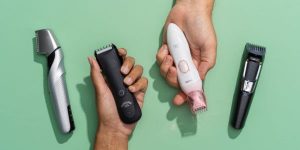 People do wonder how we always provide the top-notch product containing a grooming product. Well, Our general advice when buying a pubic trimmer is to choose wisely. We go through reviews and we make a deep research. After all, There's too much at stake.
Truth be told, there is quite a shortage of products dedicated to pubic trimming on the market. There are enough good ones, however, and that's good news for females, indeed.
It's the advice we followed when making our picks for the top trimmers of 2020 although.
Durability is an important factor, as is the quality of the trimmer's blades. We also considered the reviews of others, especially those of customers with real-life experience using the trimmers.
The ability to handle the sensitive work of groin trimming, including the ability to manoeuvre around the region's often hard-to-get parts. We like lightweight, easy-to-handle trimmers – preferably those with an ergonomic design.
The 3 best pubic hair trimmers for females
Next, let's take a look at some Female's pubic hair trimmer reviews that we would suggest for you.
ClearCut ES412 Personal Shaver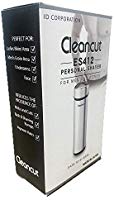 About product
The battery-powered ES412 has a unique, cylindrical design that provides easy manoeuvrability when trimming your pubic area and its sometimes hard-to-reach areas like bikini lines. The trimmer's design is ergonomic and fits easily into the palm of your hand; after all, you want a secure, comfortable grip when you're trimming around your woman assembly.
While the ES412 kit doesn't include is scissors, Clearcut recommends that you trim longer hairs before cutting the rest with their signature trimmer. the ES412 delivers for a variety of reasons.
First, it has a top-notch motor that provides enough torque to cut your woman bush nice and neat, every time. The blade assembly is also top-notch, and you'll love how the blades glide, not grind. Meanwhile, its foil brings it all together and provides a great trim and cut that captures hair but not the tender skin found in the pubic region.
Reasons to buy
A lot of reviewers testify to the overall quality of the ES412 and how it leaves their skin irritant-free while providing the kind of consistent trim that makes it great for the pubic region. You want to choose carefully when purchasing a pubic trimmer, and the ES412 is a product on which you can count.
It's also among the most versatile trimmers you'll find for personal shaving in general – whether it's women shaving their bikini lines or men and women trimming their armpits. Do you feel the need to style your pubes? If so, this trimmer is for you
PROS
One of the original pubic trimmers
Great for sensitive skin
Excellent construction
CONS
Doesn't work on longer hair
Philips Norelco BodyGroom series 7000 BG7030/49
About product
The Philips Norelco Series 7000 BG7030/49 trimmer is a do-it-all tool that's ideal for use on and around your pubic region. It's easily adjustable to help you achieve a precise trim with every use.
Wet and dry trimming are possible, because the unit is waterproof. You can use it in the shower or out, and you can clean it by running it under the faucet.
An ergonomic rubber grip ensures better control and handling, which, again, is of vital importance when shaving your nether regions.
Reasons to buy
If nothing else, you want a smooth, comfortable shave when it comes time to trim around your female package.
The two trimmers serve different functions: one allows you to cut down to the skin, while the other works best when trimming longer hair.
It also features five adjustable trimmer lengths, as well as self-sharpening blades that will continue to provide a clean-cut for a long time.
You can also use the Bodygroom 7000 without or without a power cord. An advanced Lithium-ion battery provides 80 minutes of cordless used after a one-hour charge.
PROS
Dual-side trimming technology
The rubber grip makes for easier handling
Good for wet & dry use
CONS
It's a bit heavier than some other trimmers
Gillette Fusion Proglide Men's Razor Styler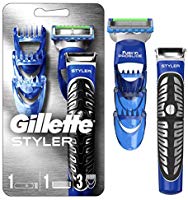 About product
Braun, a wholly-owned subsidiary of Gillette, provides the motor that powers the ProGlide Razor Styler, and that's a good thing, considering that Braun has a century of experience in designing motors for men's and women's electric shavers. Most of their products are cordless and rechargeable, but they do offer corded versions for men who prefer to trim and shave that way.
There are a lot of other reasons why we include the ProGlide on the list, not the least of which is its maneuverability, which rivals that of any pube shaver on the market. It has a slender design that makes it easier to work with, whether you're trimming your beard or pubic hair.
Reason to buy
While the Fusion ProGlide Styler works well for a variety of trimming jobs – including your face and beard – it has the added versatility of being an excellent pubic shaver. It's easy to work with, and you'll like its lightweight design.
The ProGlide Razor Styler comes with three combs that provide you some options for de ciding on your preferred cutting length. But, again, the key component is the precision edge trimmer that helps you to shave the tricky, sensitive areas of your body. You can use it to get a comfortable shave and trim, or cut the hairs right down to the skin.
The unit is also waterproof and good for use in the shower, which is always a good option to have for trimming pubic hair (it makes it easier to clean up once you've finished the job).
PROS
Its design makes it easy to maneuver around sensitive areas
Versatile tool that can handle a variety of shaving and trimming tasks
Waterproof
CONS
Have to change batteries and blades manually
I really hope you've picked your choice among these three best in the Amazon market as at now. Without further ado, let's move on to pubic trimming tips.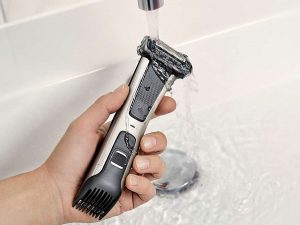 Shaving your pubic hair is a delicate job. Same truth applies to shaving facial hairs. But a nick or cut on your cheek isn't quite as heinous as a nick or cut down there – unless pain is your thing, that is.
Well for starters, every trimmer is different. You've hopefully kept the manual of your beard trimmer where it should give detailed instructions on how to clean it.
If you've misplaced it with some grocery receipt, fret not. We've got you covered.
Step 1
First of all, turn it off and unplug it (if it's corded). If your trimmer has a little compartment that collects hair, be sure to empty it.
Step 2
Now, your trimmer should have come with a little brush for cleaning purposes. If not, just use a little toothbrush. Go into the little compartment and gently clean the crevasses. After this, clean on top of and around the clipper blade.
Step 3
If your trimmer is washable, you can hold it under a running tap to wash it with cold water. Pat it dry.
Step 4
Use an alcohol wipe to clean the body and the clipper blade, after which let it dry again.
Step 5
Final touch. Most trimmers come with a little bottle of oil for the clipper. If not or you can't find it, a couple of drops of olive oil will do. Gently rub it over the clipper blade using a soft cloth and not your fingers. This should ensure the blades stay clean and sharp.
OK. You've officially prepped your post-pubic trimmer for your face.
Awesome! 😉
Conclusion: Can you use beard trimmers on female pubic hairs?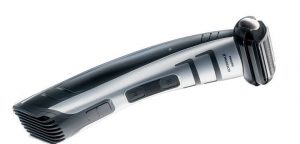 Using the same trimmer for your face and pubes isn't a sin. It isn't something to hide or be coy about.
Many women do it and it's no big deal. As long as you're doing a good job of the trimming itself as well as taking the necessary hygiene precautions, carry on my friend.
There you have it. Hope you found that all useful. We'd also like your feedback and suggestions. Do you use a pubic trimmer? If so, which one? Have you used any of those on our list?
As always, we'd love to hear from you.